Eataly in Rome is a unique place. Traveling and studding new cultures with help of my eyes and my stomach helped me to understand one simple thing: food like any other aspect of culture is strongly influenced by our souls. Even the simplest single potato can be cooked and served in an amazing way if together with salt you put a teaspoon of your love.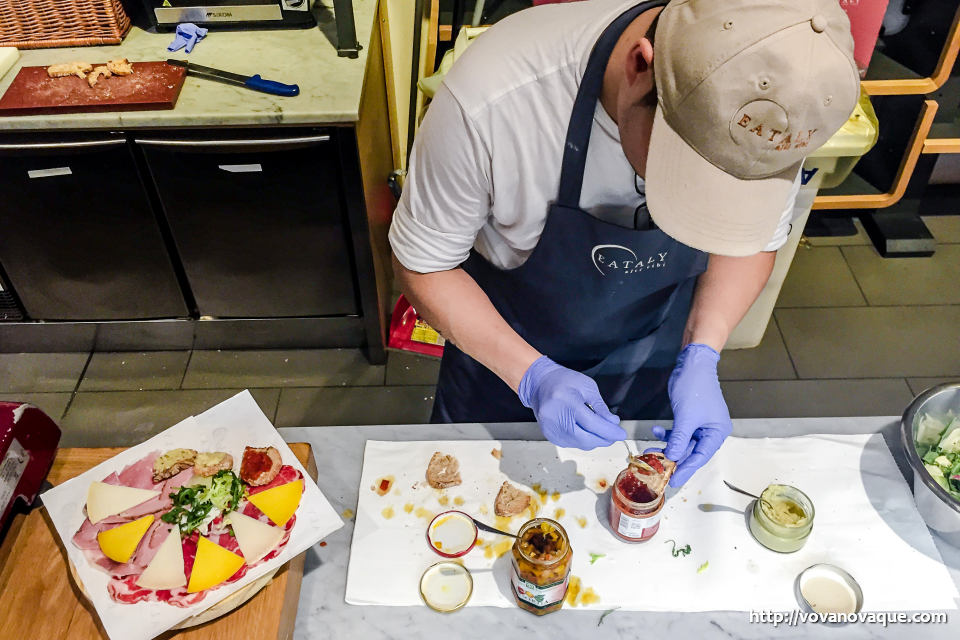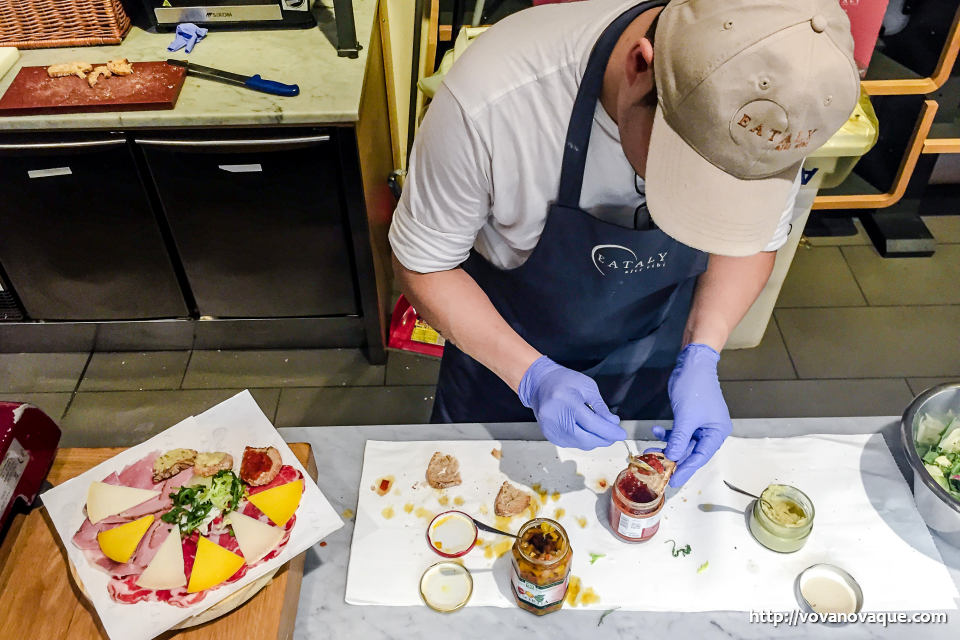 And if my parents gave me the culture of good eating and taught me not to put rubbish into my stomach. Italy and its cuisine are the testing area for my active trainings and improvements. And I found another area to develop the skills — Eataly in Rome.
Find reliable and comfortable transfer in Rome
Shame on me, but I visited the most famous and biggest Italian food store Eataly in Rome only on the 9th year of its existence. Among most of my eating friends I am kind of a looser. But on the other hand, they can not get this "wow" yummy experience which I had recently.
Tours in Eataly in Rome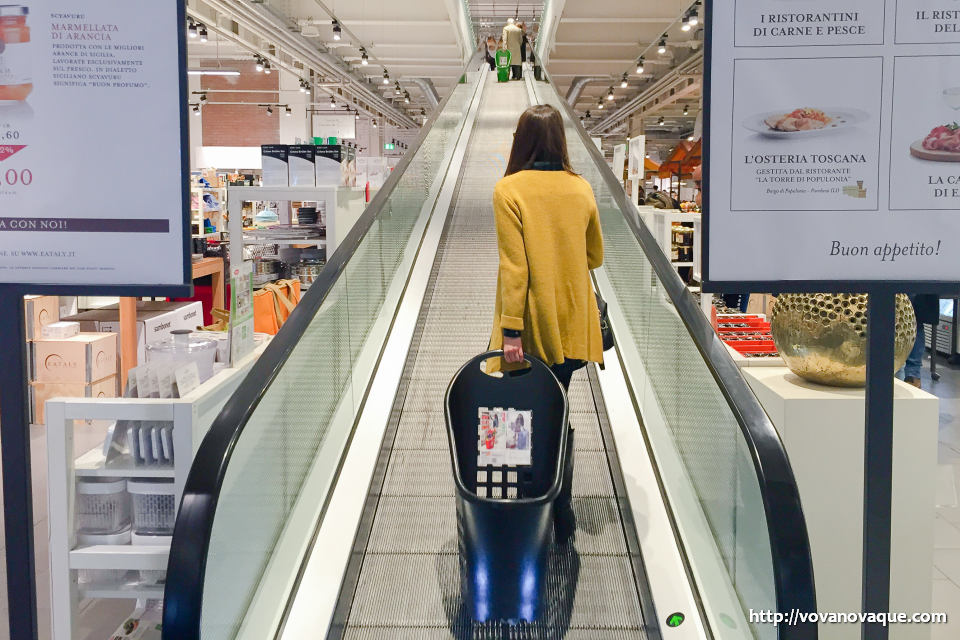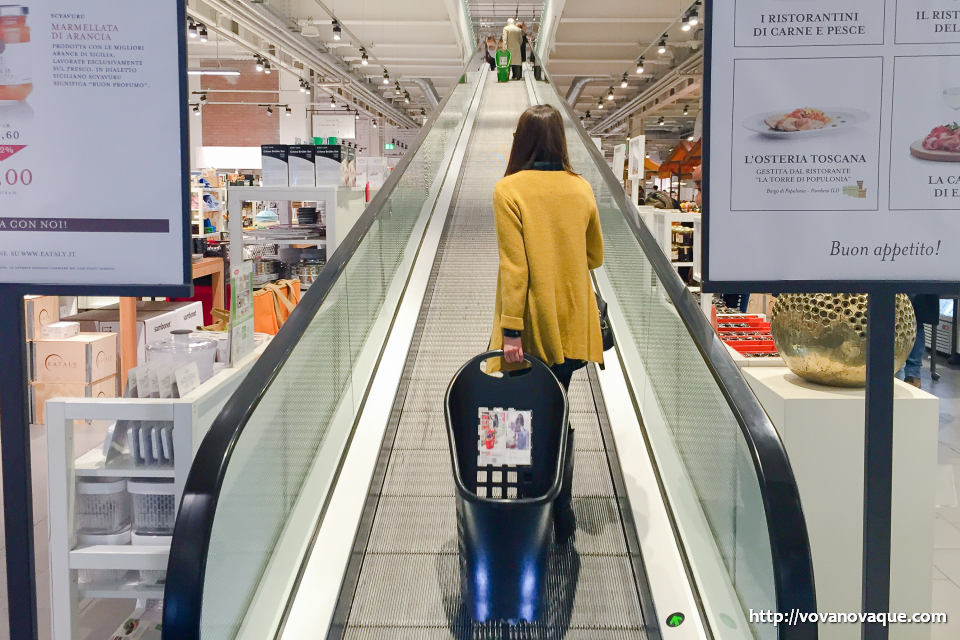 Eataly in Rome is so big, that an idea of arranging guided tours became very popular with guests of Rome. There are several options of how to discover the Eataly depending on the money and time one is ready to spend. As the official leaflet say: "Experience the Italian food excellence with a unique tasting eatinerary". Here you can find the 3 tours offered to visitors:
1. Eataly Focus
Duration: 45 minutes
Number of tastings included: 1
Price: 28 Euros
2. Eataly Basic
Duration: 90 minutes
Number of tastings included: 3
Price: 39 Euros
3. Tour Eataly Fun
Duration: 120 minutes
Number of tastings included: 5
Price: 55 Euros
4. Cooking classes in Eataly in Rome 
On request
During the tour you will be able to visit the following departments and try the foods:
Beer / Buffalo Mozzarella / Fish / Pasta & Pizza / Bread / Meat / Fried Food / Ice Cream / Cheese and Cured Hams /
Vergnano Coffee / Piadina / Vino Libero Wines /
Winehouse / Extravirgin Olive Oil /
Patisserie / Body Care
Local producers only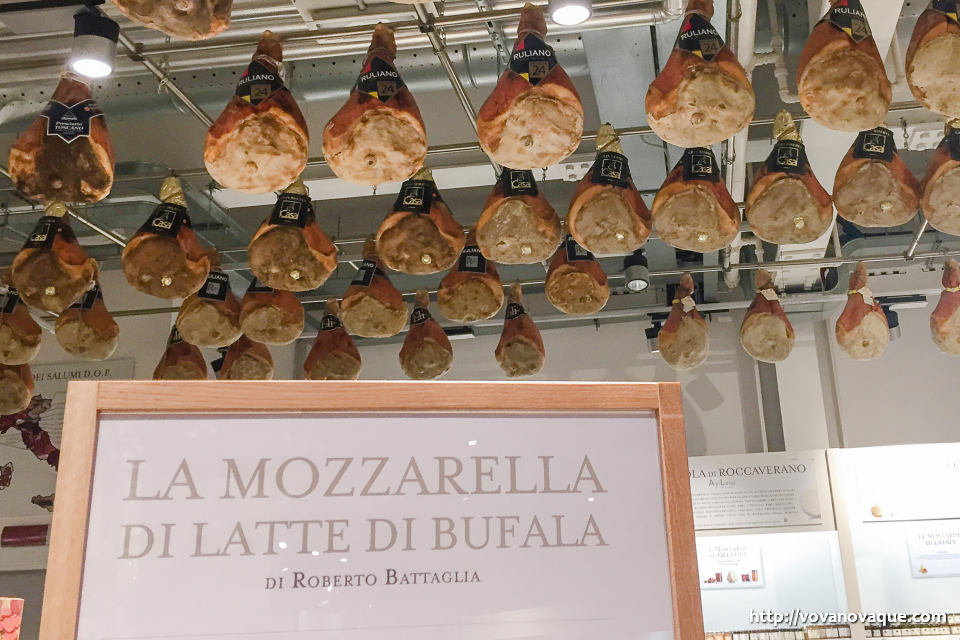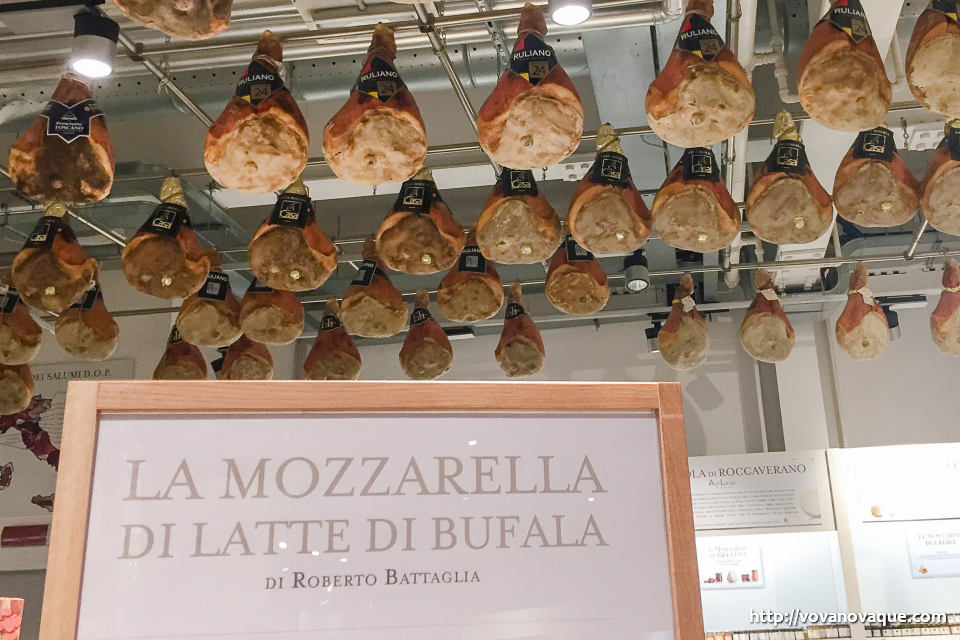 The idea of bringing Italian food to people from all over the world in an easy and interesting way was just the one side of the coin. The second important aim of Eataly is to connect consumers with local producers. This helps to keep the prices at lowest possible level, at least they say so at the official page. Romans describe the shop with:
«If you don't care about the price, you go to buy food at Eataly»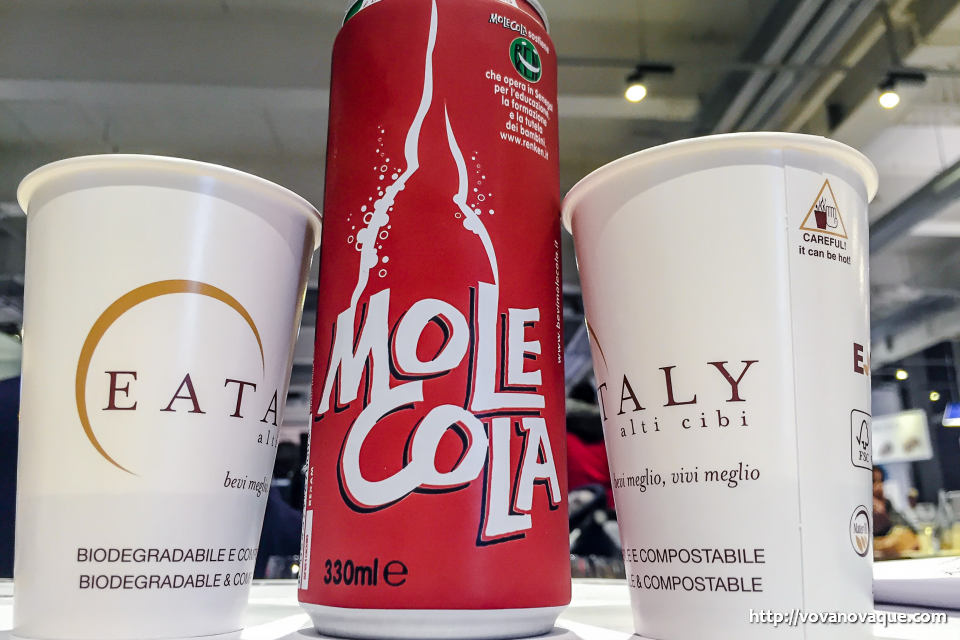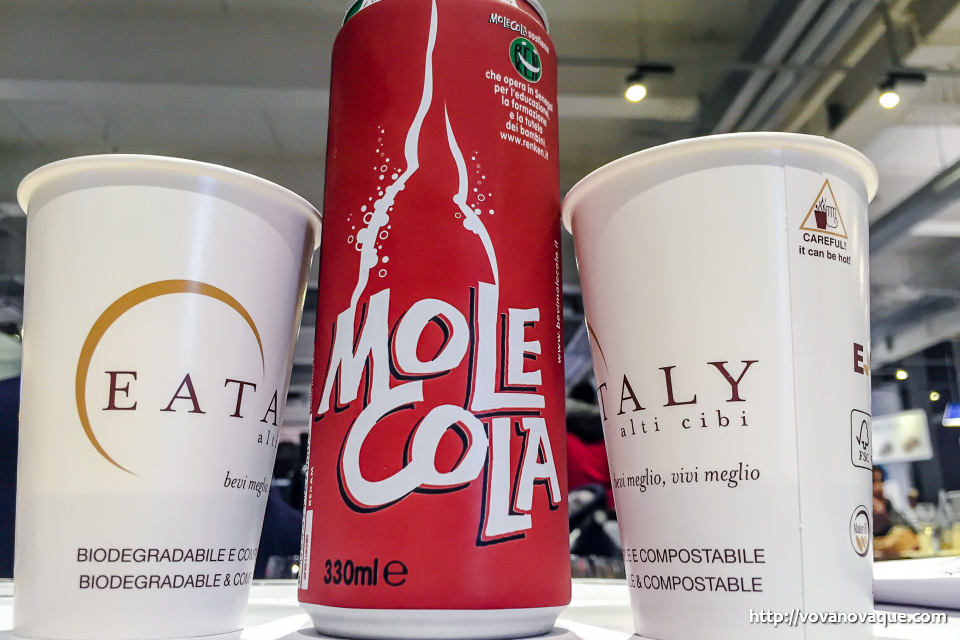 I've been to several big stores and markets with Italian specialities and know some brands and producers, but in Eataly I found almost no familiar names of packages among over 14000 product one can shop there. They even have local cola, which is not so sweet and a bit sour as if you put a slice of lemon into normal coke.
What to buy
Eataly in Roma is a huge shop with fantastic variety of local specialities. The choice is absolutely incredible and will surprise anyone. Four stores of typically Italian food, carefully and beautifully packed by the Italian farmers.
Pasta
Meat
Cheese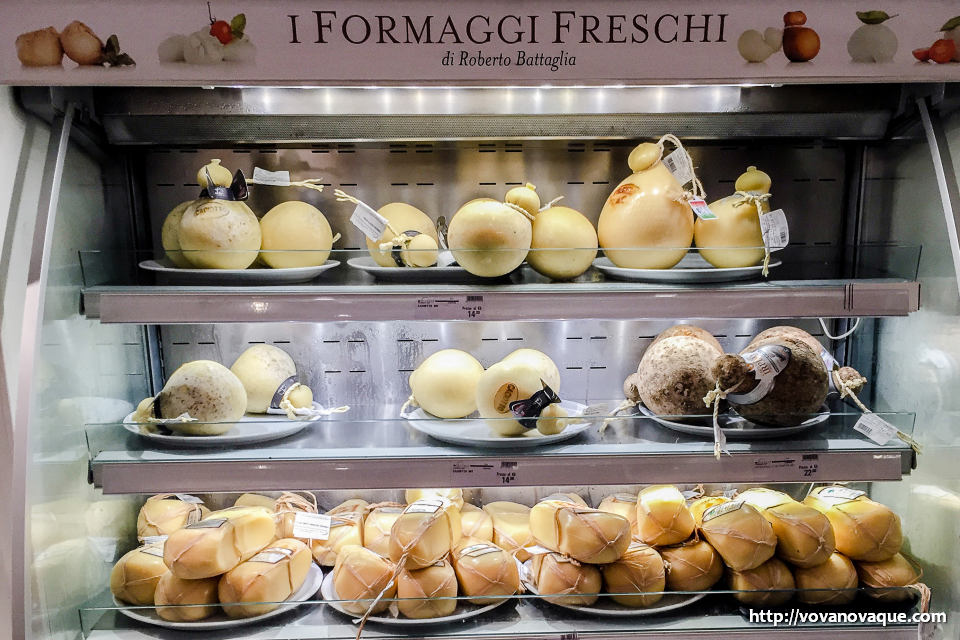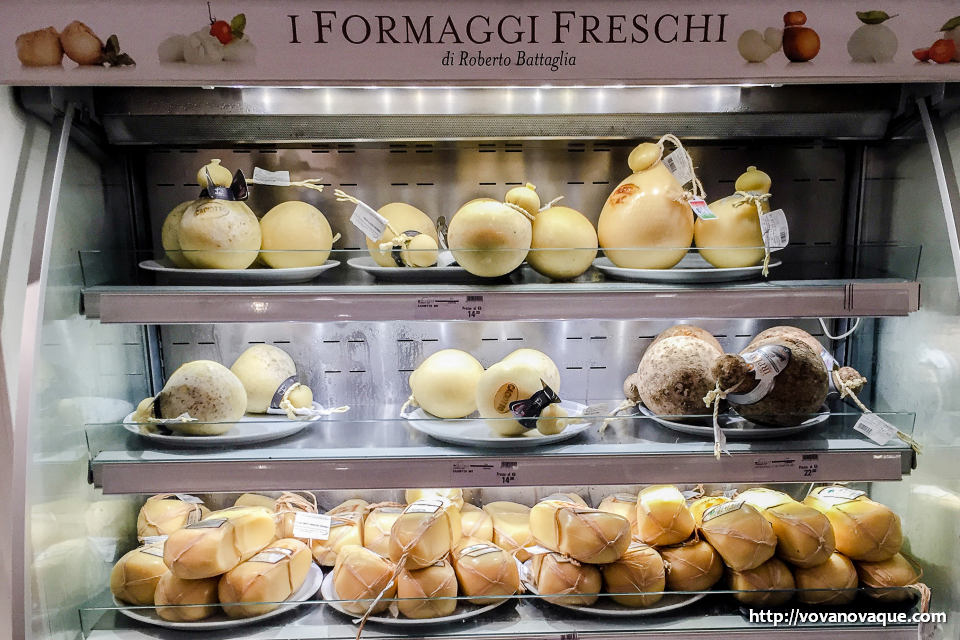 Vine
Fish
Olive oil
Beer
Coffee
Other specialities
Restaurants
All the product one can find in Eataly in Rome you can try in several restaurants. There is a special place for a pizza, meat and fish, gastronomy, pasta and vine. So you are sure to satisfy your stomach and soul with delicious food.eWe went to Carne and Pesco to try fish and meat. Following the recommendations of the waiter we had Octopus and Filet. The dishes arrived within 15 minutes after we ordered despite the fact that almost all the tables were taken. It was evening — after 8 p.m. which is the busiest time.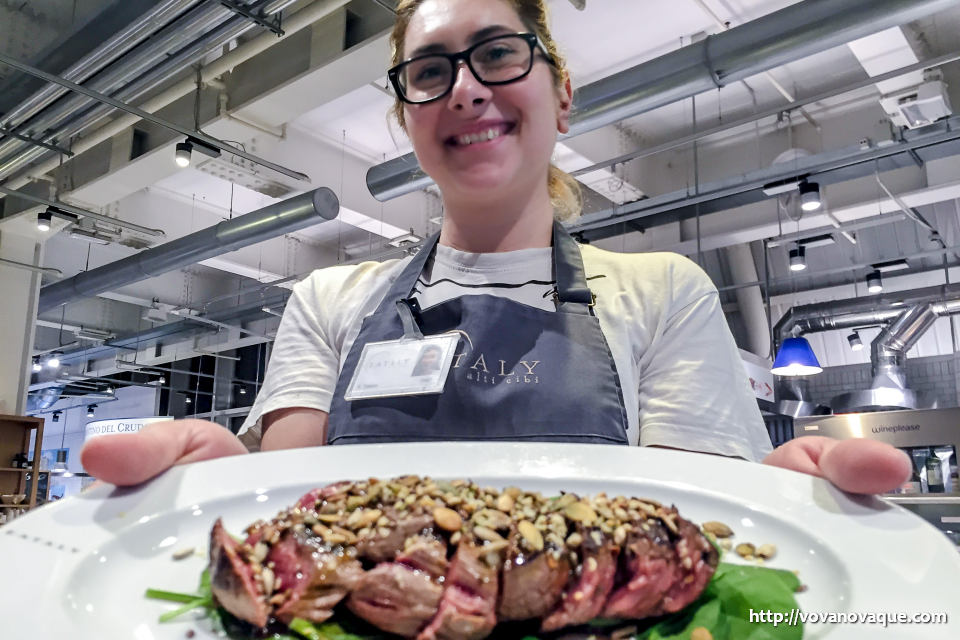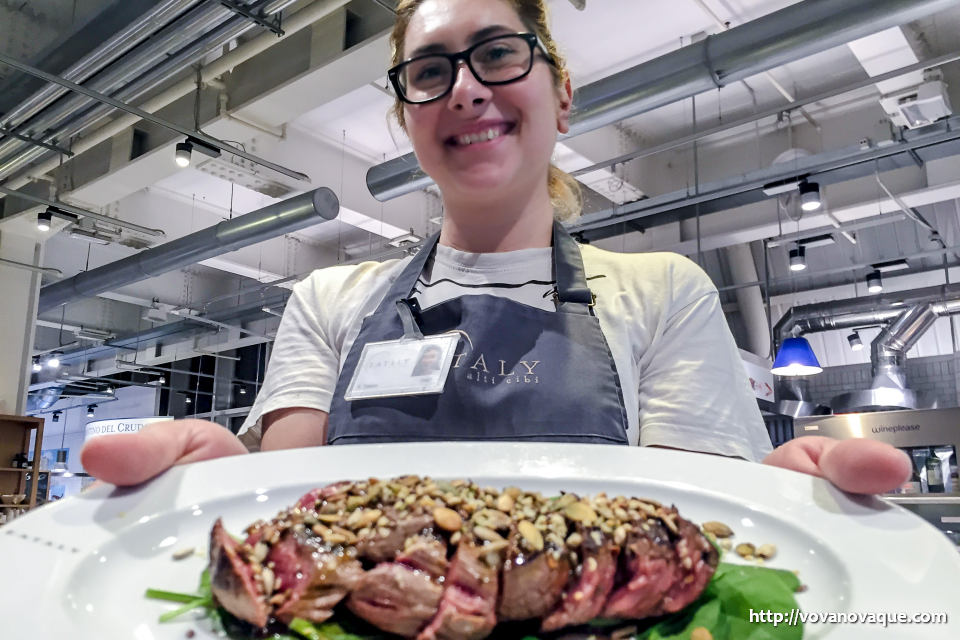 The taste of both dishes was perfect. The octopus was served with puree with more like a starter or a salad, but not a main dish. So if you are hungry, look for something else in the menu.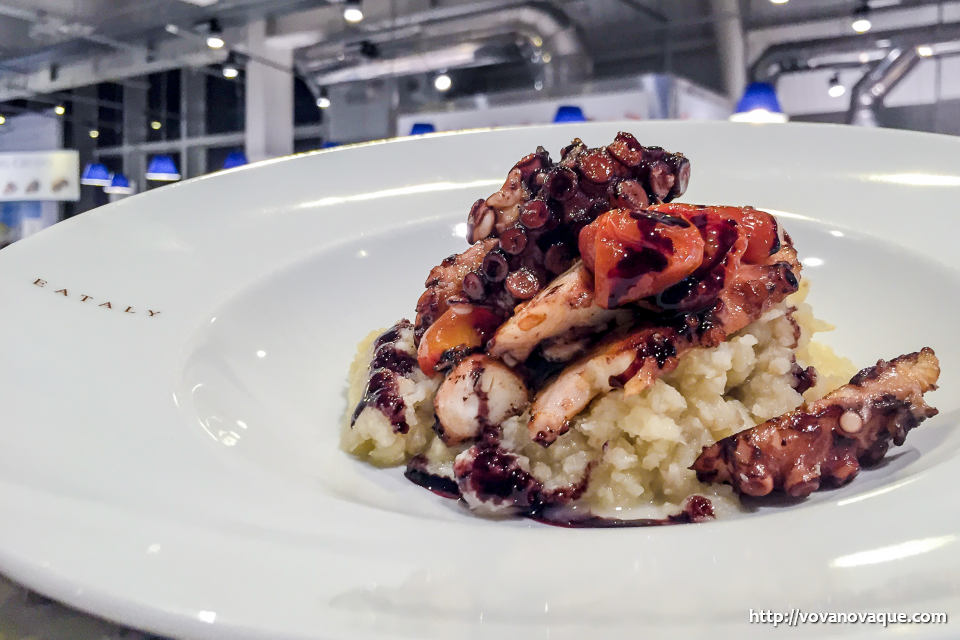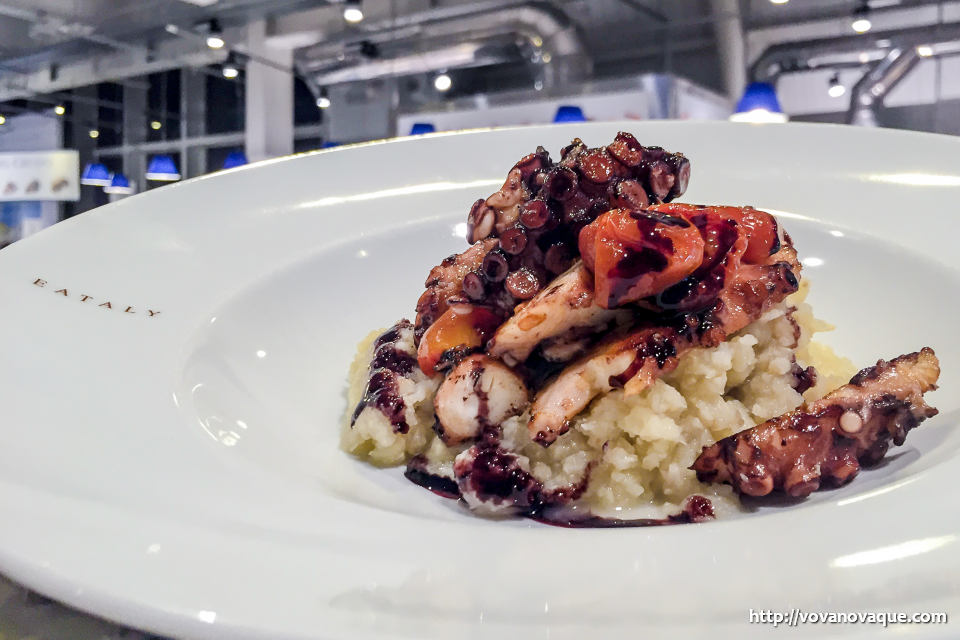 The medium fillet cooked with seeds and sea salt made my evening. It is fantastic piece of meat made with passion knowledge of how to turn beef into perfect experience.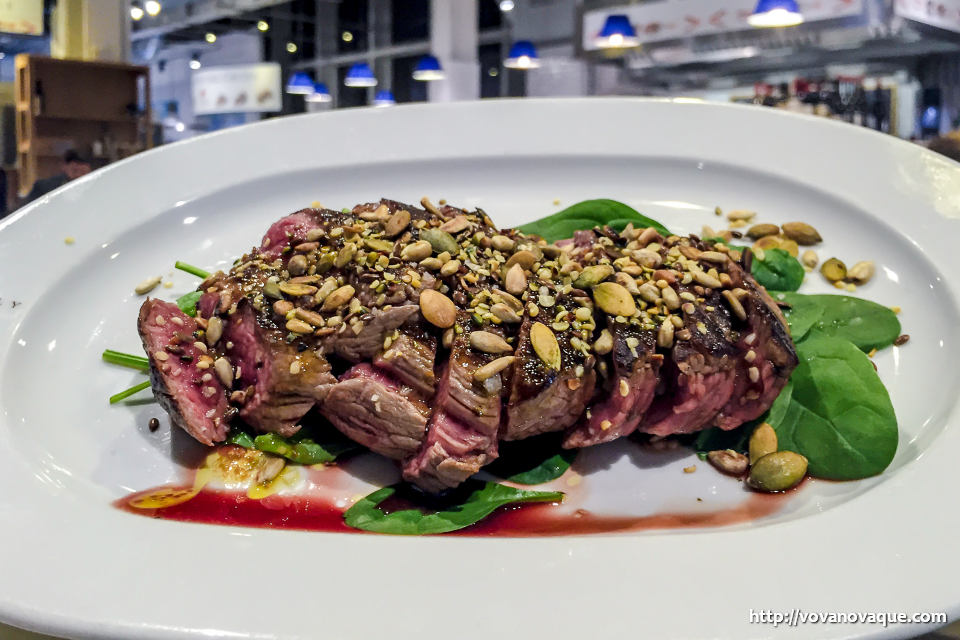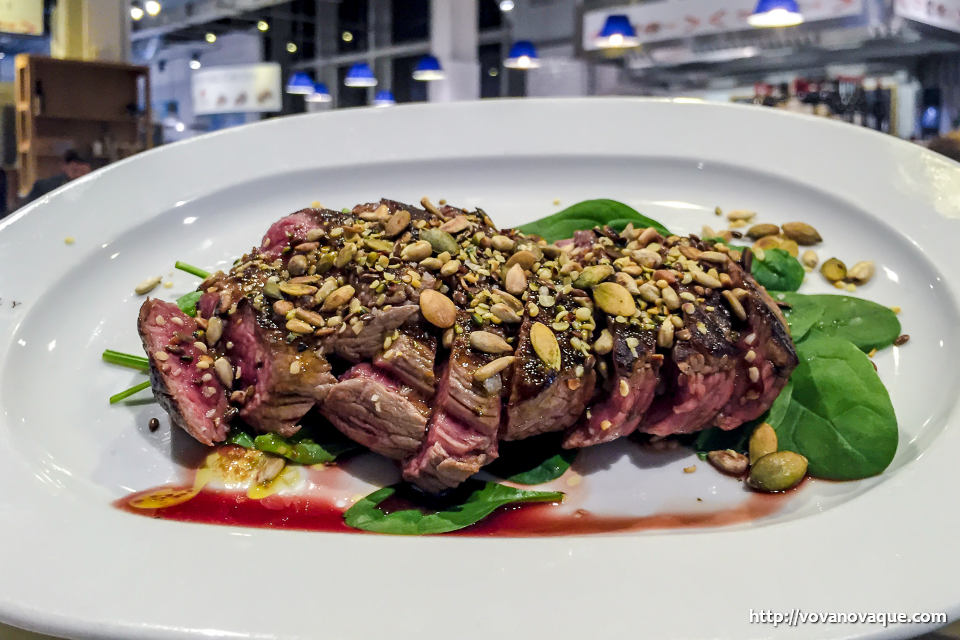 Total price was: 37 Euros for 2 dishes, 2 Italian cokes and service, which I find a good price for fresh, well-cooked portion of Italian high-quality food.
High quality service
Buying high quality products online becomes more and more popular worldwide. Eataly in Rome gives the customers a chance not only to buy, cook and taste things, but also to get all the products delivered worldwide. For that they use DHL.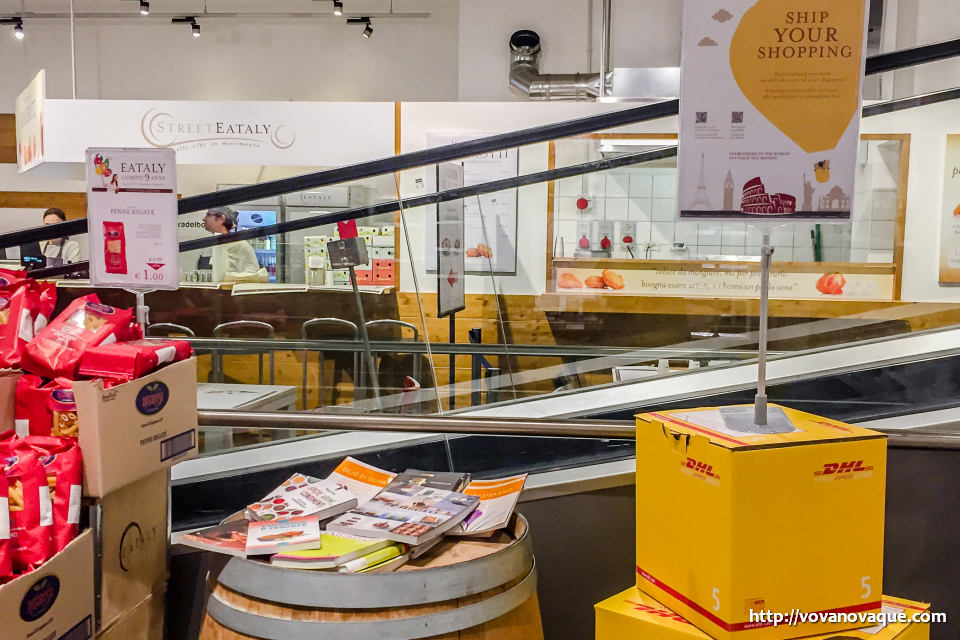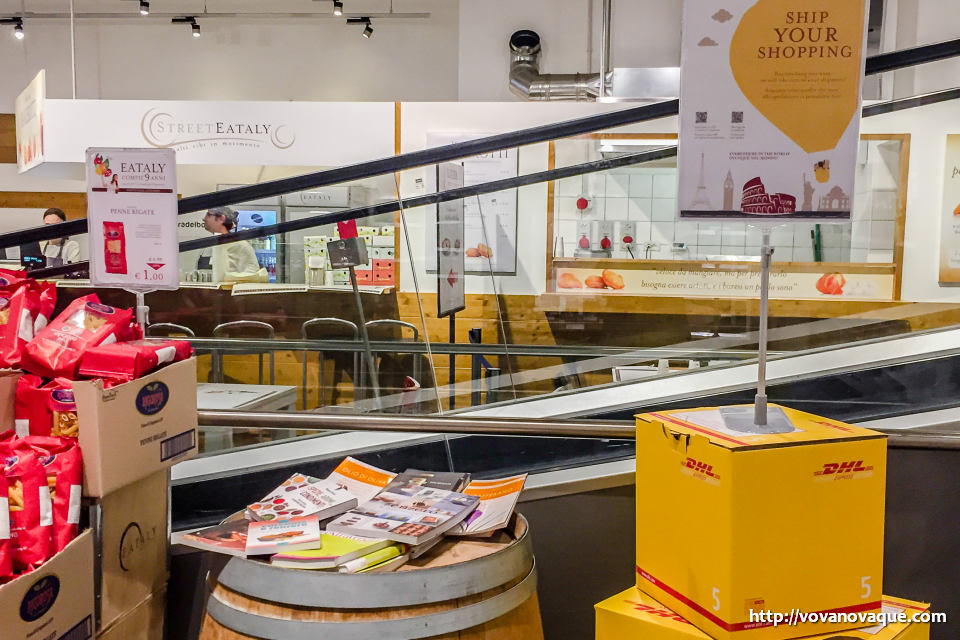 My general opinion after the first visit to Eataly in Rome is very positive. There work a lot of young people, easy and open for a dialogue. They know how to communicate with customers, they provide you with all information required, they make good coffee and share delicious food.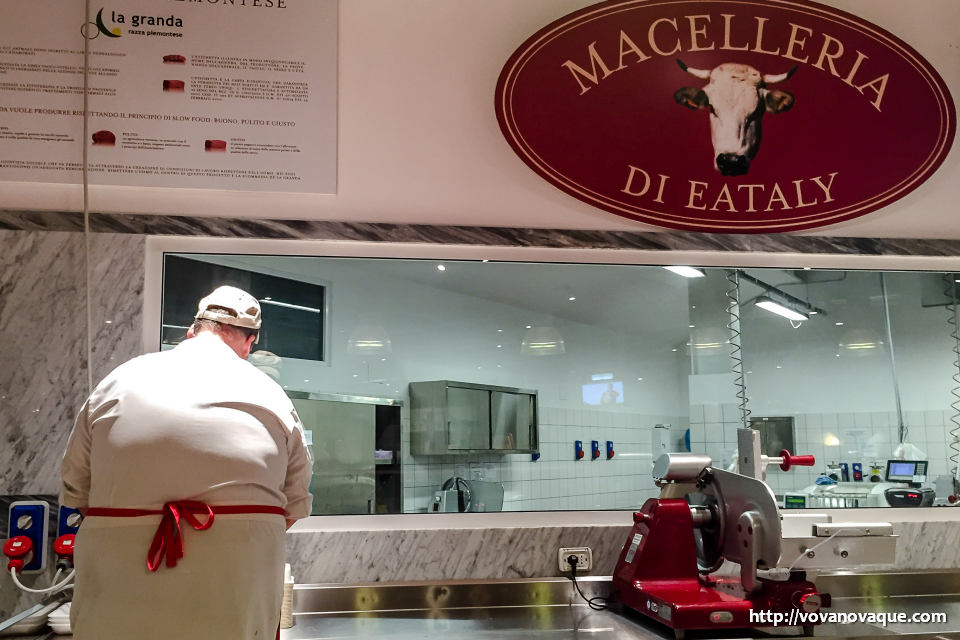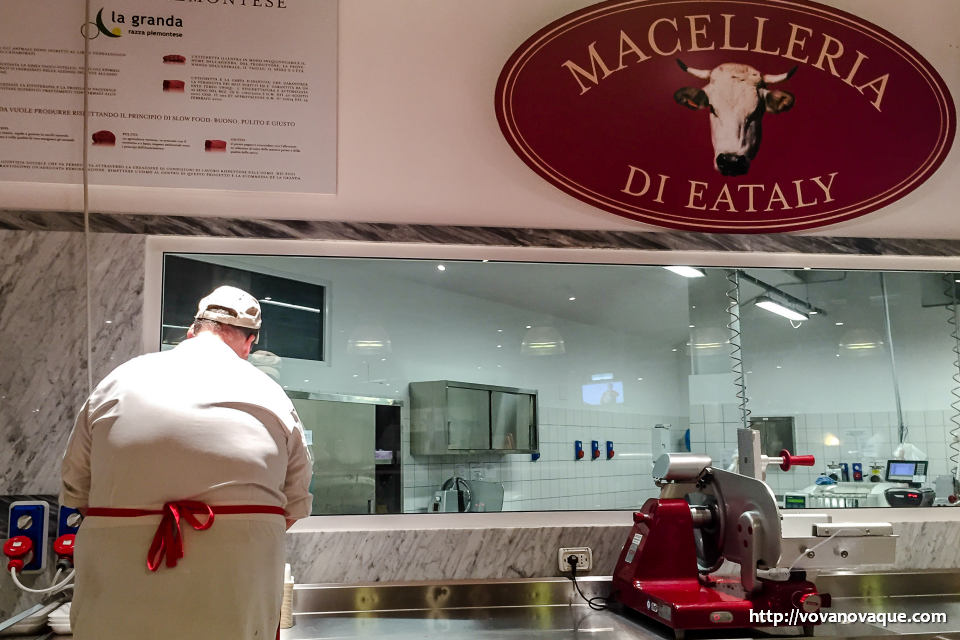 The atmosphere is very friendly and comfortable to study the huge choice and do interesting shopping.
"Life is too short not to eat and drink well" says the advert on the leaflet. Food is the fuel of the life and Eataly in Rome is a perfect petrol station to go and tank your basket. Do include a visit to this shop into your bucket list.
Information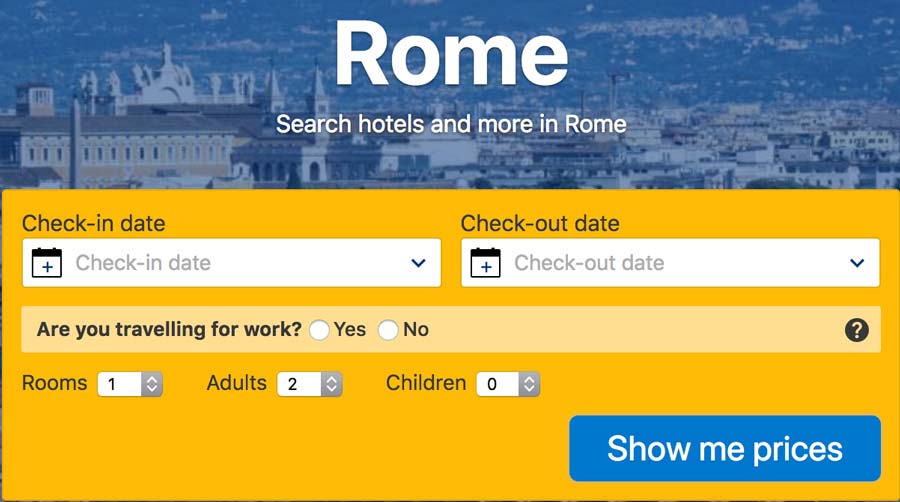 Open: every day from 10-00 till 00-00
Entrance fee: free
Official page: http://www.eataly.net
Address: Piazzale XII Ottobre 1492 – 00154 Roma
(Metro B – Fermata Piramide)
Telephone: +39 06 90279201