The first question to answer before going for a trip to Czechia and its capital is: where to stay in Prague. The city has huge variety of opportunities from 5 star hotels with SPA and exclusive services, to comfortable apartments for city breaks with friends and families, as well as cheap hostels for travelers on budget. Below you can find articles with listings of the best places where to stay in Prague. We carefully picked them up from thousands of offers. As the criterion according to which we've chosen the recommended venues were:
location;
reviews of tourists and our friends;
cost per night.
Prague top neighborhoods where to stay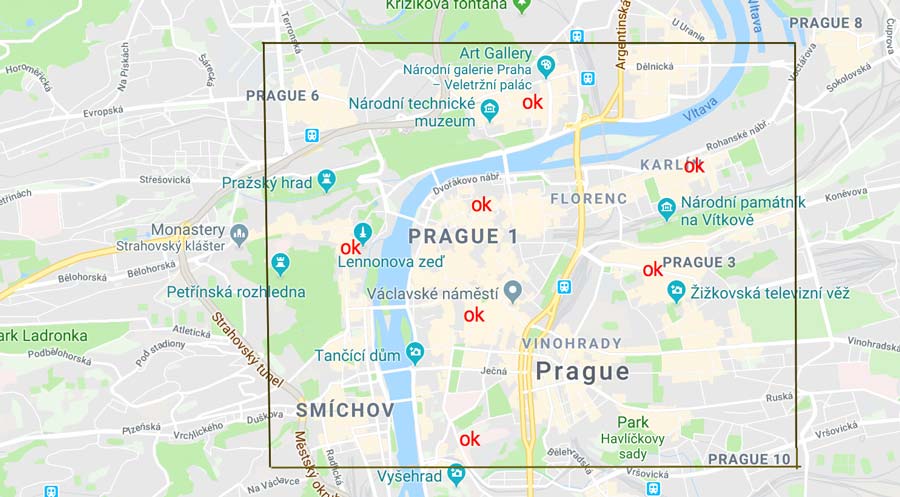 Among the most popular and top Prague neighborhoods I can name the following: Stare Mesto, Nove Mesto, Josef, Vesehrad, Mala Strana, Hradcany, Letna, Holesovice, Karlin, Zizkov, Vinohrady. The rest areas are quite remote on the one hand and on the other – in the ones I named above, there are so many interesting offers, that you will definitely choose the perfect place to stay. But these are the names of the hoods. Some of them are united into districts, which have numbers. So if you are looking for comfortable distance from the city centre and main attractions, I sincerely recommend considering Praha 1.
If you choose this option, you hotel will be in either: Old Town, New Town, Mala Strana, Hradcany. Quite a huge territory to live in and to discover. Praha 2 – is Vinohrady and Vysehrad, Praha 3 – Zizkov, Praha 7 – Letna and Holesovice, Praha – 8 Karlin. There is one thing you should know about these numbers. It is not always so: the bigger the number, the farther the location.
Praha 1: Stare Mesto (Old Town), Nove Mesto (New Town), Josef (Jewish quarters)
The best areas for those of you who would like to stay in the very historical centre and even in buildings of XVI, XVII, XVIII centuries. Old and New towns, as well as Jewish quarters are comfortable for long walks, sightseeing tours and tasty food discoveries. Most of the top 10 attractions one will find in Praha 1. Therefore there are quite a number of offers where to stay: from the most luxurious hotels to easy budget hotels.
Living in this areas means, that you will constantly will see Astronomical Clock, built in 1410 and reconstructed in 2018. You will hear the bells of Tyn and other Prague churches. On the other hand, you need to be careful with choice of restaurants, where to eat, because there are a lot so-called "touristic" traps with pure service, but doubled prices. Have a look at our special food tour, which helps travelers to eat local food for reasonable price.
Why Stay in Stare/Nove Mesto
 

and Josefov area?

If you ask me if Stare Mesto, Nove Mesto and Josef are comfortable and safe to stay when in Prague, I will give affirmative answer only, with only one but. Mind, that the city centre all year round is packed with tourists. It means, some streets are especially loudly. Depending on the purpose of your visit, you should bear this thing in mind. The hotels and apartments I will suggest to you below are in comfortable streets, but to be on the safe side, always read the reviews of former travelers.
What to see and do in Stare/Nove Mesto & Josefov area?
Old Town Square – the former market in medieval times and the most popular square with tourists today. It unites such Prague highlights as: Astronomical Clock, Tyn Church, Stone Bell House and others.
Synagogues: Old-New, Maisel, Spanish, Pinkas, Klausen – which make a huge layer of jewish history in Prague. Jewish quarters occupied the hood Josef, names after Josef II, who was Holy Roman Emperor, to include the ghetto in the boarders of the city.
Charles Bridge and riverside. Vltava is a very beautiful, though quite aggressive river. Walking along the bank you will notice a lot of sign of water level of 2002, when the biggest ever flood happened.
Where to stay in Stare/Nove Mesto & Josefov area?
Finally we come to the list of the reliable hotels, hostels and apartments in Praha 1: Stare Mesto (Old Town), Nove Mesto (New Town), Josef (Jewish quarters):