Cesky Krumlov and Hluboka nad Vltavou Castle are most popular day trip destinations for tourists visiting Prague. These two world known attractions will surprise even the most fussy traveler. Most of private or group tours from Prague to Krumlov are one day trips. But we spent two days, in order to see the place both during the day and to compare it with the morning time. In the morning you are absolutely alone in tiny streets of the medieval town.
Cesky Krumlov has been in its place, which is about 200 kilometers from Prague, already for 7 centuries. That is because of its preserved look, atmosphere and architecture the place was included into Unesco historical heritage listing. And that gave the town the second life.
Tourists looking for history and really old place, got a new spote map of Europ to discover. Today hundreds of visitors come to see the castle with bears in Cesky Krumlov, to get lost in the streets or to hire a boat and go for rafting.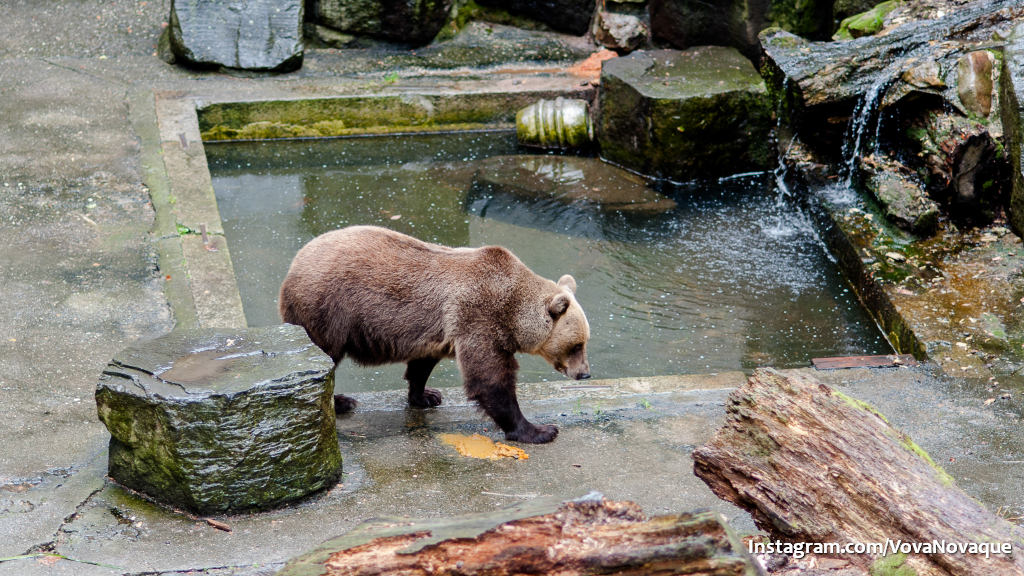 Hluboka nad Vltavou
But let us start with a neighboring place named Hluboka nad Vltavou. This is a small village, but with a vey long history linked not only to the Czech Republic, but to Germany, Austria, Hungary and Italy. I won't go to deep into the stories and legends of the place, but give you several historical facts, which will help you to get enough motivation to set off for a day or, as I did, for a two-day trip from Prague to Hluboka nad Vltavou.
The Chateau was founded in the 13th century;
The building was rebuild several times, mostly when a new owner arrived;
Hluboka was a home for Schwarzenberg family until 1939 when the place was occupied by the Nazis;
The modern design of the Chateau Hluboka nad Vltavou was copied from Windsor castle;
There are 140 rooms and 11 towers;
They don't allow to take pictures inside of the Chateau.
What to do in Hluboka Chateau?
When you arrive at Hluboka don't be in a hurry to get inside the Chateau. First of all I strongly recommend having a walk around the building to enjoy old gardens with huge trees and of course to look at the building from the distance. Since it is a very very popular touristic destination, there can be too many people inside the courtyard and quite close to the entrance. Take a step away from the crowd.
According to my mathematics, the best time to visit Hluboka nad Vltavou is morning: starting with the opening and for another several hours. After 11 a.m. buses start bringing more and more visitors for a day trip from Prague.
Tickets to Hluboka
Entrance fee is about 10 Euros per person. Students and kids can get a discount. Mind that there are no self guided tours inside the castle, therefore you will be linked to a group. The group follows a lady with a tape recorder playing the voice, which is going to tell you the whole history of Hluboka nad Vltavou Chateau. It sounds at least strange, I know, but there is nothing to do. Anyway if you come to see the place, you absolutely have to get inside.
They don't allow to take photos inside the Chateua
Cesky Krumlov
After several hours spent in the Chateau of Hluboka, you take the bus and go to Czech Krumlov. I really don't know what to start with. Telling about such an attractive and unique place is quite hard. Maybe I should begin with red roofs. You are sure to have a positive shock viewing the tiny houses carefully grown beneath the huge walls of the castle.
Find the best hotels in Cesky Krumlov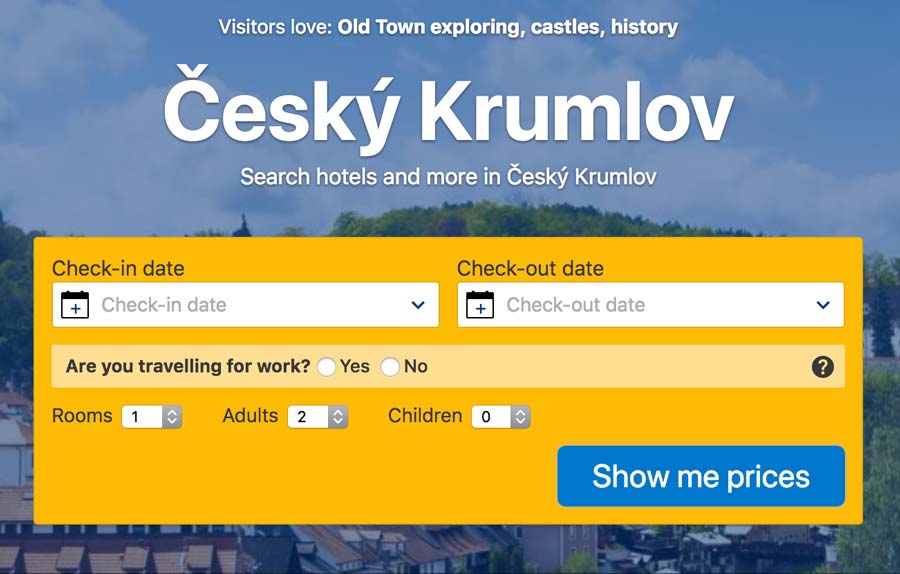 Since the 15th century these roofs has been red. Time destroys a lot, but looking from the top balcony of the Chateau at Cesky Krumlov you can't but get astonished with the way such an old town has been preserved. I think we shall start with the views of the place.
What to do in Krumlov
First of all you need to get ready for long walk up and down of the hills, because the castle in Cesky Krumlov is located on a flat, but quite a high rock. Moreover the territory belonging to the chateau is huge: there are several parks, courtyards, a tower to climb and  tiny streets with red roofs on the top of little fairy-tale houses.
So believe me, there are lots of things to see and to do in Cesky Krumlov especially if you plan to have only one day trip from Prague.
In summer there is an opportunity to raft down the river and to enjoy Czech nature, views of the castle from a little boat taking you down the river. There are numerous options either for beginners and professionals. On the weekends the river is full of people floating.
Locals normally set off for a long 10-20 kilometers way with numerous pit-stops in riverside bars for a beer. At the end of the adventure most of them are quite drunk and happy.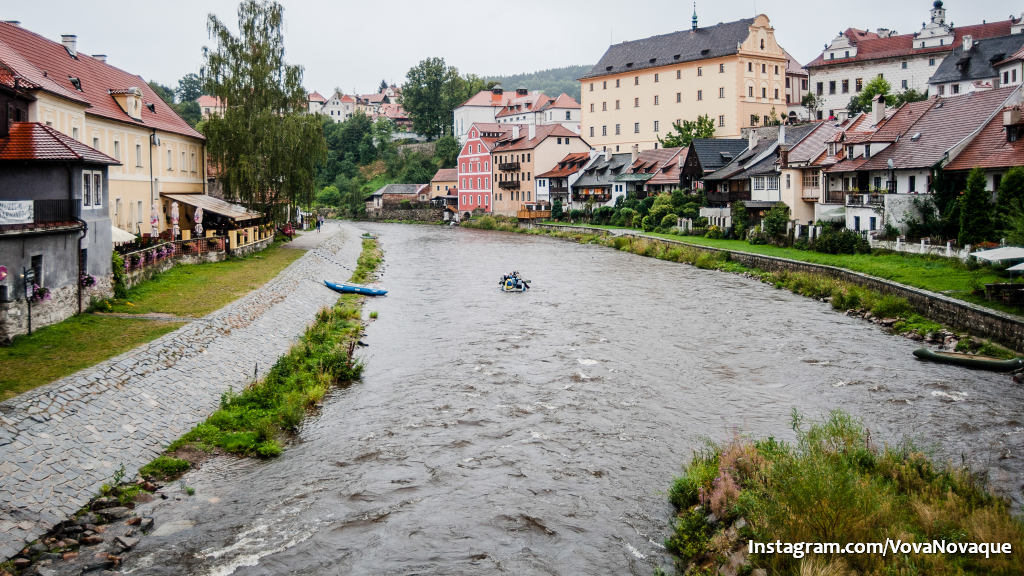 Where to eat?
There are several good restaurants in Krumlov with either local Czech cuisine and for example with Italian, vegetarian, Indian. If you are ok with local food, go to Cikanska Jizba, a place with reasonable prices, music and good beer. For Italian food, I would recommend a very delicious place on the bank of the river: Papa's Living Restaurant.
Reliable and comfortable transfer from Prague to Krumlov and back

Bucket list for a day trip to Krumlov
To enjoy amazing panorama views from the castle;
To climb the tower;
To find one of the best preserved open-air Baroque theatres in the world (by the way it functions even now);
Make a selfie and tag it with KrumlovVNQ to get a heart from me;
To eat well;
To buy a teddy bear a local souvenir shop;
To eat trdelnik;
To sit by the river and to dream;
To take another hundred of pictures;
To throw a coin in order to get back to Cesky Krumlov.
If you by chance would decide to stay in the town for a night here is the link with a choice of hotels with the best options and prices. It is important to choose your hotel in the heart of the old town in one of the old houses.
For more inspiration find the following gallery:
Usually a day trip to Krumlov and Hluboka finishes around 5 p.m. when you start your way back to Prague. Depending on the traffic you can get to the hotel about 8-9 p.m. 
I hope that you got enough of inspiration to choose a day trip from Prague to this two amazing Chateau in southern Bohemia. There are a lot of things to do in Cesky Krumlov. The bucket list of activities of course isn't a complete one, but even this listing can help you.
For those who goes to the place and is going to spend at least 2 days in Krumlov I strongly recommend: to walk around the old town at night and to get up before the dawn and to get the first sun beam. This is truly fairy-tale and magic time. Share with me your photos and impressions after you visit Hluboka Chateau and Cesky Krumlov.