The New Year began with good portion of traveling. One of the most exciting trips was a visit to my friends, who live in Singapore. It was the longest flight so far. Therefore I am so excited to share my review of flying with KLM from Prague to Singapore via Amsterdam.
As you may guess, my today's story will be about KLM company, their planes, attitude and service, which I experienced on the way to Singapore and back to Europe. Since it was my first ever long flight, all the impressions will be very bright!

Getting ready for the flight
After the return tickets were purchased, my inbox started to get emails from KLM with various information, advice and offers. Carefully going through the lines I was making notes and picking up possible future destinations.
When they opened online check-in for the flight, I got a leaflet with the information about the aircraft, crew and service. There were many interesting facts, which I will share with you, my friends.
Facts about KLM
It was very interesting to know the gender structure of crews, to see the difference in the uniform. Now I know who is the boss on board.

I've discovered a very funny fact about pilots eating on the board – they always have different meals, in case anything is wrong with the food, the second is supposed to be fine. On the one hand sounds funny, on the other it is a very wise solution.

 FULL-TIME crew MEMBERS spend about 600 hours per year in the sky. Whereas pilots fly about 750 hours per year.
KLM Fleet
Boeing 777-300 – 10 aircrafts;
Boeing 777-300/200ER – 15 aircrafts;
Boeing 747-400 Passenger – 7 aircrafts;
Boeing 747-400/Combi – 15 aircrafts;
Boeing 747-400ER Freighter – 3 aircrafts;
Airbus A330-300 – 5 aircrafts;
Airbus A330/200 – 11 aircrafts;
Boeing 787-9 Dreamliner – 2 aircrafts;
Boeing 737-900 – 5 aircrafts;
Boeing 737-800 – 25 aircrafts;
Boeing 737-700 18 aircrafts;
Embraer 190 – 30 aircrafts;
Fokker 70 – 16 aircrafts.
KLM fleet Total: 162 airplanes which can carry together more than 32 000 people.

Sky team Europe
The alliance between KLM and other companies is called Sky Team. There are partners from various countries and parts of the world. They work together and sometimes unite the passengers from different flights on the same direction. I think that you have noticed at least once that the ticket you bought for one company, but another one operated the flight. Sky Team Europe consists of:
KLM;
Air Lingus;
Aeroflot;
Air Baltic;
Air Europa;
Air France;
Air Serbia;
Alitalia;
Belavia;
Bulgaria Air;
Czech Airlines;
Estonia Air;
Georgian Airways;
Tarom;
Transavia;
Ukraine International.
Prague – Singapore flight with KLM review
The date was on the calendar and I made my way to Prague airport of Vaclav Havel. There are several ways of how to get there: taxi, public transport or Uber. I usually use the latter, which is quite comfortable and cheaper than taxi and faster than public transport with several changes.
Since the whole trip to Singapore with KLM had two parts: Prague – Amsterdam and Amsterdam – Singapore I didn't have to go through passport control, thus it was not necessary to come too early. Moreover I followed the check-in procedure in advance online. The only thing to do in the airport was to drop off the luggage and to pass security check.
In Prague airport the traffic of passengers is not so heavy, usually it takes 10-25 minutes to drop off the luggage
Flight 1: Prague – Amsterdam
Unfortunately, due to some technical reasons the flight from Amsterdam was delayed and consequently my gap of 6 hours between the planes from Prague to Singapore vanished. So I had no chance to see my friends in Amsterdam. As the captain of the aircraft told us, there was a problem with the original airplane, which made KLM change it for another.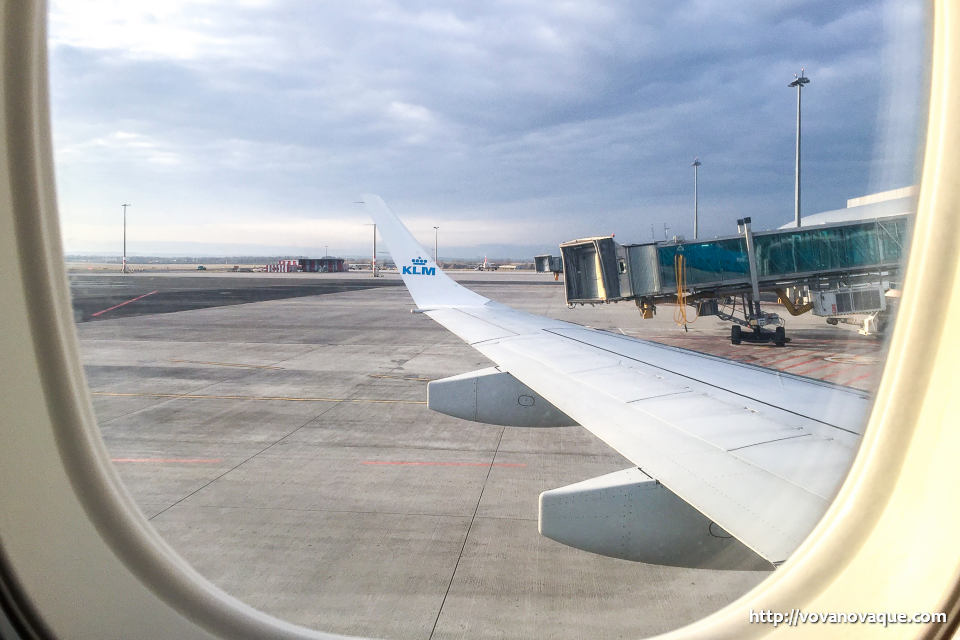 Schiphol is one of the best airports in the world. It is a huge hub, with lots of directions, millions of passengers per month. What makes it so unique? These are the comfortable navigation, variety of places to eat from fancy restaurants to McDonald's, friendly and knowledgeable crew and amazing design.
Traveling to Stockholm and to Prague from Amsterdam I have been there several times. This time I was inside the international flights outside Europe, which was quite new experience. The distances get longer, the airplanes get bigger.

Flight 2: Amsterdam – Singapore
I'm an honored holder of Belarusian passport, which means I have to go through the double checks of visas, names, tickets every time I travel somewhere. It happens because my motherland is out of, so-called, 'privileged' and 'trusted' countries. Right before the boarding on the flight to Singapore with KLM it happened again.
There was a list of people, who had to come to the desk to show the documents one more time. No matter that they already checked me at the boarder control. But I forgot this minor negative bureaucratic procedure after the boarding. I couldn't have thought, that some 400 people can squeeze so fast into an aircraft.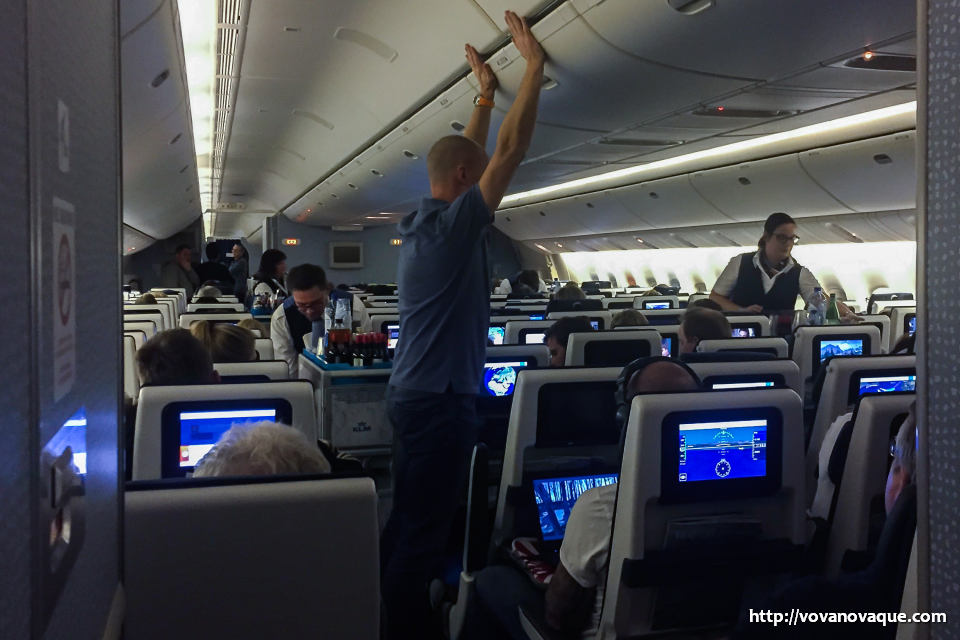 Seats in KLM flights
I was traveling together with my friend Artur Jakutsevich professional photographer. He is a very tall person. Therefore we chose the seats at the emergency exit, which always gives infinite space for a daddy long legs. Just in front of us there was the place of the steward of KLM. She was very helpful, friendly and easy to communicate with.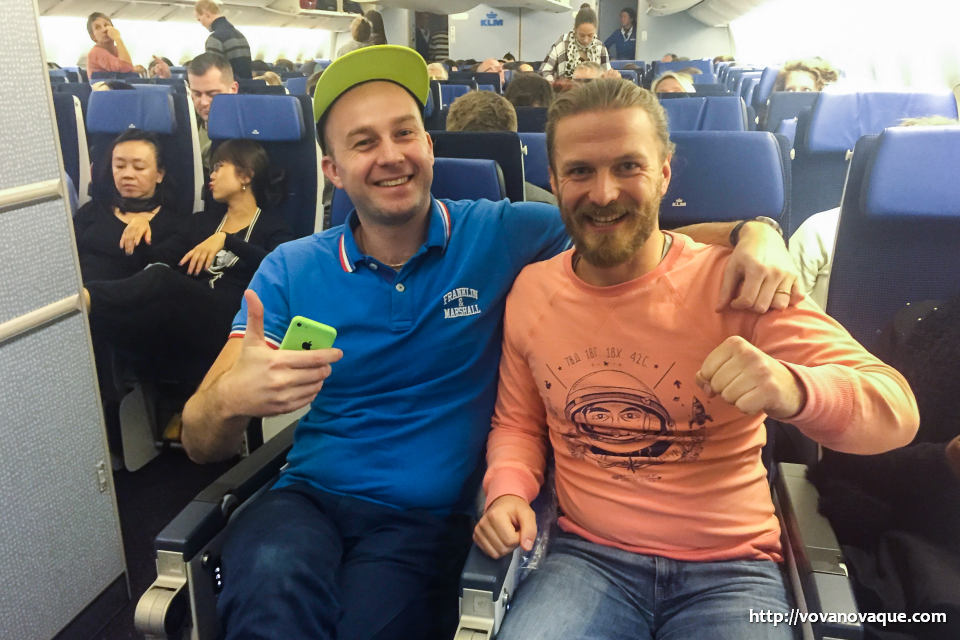 There was a funny moment, when the aircraft was on the runway. Being unsure weather we already flew or still were on the runway, I asked the steward. He smiled and told me that we had been in the air for some 2 minutes already. That was a very nice beginning of the journey.
Food in KML
Before the departure I took the opportunity to choose online among special menus: asian, Italia, kosher and so on. All the variants were very attractive, but since it was my first flight for such a long distance, I decided to keep the standard menu in order to see what they usually serve. And as a result the dinner was quite good: nice pasta, fresh salad and dessert. Portions are quite enough to be full, but not to feel your belly bulging.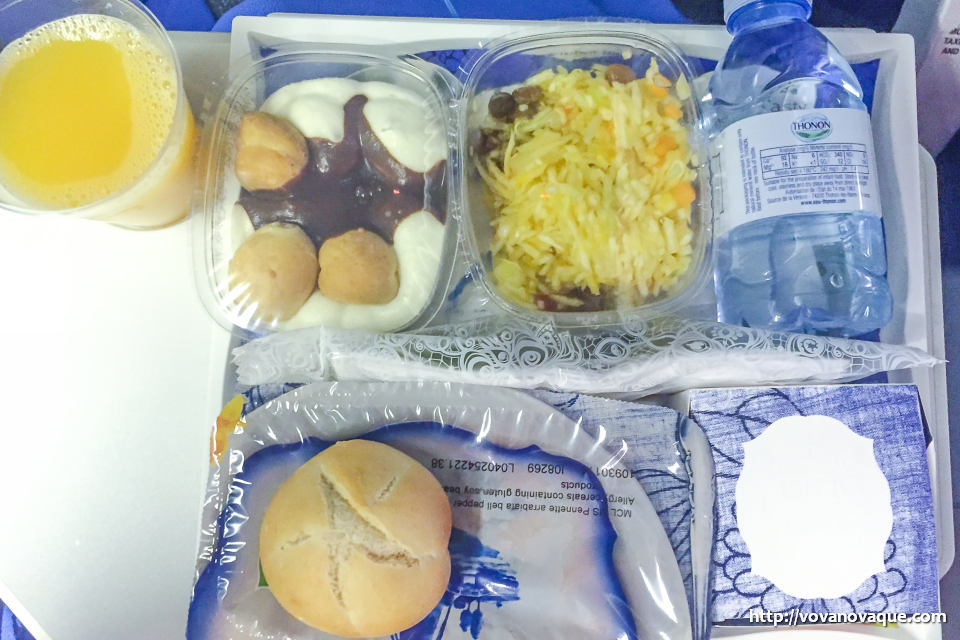 Sitting in front of the kitchen, I could see how hard the crew works, in order to deliver the food to all the passengers warm.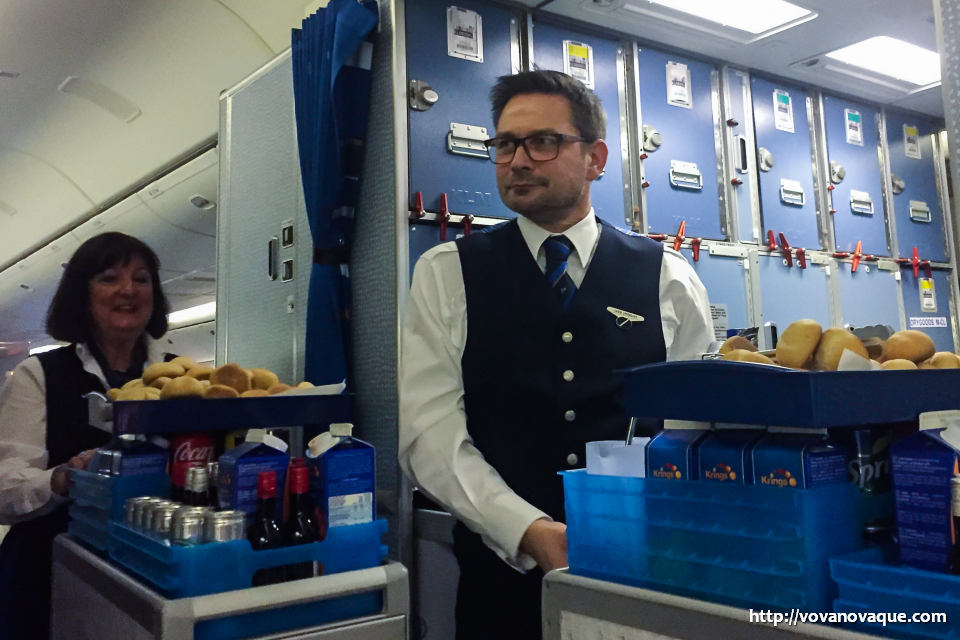 Entertainment
The touch screens connected to the server of KLM aircraft give vast opportunities to kill away the time. Some people went to sleep, the others watched movies or read books. Me and my friend decided to play chess online, which was quite a good idea before going (or better to say, sitting) to sleep.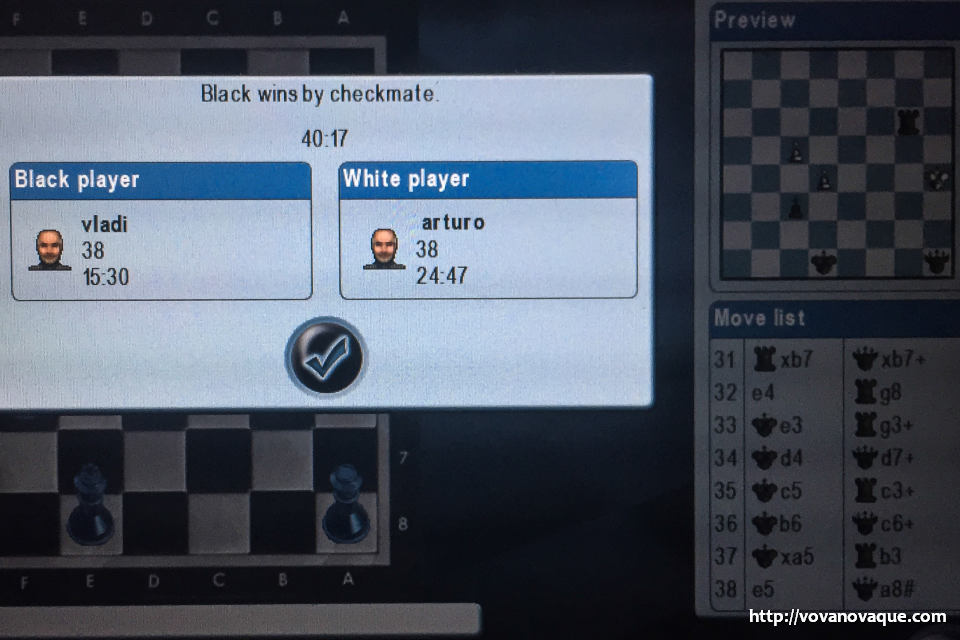 Virtual map showed in real time our position, speed and hight. Mile after mile we were getting closer to the point of destination, but there were another 10 hours of flight. Luckily there was a number of good movies to watch and music to listen to.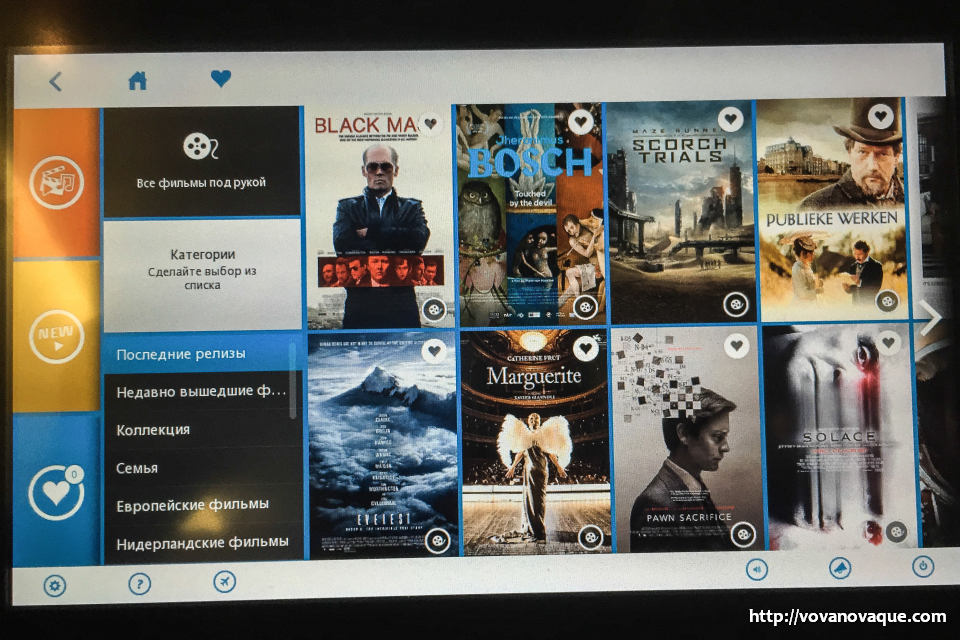 Breakfast
After some time of sitting in the same position I was not so enthusiastic about the flight. My excitement was changed with the desire to stretch my body and to take a shower. With that thought in my mind, I heard the voice of the captain. He was greeting us wishing good morning and the crew started breakfast delivery.
After a quick morning toilet and a bit of fresh water on my wrinkled face, some fantastic views through the window and all my negative emotions were forgotten. The breakfast in KLM was tasty: pancakes, fruits and juice.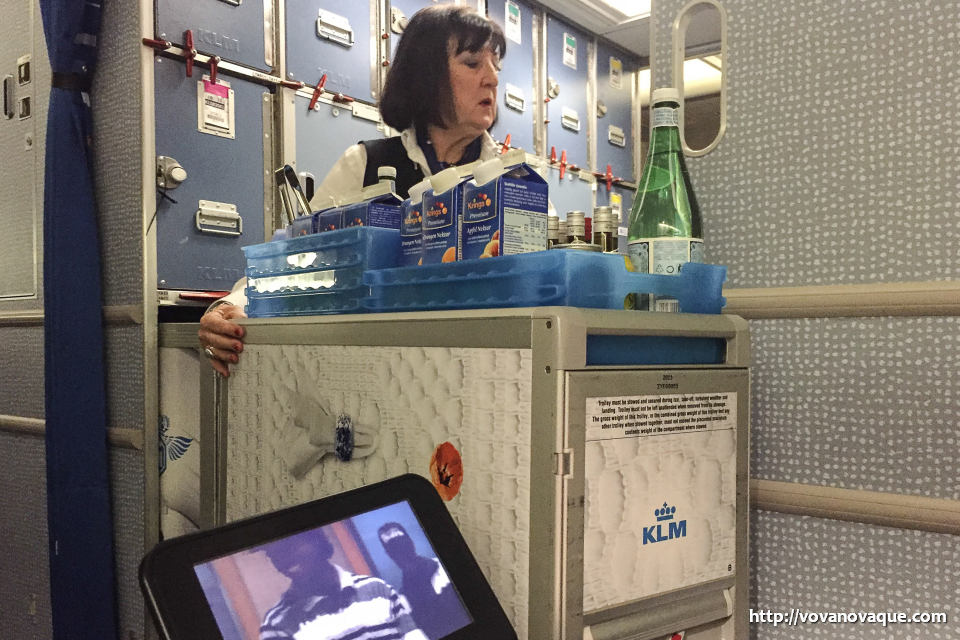 As soon as the crew «cleaned» the tables, we were asked to fasten the seat belts and to get ready for landing. I've noticed that both takeoff and landing of such huge airplanes like we were flying with are easier and softer.
Leaving the plane I could not help taking photos with the KLM crew members of my longest flight so far. In case you see this picture, please receive my heartiest greetings for the work you do to make us, your passengers, feel comfortable.
Way back Singapore – Amsterdam – Prague
On the way back we had the same seats, with the same extra space for legs. After huge dinners in Singapore I could hardly drink water, therefore the dinner on the plane served at 2 a.m.
was not in my wish list. Yes, I refused to eat. It happens sometimes. But I collected some small packs of clean and fresh water to drink at night. It was the best packed water I have ever tried.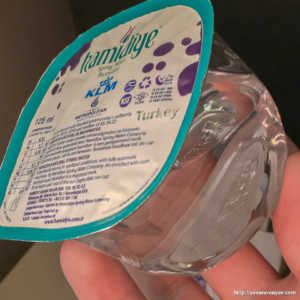 After another movie watched and some hours of sleep I wondered around the craft. Frankly speaking, I was so tired with sitting, that it was more a search, rather than just a stroll.
There were not so many people on the plane and in the solemn and dark space I could recognize lucky fellow travelers stretching their bodies on the vacant seats. Of course, all these super luxury spots were taken. But I found one place, where I could sleep like a child. No, even like a king! It was the gap between the last row and the wall, where I could fit in. With no hesitation I went back to my place to take the pillow and the rug to make myself comfortable.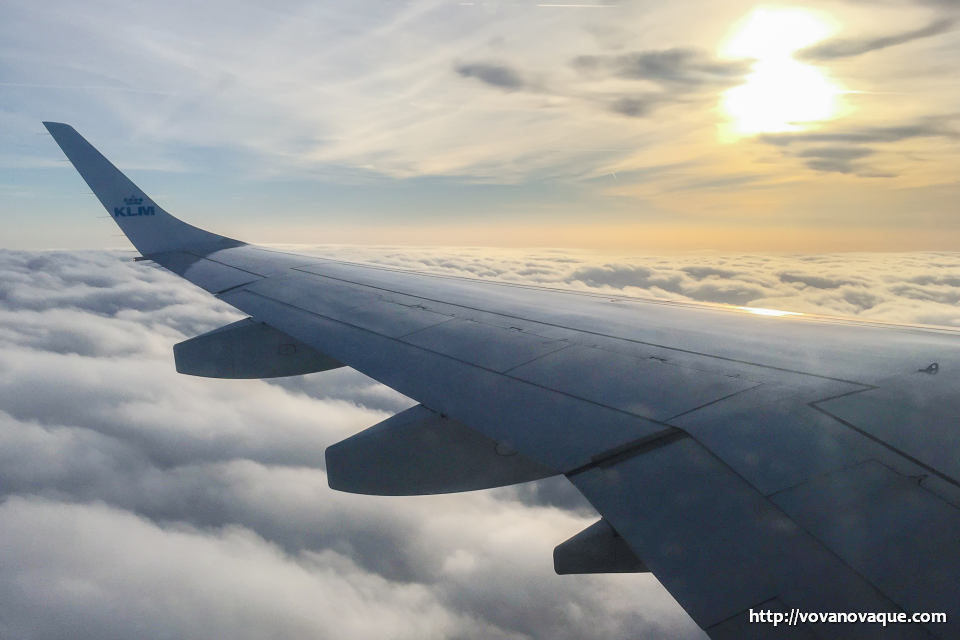 These were 4 hours of amazing sleeping time on a flat surface, which made me understand again the fact, that we need not so much to be happy.
Jet lag syndrome
When I came to Singapore from Europe and had to adjust my biological watches to new schedule I had no problems. But on the way back after a week in new conditions, my body and mind were acting slowly. Thus, on the flight from Amsterdam to Prague, which takes about 90 minutes, I didn't feel either takeoff or landing.
Some 2 days after were also quite interesting. Desire to have a power nap for some 30 minutes turned into deep sleep for 15 hours, which was quite new experience as well.
Conclusion
My first long flight with KLM was very nice, I liked it, learnt lots of new facts and people, slept on the floor, ate well and had no stress. And the most important, I got safe and sound from one part of the Earth to another. So, I can only thank my friends for the invitation to Singapore from Prague and the airline company KLM for good service. So far, so good!
Book you next flight for the best price: