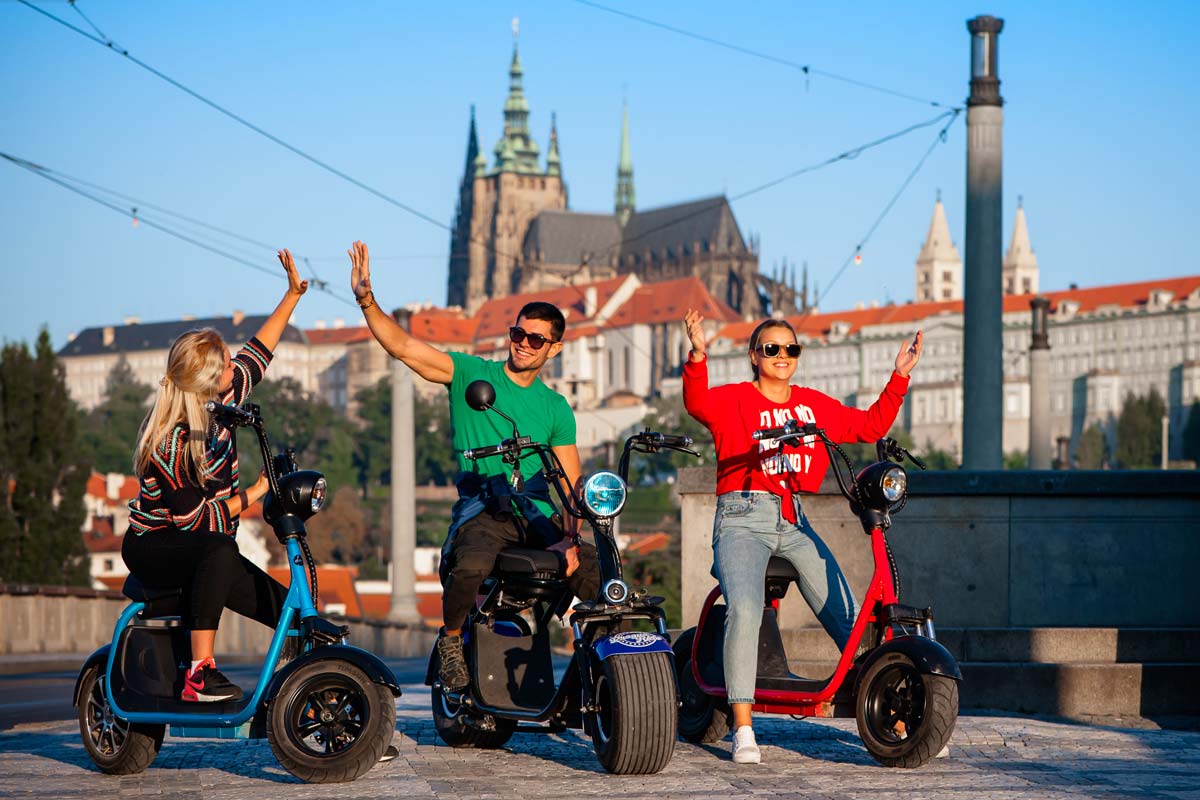 No Charles Bridge tour in Prague is the best chance to experience the local life. Meeting at the very heart of the city we will make our way on e-bikes or e-scooters (you choose the transport) along the river to residential areas making stops at the highlights of Prague, which you won't find in the guides. The idea and the aim of the tour is to show you, how today's Czech capital is decentralized on the one hand and how interesting is the life out of touristic areas – on the other.
On the tour we will stop in an art space for coffee or lemonade. The place used to be a manufacture built 100 years ago, today plays an important role in cultural life of the hood and the city. Also you will definitely like the idea of visiting a huge gallery of modern art and to hang out after the tour in one of the most underground steampunk clubs in Prague. As a cherry at the top of our tour will be an amazing panoramic view from the top of the most beautiful park in the central part of the city. All in all we will spend 3 hours enjoying stories, places and of course the ride. All the venues we are going to see are unique.
You will learn on no Charles Bridges tour:
interesting facts about local life in Prague;
the plan of city development;
new places of interest out of the beaten touristic routes;
new hoods to go out in Prague.
As a bonus to this private tour in Prague, I will take some photos and video of your riding the bikes and send them on your phone. It will be a chance to share your new experiences with friends on Instagram and other social media.
Information:
Time: after 12:00
Meeting: Astronomical Clock in the Old Town Square
Duration: 3 hours.
Price for a group up to 3 people: 150 Euros – 3 hours;
Price for e-bike rental: 20 Euros per person; e-scooter 40 Euros per person;
Maximum number of tourists: 6 people. For the 4th, 5th, 6th the fee is 20 Euros for any duration of the tour*.
Food, drinks and transport are not included into the price
* If there are 3 of you willing to book this tour, the calculations should be the following: 3 e-bikes rental + price of the tour, which makes 3*20 + 150 = 210 Euros for the tour. If there are 5 people: 5*20 (bikes) + 150 + 20 + 20 = 290 Euros.
NB! We provide only private tours for individuals, families or groups traveling together. If your group is over 6 people, please specify the number of people in the request. For any questions feel free to contact us via whatsapp or phone call at +420774509060
Book this private tour in Prague with a local guide using the contact form below