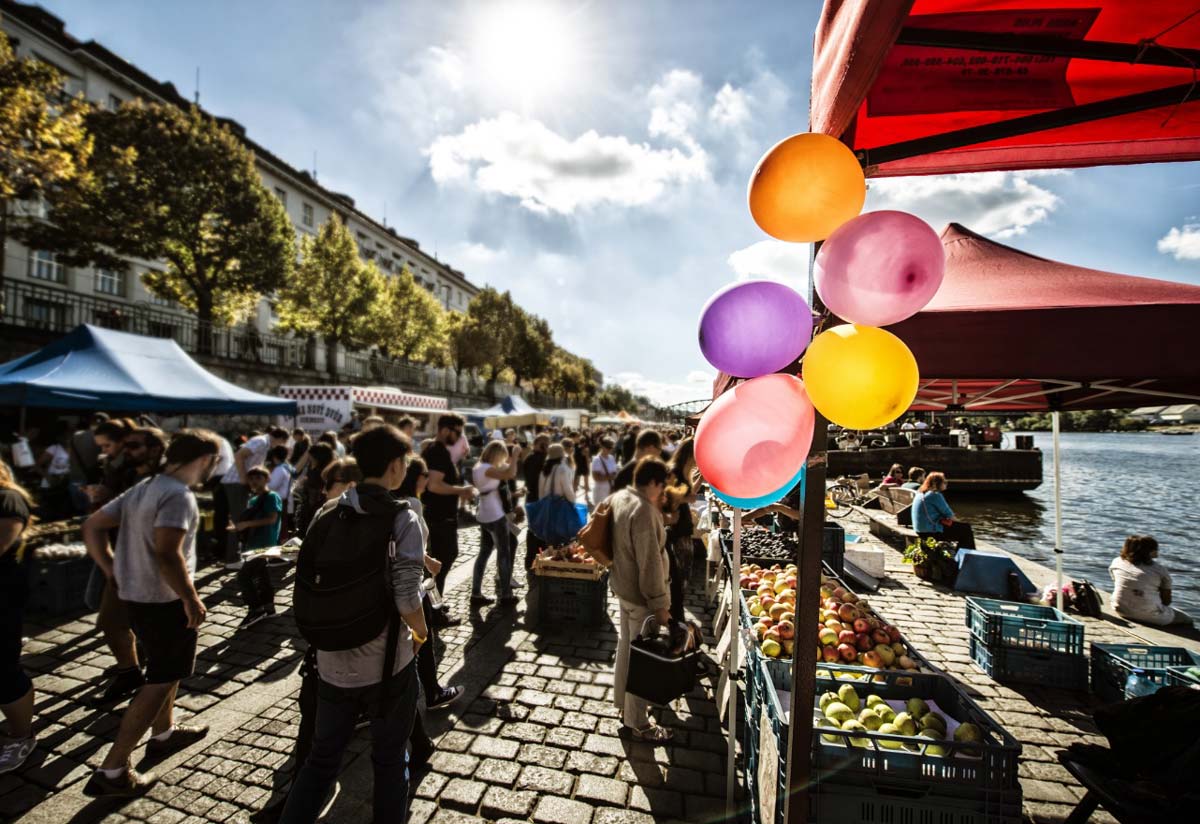 Saturday tour in Prague with farmers' markets — is the best chance to see how locals love open air markets and food events. This is a trend of recent 5 years and it is getting more and more popular. The most interesting among all is the market in Prague is Naplavka.
The latter is the riverside area between the Dancing house and Vysehrad hill. Stretching for almost 1 kilometer the market gives a chance to taste and buy natural and biological local products like: bread, milk, cheese, meat, eggs, fish, vegetable and fruit. Everything is season and very fresh. A Saturday morning in Naplavka is a must for foddies. As a good stat of the Saturday tour in Prague we can have some fresh French oysters with champagne. Sounds likes a plan?
Saturday tour in Prague highlights
If you are going to buy things at the market, don't forget about a backpack to carry things in, because it is only the start of our Saturday tour in Prague. After we will walk along calm streets of Prague 2 hood to get to the top of Vysehrad castle to discover the history of the ancient city and of course to enjoy breathtaking panoramic views of the city. There is also a nice open air beer garden, where we can make a beer pause. It can be a reward for getting to the hill.
Rolling down the hill we will take a tram to get to another hill — Prague castle. The residence of the president and former royal palace is a huge territory. There we will visit the most essential venues and learn the history. As a reward for such a huge and long tour we will have nice dinner in a brewery where monks make amazing beers and share them with all the guests.
Within a 6-hour walking private Saturday city tour you will see the following places of interest:
Naplavka;
panoramic views;
red roofs;
one of the oldest breweries in Prague.
You Will Learn:
Interesting facts about life in Prague and Czechia;
The list of interesting and tasty bars, restaurants or cafes to visit;
History Czech cuisine and food culture;
Other possible ways of spending time in Prague.
And as a bonus to this private Saturday tour in Prague, we take some 10-15 of you with backgrounds of the brightest places. It can you phone/camera, or we can bring ours. These photos will remind you of hours spent like an early bird, who caught the best of Prague. That is why I sincerely recommend booking a 6 hour option.
Information:
Time: 10:00 on Saturday
Meeting: Dancing House
Duration: 6 hours.
Price for a group up to 3 people: 300 Euros – 6 hours, 250 Euros – 5 hours, 200 Euros – 4 hours.
Maximum number of tourists: 8 people. For the 4th, 5th, 6th, 7th, 8th the fee is 20 Euros for any duration of the tour.
Food, drinks and transport are not included into the price
NB! We provide only private tours for individuals, families or groups traveling together. If your group is over 8 people, please specify the number of people in the request.
Book this private tour in Prague with a local guide using the contact form below