My one day in Budapest — a big and very interesting city occupying banks of Danube – the biggest river in central Europe. Unlike other European cities the Hungarian capital is not as cute and cosy as for example Prague.
It doesn't let you plunge into romantic atmosphere as Paris as well as it won't fascinate with its architecture being very unique. But nevertheless it has certain features which make the city very attractive. My first visit to Budapest was not a long one: just one day to see the must see places and to feel the atmosphere of the Hungarian capital.
Reliable and comfortable transfer in Budapest:
Where to go during one day in Budapest?
The choice of the places where to go and things to do if you have only one day in Budapest is quite big. The city and the country had great history with numerous important events not only to the region, but for the whole world. Hence one will find interesting and unique monuments commemorating historical happenings. Have you ever thought of the name Budapest? What does it mean and why does the city have it?
What to see
Budapest is a compiled word of two names: Buda and Pest —these were the two villages on the riverside of Danube linked together in one big city. You need at least one day to discover the most popular attraction of Buda and Pest.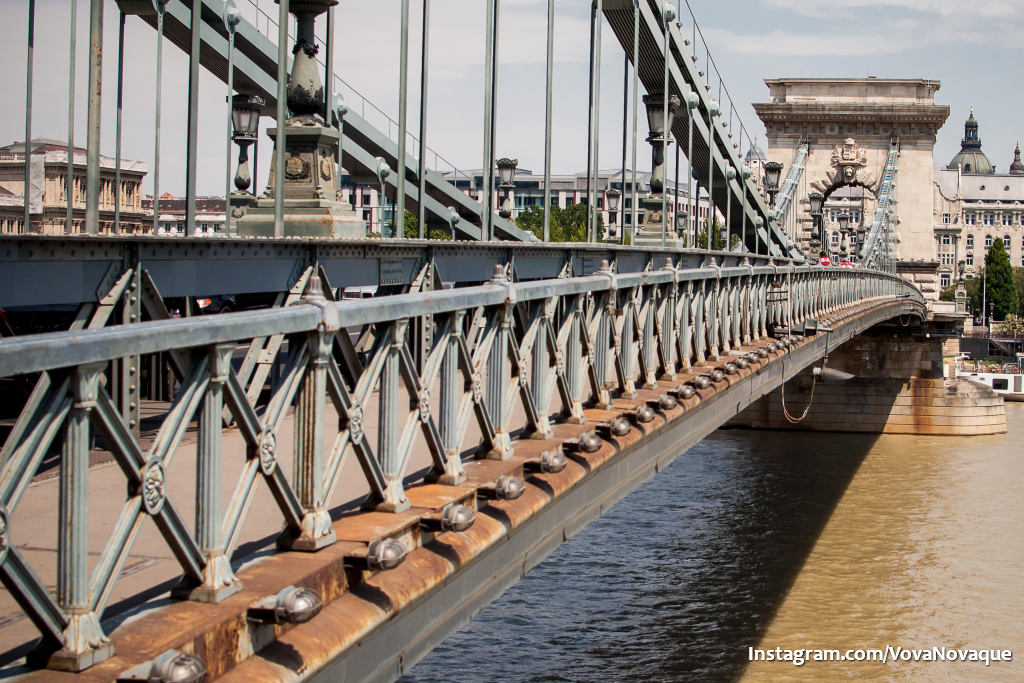 Chain Bridge
The list of attractions in the Hungarian capital I would like to start with Chain Bridge. I had a strong desire to start my one day in Budapest with this bridge, because it was the first ever permanent link between the two neighborhoods Buda and Pest. All the previous bridges were damaged and ruined by the flow of the river.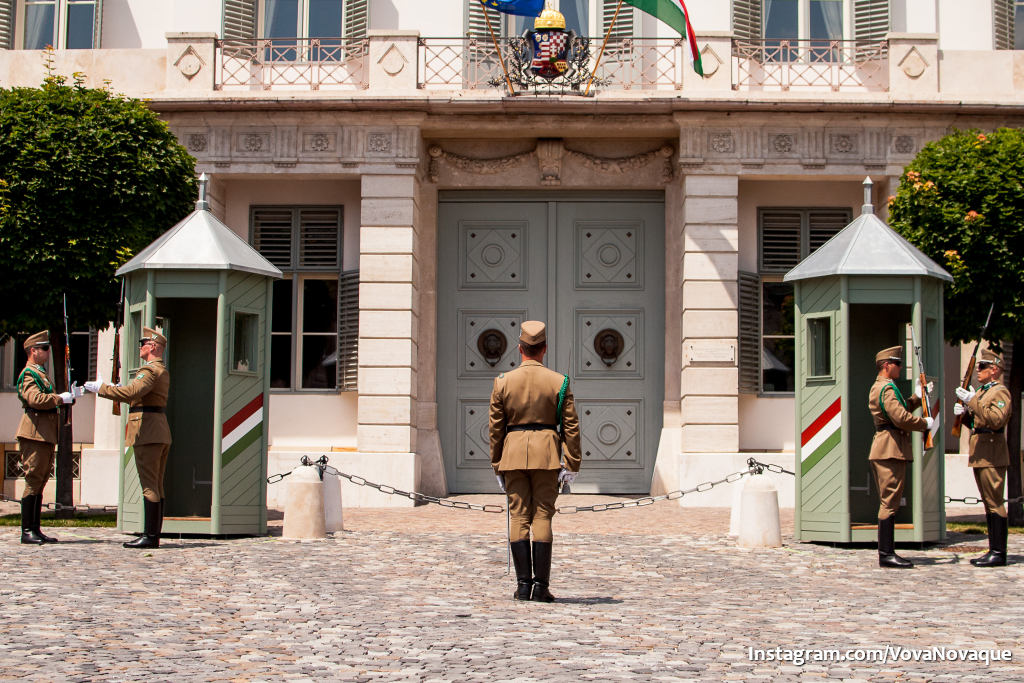 Buda Castle
Buda castle is located at the top of the hill and reminds a bit of Prague Castle. In front of the building you can see the change of guards ceremony, which is not so much impressive. To get to the top of Buda you can either walk or take a funicular. But don't fall my mistakes and chose the first variant, because you pay for the funicular and it is super short: less than 1 minute of ride.
Fisherman's Bastion
Quite a fairy tale looking area on the hill of Buda side is called Fisherman's Bastion. I absolutely adore the style of the constructions and the view that opens from here on Budapest, Danube and the bridges.
Originally this place was a fish market and these were the fishermen who once protected the city and stopped another invasion. After that it was decided to make kind of a little fortress for the safety reason. If you look carefully at the towers of the Bastion, you will see seven of them. Each of the tower was built to honor the seven people of sever tribes united in this lands which we now know as Hungary.
There is also a beautiful church at Fisherman's Bastion, but with certain entrance fee

Parliament
The building of Hungarian Parliament is absolutely WOW! I know that the picture above doesn't show its all power, but due to some reasons all the photos disappeared from my flash card. That one was taken on my phone. Located on the riverside the Parliament is the biggest construction in the whole country.
Try to imagine: there are 691 rooms, 29 staircases and 10 courtyards — to much as for one day in Budapest. It took me almost an hour to walk around it and to look at all the details, taking photos and getting thrilled with the neo-Gothic architecture and the size of the construction.
Szechenyi Baths
After such a walking tour up and down the hill I decided to relaxed to go the most popular SPA in Budapest: Szechenyi Baths and Pool. This is an amazing complex of saunas, massage and medical services under one roof.
That was my paradise after a long day in hot neighborhoods of Buda and Pest. The only disappointing moment was the time: I came too late to get relaxed properly. By that time my camera was down, so no pictures only my positive emotions. In the Baths I felt, that one day in Budapest is not enough!
As a result it turned to be my last spot for that day, despite the fact that in my bucket list there were some other places of interest:
Budapest Opera House;
Heroes' Square;
Central Market Hall;
Gellért Hill;
Great Synagogue;
Váci Street;
Budapest Broadway;
Vörösmarty Square;
Shoes on the Danube.
Millennium Underground
I completely forgot about the second oldest railway not only in Europe, but in the whole world. Line 1 or M1 was built 1896. Read carefully the date and try to remember what was going on in your own country that time. In Belarus, where I was born, people were celebrating the 35th anniversary of the slavery abolishment.
It was great fun to have a ride in such an ancient Metro line. The trains are like toys, they are tiny, noisy, all the stations are announced with music background and generally it looks more like a touristic attraction, rather than a developed public transport means. Don't forget to buy a ticket, because the Millennium underground in Budapest is controlled properly and often.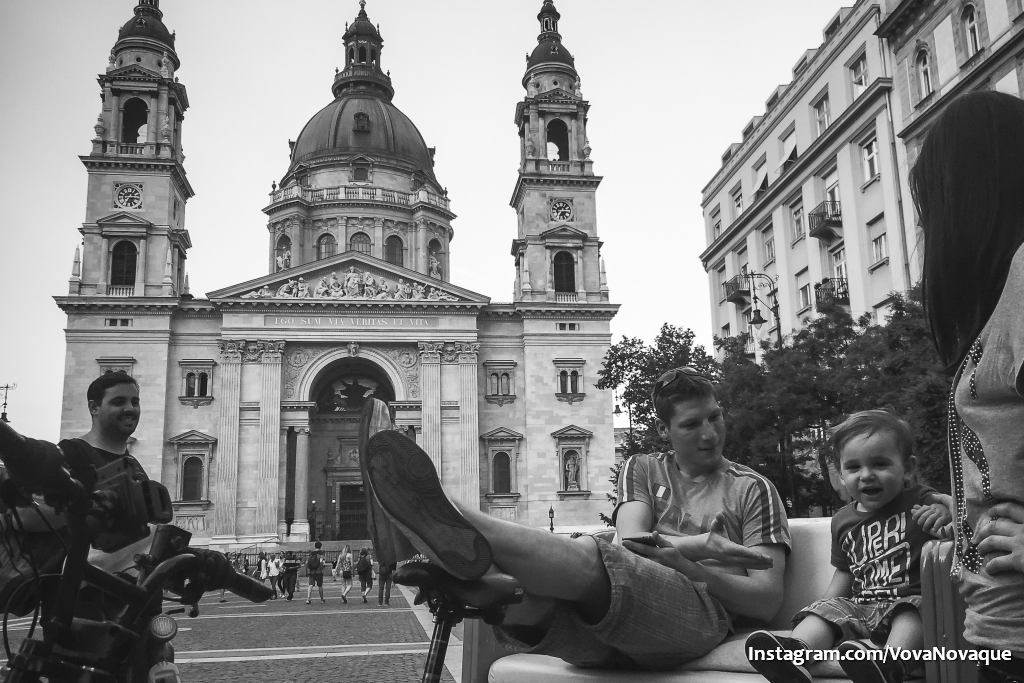 That one day in Budapest I finished on the steps of St. Stephen's Basilica — one of the most beautiful and amazing churches in the city. Around the square there are a lot of bars and restaurants with open air service, where locals and tourists gather for a glass of famous Hungarian vine. I made myself comfortable on quite warm steps (after such a day all the stones were hot) and was just observing the passers-by.
What to do
The list of things to do in Budapest for a day visit:
walk a lot;
taste local street food;
eat goulash;
visit the list of places I provided above;
relax in the baths;
have a drink in one of the ruin Szimpla Kert bar;
fall in love with the city and plan another visit;
don't get in troubles in Budapest
My experiences of the city
To wind up I would like to share my opinion and general impression about the Hungarian capital. Even one day in Budapest is amazing. A day trip is absolutely not enough to feel the vibes of the city. There are a lot of things to do and places to go. In a separate line I would put night life of this European city and probably soon I will publish as well.
A day trip to Budapest in photos:
I liked the city. I liked the atmosphere. But I didn't like the way locals treat the places and the houses. To my mind it could be a more attractive destination, even more friendly towards tourists. Will come back to Budapest one day? Yes I will with no hesitation, because my bucket list of things to do and places to go both in Buda and in Pest is still incomplete.