Vegetarian restaurants in Prague are really good. Eating is my beloved part of any trip. Where ever I go, first of all I check the restaurants with local food or the food I could eat, in case the locals eat something strange. Luckily, I have never been in such situations before.
Among my friends visiting me here in Prague there are a lot vegetarians. Therefore I visited most popular places where to eat green and now can share with you the once liked even I being a normal meat eater.
Maitrea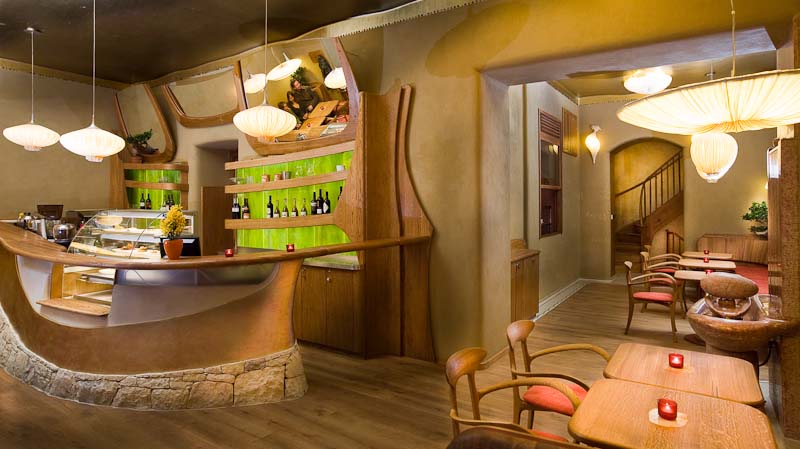 This was the first ever vegetarian restaurant in my life. To tell the truth I was pretty surprised at the choice of dishes they serve. But the most shocking thing to know was that to have dinner in the restaurant you have to book a table in advance.
The interior is absolutely relaxing. It seems that the steps leading you downstairs to the main hall step by step take you from the Old Town street of Prague somewhere to India.
The food I ate in Maitrea was of good quality and very delicious, but unfortunately I can't stand lazy and unprofessional waiters. Every next time was worse and worse. May be they can see in my face that I am not a true vegetarian and treat me as a stranger, I don't know. But a slower service I have never seen so far. Hope they improve the service soon.
Estrella
This is my beloved place so far. A tiny restaurant in the very heart of the Nove Mesto (New Town) is very friendly and cosy. The menu in this veggie restaurant is very delicious. I always wanted to know how can a burger without meat taste. And after a visit to Estrella I know that it tastes absolutely delicious.
The service is easy, quick and very friendly. All in all there are some five tables and they are totally booked in the evening. So reservation should be made in advance.
The prices for the main dish is between 150-250 Crowns, which is average for a veggie restaurant in Prague. Dinner with starter, main course and desert can come to total of 300-400 crowns.
Lehka Hlava
This is quite a unique place. Lehka Hlava is one of the top rated vegetarian restaurants in Prague, which makes it very popular and quite pricy. But, going there you are sure to have not only delicious fresh and healthy dinner, you will plunge into special a bit psychedelic atmosphere. The interior makes your eye wide open from the very first glance. I liked the friendly atmosphere and quite good service of the place.
In the menu you will find quite a big variety of meals. But you don't find there any alcohol but for beer.
Vegetarian restaurants in Prague how to book
The idea of eating green and healthy is getting more and more popular among locals and expats, therefore new places open annually. But don't forget that true Czech and local cuisine is based on meat and beer.