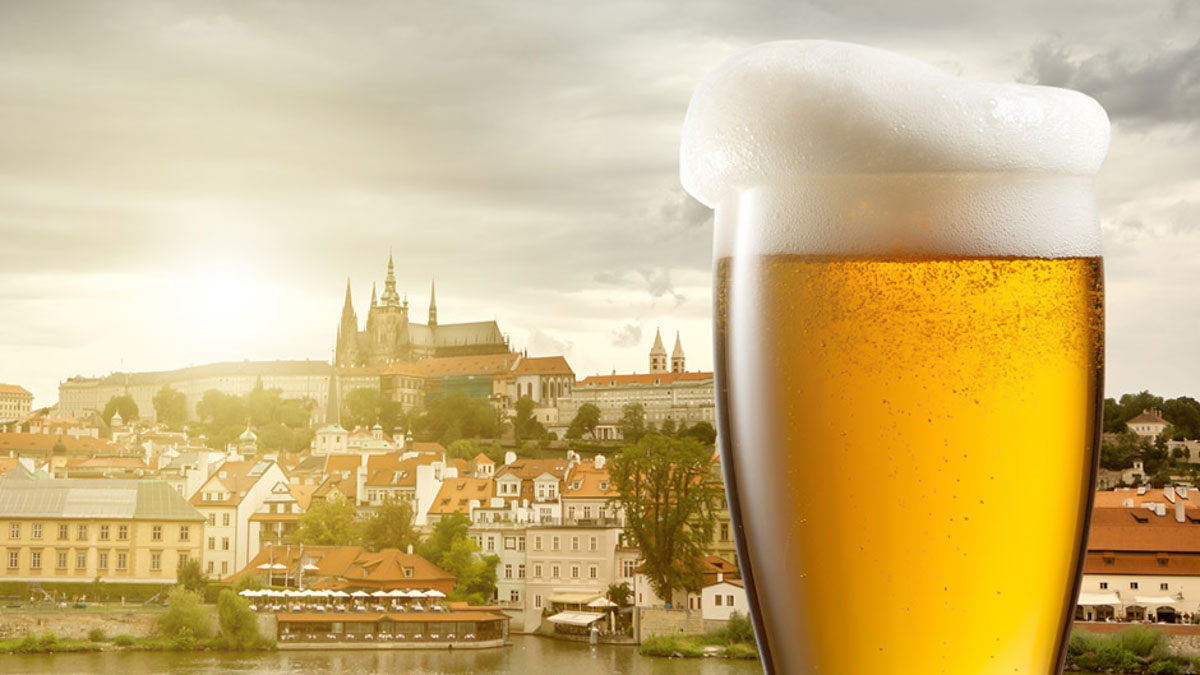 Where to drink beer in Prague is among the most frequently asked questions, and there is no wonder why so. Czechia has a very long brewing history, as the first notes about beer date back to the medieval times. Nowadays Prague offers a wide choice of beer to try and we will find out where to do it.
There are a lot of great places where to drink beer in Prague. But we will single out the following information: beer gardens, breweries, Irish pubs, craft beer, bars and drinking laws.
Beer gardens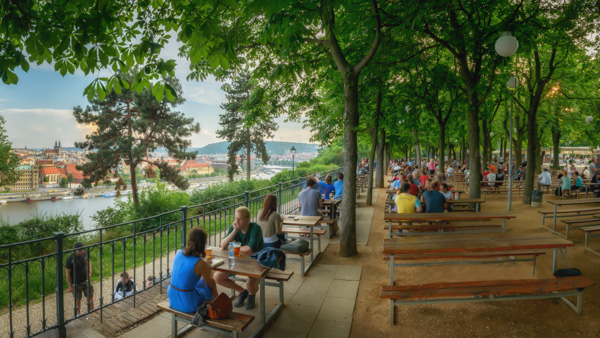 There is nothing better than to relax in calm atmosphere on a hot day and rest drinking delicious Prague's beer. Such places work from April to October when it is warm outside. Besides, many them offer different sorts of beer from all over the city of 100 spires. The most popular among them are:
Letná Beer Garden (Address: Letenské sady, Praha 7);
Riegrovy Sady (Address: Riegrovy sady 28, Praha 2);
Hospudka Na Hradbách (Address: V Pevnosti 16/2, Praha 2);
Stromovka (Address: Stromovka, Praha 7);
Parukarka (Address: Jeseniova 50, Praha 3).
Breweries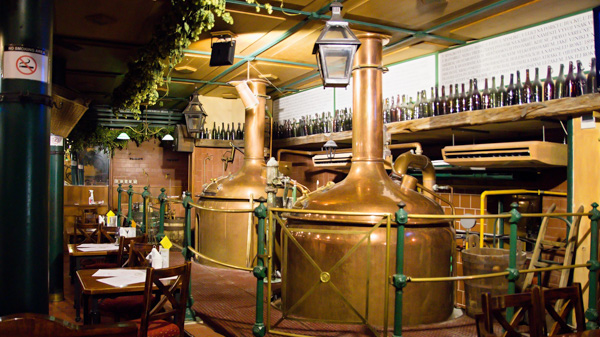 Due to the long and rich brewing history in Prague there operate many unique establishments. Some of them have been working since the 15th century, which is really hard to imagine. For beer lover this can be a reason to change a route a visit one of this places where to drink beer in Prague.
Only there you can meet brewers, talk to them, ask whatever you are wonder about beer and of course, enjoy original and exclusive drink. It is not a secret that the price in Prague's breweries will be higher than in bars but still, it is worth it.
Richter Brewery Pub (Address: Bulovka 17, Praha 8);
Klášterní pivovar Strahov (Address: Strahovské nádvoří 301/10, Praha 1);
Pivovarský dům (Address: Ječná 14, Praha 2);
U Bansethů (Address: Táborská 389/49, Praha 4);
Novoměstský pivovar (Address: Vodičkova 20, Praha 1);
U Fleků (Address: Křemencova 1651/11, Praha 1);
Pivovar Marina (Address: Jankovcova 12, Praha 7);
U Bezoušků (Address: Květnové náměstí 5, Průhonice);
Na verandách (Address: Адрес: Nádražní 43/84, Praha 5);
U tří růží (Address: Husova 10/232, Praha 1);
Rukodělný Pivovárek Třebonice (Address: K Řeporyjím, 4, Praha 13);
U Medvídků (Address: Na Perštýně 345/7, Praha 1);
Jihomestsky pivovar (Address: Podjavorinské 1602/11, Praha 11);
Hostivar (Address: Lochotínská 656, Praha 10).
Irish pubs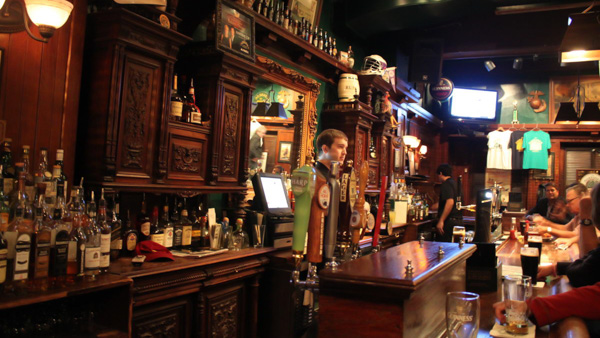 Well, the Czech beer is really tasty and impresses gourmets with its flavors. Nevertheless, there are people who love drinking Irish beer and Guinness and prefer Irish pubs among other places where to drink beer in Prague. In addition, such pubs are known because of peculiar atmosphere which attracts tourists too. There is a list of Irish pubs in Prague:
Beckett's Irish Pub (Address: Londýnská 22, Prague 2);
Caffrey's Irish Bar (Address: Staroměstské náměstí 10, Prague 1);
The Dubliner Irish Pub (Address: Týn 1 – Ungelt, Prague 1);
The James Joyce (Address: U obecního dvora 4, Prague 1);
Rocky o'Reillys (Address: Štěpánská 32, Prague 1).
Craft beer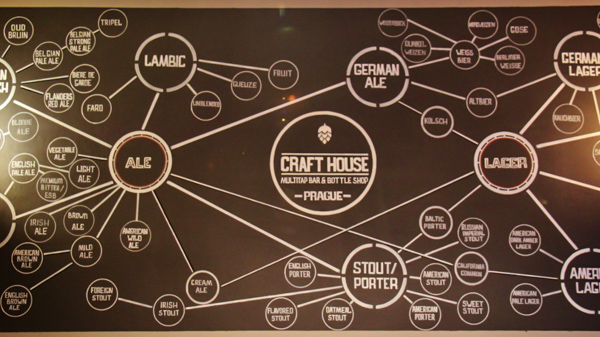 Craft beer is like a cherry on the beer lover's birthday cake. Wonder why so? Only craft beer opens a completely new world of beer tastes. For example, in Prague you can find craft beer with orange, banana, coffee, cherry, wheat, champagne and many others. The main difference is in the process. Most noteworty that craft beer is made in small amounts and brewers add their unique innovations into the traditional recipes.
Kulový blesk (Address: Sokolská 1499/13, Praha 2);
Nota Bene Beerpoint (Address: Mikovcova 4, Praha 2);
Bad Flash Bar (Address: Krymská 126/2, Praha 10);
BeerGeek Bar (Address: Vinohradská 988/62, Praha 3);
Craft House Prague (Address: Navrátilova 1421/11, Praha 1);
20 PIP Craft Beer Pub (Address: Slezská 1357/1, Praha 2);
Zlý časy (Address: Čestmírova 390/5, Praha 4);
Illegal Beer (Address: Smečkách 590/16, Praha 1);
U prince Miroslava (Address: K Vodojemu 2382/4, Praha 5);
Zubatý pes (Address: K Botiči 409/2, Praha 10).
Bars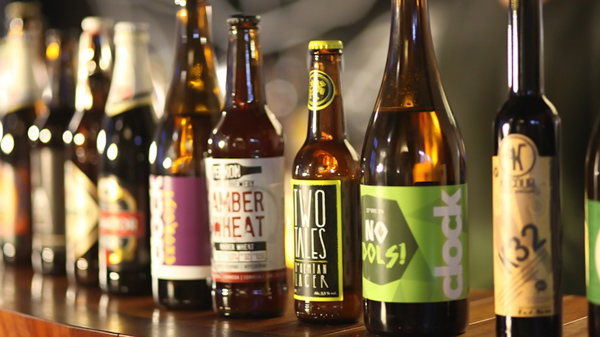 We should also mention local pubs, as they contain the atmosphere of the city. There you can try traditional and the most popular beer in Prague and many of them offer tasty meals, mainly of Czech cuisine. Speaking about the prices, they are lower than in breweries or craft beer pubs.
Lokál Dlouhá (Address: Dlouhá 33, Prague 1);
U zlatého tygra (Address: Husova 228/17, Prague 1);
Lokál Nad Stromovkou (Address: Nad Královskou oborou 232/31, Praha 7);
U Černého vola (Address: Loretánské náměstí 107/1, Praha 1);
Lokál Hamburk (Address: Sokolovská 55, Praha 8);
U Veverky (Address: Eliášova 324/14, Praha 6);
U Kurelů (Address: Chvalova 1119/1, Praha 3);
Hostinec U Vodoucha (Address: Jagellonská 21, Praha 3);
Hany Bany (Address: Veleslavínova 5, Staré Město);
U Hrocha (Address: Thunovská 10/2, Malá Strana);
Restaurace Kulový blesk (Address: Sokolská 13, Nové Město).
More information about prices here: What are the prices in Prague.
Drinking outside – laws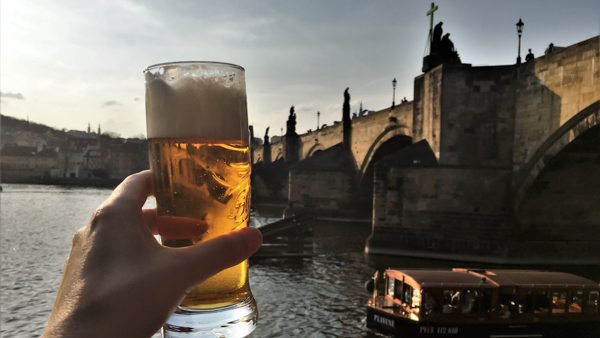 In general, as you can see there are a lot of places where to drink beer in Prague. But still, people drink at the streets, close to the main tourist attractions and in the parks. Recently Prague has become stricter to such cases and uninformed guest of the Czech capital can receive a fine.
Where to drink beer in Prague
This list of top places where to drink beer in Prague presents unique craft beer pubs, breweries, beer gardens and Irish pubs throughout Prague. Czechia is famous for its various sorts of beer, and the bigger part of it you can find only here. Besides, leave your thoughts and reviews about the beer in the comments below. Also tell us what your favorite taste is and how many you have tried.