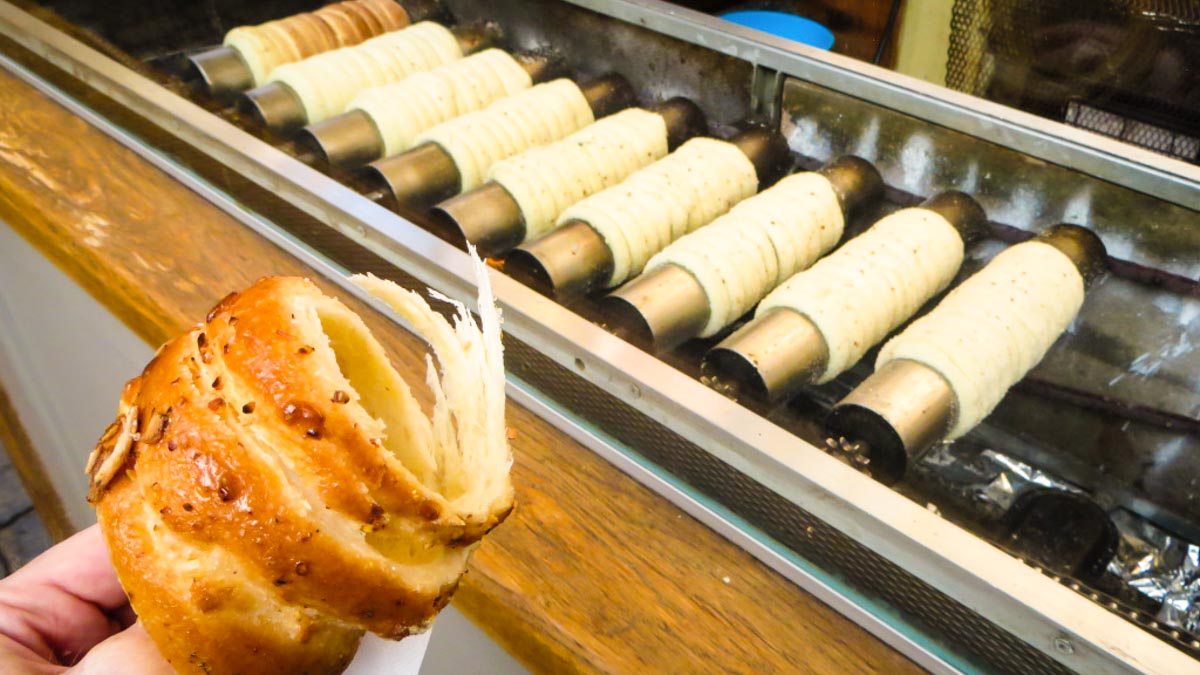 Walking around the city center you may smell something really delicious and see crowds of people standing in queues in front of stalls with food. In this article we will single out the best street food in Prague, mentioning what it is and what to try. As many European cities, the Czech capital has a lot of yummies and going there you should know about them!
Czechs share their cuisine with tourists thus helping to get acquainted with their culture. Street food in Prague is fairly common and widespread so you will easily find it. The bigger part of it is concentrated in Old Town and Mala Strana, mainly on squares.
There you can also find pizza, burgers, chips, fried potatoes, but they are peculiar not only to Prague. So, let's find out unique, tasty and nutritious food you can try only here!
Trdlo
Trdlo is probably the most famous street food in Prague. It is cooked from yeast dough with sugar topping. Traditionally Czechs cook it on mangals and dough is wrapped around wooden skewers similar to long rolling pins. The cooks strew it with sugar and fry on the coals until it gets brown color. You can see this baking both on streets and in Trdelniks.
Many tourists confuse the name trdlo and trdelniks. The first one is the sweetness itself, and trdelnik is the place where people cook it and sell.
Speaking about the taste, it is sweet and soft. But for classic recipes with sugar there are many innovations, such as trdlo with nuts, cinnamon, chocolate, whipped cream, fresh berries, ice cream. The price starts from 60 CZK. All stalls accept both CZK and Euros.
More information about the Czech currency and where to exchange money here.
Chlebíčky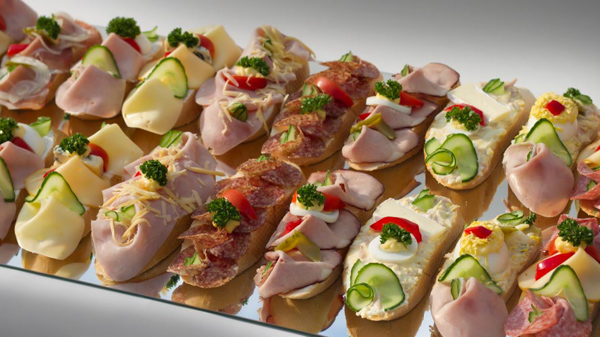 This is a kind of cold appetizers, the main component of which is a slice of black or white bread. Traditionally, people add to them salad, greens, vegetables, ham, smoked meats, cheeses, eggs, fish, mayonnaise sauce, ketchup or butter.
Generally speaking, chlebíčky is a sandwich, perfect for breakfast and lunch. Usually it is big and really filling meal. Looking for a fast but nutritious snack among the best street food in Prague this is the choice.
Ice cream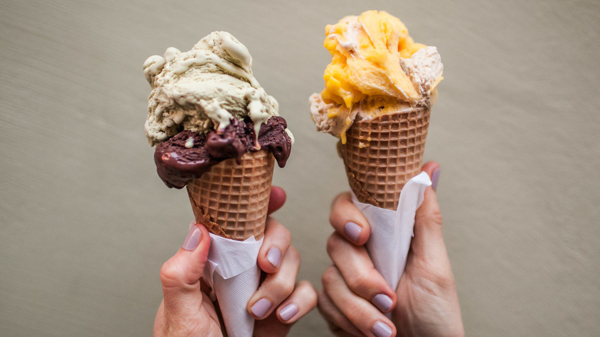 Ice cream on the streets of Prague is also highly popular, especially in hot summer days. Both adults and children treat it as a perfect addition to a walk. There are many varieties, tastes and of course, places to try. In stalls and small shops the price for one ball is about 30 CZK, but it depends on the filling.
The traditional tastes are vanilla and chocolate, though you can choose such as mint, cherry, banana, nutty, caramel and many others. Besides, in our article about the best ice cream in Prague we have mentioned the place, where you can try ice cream with the taste of dark beer. Isn't it interesting?
Goulash in bread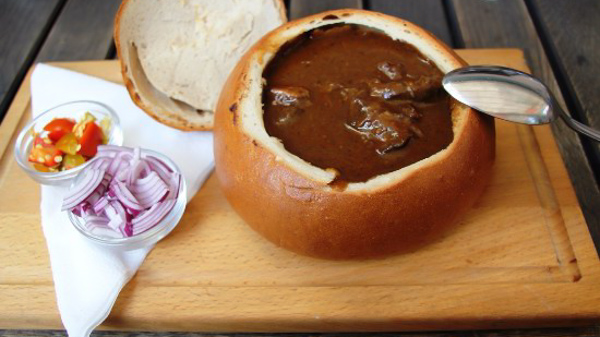 As you may know, traditionally this dish has a Hungary roots. But in the Czech Republic it has managed to take the place in the list of national cuisine. If you are looking for a big and tasty lunch, then you should definitely try it. Czech people cook goulash in bread with vegetables and add a lot of meat, it can be beef, chicken or pork. Usually it is served in bread, has a large portion of gravy and bread dumplings. Sounds tasty!
Pork knuckle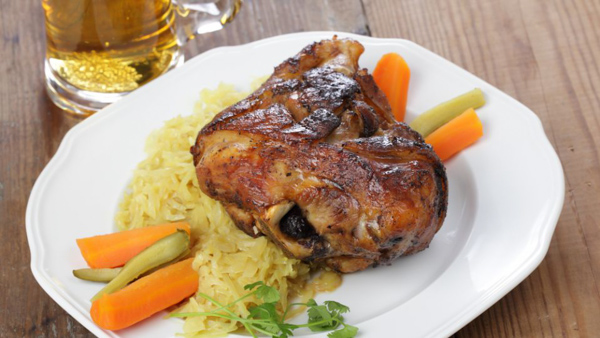 Pork knuckle is the pride of the Czech Republic. Traditional recipe says that it should be soaked in beer and salt from 12 up to 24 hours and only then fried on an open fire. In our article about the best pork knuckle in Prague we have mentioned the restaurants, but you can also find it in stalls among best street food in Prague.
The street pork knuckle is slightly different, more salty and dense, while in restaurants the meat is softer. Besides, it is cooked on an open fire which adds more taste to it. The price depends not on the dish itself. You pay for the weight of serving and the cost starts from 89 CZK per 100 grams. Usually it goes with bread, mustard and ketchup.
Smažený Sýr (Fried cheese)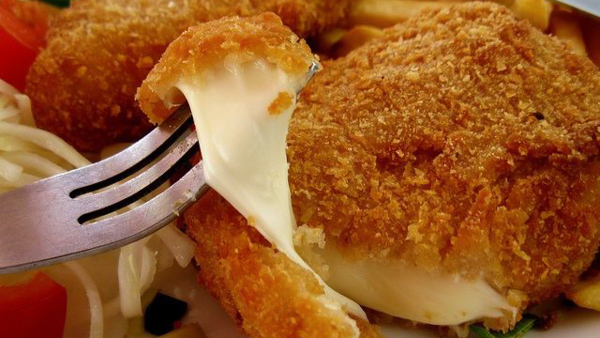 Fried cheese is also among the best street food in Prague. It is cheese in breading and then fried in oil. You can find it served in bread as a hot dog, optionally with mayonnaise or ketchup. If you stick to a diet, you should know that it is a high calorie dish. The price varies, but in most stalls fried cheese costs about 50-60 CZK per portion.
Beer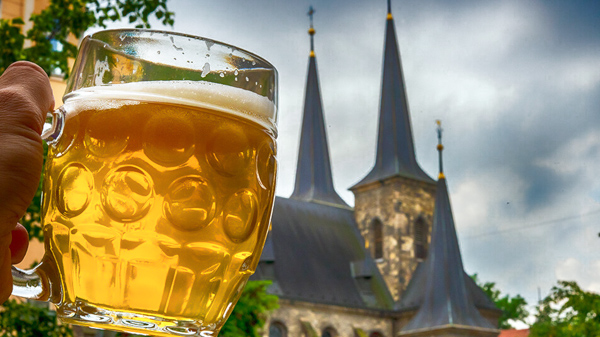 Well, it goes without saying that the first association which comes to mind speaking about Czechia is beer. And it is really so. It is also a traditional beverage with a long history, as the Czechs started to brew it in the 10th century.
On the streets you can find it in kiosks, cafes, restaurants and stalls. In most cases there are only two sorts: lager and dark. But we have an article with all the necessary information about where to drink beer in Prague. There we have mentioned all places with craft beer, local breweries, pubs and bars.
Going back to the street food, the price per 0,5 liters is about 30-60 CZK. Despite the fact that it is sold everywhere and everybody drinks it outside, the law is against it. In order not to get into a risky situation we recommend you to read our article: Drinking age and drug laws in Prague.
Grilované Klobásy (sausages)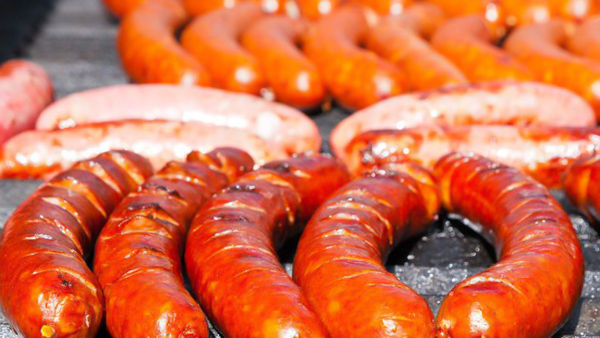 Grilované Klobásy is perhaps the most common phenomenon and among the best street food in Prague. You may compare them with the famous German ones, but many tourists say that in Czechia they are better. Sausages are fried in large frying pans or on electro grills and served in a hot dog style roll. You can also order them on a plate with bread, sauerkraut, ketchup and mustard.
There are a lot of different types to choose from and all of them will not leave you either indifferent or hungry. The cost for one portion starts from 70 CZK, but it depends on the place you are at.
Palačinky (pancakes)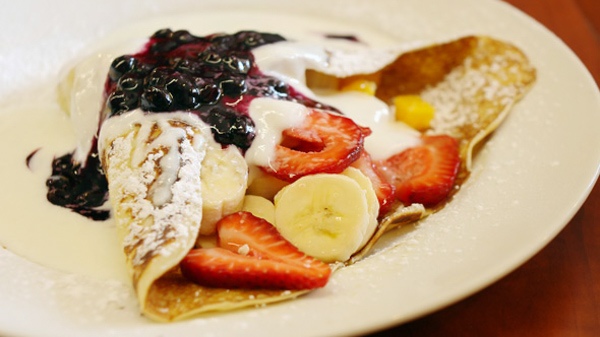 And the last, but not the least thing in our list of the best street food in Prague is pancakes. They are similar to famous French pancakes but have own traditional Czech recipe. In stalls and in cafes they go with various filling for any taste. It can be jam, fruit, cream, nuts and many others such as meat, cheese, spinach and fish. So if you are a sweet tooth person or want to make your meal nutritious – pancakes fit both cases.
Where to eat street food
The best places where to eat street food in Prague are the markets.
Old Town Square Market;
Manifesto.
Best street food in Prague review
Here we have mentioned the best street food in Prague, so now you know what to try. In addition, it is really comfortable that everything is concentrated in the heart of the city. Share with us what you think about this and tell which one you would like to try!
If you want to discover the true taste of Prague, we offer you tours with local guides. Find out what it is like to eat like a local!