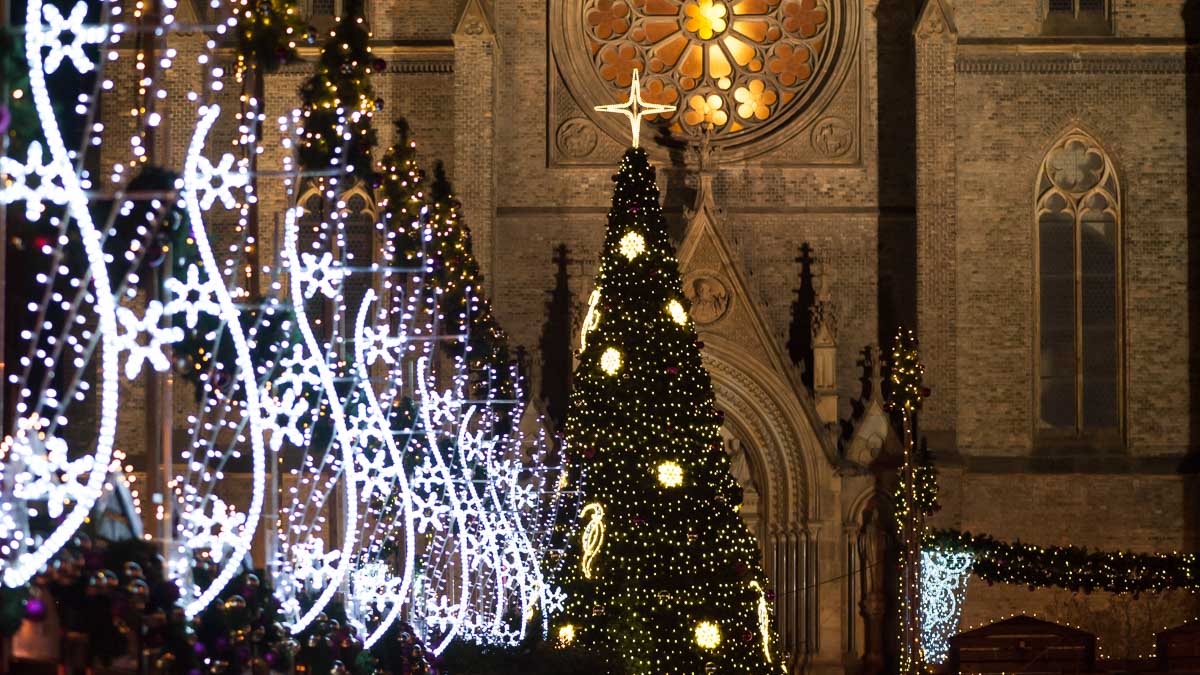 In social media I receive a lot of questions about the way schedule of Christmas in Prague is usually organized. That's is why I compiled all the essential information about the issue. So please find all the details about opening times and hours of shops, markets, restaurant and other venues in Prague during Christmas period.
Christmas in Prague schedule 2018 – 2019
Generally speaking the 24th and the 25th of December are not so tourist friendly days in the annual Prague calendar. Christmas Eve is on the one hand a huge holiday, but on the other — it is one of the periods, when either big and small businesses stop working for few days or even the whole Christmas week.
That's why while planning a trip to Czechia, you should consider the following facts:
most of touristic destinations out from Prague (like castle, chateaus and parks) don't work;
professional local guides are booked in advance;
only some restaurants and cafes keep the doors open for visitors.
25-26 December
These two days (25th and 26th of December) are public holidays in Czechia. Locals do their best to plan a trip away from Prague. Big shops, number of restaurants and cafes are closed. Though all the Christmas markets operate.
If you would like to have Christmas dinner in Prague, you have to make reservation of a table in advance.
I would recommend booking one of the private tours with local guides in Prague to discover the city and to have really amazing sightseeing experience. Others means of entertainment are also available: opera houses, theaters, concerts, clubs, cinemas.
Public transport operates. Metro runs with intervals of 6-8 minutes till 9 p.m. And till midnight it works with 10 minutes between the trains. Night trams in Prague at Christmas work as usually with a 30 minute gap.
27-30 December
27-30 of December. This is where the crazy period starts. Tourists, who came for Christmas stay and more visitors arrive to celebrate New Year in Prague. Millions of people come and leave the airport and railways station. Even more come by car and buses from all over the Europe.
Sales in the shops after Christmas make a lot of people crazy.
On the last days of the year all Christmas markets are open and work till late in the evening. Restaurants, cafe, bars, clubs, theaters and other places of interests operate, but most of them are pre-booked in advance.
31 of December
The last day of the year 31 of December is totally busy. Locals and tourists run around the shops and malls finishing Christmas shopping. Markets are open on the regular bases. The mood and the atmosphere in the down town are fantastic.
Most of the restaurants in the city centre of Prague invite visitor for New Year's Eve celebrations, dinners and parties. Remember, that advanced reservation is the best way to have a table for you and your friends.
If you need any assistance with fining a proper restaurant to meet New Year, contact us via mail(at)vovanovaque.com
Public transport on the 31 of December works until half past 2 a.m. with about 10 minutes between the trains. To catch the last train mind, that it start at 1:45. Night trams go till 7 a.m. every 20 minutes.
1 of January 2019
Czech are very happy nation, because every New Year they begin with a public holiday. The 1st of January 2019 is Restoration Day of the Independent Czech State. That's why at 6 p.m. you will have a chance to see another set of fireworks. Make sure that you come to the riverside earlier to have the best place to enjoy the show.
My recommendations for the place to see fireworks in Prague are:
Charles Bridge;
Cechuv Bridge;
river side between Rudolfinum and Hilton Hotel.
02-08 January 2019
The first week of 2019 is the time of sales in shops. Christmas markets are open till the 6th of January and the one in Prague Castle — till the 8th of January. Though almost all the holidays are over, Czech capital is still pretty packed with tourists. Most of them are Russians, because according to Orthodox calendar, Christmas is on the 7th of January.
This is the most essential information about New Year and Christmas in Prague schedule and opening hours of various places. If it is interesting and helps you, feel free to leave comments and to share the article with your friends in social media.