Pork ribs is one of the traditional dishes in the Czech cuisine. I would like to share my experiences about this food. What would you say if I tell you, that the best pork ribs Prague you will taste in Potrefena Husa Hybernska. 
Where to eat pork ribs in Prague?
It has been several years since I moved to Prague and went to this restaurant with friends for the first time to eat my first portion of the magic dish call "Zebra Leffe". The amount of food, its taste, the way they cook and serve pork ribs is absolutely incompatible.
The portion is 800 grams, which means there will be almost a kilo of tasty meat with bones in unique sauce. Depending on hunger you have this portion will be good for one person in case of huge hunger and one for two — in case you order anything else.
How to eat this dish?
Usually I eat the dish with hands with no knife and fork using special baked bread to get every drop of the Leffe beer sauce. I have already tried several times to discover, what the chef puts into the dish but for beer and meat. Unfortunately they would never tell me the secret.
So if you go to eat these pork ribs and like the taste of the dish, please let me know in the comments about your thoughts. May be together we will learn the recipe.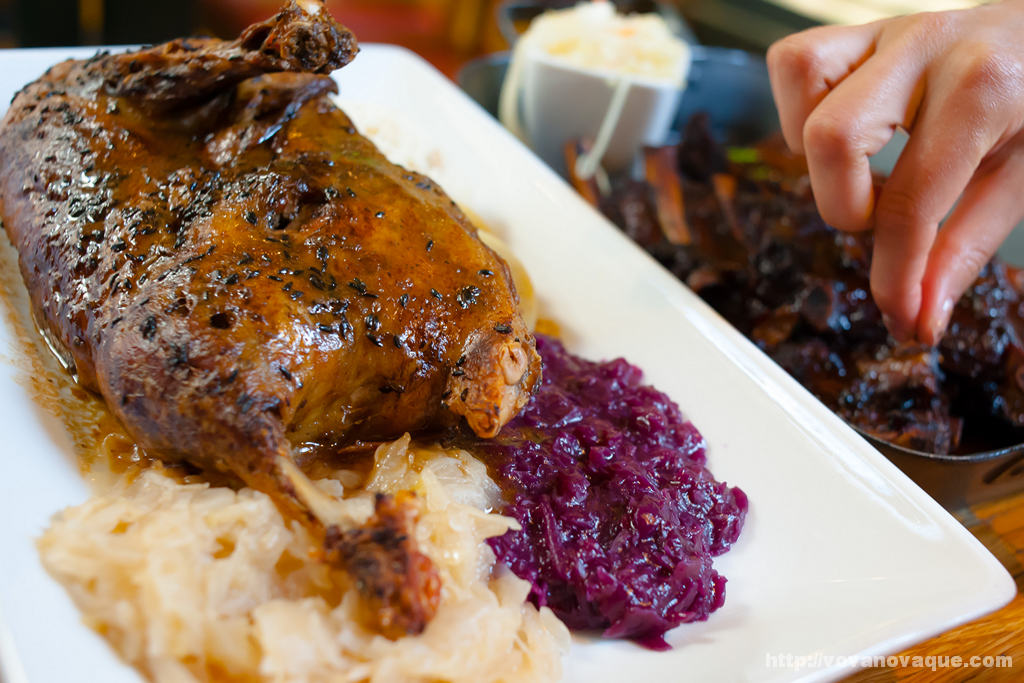 Price
What makes me happy about Potrefena Husa in Hybernska street is the fact, that since our first meeting almost nothing has changed: the portion of pork ribs remained the same. The taste of the dish make me return again and bring my friends. Greetings to Artur Jakutsevich from Rome, who is absolutely crazy about Leffe Ribs.
We also visit this restaurant with tourists on our food tour in Prague. The price is 280 CZK (11 Euros) for a portion. Another 100 CZK you will spend for 2 beers (lemonades) and tips which are never included into the bill.
Menu
In the menu you will also find a nice selection of Czech traditional food. But for pork ribs I sincerely recommend staroceska kulajda — mushroom cream soup with an egg; half of a duck with cabbage; tatarak – raw beef meat; and of course koleno – pork knee which is considered to be the must eat dish when in Czechia. Have a look at beers and homemade lemonades. But in this variety and tasty menu don't get lost and first of all taste best pork ribs in Prague.
Information
Address: 1003/, Dlážděná 1003/7, 110 00 Praha
Telephone: +420 224 243 631
Open: 11:00 – 00:00
Review
The restaurant is quite popular with tourists as well as with the locals. Therefore the service is on quite high level. The food and drinks are tasty. Order you first portion of pork ribs in Prague to come there again and again.