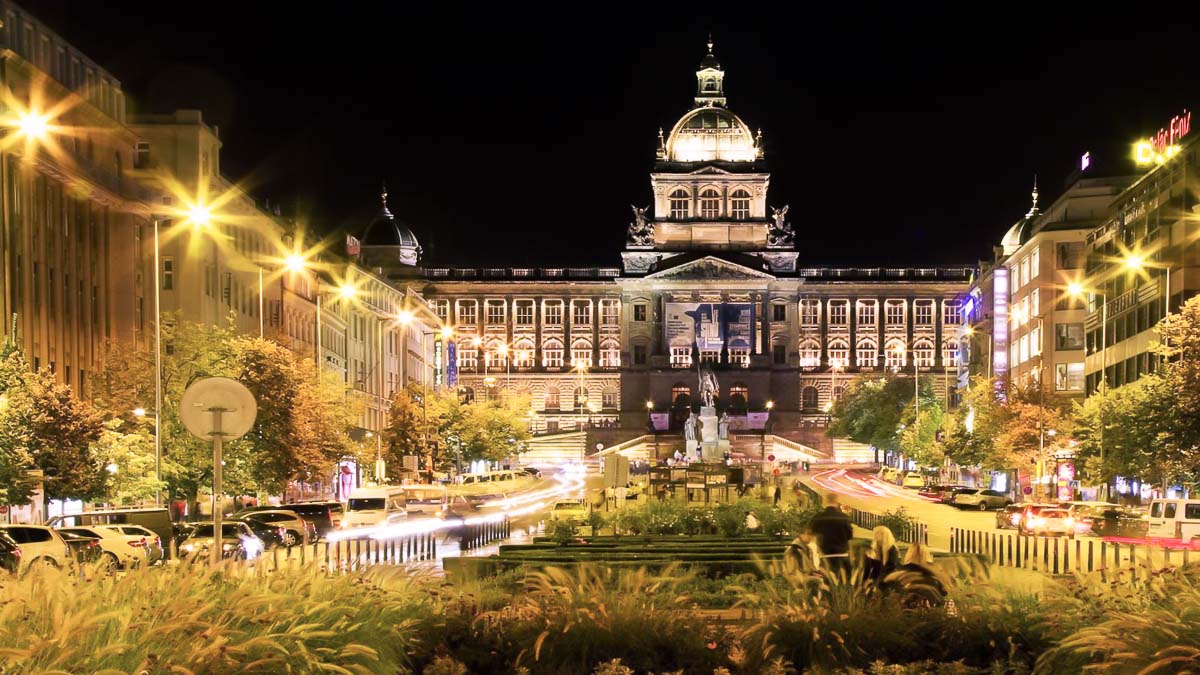 Wenceslas Square in Prague or how locals call it Vaclavak is an important part of New Town. It is the area where you will meet not only tourists, but also locals. The latter work, live and go for shopping to the numerous shops of the square. Vaclavak is alive 24 hours a day, 7 days a week and 365 days per year.
History
Charles IV in 1348 decided to make Prague bigger and to expend the Old Town. The plan was a success, because from that times we can walk along Vaclavske Namesti. This place was a horse market at first. But with time around the market new houses were built and in 18 century it becomes already an important part of Prague with less things reminding locals of horse market past.
Wenceslas Square became the place of all social protests and major political changes of the Czech Republic, Czechoslovakia and finally Czechia.
Velvet Revolution
The square is about 800 meters long and 60 meters wide. Try to guess, how many people can fit it? I will tell you. More than 400 000 people. How do I know it? One of the most important events in modern history of the Czech Republic happened in 1989. It was anti-communist demonstration. It actually grew to revolution, which we know today as velvet revolution of Prague.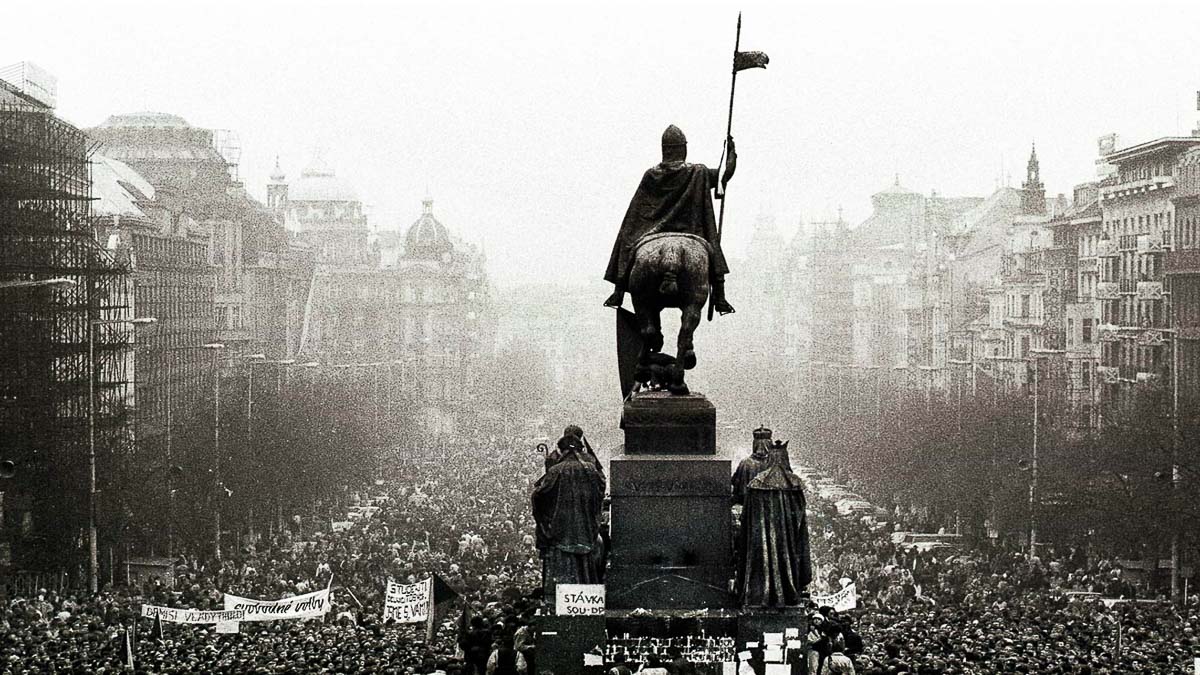 Today such popular social events as gay pride Prague, Marijuana parade, motorbike or cycle parade and others also take in Wenceslas Square. As well as numerous street and food markets. The biggest markets in Vaclavak are Christmas and Easter markets.
What to see in Wenceslas Square
Wenceslas Square is a big place with numerous things to see, to do and to buy. I will let you know the most important and interesting. You can join our private Prague city tours to find out even more facts about the place.
National Museum
At the top of Wenceslas Square you can see the building of the National Museum. The building keeps secrets of the Czech Republic and neighboring territories. One can find in the exhibitions facts, artifacts and items from past times, learn the history of Prague and the country.
St Wenceslas Horse Statue
One of the most popular meeting points in Prague is the horse statue of St. Wenceslas. Locals and tourists meet there very day. But hardly every 10th person will tell you who is St. Wenceslas. In few words, he was the man to introduce Christianity into the territory of modern Czechia. Due to his to straightforward views he was killed by his own brother. Today St. Wenceslas is the patron of Prague.
Luxor
Luxor book palace is the biggest book shop in the Czech Republic. You will find it in the middle of Wenceslas Square. If you like reading, buying interesting souvenirs and postcards for friends, drop into Luxor. Going to lower 2 levels of the shop, you will also see how deep is Prague underground.
Tram 11 cafe
Cafe tram 11 is a huge trap for tourists going along Wenceslas Square. The prices are extremely high in this cafe. That is why you will never see a local having a beer, coffee or wine in tram cafe. You pay not only for the service and beverages, but also for a view. So if you are ready to pay more, just do it. In case you want to discover best local places to eat and to drink, join our private food tour in Prague.
Ve Smeckach street – red light district of Prague
Ve Smeckach street links Wenceslas Square to Zitna Street. The former is a well-known in Prague and world-wide district of red lights. Almost like in Amsterdam, but organized in a different way. However the services clients can get in Ve Smeckach are the same with the that in red lights district in Amsterdam.
Exchange offices
Exchange offices in Wenceslas Square are huge traps for tourists. Never even dare to change money in Vaclavak. The best way is to find Jidrisska or Panska street, where they don't cheap or take commission. Read the article about currency exchange in Prague.
Terraces
There are several terraces in Wenceslas Square in Prague. One of the most popular and open to public daily is Duplex. This is a bat and night club. But during the day they serve food and drinks for visitors. As a nice reward for not the best prices for food and drinks, you will get an amazing view of the Square, tram lines and red roofs of Prague.
Lucerna
Cinema Lucerna is one of the authentic places in Wenceslas Square. This cinema opened the doors about 100 years ago and still is the places where locals like to meet for a drink in a bar or restaurant, but also to watch a movie. Moreover as a nice bonus of the visit to Lucerna you will see a modern work of art by David Cerny. It is called Statue of King Wenceslas Riding an Upside-Down Dead Horse.
Shopping
Vaclavak is a popular shopping area. People buy clothes and souvenirs. Recently new luxury food store appeared at the square as well. Among the most popular brand to find in Wenceslas Square are: Levi's, Van Graf, Vagabond, C&A, NewYorker, Marks & Spencer, Bata and others. By the way, if you travel out of Europe, remember to ask for Tax Free. You can refund it in Van Graf store.
Hotels
There are several 5 star hotels in Wenceslas Square. To book them and to see the reviews of other travelers you can use the following links:
Vaclavak has also number of 4 and 3 star hotels, with good service, nice reviews and reasonable prices for one night.
Apartments
For companies traveling to Prague for longer than 2-3 days I would recommend renting apartments in Wenceslas Square. Most of them have very big rooms, clean private bathrooms, kitchens and flexible conditions. Have a look at the links below with best offers:
Hostels
There is one hostel in Wenceslas Square I want to recommend. I know it well, because there were several stag party teams I help to find cheap accommodation in the very city centre. And they were all super happy with the variant of Ananas Hostel in Prague. It is situated just next door from NewYorker.