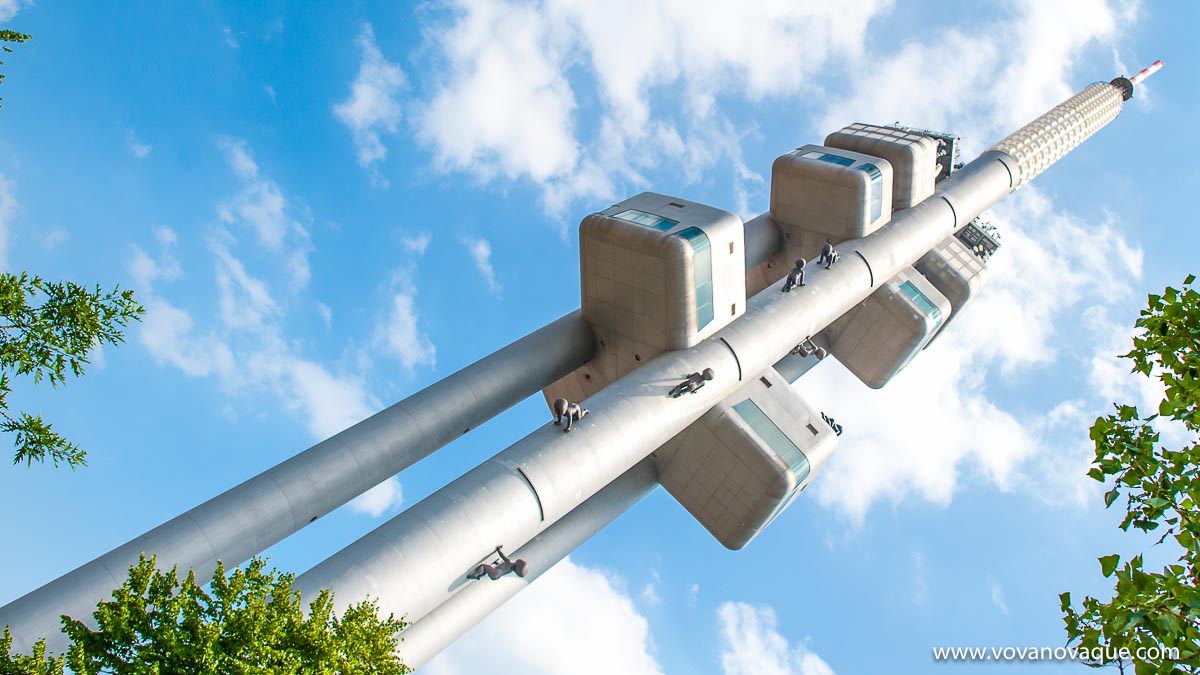 Zizkov TV tower with babies of David Cerny in Prague is the tallest construction in the city and country. Though not only the tallest, but the ugliest as well. But also it is the second ugliest building in the world and the most ugliest TV-tower in Europe. All these prices make the attraction an important place to discover when in Prague.
Complete height of the tower: 216 m
Number of lifts: 2 lifts for visitors + 1 service lift;
Speed ​​of lifts: 4 meter per second;
Lift capacity: 12 people.
Number of steps: 736
History
The history of Zizkov Television Tower is closely linked with another tower on the opposite bank of Vltava river. I mean Petrin Tower, which is the exact smaller copy of the famous tower in Paris. The original plan was to build a new 160 meter high tower in Petrin Hill, but hard debates changed this plans and in 1985 the basement of Zizkov Tower in Prague was constructed in Mahler Gardens.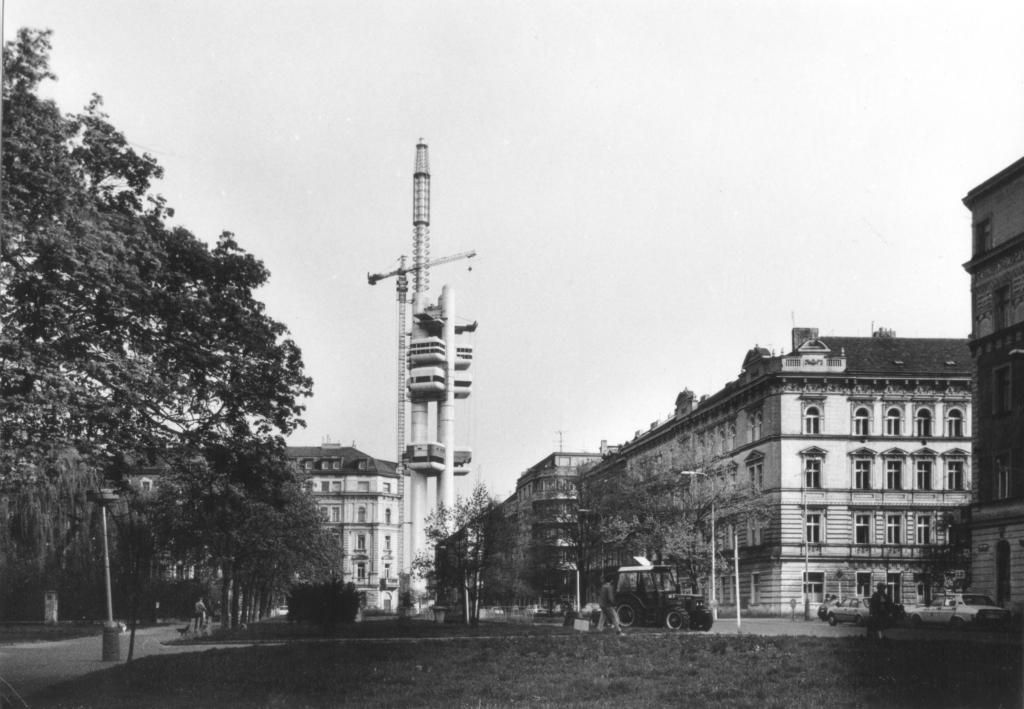 It took 7 years to finish the project and in 1992 the official opening of Zizkov Televiosion Tower in Prague took place. Honored guests could enjoy the panoramic views and to have a dinner in the restaurant.
Crawling babies
In year 2000 David Cerny created and put on the tower his huge bronze 700 kilos babies. There are 10 of the climbing the tubes and creating quite a strange picture, because they do like alive. At first this installation was not meant to be permanent, but after some time the authorities and the artist decided to leave them and fix properly.
Now they say, that crawling babies on Zizkov Tower help to balance the construction
Oblaca Restauran on Zizkov TV Tower
It is absolutely true that Oblaca Restaurant in Zizkov TV Tower is the restaurant with the best panoramic view. There are some other impressive terraces in Prague, but they can not compete with 360 degree panoramic view one can enjoy in Oblaca.
Visitors can taste gastronomic dishes both of the Czech traditional menu and word-known food as well. Mind, that your lunch or dinner will be at the height of 66 meters about Prague. It is a popular places for birthday parties and this kind of event.
The chef of the restaurant tries to follow modern pattern of running an interesting place for locals and tourists. They try to build the menu on farmers' and local products: fruit, vegetables, vine. Prices in the restaurant are a bit higher than in other same class venues, but don't you forget that it is Oblaca, which means clouds. Average price per person for dinner is 20-40 Euros without beverages.
Oblaca restaurant height: 66 meters;
Restaurant capacity: 180 people.
Schedule:
Monday – Thursday: 11.30 – 24.00
Friday – Saturday: 09.00 – 24.00
Sunday: – 09.00 – 09.00
Address: Mahlerovy sady 1, Praha 3 – Žižkov;
Web: http://www.towerpark.cz/;
e-mail: rezervace@oblaca.cz;
tel.: +420 210 320 086.
One Room Hotel
Another impressive thing from all points of view is the One Room Hotel in Zizkov TV tower in Prague. One night in this hotel will cost you from 800 to 1000 Euros. Without any doubts you have the hotel in your disposal. Breakfast, concierge and fantastic views are include. Have a look at the hotel.
ONE ROOM HOTEL HEIGHT: 70 meter
According to statistics and reviews I saw about One Room hotel in Zizkov Tower, it is popular with newlyweds or couples traveling to Prague for honeymoon.
Observatory
If you don't feel like have a dinner in Oblaca or sleep in One Room Hotel, but would like to enjoy the view, buy a ticket and go to Observatory on Zizkov Tower. It is located more than 90 meters high. You can enjoy the panorama of Prague from 8 a.m. till 12 at night. Frankly speaking the best time to go there is sunset, when the sun dives just in front of the tower behind Prague Castle. When it gets dark, the view is also kind of cool, but you see only millions of light, with no red roofs or details.
Elevator goes to Observatory 38 seconds
For comfort of tourists, they made special info points with information about directions, attractions and neighborhoods you can see from the observatory. By the way in good weather conditions visibility is over 100 kilometers. There are also 3 special cabins to discover different aspects of Prague history:
Images;
Echoes;
Golden Prague;
Observatory height: 93 meters;
Observatory capacity: 300 people.
Reviews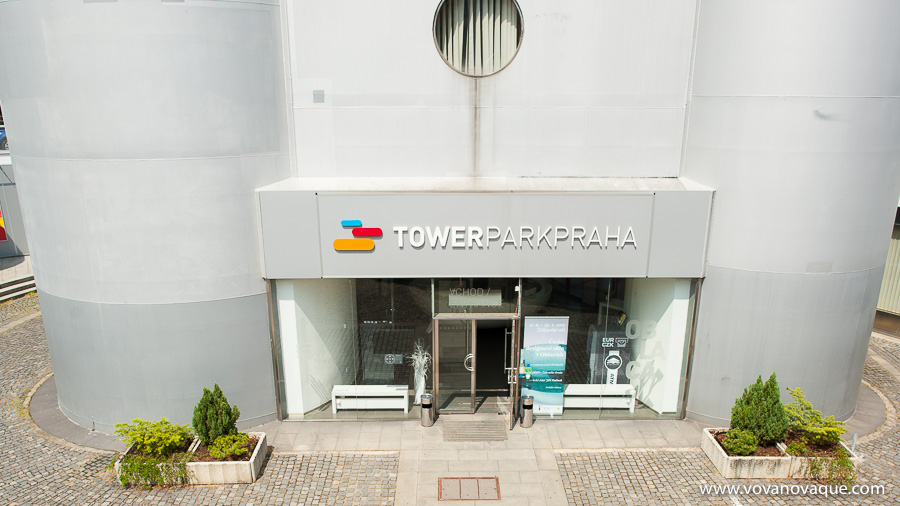 There are different opinions about Zizkov TV Tower in Prague. Some people consider it to be ugly, the others like it. The same happens with the views from the restaurant or observatory. There are a lot of negative experiences people share online. I would say, that this attraction should be in the list of tourists planning to spend in Prague 3 or more days. And one more thing: don't expect anything from this place and you will like it!
Just in case: