One day in Rome is not the best plan. Though I fully understand, that sometimes tourists and travelers can be pressed for time. Therefore I compiled all my experience and knowledge to make the following travel plan for those who is going to stay in the Italian capital for one day only.
One day in Rome
My plan for one day in Rome began with a paper map. I took it in the hotel, pointed the dot of my current location. It was quite in the city centre and I decided to walk all the day. That was a wise decision, because with ever step I made that day, I learnt new in a new city for me. And I was very lucky, that all my friends were away from the city that day and I could fully enjoy strolling alone, but not being lonely.
There were a lot interesting people on my way: from policemen pointing the right directions, to true Roman old men sitting on the chairs at the middle of tiny streets busy with coffee and loud talks.
Vatican
The first place I came to was Vatican. A nice start of one day in Rome. The square, the colonnade, the Cathedral and the crowd made my first impression of this little, but so powerful country. What I did when I came there? To relax a bit, I found a place in a shadow (the temperature was about +40), made myself comfortable and started to observe the people around.
I trained my eyes and brains, doing my best to recognize the country this or that group of people comes from. When they got too close to me, that I could hear their voices and language, I could check if I was right.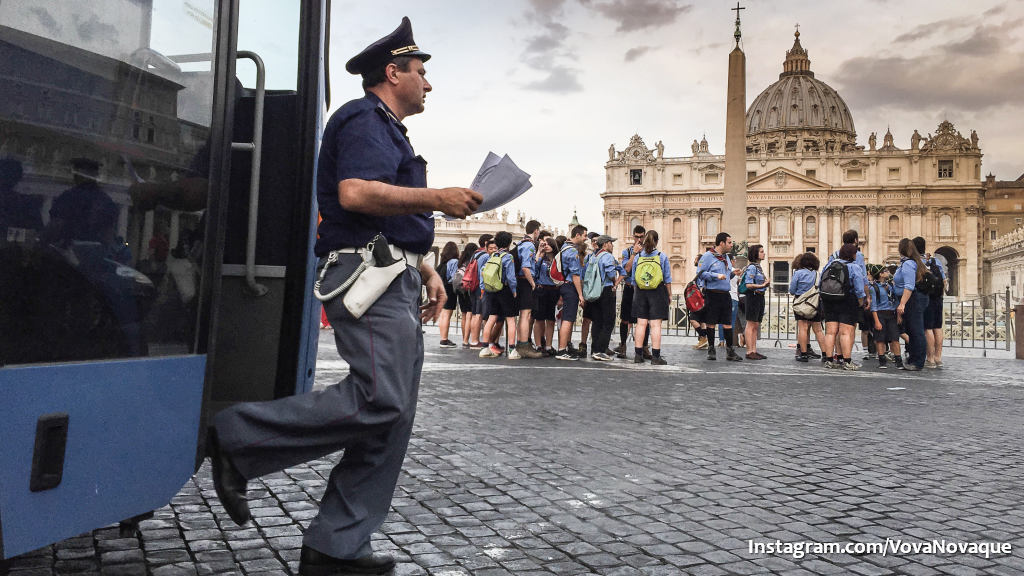 Vatican is fascinating, having no outline borders it gives hope and shelter to the poor. Lots of homeless people sleep around the square and they fell quite comfortable there. Don't worry, they are all calm and not aggressive people.
Even though there are no borders to stop people from coming into Vatican as a country, there are borders to stop everyone without a special document or a dream passport for any traveller – the passport of Vatican. There are only several hundred of people on the Earth who have this VIP document.
St. Angel Castle
So after a bit of sitting and staring at the people passing me by I decided not to queue for an hour in order to get inside of St. Peters Basilica and took my way to St. Angel Castle. It is a huge fortress connected with Vatican by a net of secret paths. It was build in the middle ages in order to protect the Pope in case of emergency or danger. Today the castle is another tourists attraction with a museum and a view point on the top.
But what I liked even more that just looking such an impressive monument of architecture, was the opportunity to cross the bridge over Tiber and to enjoy the view of St. Angel from distance. Believe me, it will be an amazing post card for your travel Instagram.
Pantheon
Walking through an unknown city I do my best to avoid the crowd. But in Rome during the day it is absolutely impossible. I can recollect 3-4 streets being empty with no-one around, but all of them were dead streets. So the river of fellow travelers brought me to a square with an ancient round construction — the Roman Pantheon.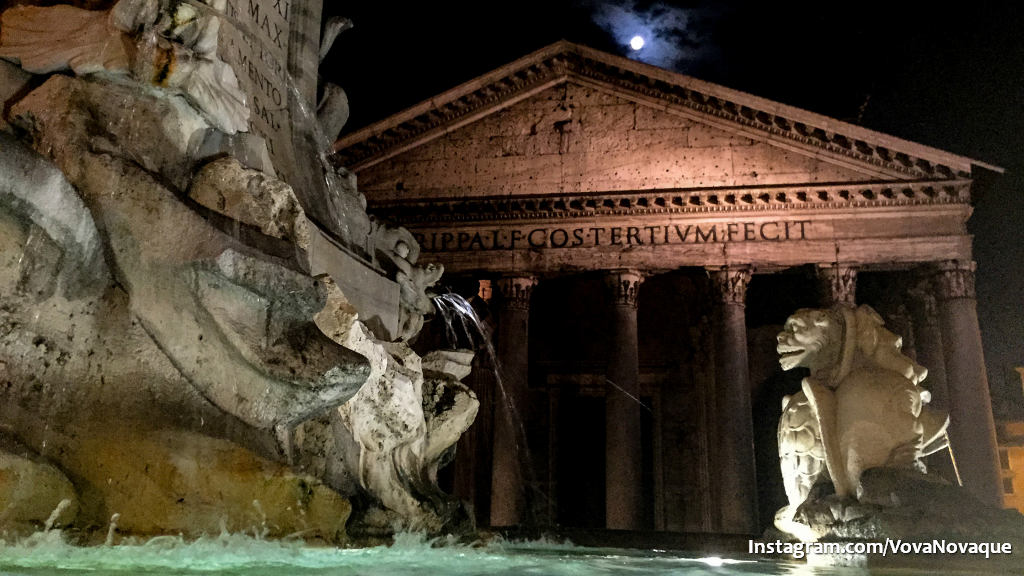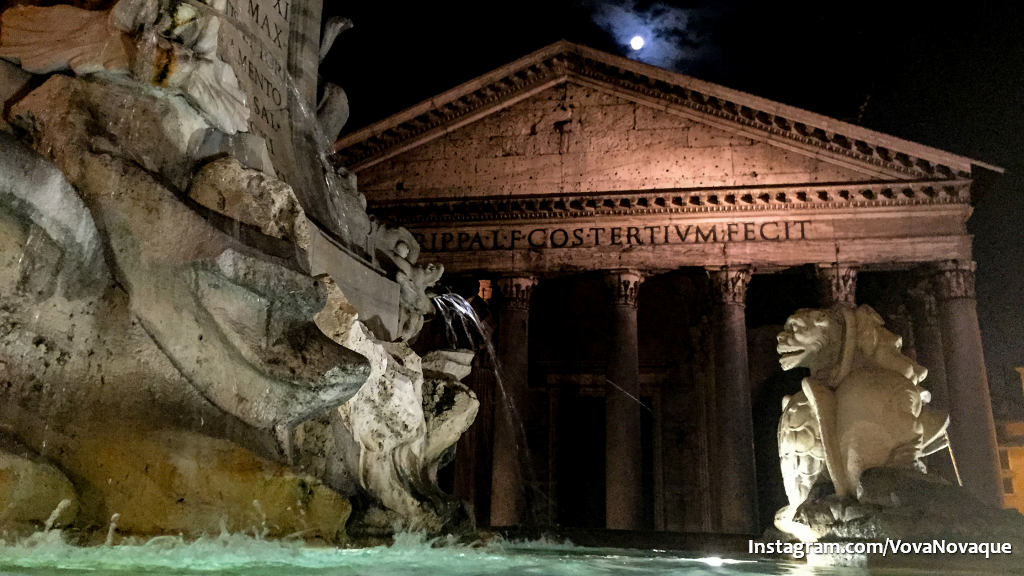 This is another religious construction, but with a bigger and longer history than Vatican. Just for you to understand the meaning of the building to modern architecture: it was open for visitors in 126 B.C. The Pantheon has more than 2000 years and still remains a stable and solid construction.
There were a lot of people willing to get inside and to discover the place and to see famous round whole in the cupola. But I stayed aside, hiding in the shadow of fountain. No doubts that this place should be in your bucket list, when you have one day in Rome.
Piazza Navona
After a circle around the narrow neighborhoods of Rome I came to another square — piazza Navona. This is a very famous places, because a lot of movies filmed in Rome have key episodes captured in this very squares.
In the evening Navona is occupied by street musicians, artists selling their paintings and tourists wondering around in search of souvenirs. Total time spent in the square was about an hour.
I was impressed with fantastic masterpiece of Bernini – fountain Dei Quattro Fiumi (4 rivers fountain). This is huge symbol of four main and most important rivers in the world: the Neil, the Danube, the Ganges and the Rio de la Plata.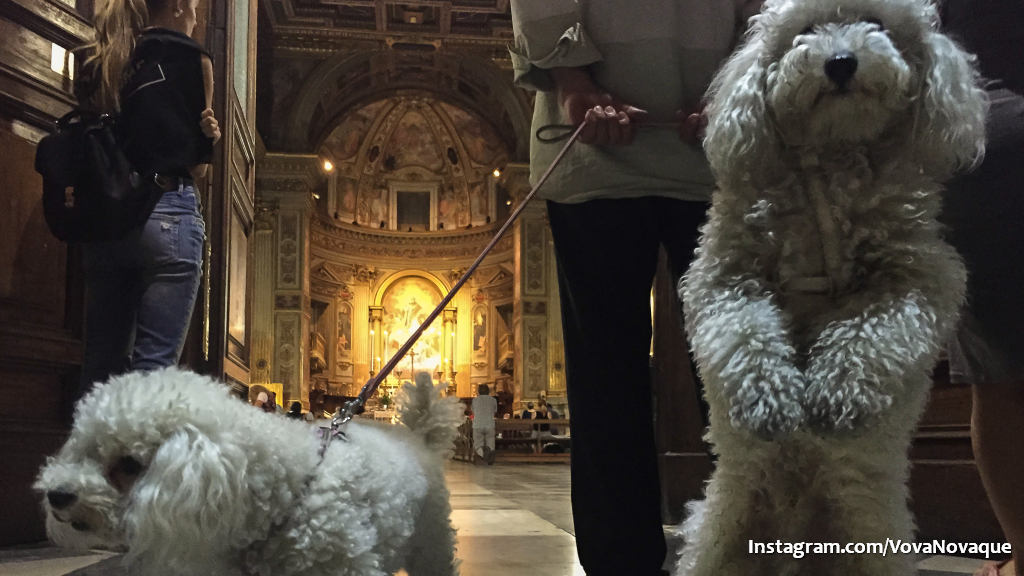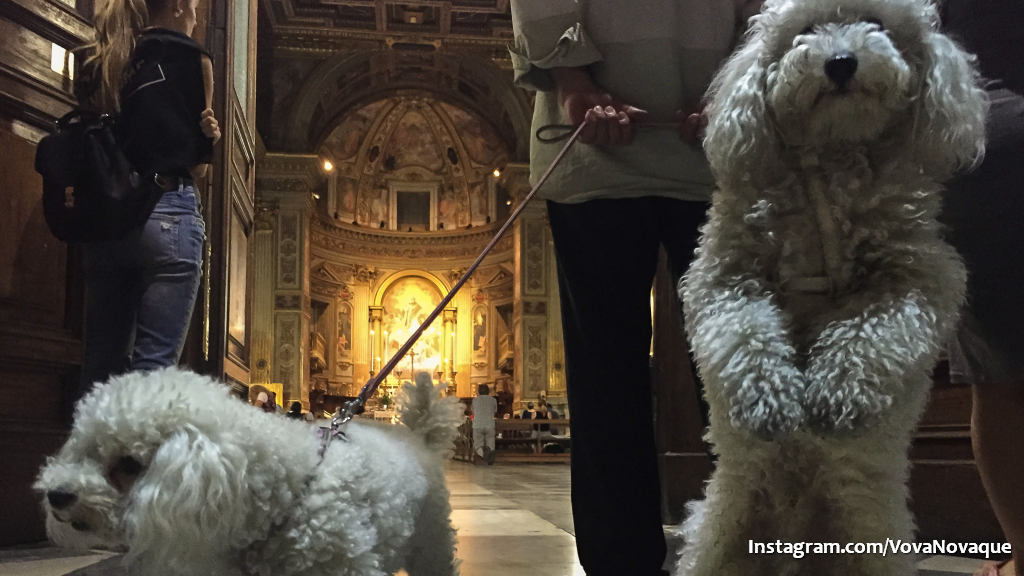 That was afternoon of my one day in Rome, just right time to have a rest after quite a long inspiring wonder. The best place to relax in European cities is church. There are a lot of them in Rome. Catholics let people sit and feel quite comfortable inside their houses of pray, therefore I always use this opportunity especially in summer when it is very hot during the day.
So I went to the closest one just at the Navona – St. Agnese in Agone. This is something incredible. Quite huge construction from inside is a very cosy and relatively compact inside. The ceiling is painted with scenes from the Bible and can hold your eyes for ever.
After Navona square I made a small salad break in an insalata (a restaurant which specializes on salads). Read about the place below in "Where to eat".
The Altar of the Fatherhood
Step by step I made my way to Piazza Venezia and one of the whitest buildings I have ever seen in my life. The Altar of the Fatherland is a huge and a very impressive monument. Due to its shape and look locals gave the building a nick-name: "type writer" or even "public toilet". Tourists often say "a wedding cake". And to make up your own opinion, go in to the pedestrian island in front of the Altar and stay right opposite to see its shape.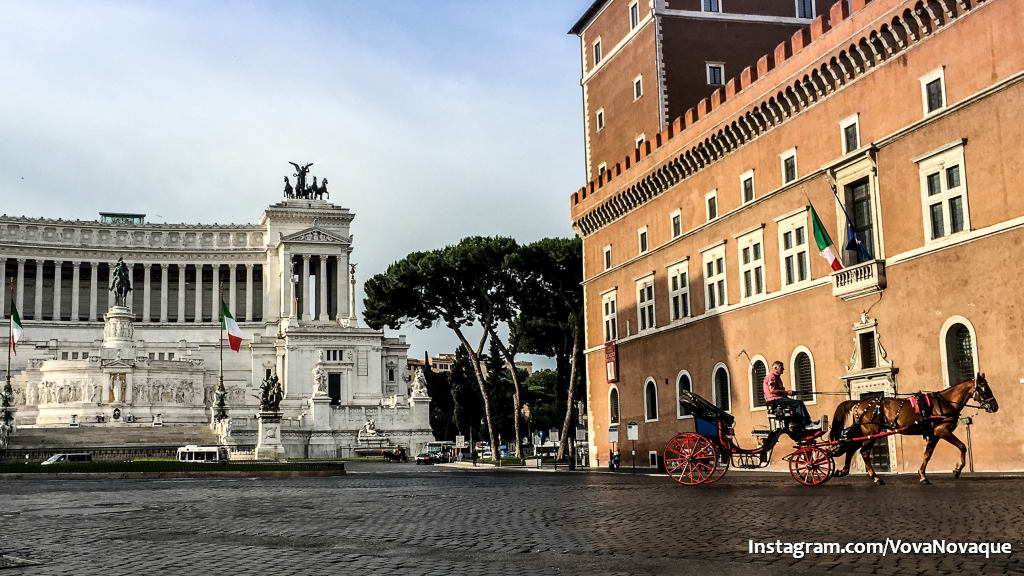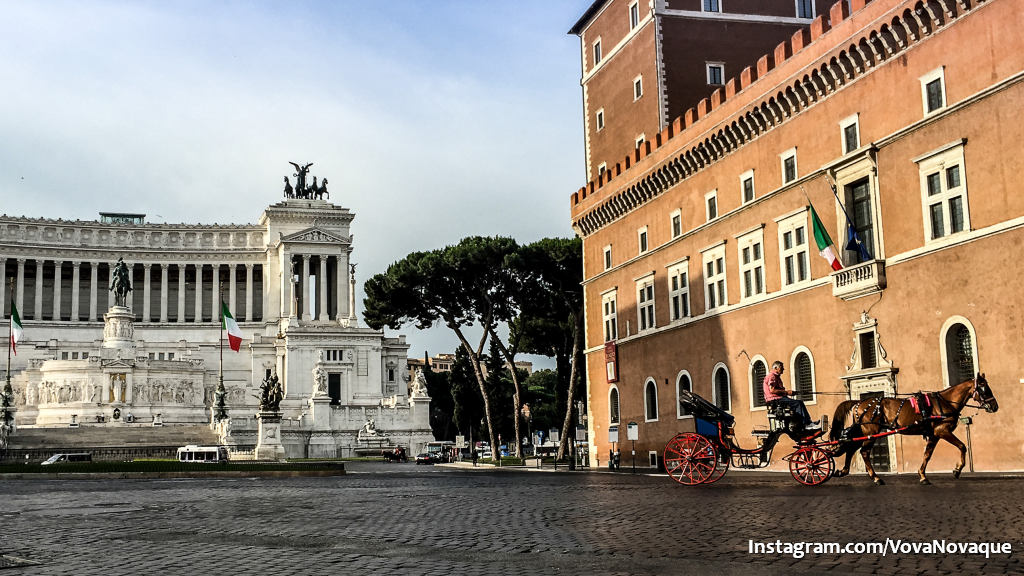 Relatively young construction (finished in 1925) is very contradictory since it was erased on the ruins and buried under tons of concrete a lot of artifacts. The Altar commemorates the first king of united Italy Victor Emmanuil. And also it is the place of memory and honor of soldiers who died in the World War I.
Since it is also a big public transport hub, the Altar for lots of tourists serves as a starting point of first or just one day in Rome.
Roman Forum
Another must see place on my one day trip to Rome was the Roman Forum. It was the the heart of ancient city where all most important issues were discussed and solved. Multifunctional area was ruined by barbarians and now we can only look at several colons remaining. Of course you can and have to walk down the steps and stroll around the ancient streets trying your best to paint a picture of who powerful and important the Forum used to two thousand years before. But it takes a lot of time, that is why I continued the way to Colosseum.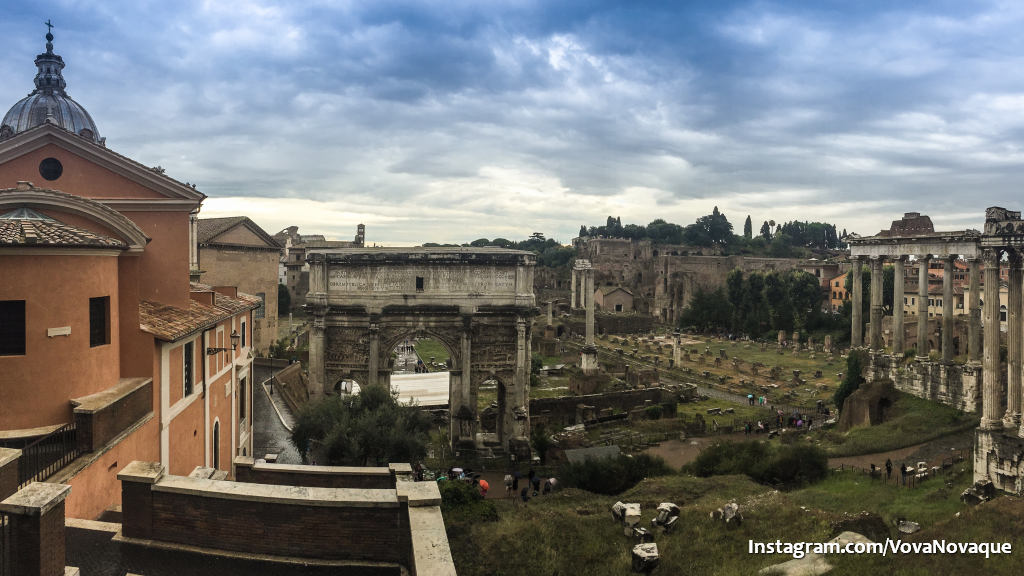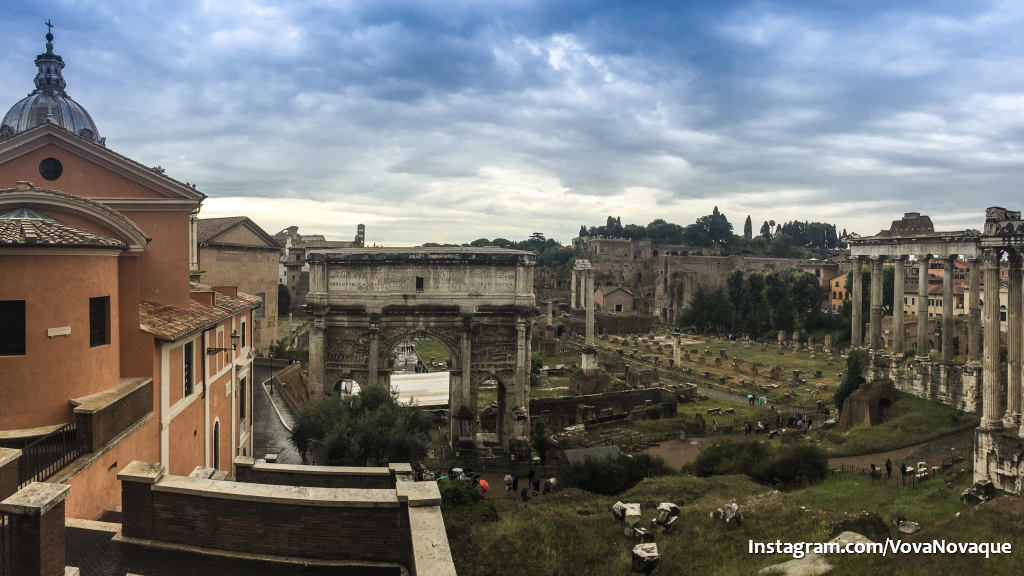 Colosseum
Colosseum is a true symbol of Rome. I do remember my first lessons of ancient history at school and the pictures of the theatre where battles between humans and animals took place. Modern movies had a great impact on me as well. Before I saw the Colosseum with my own eyes in Rome, I had an illusion, that the building is extremely attractive.
Well, yes, it is impressive and attractive, but not as much as it is shown in movies. The reason is very simple: the construction is very old and it is absolutely different from what you probably have in your head. Of course, it is an absolutely must see place for even one day Rome. But don't expect from it too much.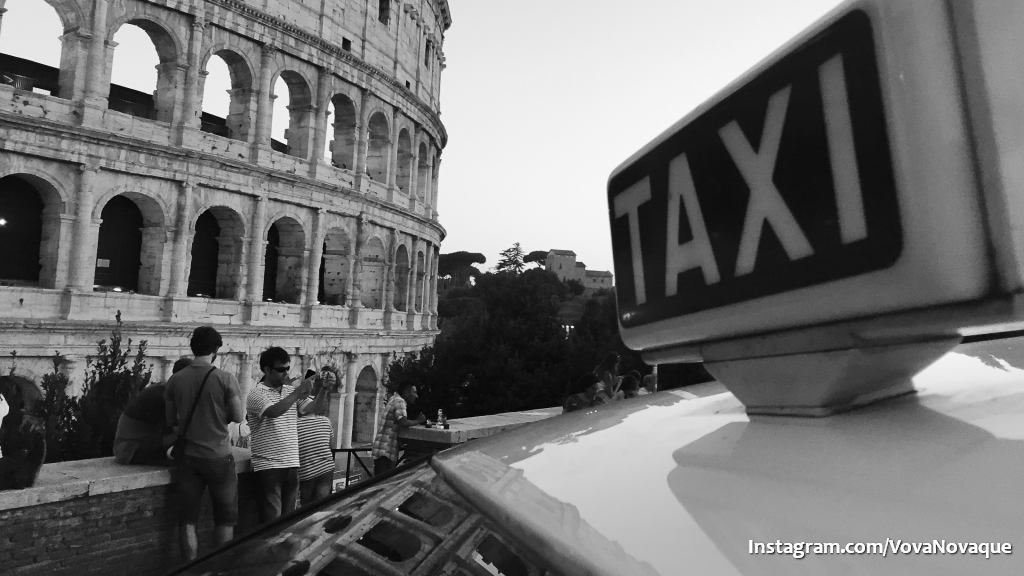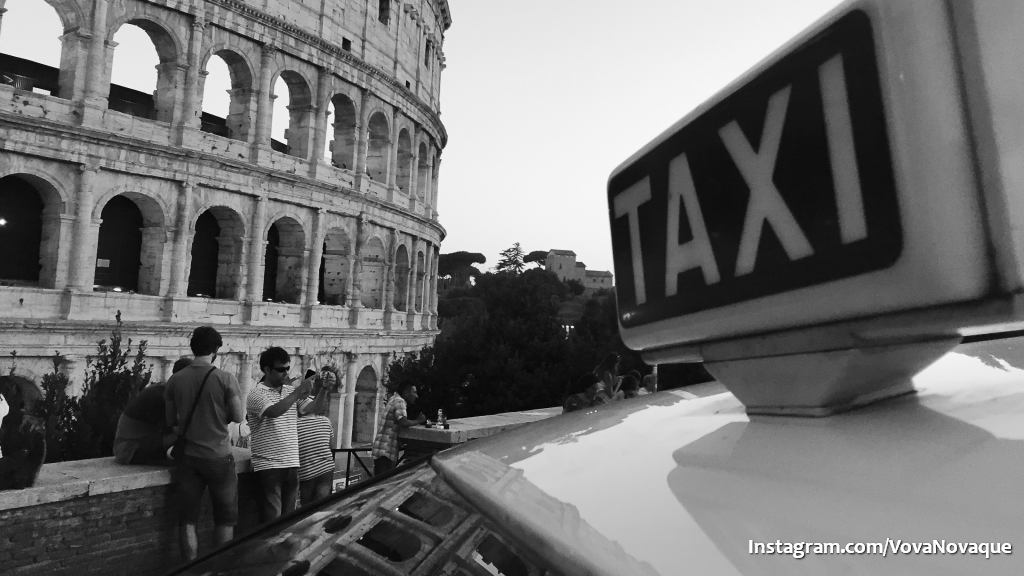 Moreover, to get inside, you will have to queue for 30-60 minutes in a line. So it couldn't fit my day plan. Thus I made a circle around the Colosseum took some pictures and followed on of the roads towards Trastevere, the area of restaurants and cosy narrow streets.
Trastevere
I finished this one day trip in Rome in Trastevere — the area which is so much different from the other Rome. There are no huge and impressive building, but there is a soul and ambiance, which tune everyone crossing the river on very romantic mood.
Trastevere means – across the river. This territory was originally occupied by traders and therefore the basement of almost every house is used as a restaurant, shop, bar or something else.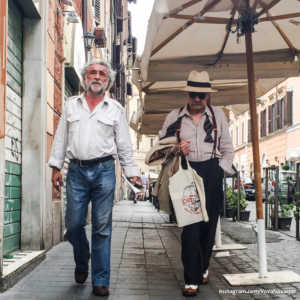 Crazy traffic and loud noise of cars and bikes is replaced with street music and sounds from kitchens. In this kitchens locals start to cook the most important meal in Italy — dinner. With every step I could feel my hunger was getting bigger and bigger, because of fragrance of food coming from numerous pizzerias and trattorias. I bought some local hand made souvenirs and finally found the place where to have a very delicious and comparatively not expensive dinner with antiapsti, main dish and of course dolce (the desert).
Where to eat in Rome?
That one day in Rome I had 3 meals. The first was cappuccino with cornetti in the airport just after my arrival. This is a very classical breakfast for locals. I share their passion to start the day from a tender cup of coffee with milk foam and crusty croissant with nutela (or better two croissants).
Strongly recommend to follow this amazing tradition and try to eat as Romans do. But before, read the article Careful in Rome in order not to pay extra money for you food.
Breakfast, lunch and dinner
The second meal I had that day was in Insalata Ricca. For some 10 Euros I had a giant portion of salad with shrimps. Fresh, delicious and cooked very fast. The service is friendly, with English menu of course.
And finally it was my first dinner in Rome. I went to the restaurant strongly recommended by my local friends as a place where they serve all local food for reasonable prices. By the way Romans consider this place as a canteen, though you are served as in restaurant.
The difference is the following. You are not expected to sit in this restaurant for the whole evening occupying the table. You come, order, eat and leave. And that is not much typical for Italians. Normally they book a table for the whole evening, because diner may stretch from 2 to 4-6 hours.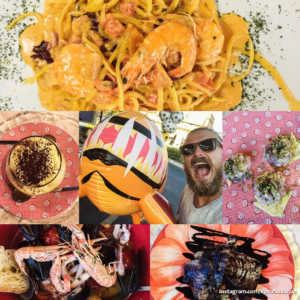 The name of the place where I went is Carlo Menta. And I loved it! First of all I had to wait for some 5 minutes to get a table. I was sitting outside, since it was quite a warm evening. The menu is quite big, with variety of pizzas and pastas.
That evening my menu included: antipasti di mare, Tagliolini with shrimp and chicory and coffee with panna cota. It was a real feast, gastronomic satisfaction and the best possible end of such a dynamic and inspiring one day in Rome.
The most disappointing moment was in my way back to the airport. But even though I was super happy and satisfied with trip and promised to myself to come back soon.