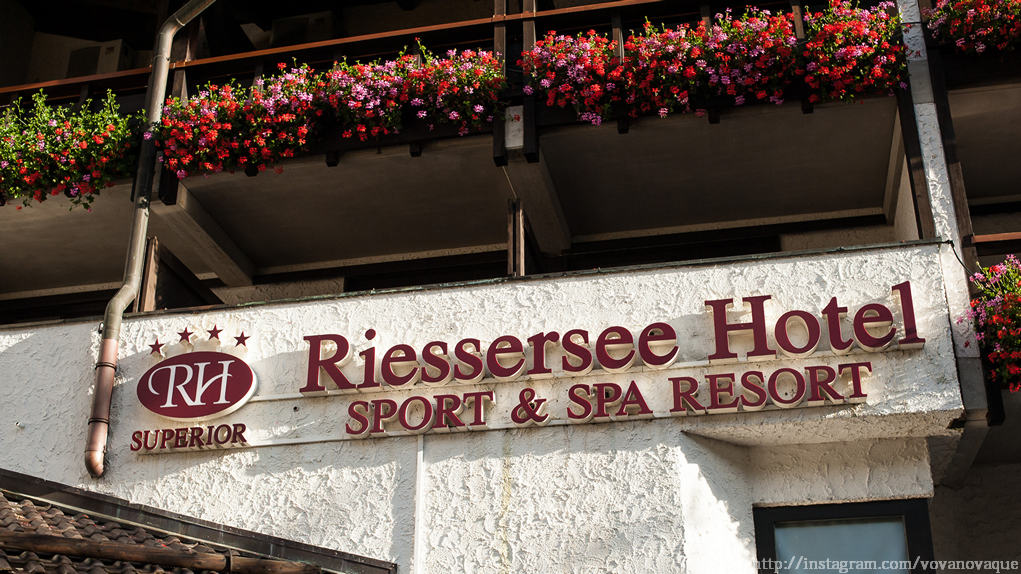 Riessersee Hotel Resort is situated in the heart of the Alps on the border of Germany and Austria and offers clean spacious rooms and perfect service year round. It is good for both winter and summer holiday, active sporty weekend and quiet relaxing vacation.
You can ski and snowboard, paraglide, hike and cycle here as well as simply walk, breath perfectly fresh mountain air and delight the views of meadows and forests. SPA service is also provided at Riessersee as it offers various procedures and a swimming pool.
The History of Riessersee Hotel Resort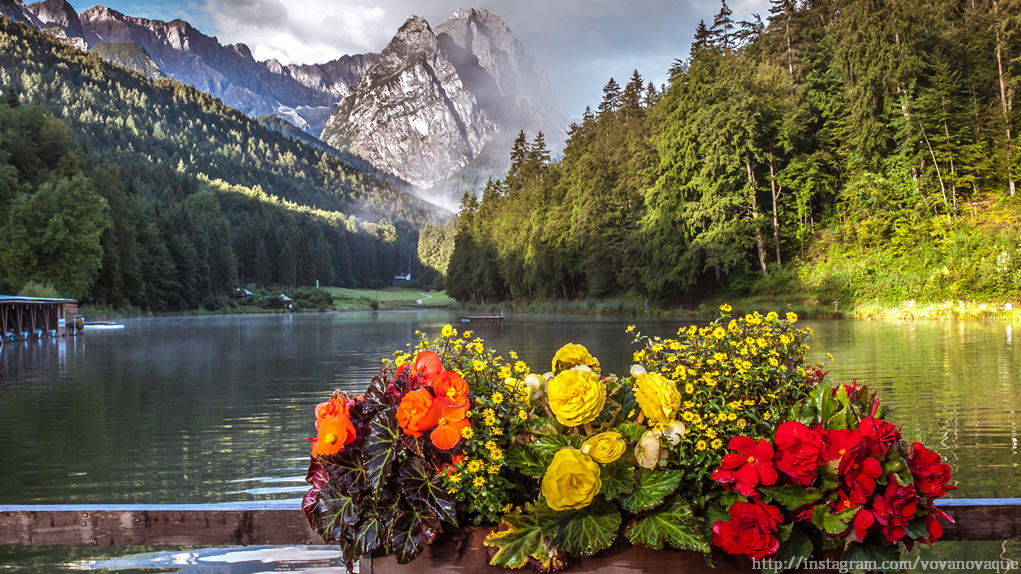 The hotel is situated near the lake with the same name Riessersee. At the Winter Olympic Games in 1936 figure skating and bobsleigh took place there. Two nearby villages named Partenkirchen and Garmisch were hosting this big sporting event. These Olympic Games followed by the Summer Olympic Games in Berlin were the last ones being held in the same year in the same country and marked the beginning of the long break in the competitions due to the World War II.
However, these Olympics held for the first time such kinds of sport as mountain skiing and military petrol (a prototype of modern biathlon).
646 athletes from 28 countries arrived in Germany to compete with Norway winning the first rank with overall 15 medals, 6 of which were gold.
Not far from the hotel there is a bob sled museum where you can see historic bob sled and various items connected with the history of bobsleigh. You may take a guided tour in the museum and at the bobsled run for free. You can find a picture presenting the stands around the lake.
The Rooms
The hotel includes a few buildings, connected by the corridors. If you are afraid to lose your way in all these corridors, don't worry – the sign-post and tables will help you choose the right direction. These buildings contain 166 rooms and 9 lux suits.
All the rooms are not too large, however rather spacious, clean and beautiful. What makes them even better in the mountain view which opens out of the windows. Each room has a balcony, so you can drink morning coffee and enjoy wonderful scenery. Such small but important details as dressing gowns, towels, shampoo and bars of soap are available in each room.
Events
There are various events taking place at the Riessersee Hotel Resort. The most popular of which are corporate parties and weddings. Wedding service is a special part of all the services provided at the hotel.

If you are planning a mountain wedding in Alps and want to make it even more unforgettable, look attentively at Riessersee Hotel Resort – here couples can exchange their rings and oaths on the mountain meadow or in the middle of Riessersee lake.
Alp mountain wedding venue
It is needless to mention that the views all around are so magnificent, that your wedding photos will exceed all the expectations and many years afterwards in the cold winter evenings you will be looking at them together with your children and delightedly remembering this wonderful day at Riessersee.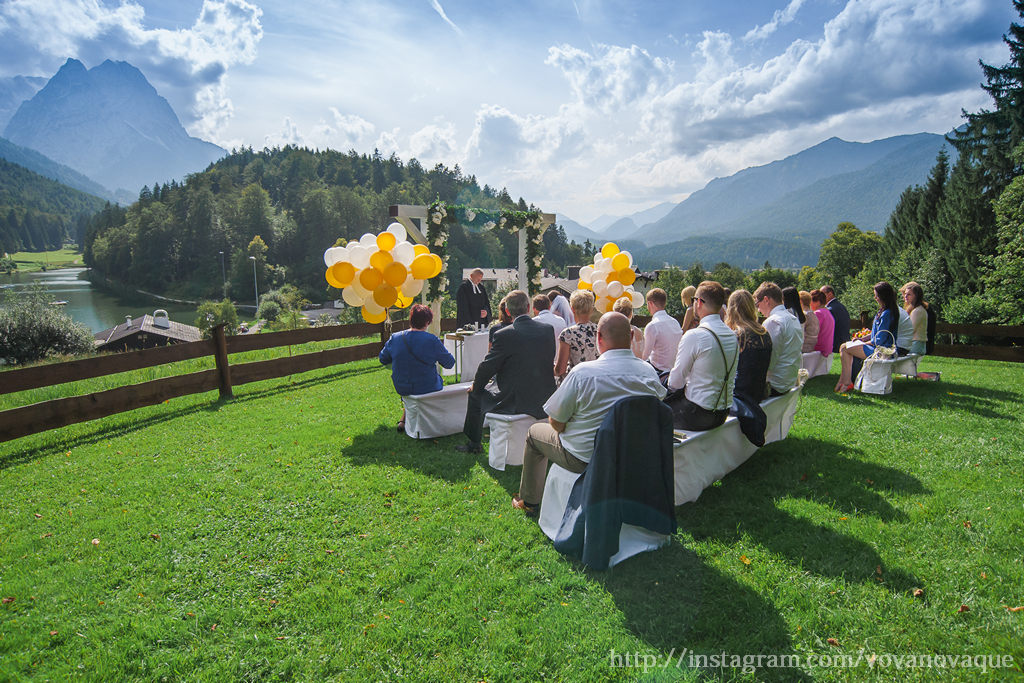 In case you want to have a wedding in winter, Garmisch-Partenkirchen will be a perfect place to host a ceremony and celebrate the unification of two loving hearts. Mountains covered with snow all around and warm fireside place on the territory of the hotel will make a cold winter day warm and bright.
Find a professional wedding photographer in Europe
For those who need help with planning the ceremony the hotel offers wedding planner as well as assistance in organization church wedding. The idea of having first common breakfast as a married couple on the terrace with a breathtaking view appears as a pleasant bonus.
Services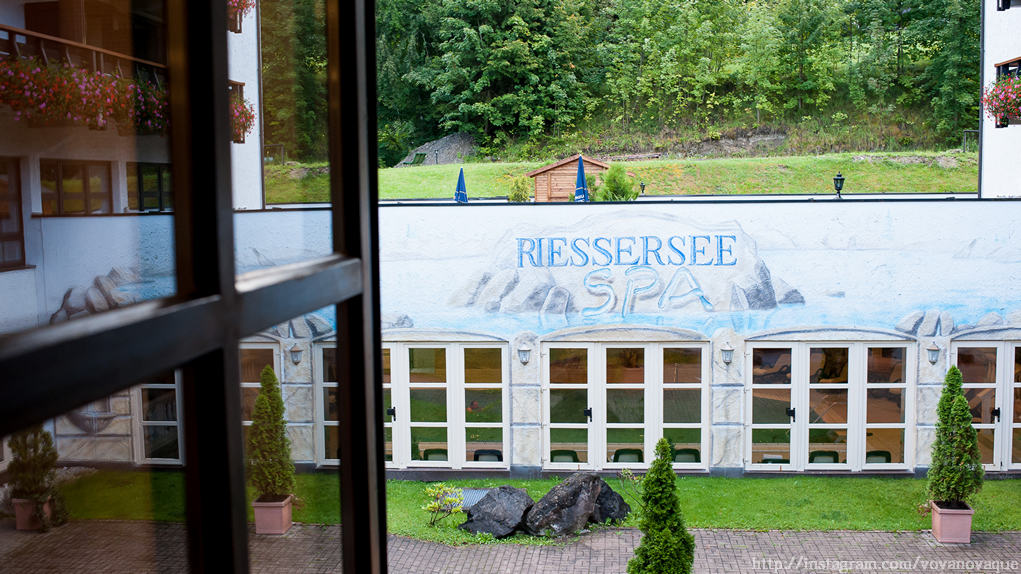 The Riessersee Hotel Resort provides various services which will make your stay in perfect and pleasant. Spa, wellness, saunas, gym and swimming pool – all these thing you can find here. Just imagine – you wake in the morning, take a swim in the swimming pool, then have a delicious breakfast looking at the mountains around.
The whole day is ahead of you, you can either take a stroll or lose some calories skiing and snowboarding. When the evening comes, you come back to the hotel, tired but happy and relax in SPA or in the sauna. There is one important thing concerning the sauna – according to German traditions men and women are in the same room. What is more – they are all naked.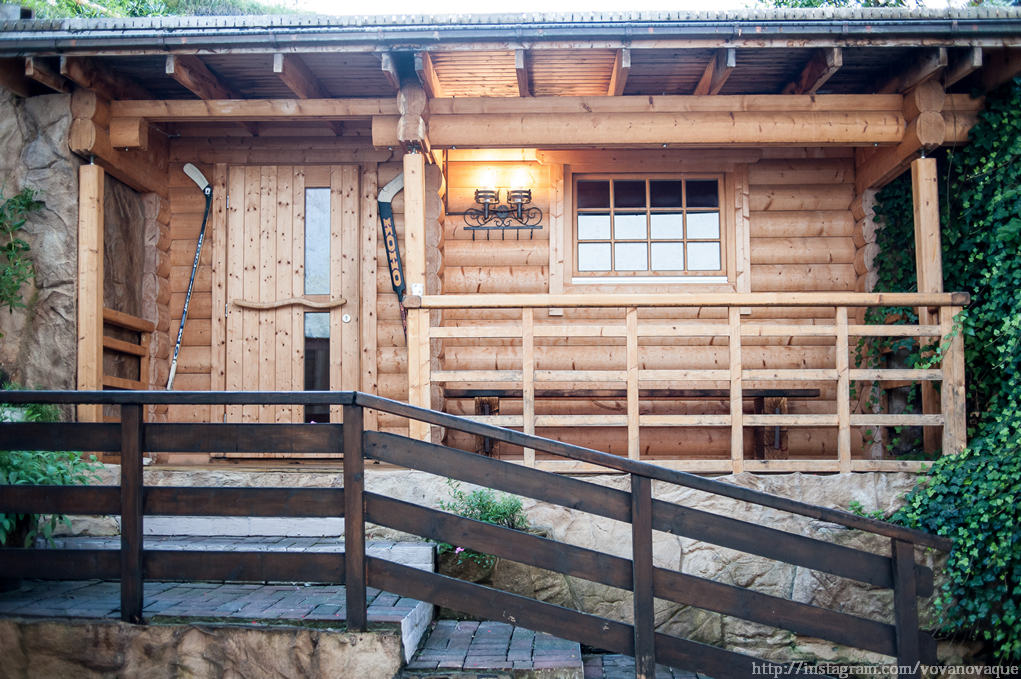 So, if you are not ready for such way of spending your time, it would be better to choose another way of relaxation. For example, massage, relax room and solarium, however, unlike swimming pool and sauna, these services are provided for extra payment.
On the contrary to most hotels, Riessersee Resort offers a few free drinks, which you may find in the fridge in your room. If you need any help planning your holiday, you can ask for assistance at the reception desk or even order a guide.
What to see and what to do?
Even if you come here just to do nothing, it will a perfect way to spend your time. Thanks to its location the hotel offers wonderful views and fresh mountain air default. All the famous Alps pictures with mountain picks covered with snow, green meadows with nice cows feeding there become true and surround you from everywhere.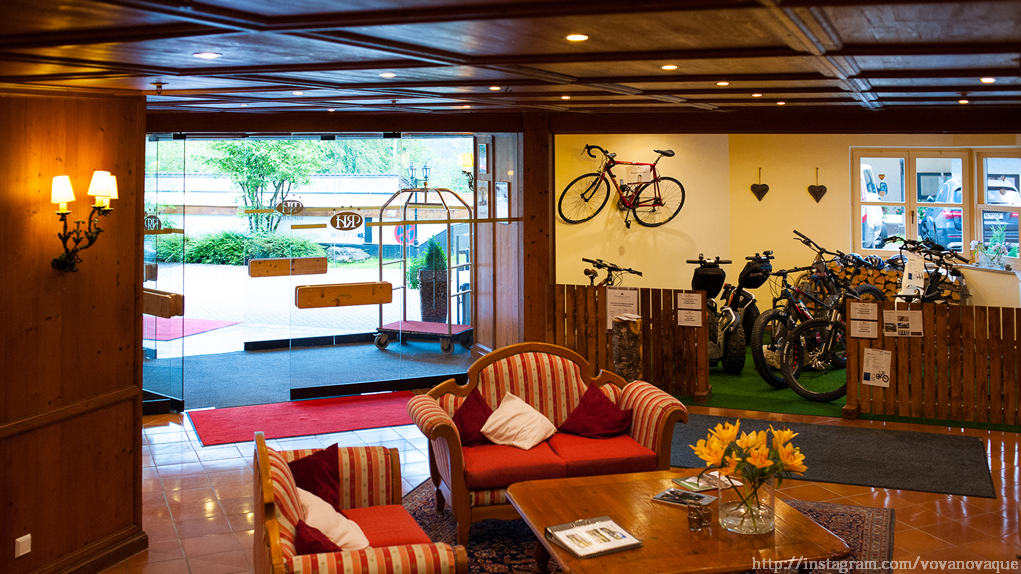 Coming to Riessersee is like falling into Alpine dream from a TV commercial of milk chocolate – it looks like that indeed. There are many little villages which look more like from the picture than like reality, however they are absolutely real. Moreover, coming to this part of the Alps you can experience interesting things in Garmisch-Partenkirchen and Mount Zugspize.
Garmisch-Partenkirchen
Garmisch-Partenkirchen is small town lying in the heart of the Alps, which offers a wide range of things to do. You can simply take a stroll along the streets of this little, but charming place delighting the views of the mountains and old town center, coming to one of the restaurants and trying tasty Bavarian cuisine.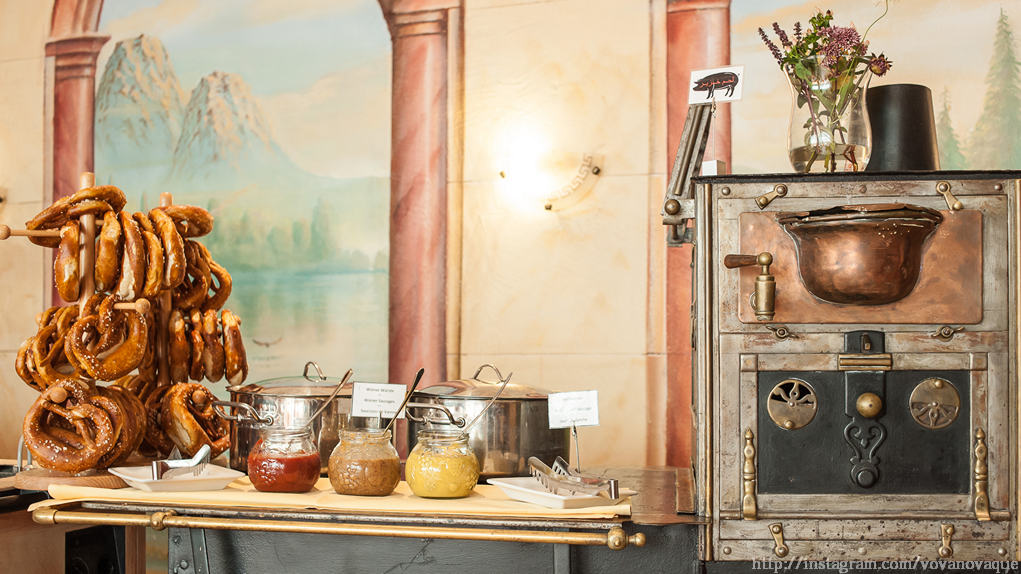 If you come here in winter, don't miss a chance to do sport in number one winter sports place in Germany – you can ski and snowboard. Or relax in one of the SPA centers of Garmisch-Partenkirchen. It is one of the best SPA resorts not only in Germany, but in the whole Europe.
If you visit this magnificent place in spring or summer, take a bike and cycle around the town breathing fresh air and enjoying the views. Garmisch-Partenkirchen is a perfect place for everybody who has problems with health as it offers a lot of options to improve it.
Those who like extreme sports paragliding will be the best match – explore both senses of flying and admiring the nature you will observe while gliding over the meadows and hills. Coming to this part of the Alps and not seeing the highest mountain of Germany Zugspitze is definitely a crime. To get into the mountain you will need either a train or a car. It is very easy to get there by train – take it in Garmisch-Partenkirchen and it will bring you directly to the mountain.
If you are traveling by car, head for the foot of the mountain. There both train and car travelers can take a cable car right to the top of the mountain. You will be fascinated with the views opening: mountains with snow below you and only sky above you.
How to get to Garmisch Partenkirchen?
The most popular way to get there is a car. Germany is famous for perfect roads so travellers from Europe and from all over the world prefer to travel on the famous autobahns.
By car
To get to Riessersee Hotel Resort from Prague will take you approximately 6 or 7 hours – within this period of time you will cover a distance of 500 km.
By Train
If you travel from Munich, you can go by car or take a train, which departs from the Munich Railway Station every hour. It will take you 1 hour 20 minutes and 19 Euros to get to this wonderful place. As a pleasant bonus the hotel offers free of charge transfer from the Garmisch Partenkirchen railway station to the hotel itself. To use this service, you should book a room and contact the manager of the hotel.
For the schedule check db.de
Airplane
If you are coming from far away, you can fly either to Munich airport named after Franz Josef Strauß or to Insbruck, which a twice closer to Garmisch-Partenkirchen – only 70 km away from it. Both airports are not very big and busy, however they have perfect infrastructure.
You can get to the Munich airport by the direct train from Munich or rent a car and travel wherever you need. Innsbruck airport offers the same services and what is important, both of them provide services for people with special needs.
Flight to Munich

| | | | |
| --- | --- | --- | --- |
| Origin | Departure date | Return date | Find Ticket |
| Bacau | 08.06.2021 | 12.06.2021 | |
| Bucharest | 09.10.2021 | 17.10.2021 | |
| Cologne | 02.06.2021 | 06.06.2021 | |
| Madrid | 02.07.2021 | 21.07.2021 | |
| Hamburg | 10.09.2021 | 21.09.2021 | |
| London | 07.10.2021 | 10.10.2021 | |
| Dortmund | 13.07.2021 | 14.07.2021 | |
| Luqa | 10.07.2021 | 24.07.2021 | |
| Kiev | 06.10.2021 | 20.10.2021 | |
| Istanbul | 08.06.2021 | 15.06.2021 | |
| Oslo | 12.05.2021 | 19.05.2021 | |
| Dusseldorf | 14.06.2021 | 16.06.2021 | |
| Dublin | 16.05.2021 | 30.05.2021 | |
| Berlin | 22.05.2021 | 23.05.2021 | |
| Amsterdam | 01.07.2021 | 04.07.2021 | |
| Barcelona | 21.05.2021 | 27.05.2021 | |
| Vienna | 18.06.2021 | 20.06.2021 | |
Bus
One more way how you can get to the hotel is a bus. The company MeinFernbus provides direct buses from Munich to Innsbruck and back with a stop at the train station in Garmisch-Partenkirchen. Trip from Munich will cost you 6 Euros, from Innsbruck – 5 Euros. In case you arrive or stay in some other German cities, there are buses plying from Munich to such cities as Berlin, Düsseldorf, Hamburg, Frankfurt and many other places.
Check the tickets
My review
They are definitely positive. The idea of traveling to the Alps appealed to me for a long time. Therefore I could not miss a chance to spend a few days in this mountain. Of course, traveling there by car on wonderful German speedy roads sounded like a perfect plan, which I fulfilled. I chose Riessersee Hotel Resort Germany and never regretted it.
Positive atmosphere, warm sauna and delicious dinner initiated our wonderful in this hotel. The location of the hotel is another more plus. This place is good for any kind of rest in the mountains. After the summer trip to Alps and Garmisch Partenkirchen, I am planning the next one in winter. This time to try famous ski and snowboard tracks.
How to book a room
To book a room in the best hotel in Riessersee Hotel Resort in Garmisch Partenkirchen please follow the link to booking dot com. There I always find the best prices for European hotels and apartments. Enjoy your trip!