With every time I visit Rome I understand this city more and more. The streets do open to me their hidden gates, restaurants become more and more tasty and generally I start to enjoy the time spent in the entire city. Therefore I made the list of top 7 places in Rome.
I made, because the city has a huge number of must see places. They are examples of architecture and art of various times: Roman Forum, Coliseum, Vatican, numerous parks known as villas, churches, cosy neighborhoods.
Piazza del Popollo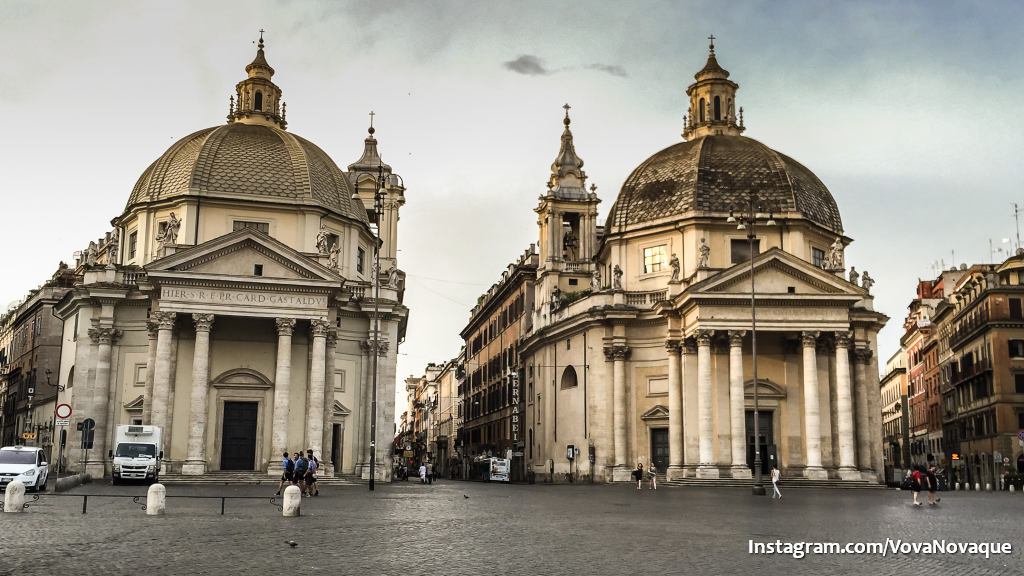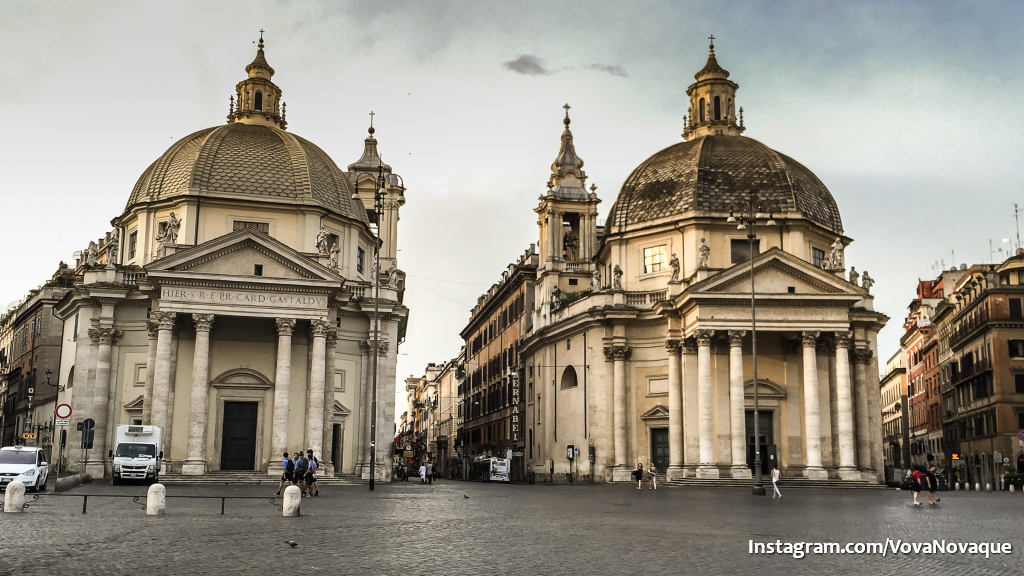 Piazza del Popollo in Rome is my love from the first sight. I saw this square and something cracked inside of me. Really, I don't remember a place in the city centre that would so much touch me and make me come there again and again. Therefore I put it into the first place among top 7 place in Rome.
You know, when you fall in love you don't really ask why. The feeling is very strong and the brain doesn't really work properly. Only after several evenings and dawns spent in Piazza del Popollo I started to acknowledge and notice simple things that create such a fantastic ambiance in this part of Rome.
Here I my should mention a fact from my biography: algebra was my weak side at school, but geometry – a very strong.
I recollect moments of excitement when staying at the blackboard I was drawing rectangles and proving theorems. So now I know that it was the geometry of Piazza del Popollo that draw me crazy. With the form of a huge almost circle it unites several streets crossing the square and stretching along popular shopping areas leading millions of tourists up and down every year. And that function it has from the very begging of Rome history.
Villa Borghese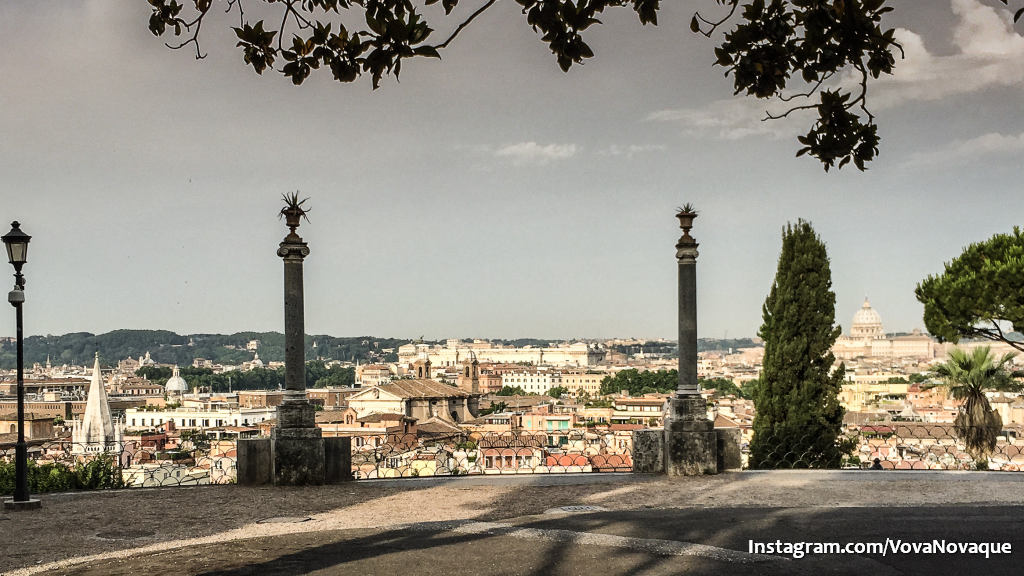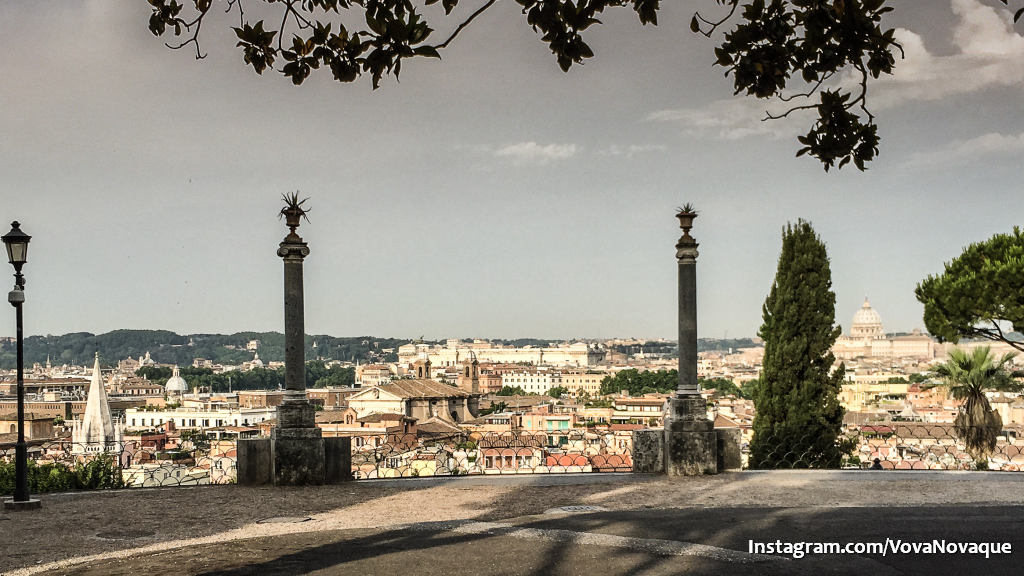 Going up the hill over Piazza del Popollo you get a fantastic reward: panorama of the city. And it is the second area in the list of top 7 places in Rome. The view is magic. I can stare at it for hours.
With its ambiance of a huge park where even hundreds of people dissolve in the area Villa Borghese serves as a recreation spot for locals and exhausted tourists. It is a very popular jogging place and of course a romantic meeting point for couples. There are various attraction in the Villa, therefore don't limit yourself with one quick visit. Try to squeeze into your trip framed plan at least two-three times of Villa Borghese in different parts of the day to feel the place and to fall in love with it.
Trastevere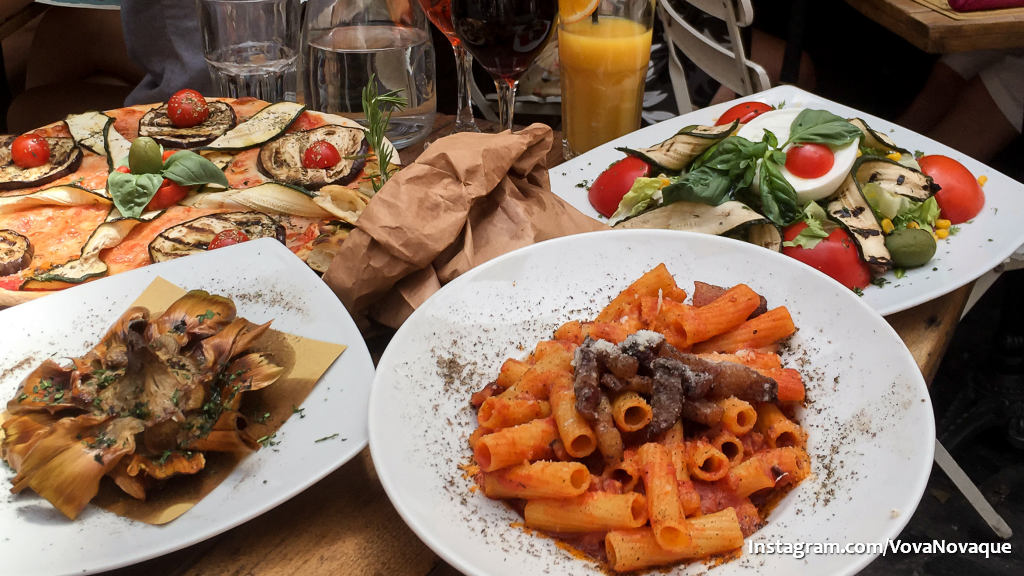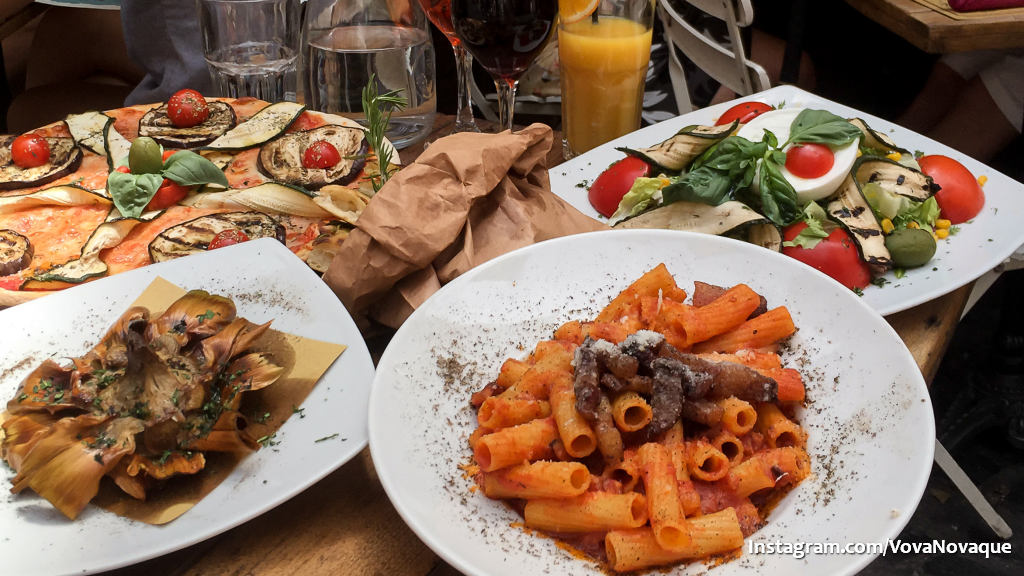 Another spot from top 7 places in Rome is a bit far from the geographical centre of Rome. It is located in a cosy and atmospheric neighborhood. Trastevere will show you another Rome with tiny streets, lots of street restaurants, artists and souvenirs. The basement of almost every house in Trastevere is occupied either with a small family shop, restaurant or bar.
The best time to experience Trastevere is evening, when people flood the streets and restaurants. After a stroll around the neighborhood, drop into a restaurant for traditional Italian dinner with pasta or pizza. By the way this area is a very popular among producers from all over the world, so if you are lucky enough you can see how a world-known movie is filmed. I've seen once!
Circo Massimo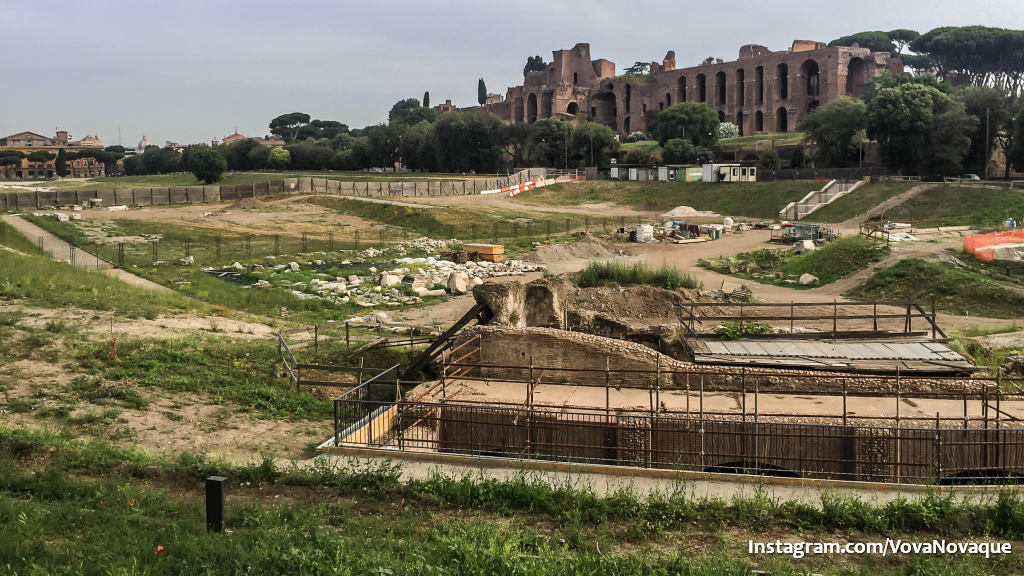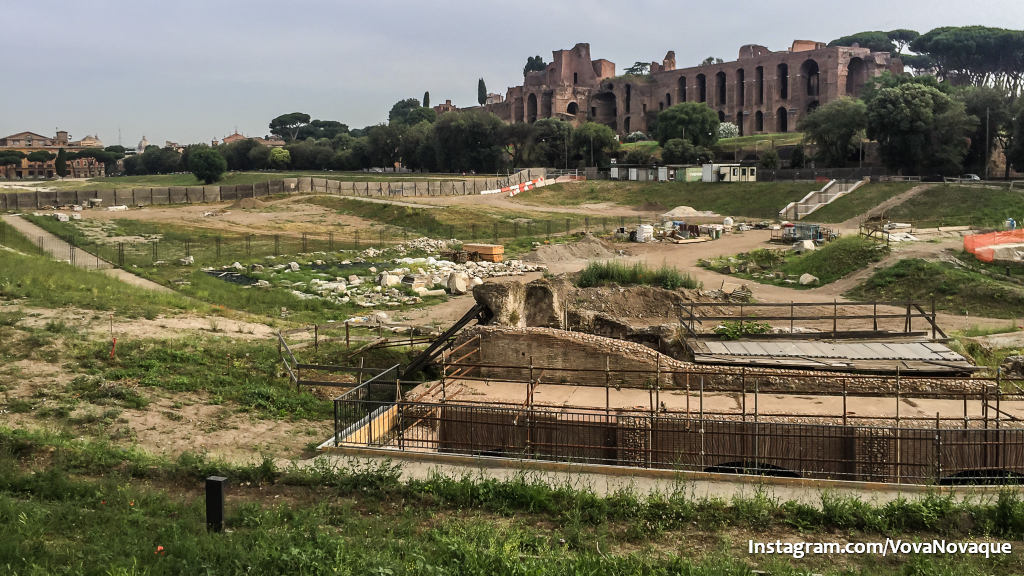 "Bread and circuses" used to the best motivation in ancient times. And if the fights took place in Coliseum, the races were held in Circo Massimo (the Grand Circus). The first competition took place there 500 B.C. during the reign of Lucius Tarquinius Priscus. Come there, because it is also in my list of top 7 places in Rome.
Looking at this huge territory and acknowledging the fact that it could fit about 150 000 spectators you understand the power and energy Circo Massimo still has even being presented by ruins only. The place was used for horse races for more than 1000 years. Quite a big figure to make me come there every time I visit Rome.
Vatican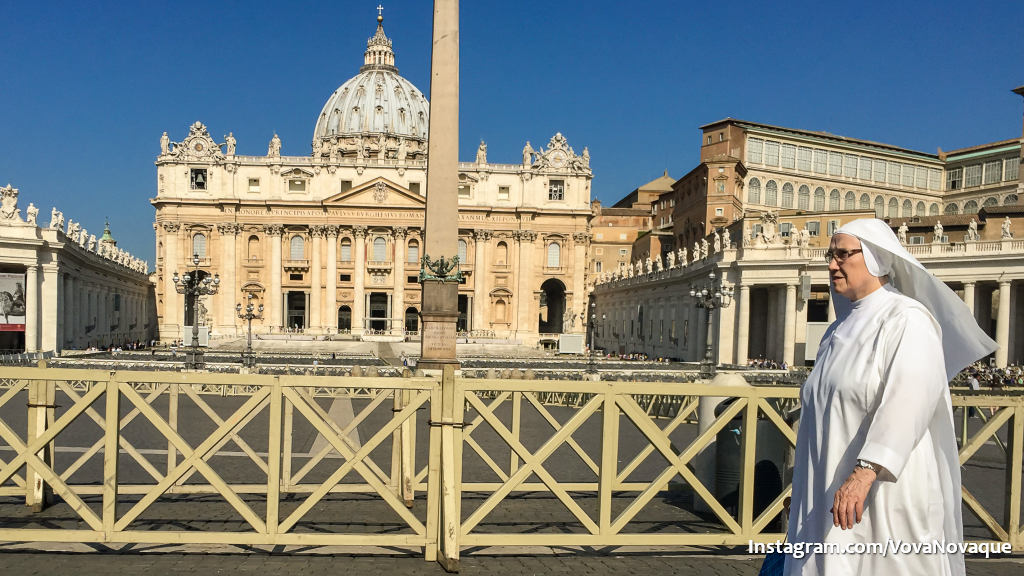 I'm not a religious person, but I adore churches as an architectural phenomenon. I like to sit inside, to feel the ambiance, sometimes especially in such hot cities as Rome I find chilly shelter during day strolls around the attractions. Catholic churches are very attractive for tourists, because there are benches inside where you can sit and have a rest for some time.
Vatican is also among top 7 places in Rome to see
In Rome or better to say in Vatican you will find the most well-know Cathedral in the world, which serves not only as a religious place, but also as a museum and inspiration for thousands of everyday visitors. My beloved spot in Vatican is the cupola of St Peter's Cathedral. Actually if should also be among the top 7 places in Rome.
Every time I visit Italian capital I get up about 6 in the morning to climb the cupola and to be almost alone with top of Rome. I sincerely hope you also experience this one day.
Gelateria Old Bridge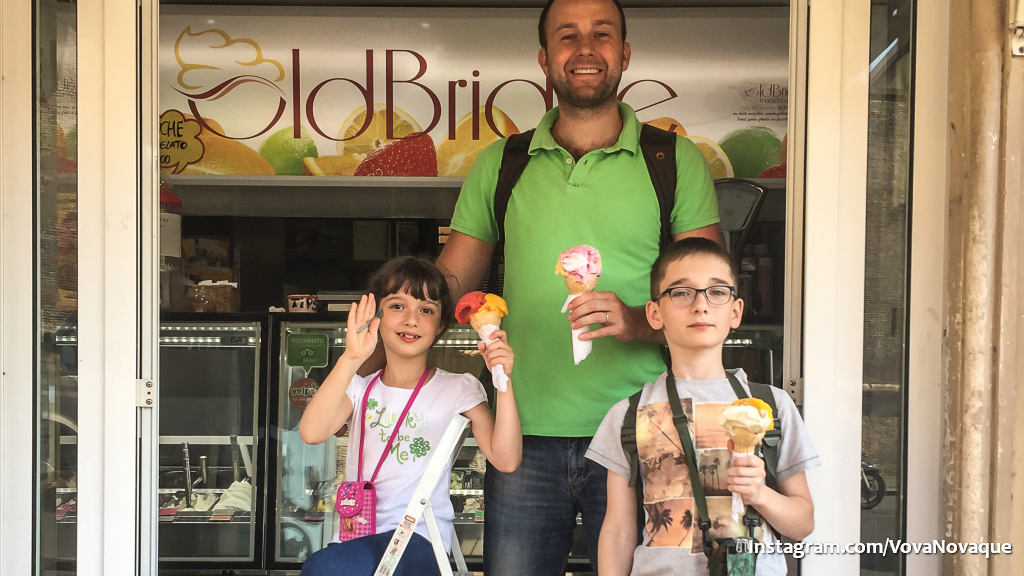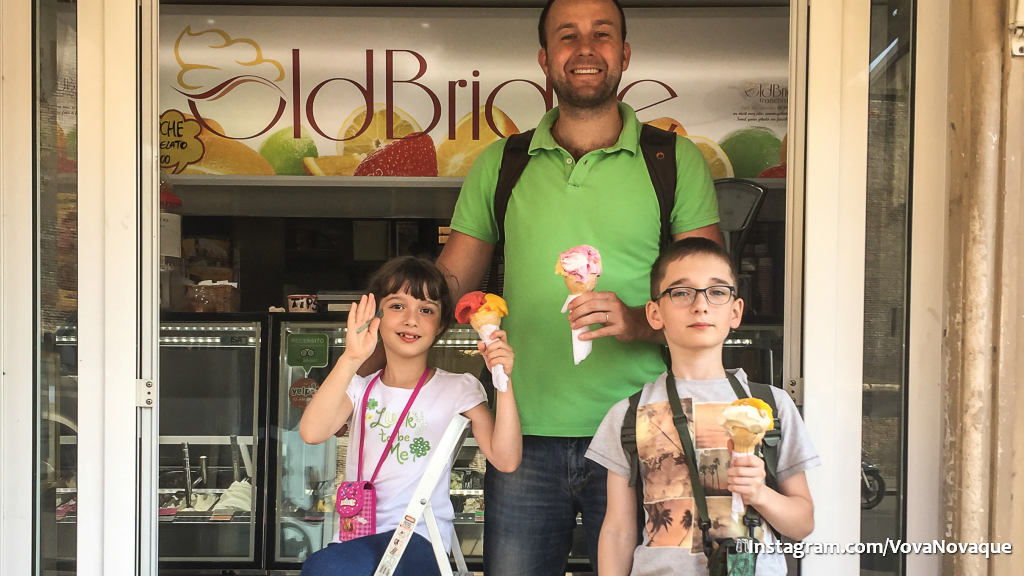 If you've read at least several of my articles you've probable noticed that I love to eat. Food and photography are two my big passions. And how strong was my surprise was when I tried for the first time the last of real Italian gelato. That was like to be blind for the whole life and suddenly to see the light.
Old Bridge Gelateria in Rome is among top 7 places in Rome for sure. I've tried all the tastes they have and found by "numero uno" (number one). Put down or try to remember: gelato ricotta pistacchi. This is something absolutely incredible and tasty.
Since the biggest portion is not very comfortable in summer heat — gelato melts and hands get sticky, I usually take one middle, eat it and take another one. Because I know, if I leave the place only with one gelato, I will have to come back, which is not very comfortable. By the way, the Old Bridge Gelateria is located just round the corner from Vatican. So after a tour to the smallest country in the world, go to try the best Italian gelato.
Top 7 places in Rome and other locations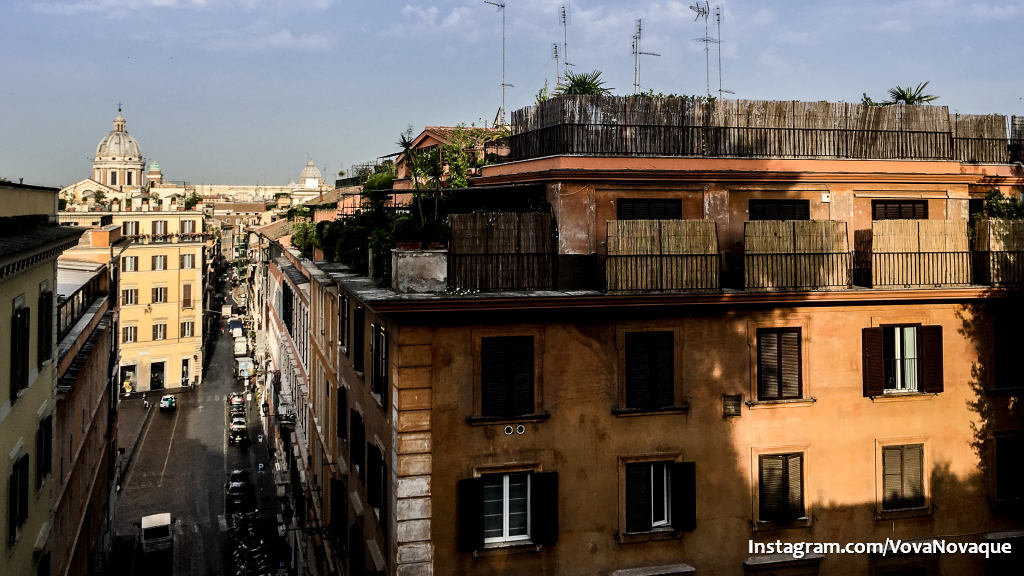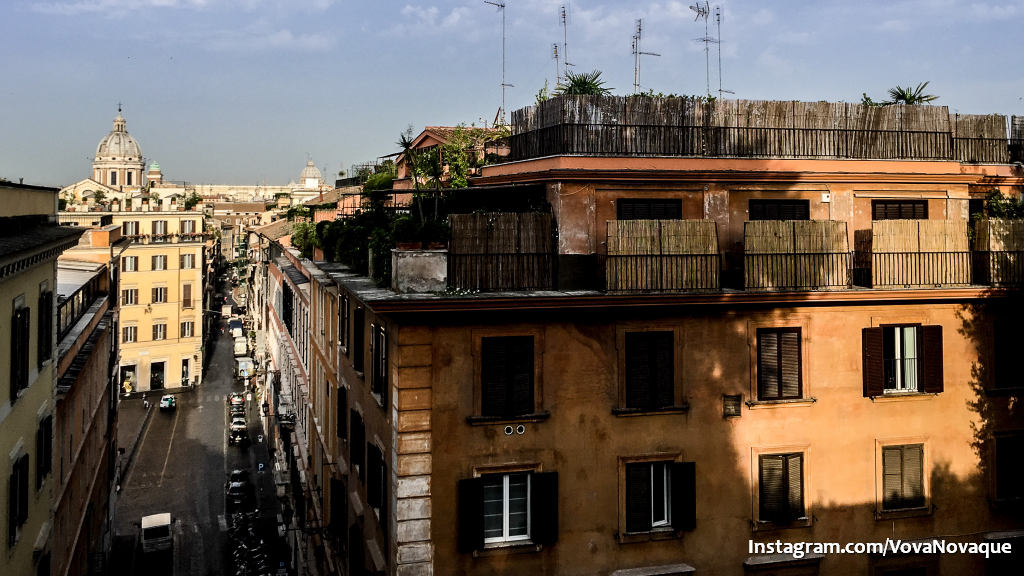 The 7th my beloved place is unknown territory of Rome. Though I travel to Rome very often to visit my friend, wedding photographer Artur Jakutsevich. I already have been in lot's of places, every new visit brings new experiences and locations.
Therefore for me it is still an incomplete city. I will find more cosy neighborhoods and of course I will share this information with you, my friends. Keep in touch, read the article about top 7 places in Rome and share it with your friends.