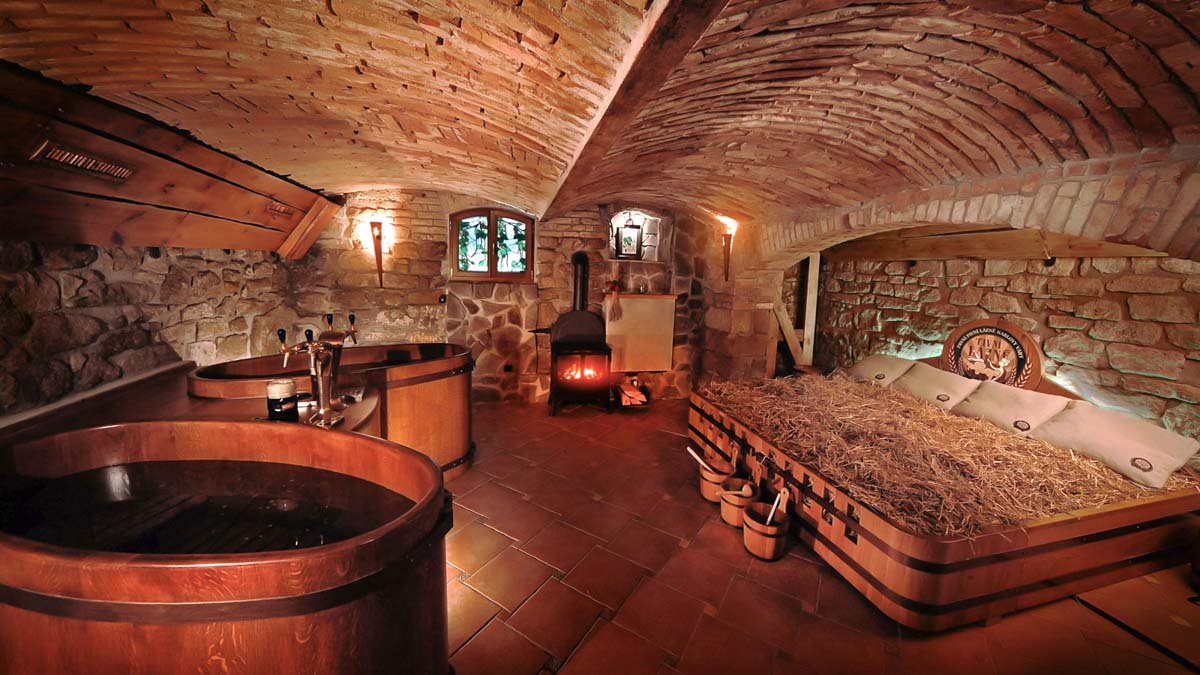 Czech beer is one of the reasons why tourists go to this country. But do you know about healthy effect from beer spa in Prague? Such procedures are considered to be beneficial for health, body and mind too. In this article we will find out everything about this.
History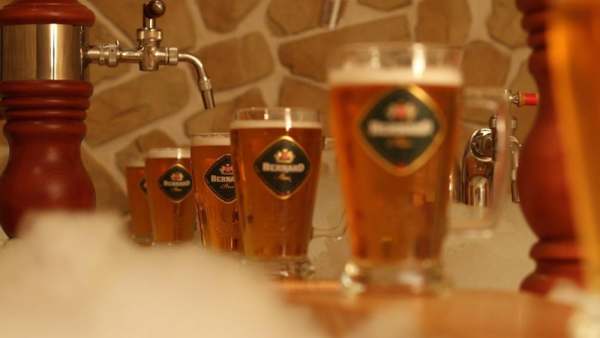 There are a lot of debates about the useful properties of beer, but still, it has been used in folk medicine for long time. The founder of modern beer baths is Roman Vokaty. He is a specialist in the field of balneology and physiotherapy, who works in one of the clinics of Marianske Lazne resort. The first beer spa in the Czech Republic appeared in 2006 in the brewery Chodovar. He developed a complex of therapeutic procedures with the use of a foam drink.
Legend
There is also another legend, which tells an interesting story of a fisherman. Accidentally he fell into a barrel of beer and somehow stayed there for some time. After that he felt less pain in his back and decided to repeat the procedure but adding warm water to beer. As a result, the fisherman forgot about problems with the back and joints. Anyway, today beer baths are a highly popular procedure, especially beer spa in Prague. Tourists from all over the world are eager to try it on themselves.
How does it work
There are no secrets about the process. You should lie in an oak barrel filled with a special beer liquid. The composition of the liquid for bathing varies, thought a classic option is 50% of mineral water and 50% of beer. The beer has no alcohol, but contains more active substances like hops, malts, yeast, herbal extracts and natural oils.
The temperature of the bath is from 33 to 37 degrees. To achieve the best effect specialists advice people to dive in the barrels with no clothes at all. Though, it is ok to enjoy beer spa in Prague in a swimsuit. The duration of the session is about 30-60 minutes. After this you should rest and also not to take a shower for 12 hours, for skin to soak all useful substances.
Benefits of Beer Spa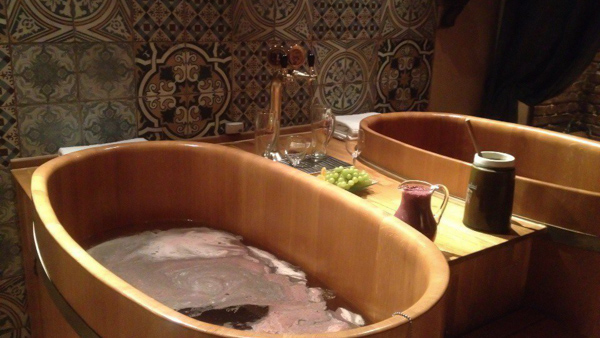 The effect of beer baths is determined by the unique composition of the bathing solution. Under the high temperature, the skin pores open and saturate with active substances from the water. Brewer's yeast is a source of B vitamins, which are extremely important for skin health. In addition, yeasts have many valuable amino acids, iron, copper, zinc, manganese, enzymes. Scientists proved that these elements may also have a positive effect on the cardiovascular, immune and nervous systems as well.
During the bathing hops release oils with disinfectant and regenerating properties into water. Carbon dioxide accelerates metabolic processes, activates blood circulation and removes inflammation. Most noteworthy, the mineral water contains silicon, helping skin to be young.
Thus, beer baths act on the body in the following directions:
heals the skin, making it more elastic, fresh, moisturized;
treat acne, psoriasis, eczema, heal small wounds;
give hair shine and strength;
relieve fatigue and relax due to hydro massage and warm steam;
warm up the joints;
help the body to purify itself of toxins;
normalize blood pressure;
increase immunity;
improve digestion.
Where to try
Grand Relax Spa & Wellness
Grand Relax provides a large scale of services of beer spa in Prague. The spa is located in Nové Mesto Prague 1, near Florec metro station. 1 hour session of beer bath here costs 6000 CZK and includes:
Traditional beer barrel with unlimited beer consumption BERNARD (30 minutes);
Relaxation in a heated bed (30 minutes);
Original souvenir after the procedure;
Memory photo.
Address: Na Poříčí 42, Prague 1.
Lázně Pramen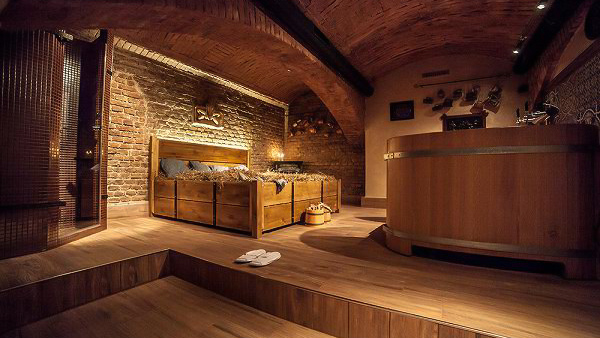 The design of the interior is very cozy and relaxing. In comparison with the previous beer spa in Prague, the prices in this place are lower. One hour spa costs 1600 CZK for 1 person and 2300 CZK for 2 persons. The session includes:
Beer bath (20 minutes);
Unlimited consumption of dark and light beer "Kynšperský Zajíc";
Rest by the fireplace in the hayloft (20-30 minutes).
Address: Dejvická 255/18, Praha 6.
Spa Beerland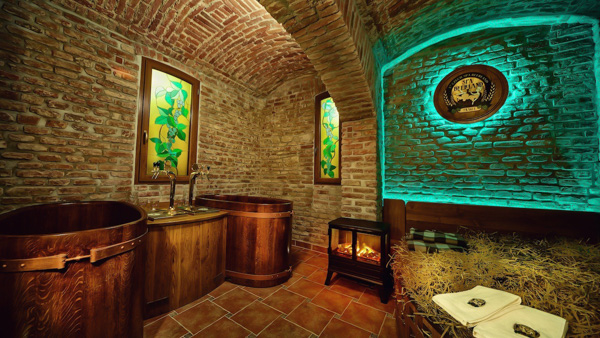 Here you can enjoy beer spa in huge oak tubs with hydro massage. The water contains beer components used for the production of Krusovice beer. The procedure time is 20 minutes and during bathing you can drink an unlimited amount of beer. After bathing, you will be offered to relax on a couch wrapped in a warm towel.
The hall is designed for 4 people. Towels, sheets, bathrobes and slippers are given by the salon. The price of the procedure for one person is 1500 CZK.
Address: Žitná 9, Praha 1.
Prague Beer Spa Bernard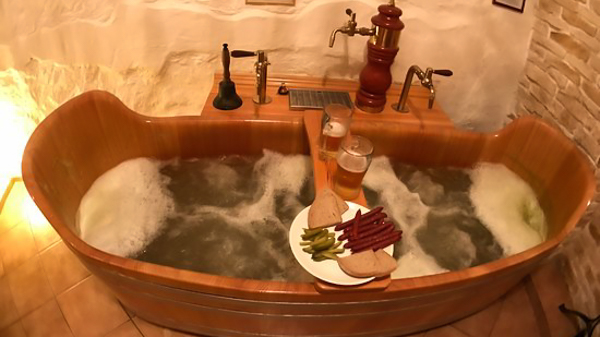 Wooden bathtubs here are designed for 2 people. This beer spa in Prague uses special water with unpasteurized beer "Bernard" in addition. The procedure lasts about an hour and includes bathing and rest in a heated bed. Besides you can enjoy a massage after spa.
During the session you can drink an unlimited amount of beer and after the end you will get a special bottle of drink and a document of the spa procedure. The price of a beer bath for one person is 1800 CZK.
Address: Týn 644/10, Praha 1.
Pivní lázně BBB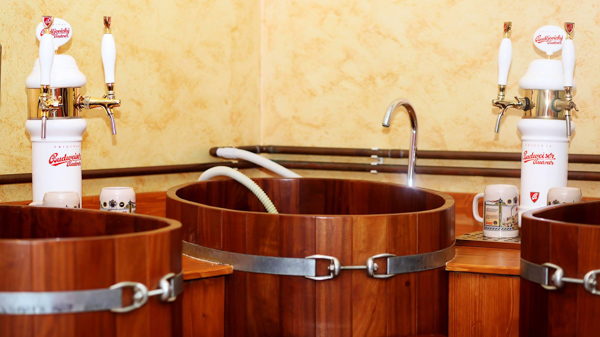 Beer bath is carried out on the basis of patented technology BBB (Bier.Bottich.Bad). For bathing spa there are wooden vats filled with mineral water and beer, heated to 35 degrees. The whole session lasts about an hour: 30 minutes for bathing and 30 minutes to rest on the bed with oat straw. As in other beer spa in Prague, beer is available in the desired amount. The cost for one visitor is 1800 CZK.
Address: Masná 1059/5, Praha 1.
Beer spa in Prague review
As you can see beer spa in Prague is not only a tourist attraction. It has many beneficial properties and is an exotic thing to try during a visit to Czechia. The places present all the very best features for your full relaxation. Leave your thoughts and reviews in the comments bellow and if you have tried it, share your experience with us to!