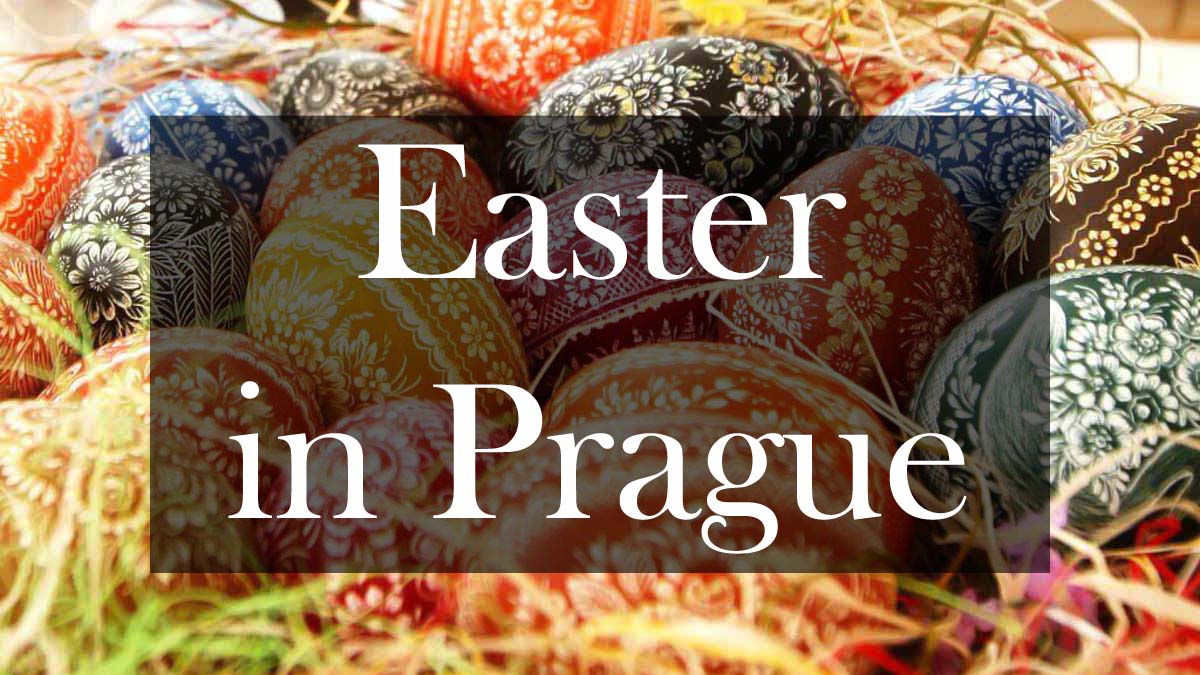 What is Czech Easter? How do people in Czechia celebrate this holiday? What souvenirs, food and traditions tourists can enjoy on trip to Prague in Easter? I will share with you the most essential information and hope it will help you to plan a trip to the Czech Republic in spring.
The Czech Republic could hardly be called a religious country as about 40% of population are Catholics, 4.5% – Protestants, 3% – Orthodox and 40% are atheists.
It is no wonder that celebration of Easter here loses its religious nature and gain features of public holiday.
Easter in Czechia — the second Christmas
Easter in the Czech Republic is a fun time. The Czechs call it the second Christmas or New Year. As a result there are a lot of customs, traditions, parties and, as in reason after long Fast, national dishes with special green beer.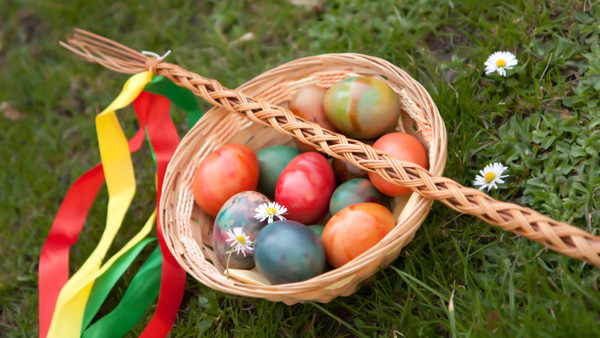 It's possible to have firsthand knowledge and experience of Czech Easter only exploring all customs and traditions taking active part in them.
Easter calendar
Easter celebrations in the Czech Republic start from the last days of Great Fast. The most important Easter days in Czechia are:
Ugly Wednesday (Škaredá středa);
Green Thursday (Zelený čtvrtek);
Good Friday (Velký pátek);
White Saturday (Bílá sobota).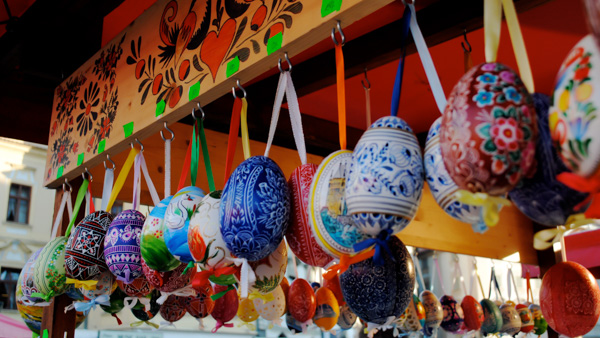 Ugly Wednesday (Škaredá středa)
Ugly Wednesday (Škaredá středa) named after the day Judas betrayed Jesus. Children are let out of school so that they can spend time making Easter "beautiful" cleaning and preparing their homes and houses with parents.
Green Thursday (Zelený čtvrtek)
According to the catholic tradition, on Thursday (on the eve of Easter) church bells ring for the last time. Then they are considered to fly to Rome to the Holy See. A priest officiates at a religious rite in green vestments. The name "Green Thursday" comes from here.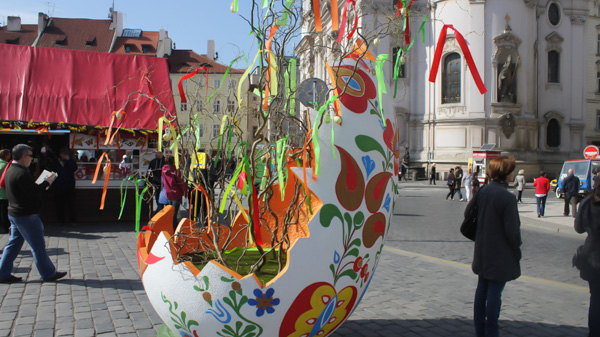 This day the Czechs eat green vegetables in order to be healthy all year round. And of course they drink green beer, which brewers make specially for Easter.
Good Friday (Velký pátek)
In Good Friday priests organize Cross Procession in memory of the moment when Jesus Christ carried his cross to Calvary. There are a lot of legends that are connected with Good Friday in Czech folklore. One of them says that this day people could see the treasure that was hidden in Visegrad rock.
You may ask why only see but not take? Maybe because for a Christian believer wealth is a minor point.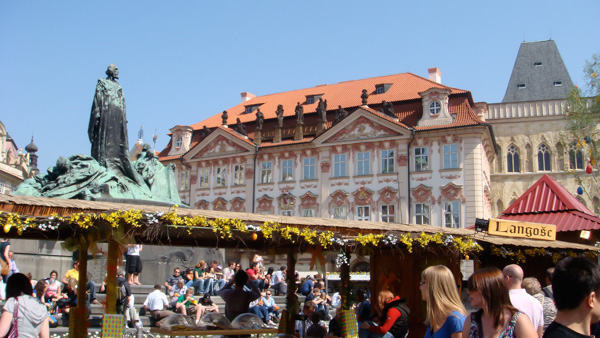 White Saturday (Bílá sobota)
White Saturday is the final day of Great Fast. It is a day when the bells "come back". In the evening in churches there are services, bells ring and everybody start to celebrate the Resurrection.
Monday (Velikonocni Pondeli)
Street parties in Czechia last till Monday (Velikonocni Pondeli). There is one very interesting tradition that is still kept up even in big cities. Boys and men go caroling and symbolically whip girls and women with the plaited osier sticks (pomlázkas).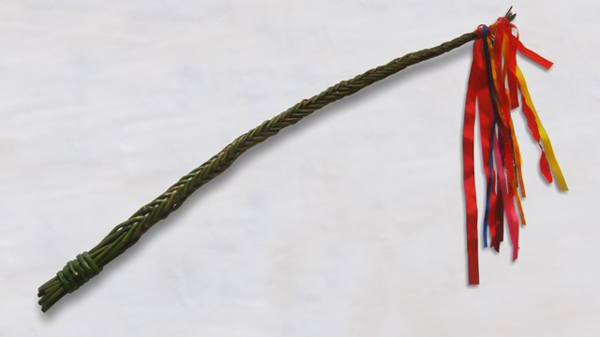 According to folk traditions, the whipping is supposed to bring women beauty and freshness throughout the year.
To tell the truth, not all ladies believe that such a method is effective and prefer to stay at home. Luckily this Monday is a day off. If you need to go outside after all, you may try to buy off and offer to the "sticks bearers" colored eggs (kraslice), sweets or alcohol drinks.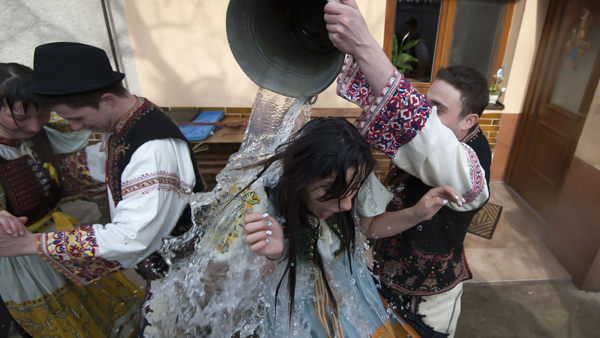 Easter Markets
During Czech Easter in many cities Holiday Markets take place. The capital city of Prague hasn't forgotten about its residents and visitors either. In particular, it has prepared Easter Markets, folk fairs and festivities.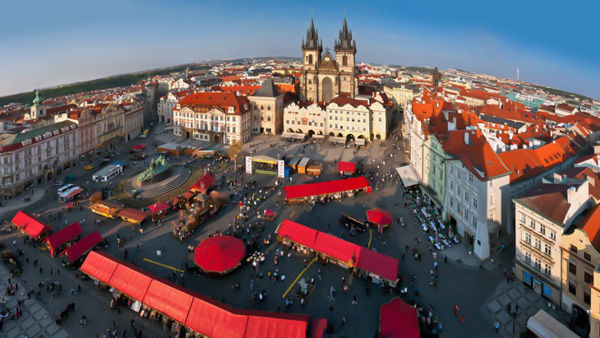 In 2018 Prague Easter Markets will be organized from 30th of March till 2d of April.
The Prague Easter markets are open daily. The largest ones are those on the Old Town Square and Wenceslas Square. Both town squares are full of stands decorated with colorful ribbons, birch tree twigs, flowers and beautifully painted Easter eggs.
Souvenirs
Besides enjoying the festive atmosphere, visitors of Prague Easter markets can buy traditional Easter items and decorations, crafts and gifts. And enjoy watching skilled Czech craftsmen and craftswomen make traditional Easter whips (pomlázkas).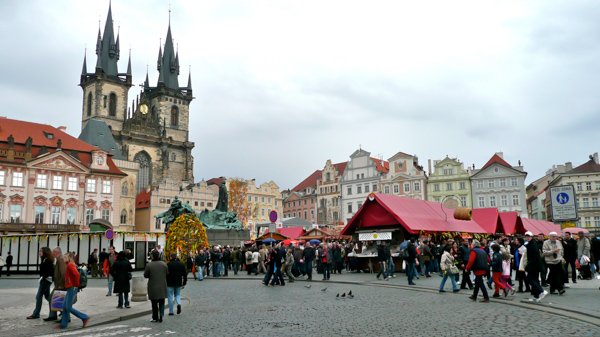 The most common sight however is bright and colorful hand-painted Easter eggs. Czech ladies dressed in traditional costume can personalize them for you by painting a name or special message on.
What goodies to try
But the markets are not just about shopping. I believe that you did not travel to Prague to eat only salad, right? You rather came to experience classic Czech food, which is delicious, filling and addictive.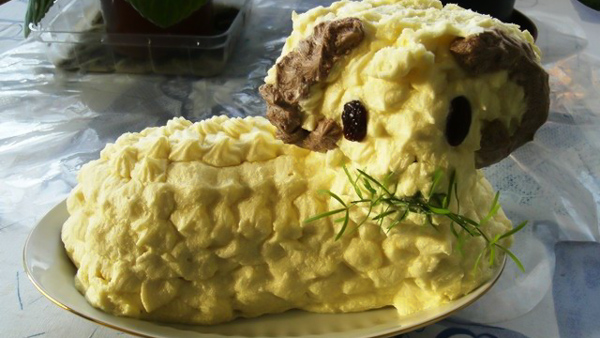 On Czech Easter Markets you may taste roast lamb with a special parsley-heavy bread stuffing (nádivka), cakes baked into the shape of a lamb (beránek) and coated in chocolate icing, and a brioche-like bread (mazanec) that's topped with an egg glaze and almonds.
To accompany the food, try a Czech beer – Pilsner Urquell, Staropramen or Budvar. Or choose from a variety of other beverages.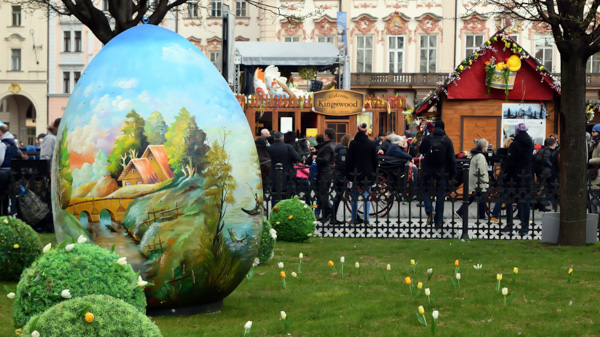 If you travel with children you could visit a small zoo and pat little sheep, goats, rabbits and chickens. There are creative workshops they can participate in and make their own Easter decorations – paint eggs or make traditional Easter whip.
As a souvenir you can bring home a figure of a rabbit who is a symbol of Easter as well.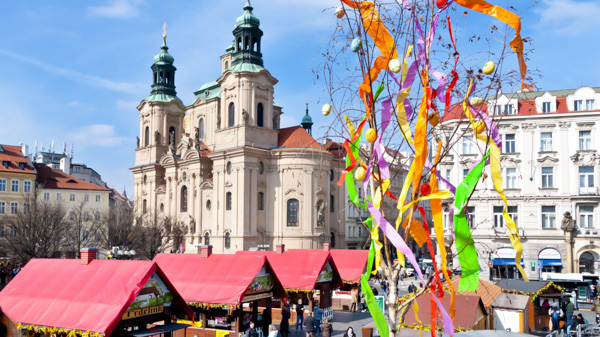 Hotels in Prague for Easter holidays
Easter celebration in the Czech Republic, according to Forbes, is the most exciting in Europe. Moreover it is the start of high season, which usually falls on late March and early April. So I sincerely recommend booking in advance. Learn how to pick up the area where to stay in Prague.