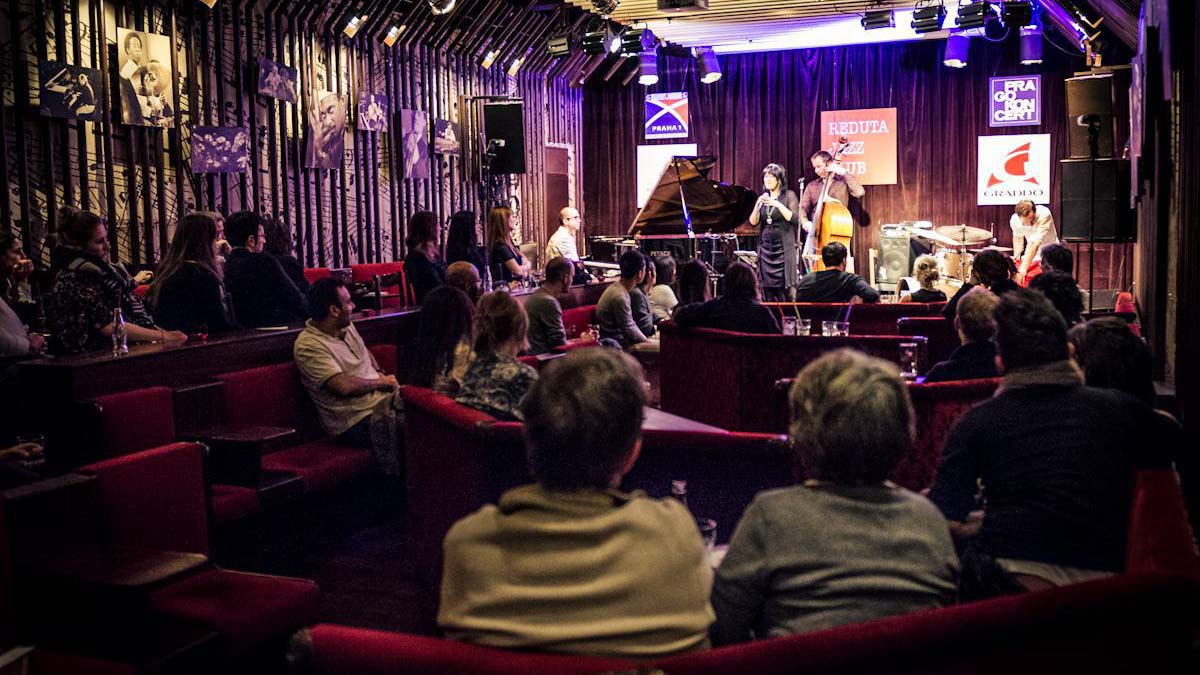 An unlimited amount of entertainment opens to every tourist in the Czech capital. In this article we will highlight the information for lovers of jazz or musicians, in particular about jazz clubs in Prague: where to listen to jazz music. We'll tell about the peculiarities of each place, entrance fee and its address.
Among all jazz clubs in Prague these are the most well-known: Reduta Jazz Club, Jazz Boat, AghaRTA Jazz Centrum, Jazz and Blues Club Ungelt, Jazz Dock, Jazz Republic, Jazz Time, The Loop Jazz Club, U Malého Glena.
Reduta Jazz Club Prague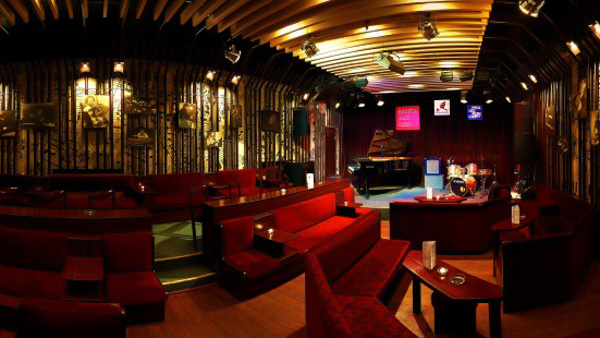 This club, located in the historic center of the city Nove Mesto district, and is one of Prague's cultural life points. Since 1957 it has been a small experimental scene. The team of artists soon turned a small wine bar into one of the most popular places. There appeared lots of innovative musical and dramatic plays that influenced the entire theatrical sphere of the country.
For foreign tourists, the club is attractive because once it held the meeting of the first President of the Czech Republic Vaclav Havel with US President Bill Clinton. The American president went out to the scene that evening to play the saxophone and also took part in the jam session. The bar offers only drinks and snacks. The program of the club is very rich and diverse.
Work hours:
Music hall is open daily from 9 till midnight;
Concerts start at 9:30 p.m.;
Theatrical stage starts performances at 7 p.m.;
Children's performances are from 9 a.m. to 3 p.m.;
Bar works until the last client.
Tickets: The cost of tickets varies depending on the event from 100 to 300 CZK.
How to get: Tram No. 2, 9, 18, 22, 23, 41 to the Národní třída stop.
Address: Národní 116/20, Praha 1.
Jazz Boat Prague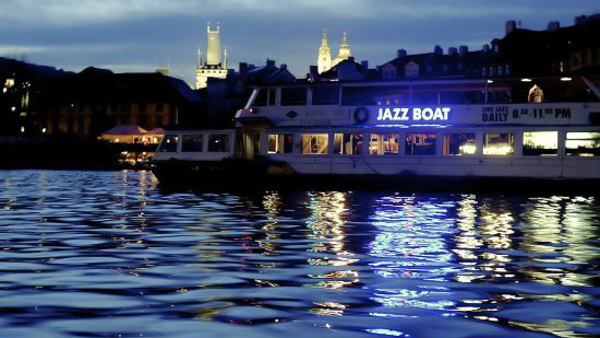 The next place in our list of jazz clubs in Prague is really unique. But for excellent music it offers also a cruise on the Vltava River. Every evening the boat leaves the pier so you can spend time on waves of jazz music. Such an unusual walk through Prague on a boat includes a concert of professional musicians. Therefore it is a unique opportunity to relax, spend a romantic evening or just have a pleasant time with your loved ones.
At your choice there are several types of evening menu: with salmon, pork, chicken, as well as a vegetarian dinner. Besides you can take advantage of additional services, such as a transfer directly from the pier to the hotel. The price depends on the menu you choose and starts from 790 CZK. This trip includes 2,5 hours cruise, aperitif and, of course, jazz concert.
Address: Dvořákovo nábř., Prague 1, Staré Město.
AghaRTA Jazz Centrum Prague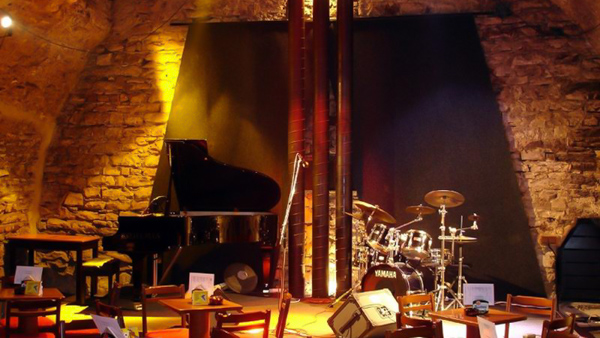 Cozy atmosphere, medieval surroundings and live music in the club Agharta Jazz Centrum are fascinating from the first moment. On the stage of the club there are always famous and beginning jazzmen both from the Czech Republic and outside its borders. Everything here creates all the conditions for enjoying music with a beer or cocktail. But for jazz you may also hear bands playing blues and funk.
In addition, the club organizes the AghaRTA Prague Jazz Festival every year, which is very popular and gathers famous jazz masters. The club has a store offering a large number of CD records. The room of the building is small and located in the basement, built in the XIV century. The interior reminds old medieval tavern.
Working hours: daily from 6 p.m. till midnight.
Entrance fee: 250 CZK.
How to get: Tram No. 6, 8, 15, 26, 41 to the Náměstí Republiky stop.
Address: Železná 491/16, Praha 1.
Jazz and Blues Club Ungelt Prague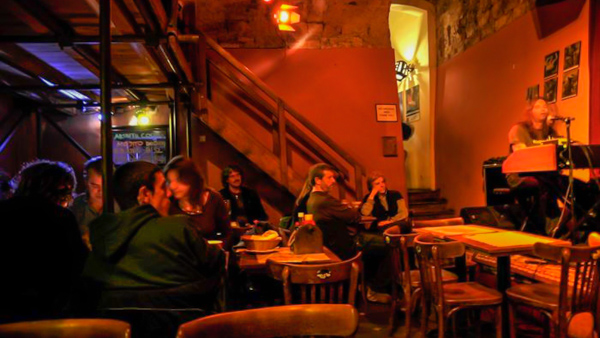 Jazz and Blues Club Ungelt locates in Prague 1 and occupies two floors of a historic underground storage facility. It was built in the 11th century and is perfect for jazz atmosphere. The original stone walls complement for the general acoustics. Here you can enjoy jazz and blues music of various local artists, from the Czech Republic and abroad.
The club also has its own jazz pub located on the street level. Having two rooms and a summer garden, it is a great place to have a rest after walks around Prague. Here you are offered versatile Czech and Italian dishes as well as rich choice of beverages.
Address: Týn 640/2, Praha 1, Staré Město.
Jazz Dock Prague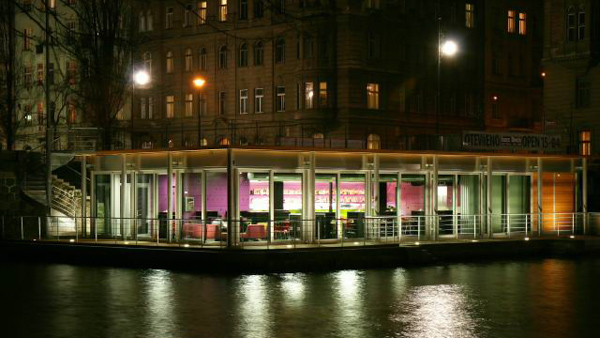 Jazz Dock is famous not only for its excellent cocktails and a landscape outside the window. But also for high-quality musical concerts held there. It is a cafe-bar which combines superb cuisine, a good location and an opportunity to enjoy live jazz music. There perform various musical groups and artists. Along with the jazz content, the club also shows documentary films in the framework of Music Cinema.
This cozy place is very popular, both among local residents and guests of the Czech capital. If you want to visit the club so book in advance. There is also a beautiful terrace where you can relax during the day, admiring the passing river trams. People under the age of 25 and over 65 the entrance fee is 90 CZK, while standard ticket costs 150 CZK.
Working hours:
From October to March:
Monday – Thursday: 5 p.m. – 4 a.m.
Friday – Saturday: 3 p.m. – 4 a.m.
Sunday: 3 p.m. – 2 a.m.
From April to September:
Monday – Thursday: 3 p.m. – 4 a.m.
Friday – Saturday: 1 p.m. – 4 a.m.
Sunday: 1 p.m. – 2 a.m.
How to get: Tram No. 9, 12, 15, 20 to the Arbesovo náměstí stop.
Address: Janáčkovo nábřeží 3249/2, Praha 5.
Jazz Republic Prague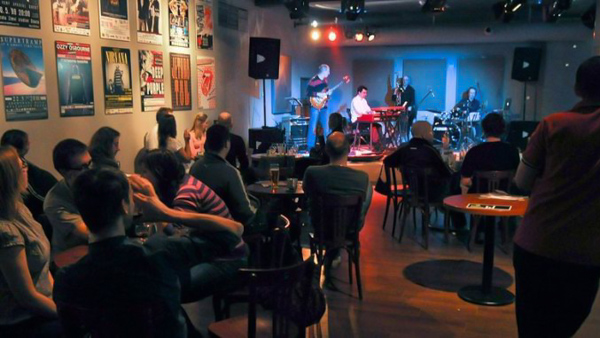 The next stop in our jazz clubs in Prague list is Jazz Republic. This club has everything that is necessary for a good rest: pleasant music, live sound, a large beverages menu and a relaxing atmosphere. The club often hosts concerts of various young bands, playing funk, blues, R&B, pop, Latin, etc. Depending on the specific performances the cost of admission tickets varies from 100 to 250 CZK.
It is noteworthy that the club has nine varieties of both Czech and imported beer, local and Italian wine, various cocktails as well as a rich choice of strong alcoholic beverages. Jazz Republic also owns a gallery, which shows posters of various concerts and shows held there. In addition you can see posters of many legends of rock and jazz: Rolling Stones, Pink Floyd, Iron Maiden, Metallica, Sting, etc.
Work hours:
every day from 5 p.m.
in July and August from 6 p.m.
How to get: Tram No. 3, 5, 6, 9, 14, 24, 41 to the Václavské náměstí stop.
Address: Jilská 352 / 1a, Praha 1.
Jazz Time Prague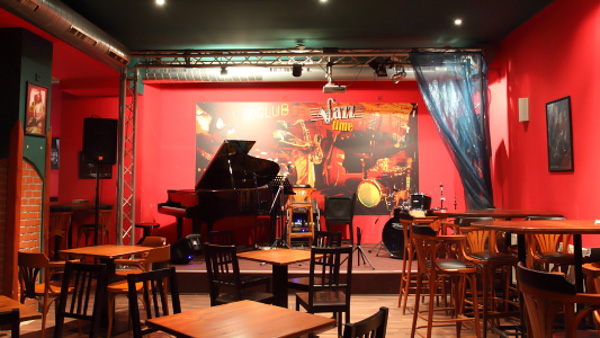 Jazz Time in Prague is almost the biggest jazz club in the city. It has a large hall with a lounge interior and holds different concerts. The club also has well-known jam sessions that take place every Friday after 10 p.m. It is an exclusive event because up to 20 musicians perform music from their feelings.
In addition, once a month there are dance parties of various genres. If you got hungry, try amazing dishes of Czech national or Italian cuisine. The club occupies a cozy building near the Wenceslas Square in Prague.
Address: Krakovská 593/19, Nové Město.
The Loop Jazz Club Prague
The club locates in the historical structure Občanská Plovárna. It was built in 19th century and served as a public swimming pool. Nowadays the Loop Jazz Club occupies this place with a wonderful view on the banks of the Vltava River. The club features a comfortable and elegant interior, a kind of a typical for a stylish jazz joint. Inside you will see red walls, gold mirrors and an open air balcony with a sofa.
The overall idea of the place was to hold concerts of musicians from the Czech National Symphony and other stars. So here performed famous quartets, American jazz saxophonist Jason Robinson and well-known bands.
Address: U Plovárny 8, Praha 1.
U Malého Glena Prague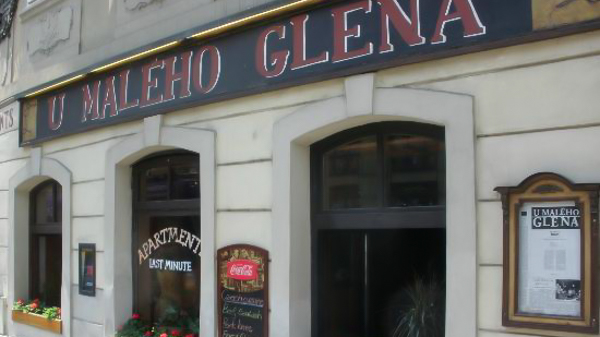 U Maleho Glena appeared in 1995. It is popular for a pleasant atmosphere, polite service and reasonable prices. Wooden tables, dimmed light in the hall, gray gloomy walls, old photos and retro-style paintings make the interior refined and unusual.
The lower part is intended for a jazz club, while on the top floor there is an excellent bar which attracts lots of locals and visitors. For each day there is a new program and new musicians, so the jazz music lovers will like this place. The restaurant is also worth paying attention to. In the menu there are mainly dishes of national cuisine.
Prices for beer:
Bernard – 24 CZK for 0.5L;
Plzeňský Prazdroj – 28 CZK for 0,5L;
Budvar – 24 CZK for 0.5L;
Velvet – 25 CZK for 0.5L;
Lobkowicz -22 CZK for 0.5l.
Opening hours: 10 a.m. – 2 a.m.
How to get: Tram No. 12, 15, 20, 22, 23, 41 to the Malostranské náměstí stop.
Address: Karmelitská 374/23, Praha 1.
Jazz Clubs in Prague Review
Hope that this list of jazz clubs in Prague will make your time there unforgettable. As everything in the city of 100 spires, each establishment we have mentioned has unique features and atmosphere. Before going there, make sure to check their official pages for details about concerts. It would be nice to get your thoughts and reviews of these places. Share your opinion with us in the comments.