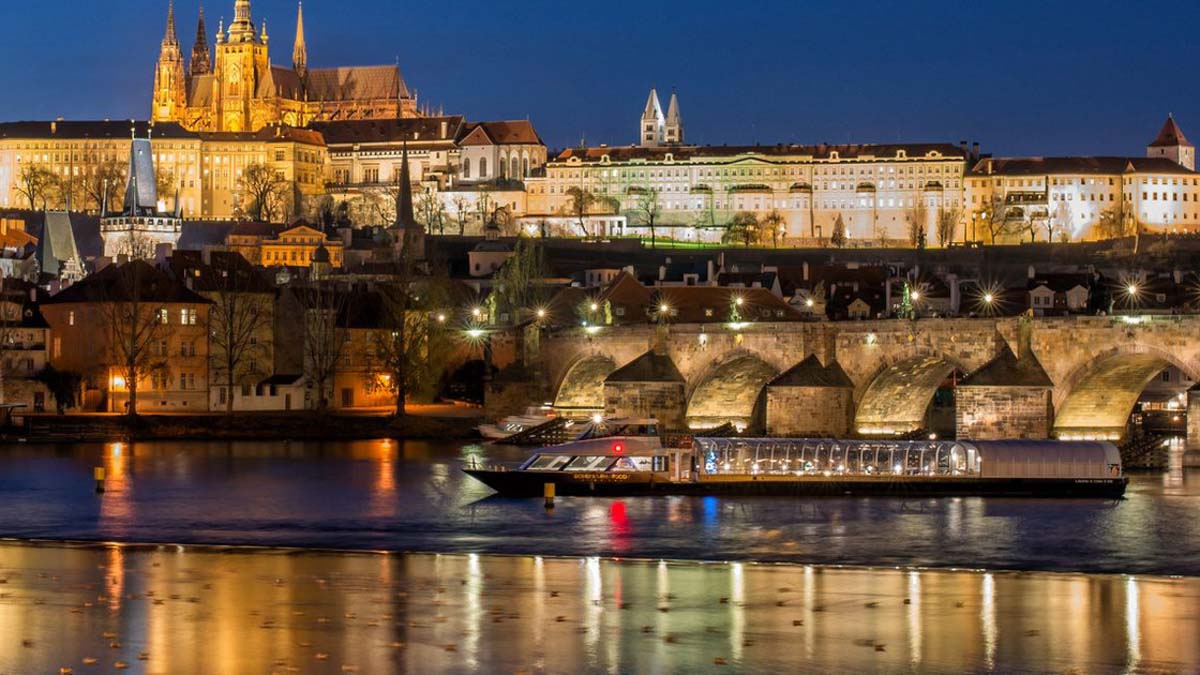 Many big European cities offer a wide range of activities to do, and Prague is not an exception. In this article we will speak about one interesting time-spending thing for you. If you want to make a romantic evening or have fun with friends, then do it on the boat cruise in Prague.
There are a lot of companies which provide such a service so we will mention the very best ideas for you to think over.
Prague's Venice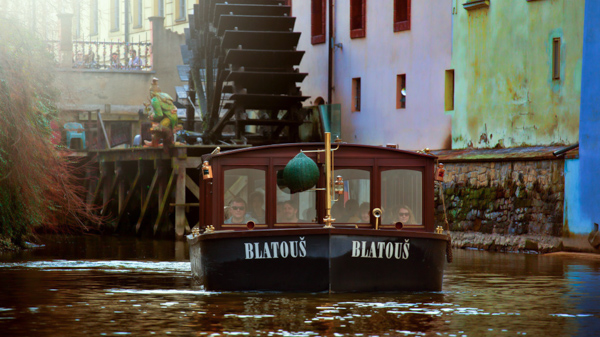 You might not know, but there is a district in the city of 100 spires which people call Prague's Venice. It is a channel on Kampa Island with unique, historic and atmospheric feeling about it. You can swim along it on the boat, admiring the Baroque and Renaissance style buildings. In addition you will be offered a complementary drink for your choice: beer, wine, coffee, soft drinks, ice-cream.
Such tours last about an hour and the price starts from 250-300 CZK for a person. The boat goes through the picturesque streets of the Devil's channel "Chertovka", old houses that grow right out of the water and the old mill wheel.
Lunch on the boat in Prague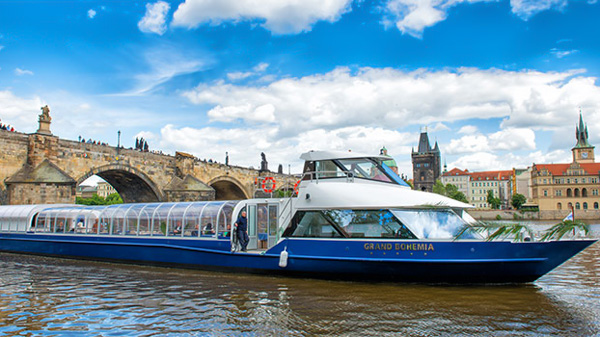 Feeling tired from crowds of tourists? If the answer is yes, you can have delicious meal on a boat cruise in Prague. This is a great opportunity to try delicious Czech cuisine, while enjoying the best views of the city from the deck of a boat.
We have an article about the best rooftop restaurants and bars with an amazing view, but such a cruise also includes it. Prague Castle, Charles Bridge, Old Town will be a nice background decoration for an unforgettable rich lunch. Usually it lasts up to 2 hours and the price is from 500 CZK for children and from 700 CZK for adults.
Jazz boat in Prague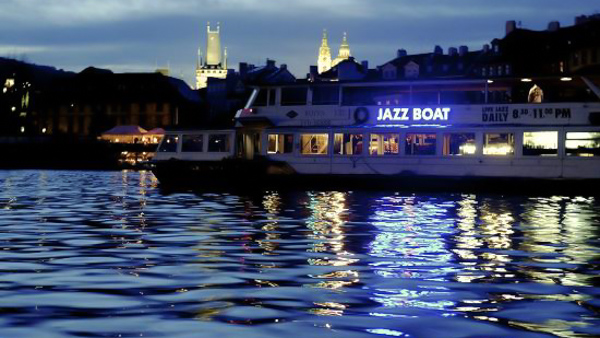 If you are looking for something interesting to do at evening, then this is a perfect choice. Jazz boat is a unique activity which combines enjoying live jazz music, dining delicious food and of course, admiring the lights of night Prague. This is a great thing for lovers of jazz music, as here perform professional and the best musicians of Prague.
There are various types of menu: with salmon, pork, chicken and vegetarian dinners. The cruise lasts 2,5 hours and the price depends on the menu you choose. Usually it starts from 790 CZK for a person.
Venetian Gondola Ride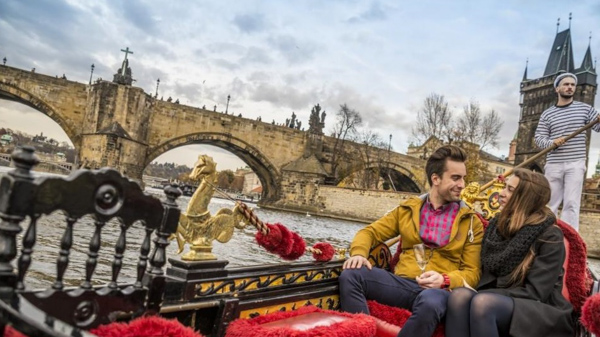 Well, looking for the best boat cruise in Prague this is probably the most romantic. As we have mentioned above, Kampa Island and Devil's channel are called Prague's Venice. But could you imagine that one can take a ride here on a real 19th century Venetian gondola?
This is a nice relaxation in a romantic atmosphere with a glass of champagne. The price for such rides starts from 2000 CZK. For additional fee you can order flowers and photographer services.
Excursions on Vltava River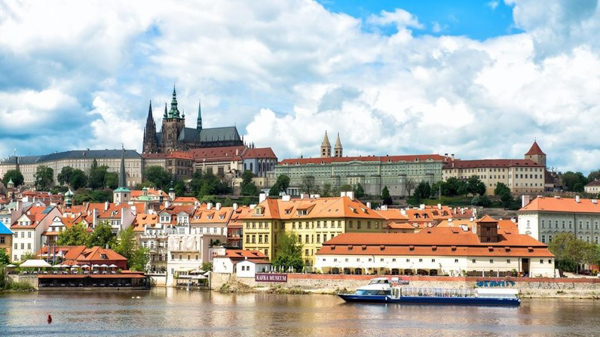 This option is a chance to get acquainted with the city of 100 spires aboard the ship. A lot of Prague's sights open from a completely different view during a quiet 2 hour boat cruise. You will see Prague Castle, Charles Bridge, Rudolfinum, Dancing House and hear the information about them and many other interesting places.
During the cruise you will be also offered various light snacks and drinks. The price for a 2 hour cruise starts from 400 CZK for a person.
Dinner on a boat cruise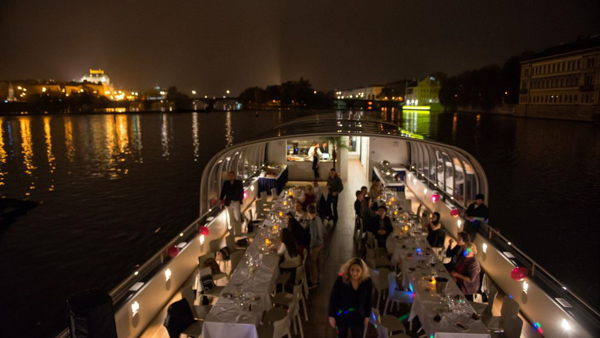 Though Prague has a lot of cafes and restaurants sometimes it is better to change the setting and try something new for a dinner. Well, you can dine on a boat cruise. Many companies provide a really big and nutritious dinner with a boat cruise on Vltava River. The menu includes tasty dishes of national Czech and international cuisine.
Moreover, there are several menus for your choice or a buffet kind of serving. Besides excellent view over night Old Town, Prague Castle and Charles Bridge you can enjoy live music and relax in a company of your relatives. The price usually starts from 800 CZK for a 2-3 hour boat cruise.
Grill party on the Vltava River in Prague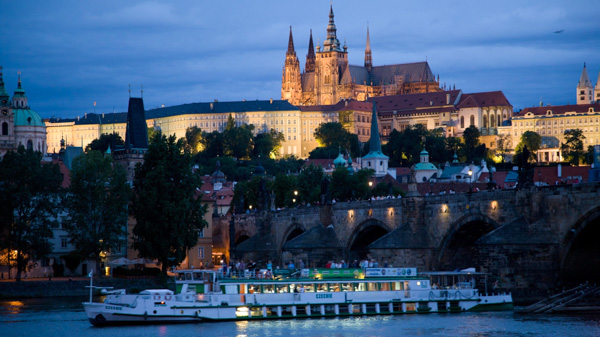 One more interesting boat cruise in Prague. This is a nice alternative to having fun in bars and clubs. These cruises include a rich menu of grilled meat dishes, sausages, potatoes, salads and vegetables. To accomplish the dinner you will be offered a famous Czech beer or other vegetables.
The price for one person starts from 600-700 CZK for 1 hour. Such activity can be organized throughout the day, so whether it is day or night you will enjoy magnificent views over Prague.
Rent of boats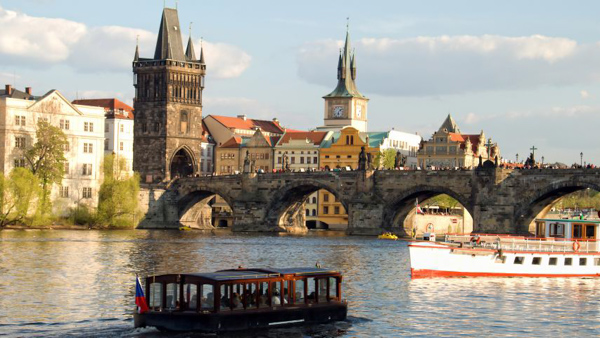 If you want to celebrate some kind of event and make it unusual, then do it on a boat cruise in Prague. Various companies provide services of ships rent of different holding capacity. This is a very popular and luxurious option among all boat cruises in Prague.
Parties, birthdays, corporate events or other celebration with a view over the city are something worth to try. You will be served various dishes and beverages for your wish. The price is about 4500 CZK per one hour and more, depending on a boat. For additional fee you can order catering services, live music accompaniment, decorating and organization.
Best boat cruise in Prague review
It is quite difficult to single out something particular from our list above. All of these ideas depend on your needs: whether you want to discover Prague, have a romantic time with a beloved person or have fun. Leave your thoughts and reviews in comments below and share with us what you think about this. Would you like to enjoy boat cruise in Prague?
If you want to take a step away from a beaten tourist routes we offer you tours with local guide in Prague. Experience, admire and feel the Czech capital in full!