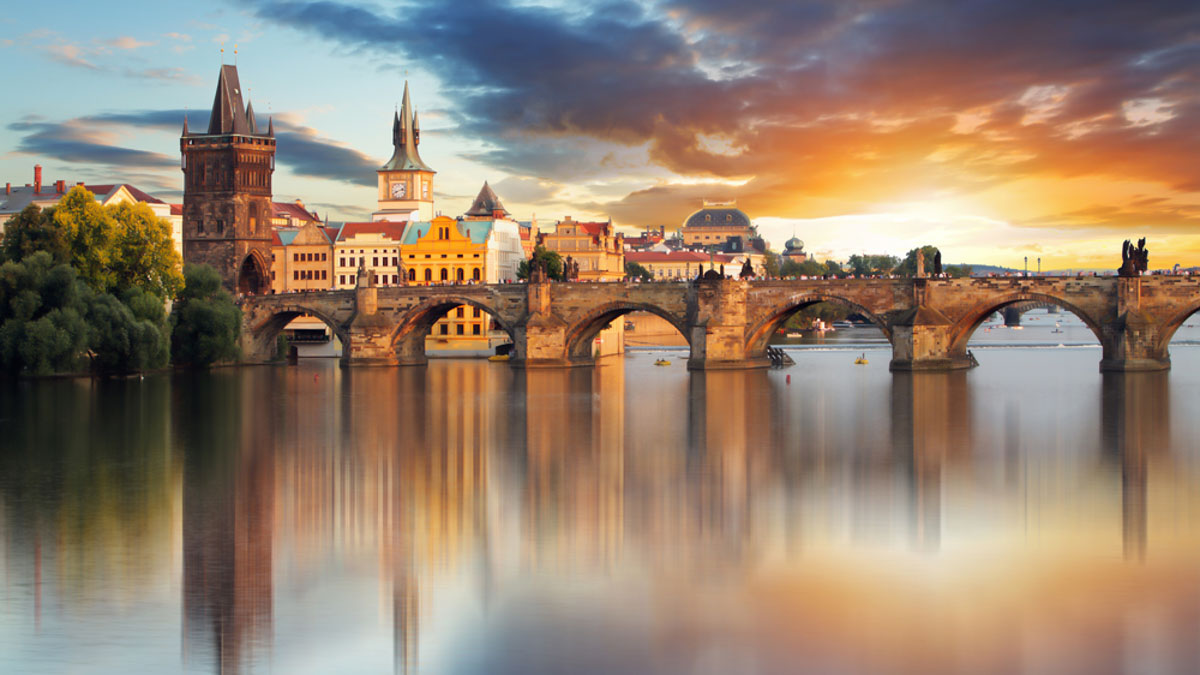 Czechia as a country which is more than only Prague. It makes the latter an interesting touristic destination. The city of 100 spires opens huge varieties of day trips from Prague to castles, towns and villages, national parks and even cross-boarder day tours.
Since most of the travelers spend in the capital of Czechia about 3-7 days, I picked up the most interesting and inspiring options of where to go from Prague for a day and share them with you.
Castles: Karlstejn, Konopiste, Krumlov and Hluboka;
Towns: Karlovy Vary, Kutna hora, Plzen;
Nature: Bohemian Switzerland, Czech paradise, Jested mountain;
Cross boarder: Dresden, Vienna, Munich.
Czech Castles
There are several thousands of different constructions in the country which we know as Czech castles and Chateaus. Some of them are well preserved and represent the architecture art of middle ages. Others were ruined during numerous wars and conflicts and have only walls and ruins.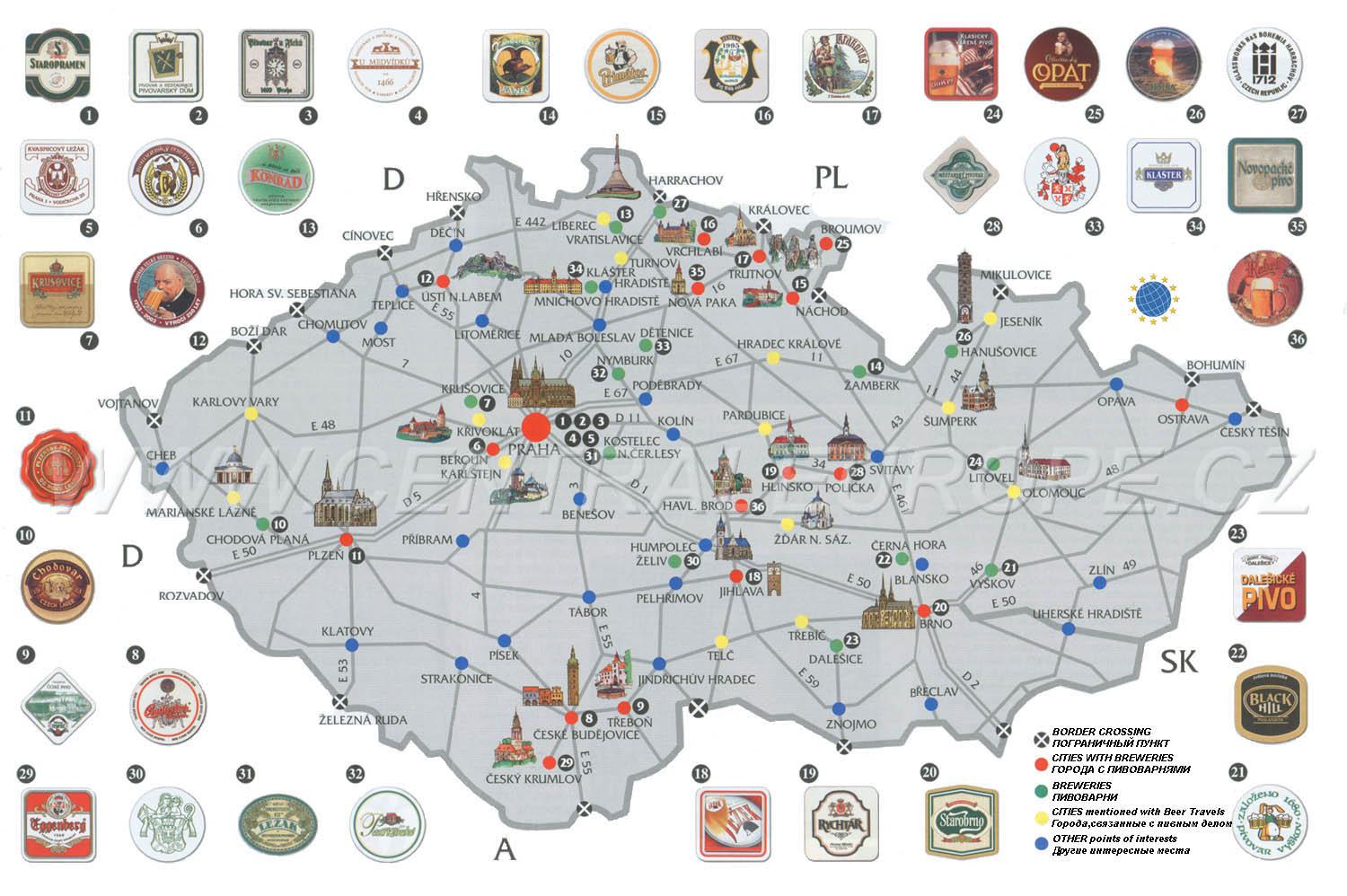 There are also the ones, which were reconstructed and open to public. But all of the castles tell us long and interesting stories about old times and people. Therefore it is so interesting to visit them.
Day trip from Prague – Karlstejn Castle
The first destination in the list of places where to go from Prague for a day is Karlstejn castle. Located only 35 kilometers from the Czech capital this castle is the most popular among the tourists from all over the world. It keeps the secrets of the famous Czech King and the Great Emperor of the Holly Roman Empire — Charles IV.
This view of the Gothic castle will show you how people used to settle around medieval fortresses, how the king and his family lived and how the castle managed to survive during Hussite Wars in the XV century.
How to get to Karlstejn
Since the castle is situated very close to Prague, it is quite easy to get there. Below are the possible variants, so pick up the one you are comfortable with and go! This day trip will bring a lot of joy and knowledge to you. You can book a private tour, a group tour, a bike tour or simply go to Karlstejn from Prague by train. The latter is the cheapest variant for those who travel on a budget.
Tours to Karlstejn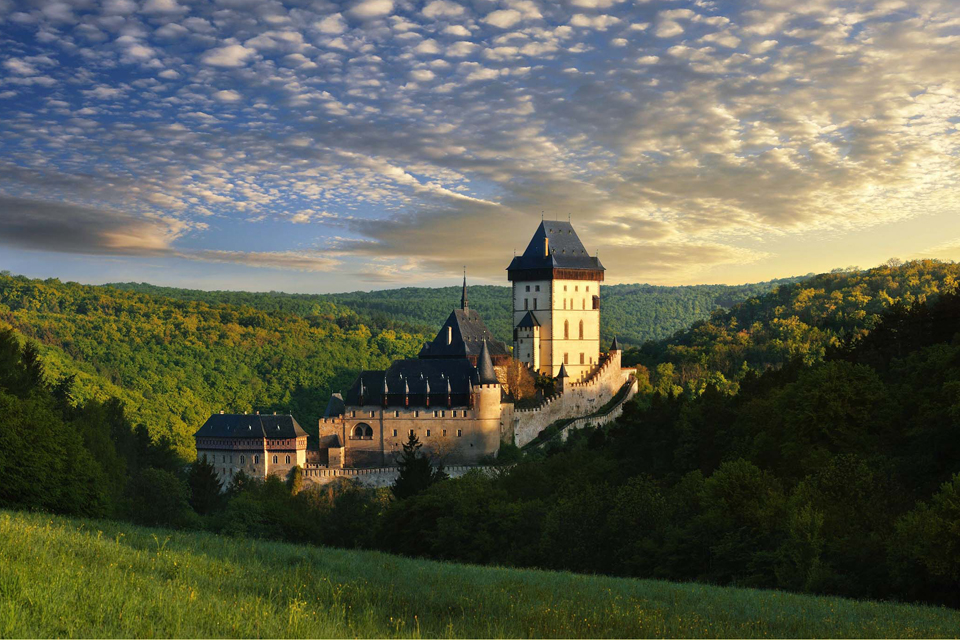 Guided tours to Karlstejn are to my mind the best variant for a day trip from Prague. There are several reasons, which make me think so. In summer season (between April and late October) private and group bike tours from Prague to Karlstejn are available daily.
About 30 kilometers long distance from the heart of the city you cover within several hours with beer or coffee stops, lunch a in countryside traditional Czech restaurant and amazing views of two rivers: Vltava and Berounka.
To book the private tour with local guides, please fill in the contact form on this page with tours from Prague.
By train to Karlstejn
Train system in Czechia is well-developed and you can get around the country very fast and relatively cheap. There are numerous trains leaving the main railway station to the direction of the castle. These are regional trains with numbers like Os 8842 going every 30 minutes.
Tickets are available in station offices or on the train. Oneway train ticket from Prague to Karlstejn costs 2 Euros. After you arrive, there is a bit a walking (10-15 minutes) from the station to the village and castle.
Day trip from Prague – Konopiste castle
Another castle with amazing story and absolutely legendary people, who used to live in the walls of this medieval construction. You are absolutely sure to know the band "Franz Ferdinand", but I am not sure if you know, that the name comes from Franz Ferdinand d'Este. He was Austro-Hungarian crown Archduke murdered in 1914 with his wife. And that was one of the reasons, why the first world war began. Surprised? You should be!
Day trip from Prague to Konopiste will be a voyage to history of Franz and his family, because he was the last owner of the castle and made it a very unique place with huge collections of weapon and hunting trophies.
How to get to Konopiste
The castle is located 2 kilometers from Benesov, a town within 50 kilometers from Prague. To get there you can use public transport: trains or buses. But to learn the history, to plunge into the stories and generally speaking not to waste your time, it is better to book a day tour to Konopiste from Prague. You will go either by car or on train, depending on your schedule and preferences.
Tours to Konopiste
Private tours from Prague to Konopiste castle begin about 9-10 a.m. This is the best time to start. After a proper breakfast in one of the cafes you will be ready to discover. The guide will pick you up on the main train station and depending on the means of transport you choose (car or train) you start the trip.
On the way you will have a chance to see the landscapes of central Czech region: hills, forests, villages.
The road takes about an hour. Getting close to the castle you will walk through the ancient forest, gardens and will have a chance to feed deers. To see the castle inside, you need to pick up one of the routes and to follow it with the castle guide. Tours are given in English as well.
We sincerely recommend to choose the route around rooms, where Franz and his wife used to live. After the tour you will have a chance to visit local brewery, where they make Ferdinand beer. The one to taste is 7 bullets.
By train to Konopiste
Getting from Prague to Konopiste is quite easy and cheap. In the ticket office ask for a return ticket to Benesov u Prahy. Trains go every 30 minutes and the voyage lasts about an hour. When you arrive get to building of the railway station and look at the map, where you can see the direct route to the castle. It will take about 20-30 minutes to walk. Also have a look at the schedule of the trains to return back to Prague.
Day trip from Prague – Cesky Krumlov and Hluboka Chateau
Cesky Krumlov and Hluboka Chateau are the two pearls in the list of day trips from Prague. Located close to each other, the two places make an amazing junction for tourists. Both towns are linked with the history of 2 dynasties: the Rosenbergs and the Schwarzenberg.
Long and quite tangled stories about people and events that took place in the region will help you to understand better the history of Czechia as a country.
If you have at least 3-4 days, you absolutely have to plan a day trip from Prague to Cesky Krumlov. Both places are reach, inspiring and very beautiful. In Krumlov from the high of the castle wall or from the tour you will have an amazing chance to how towns of XV-XVI centuries used to look like.
No wonder, that this town was one of the first included into the Unesco World Heritage listing.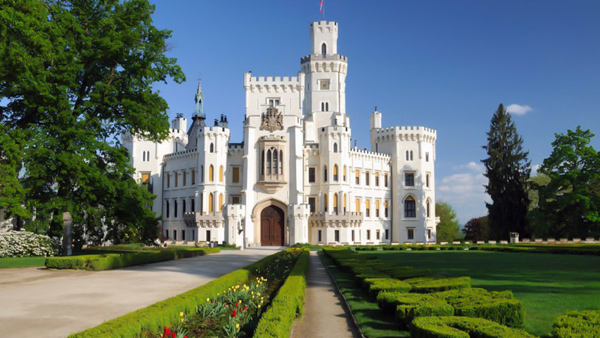 How to get to Cesky Krumlov and Hluoboka nad Vltavou
Alike the previous two destination, these two chateau are a bit far from the capital. Therefore a car is the best way to go. If you would like to, here is a full manual with step-by-step instructions of how to rent a car in Prague. But, our sincere recommendation is to book a tour with a local, who will take care of the transport and the best way to follow.
The distance is about 180 kilometers. By car with no traffic you will get to the castle of Krumlov within 2 and a half hours. The road to Hluboka will take another 30-40 minutes depending on traffic in Cesky Budejovice, the city you have to go through.
Tours to Cesky Krumlov and Hluoboka nad Vltavou
I personally consider a tour to Cesky Krumlov as one of the most important day trips from Prague. But I also recommend going to this town overnight as well, if you have time for that. After 5-6 p.m. the streets are getting free from groups of tourists and the real charm of the town is felt in the air. That is what we usually do on the tours.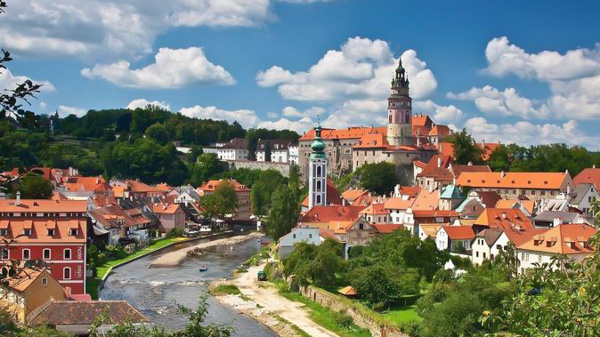 First we go to Hluboka nad Vltavou castle and do important part of the trip: sightseeing tour in the castle, which takes about an hour. Visitors have a chance to see the interiors of a Harry Porter looking Chateau. Living rooms, kitchen, guest rooms, libraries – you will see everything in details.
After that we go to Krumlov for a quick stroll around the royal gardens with panoramic views. Going down the huge hill we dive into the yards of the castle and enjoy the epic panoramas of Krumlov. If the weather is nice, we take a boat at have a boat trip as well. And after, tasting the local smoked beer conclude the tour.
By bus to Český Krumlov
If you travel on budget and want to make the way to Krumlov on your own, use the page regiojet.cz and find a bus from Praha to Český Krumlov, Špičák. It goes every hour and costs from 5 to 8 Euros for one way. Remember, that you have to book a return ticket as well, because the destination is quite popular with travelers from all over the world and both morning buses from Prague and late evening buses from Krumlov are very busy.
Unfortunately, if you go by bus, you won't have enough time to get to Hluboka Chateau. Therefore devote the full day to streets and views of Cesky Krumlov instead.
Czech Towns
Day trip from Prague – Karlovy Vary
Karlovy Vary or Carlsbad as many people call it, is a town to the north-west from Prague, known for numerous water springs. The fact, that underground waters of different temperatures and flavors help people discover Charles IV. Consequently the place got his name and in the XVIII century it became worldwide popular. Mighty and wealthy started to travel to Karlovy Vary to improve the state of health.
Day trip from Prague to Karlovy Vary will give you a chance to see, feel, smell and taste the reasons why such a tiny place is so popular and well-known. But due to its character, I sincerely recommend this day trip only to people over 40, because for younger travelers it won't be as interesting as any other destination from this list. But it is only my suggestion and it's you who makes the decision.
How to get to Karlovy Vary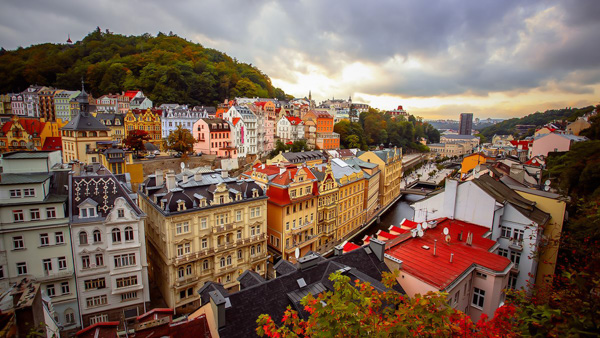 There is a direct road from Prague to Karlovy Vary, that's why the two best means of transport are by car or by bus. If you go on your own, get ready to walk up and down the hills, because local attractions in Vary are located in different hoods of the town. And the town itself was built on numerous hills.
If you take a day trip with a local guide from Prague, you will go by car, which gives you more flexibility and chances to discover more locations and places of interest. Mind that the distance is 130 kilometers and it takes about 2 hours to get there.
Tours to Karlovy Vary
Private guided tours from Prague to Karlovy Vary usually start about 8-9 a.m. from your hotel. The guide picks you up and drives first to Krusovice brewery, which is optional. In the brewery you have a chance to see the production of the classic Czech beer and of course to taste all the kinds produced there.
In good mood you follow the way to Karlovy Vary. There we usually have a proper lunch in a traditional Czech restaurant. The tour around the town includes the central street, water tastings, getting to the top of the main hill. Optional is a visit to glass factory.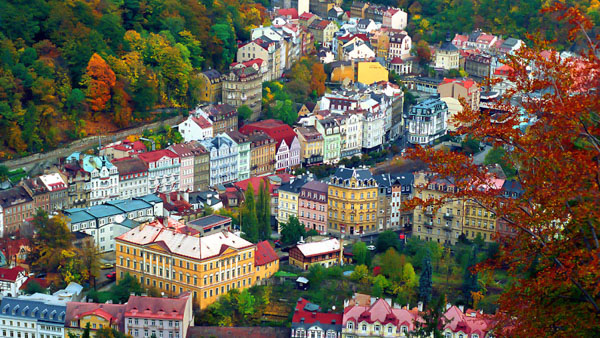 Since we speak about private tour, you decided and pick up the options provided by the guide. Learn more about the day tour to Karlovy Vary.
By bus Karlovy Vary
Now let's have a look on how to get from Prague to Karlovy Vary by bus. Again we use the regiojet.cz page and find the connection. Buses go every hour and cost 6-7 Euros one way. Reminder: buy return tickets at once. The journey takes 2 hours. The closest stop to the centre of the town is Karlovy Vary, Tržnice.
Day trip from Prague – Kutna Hora
Have you heard about mysterious side of Czechia? All these gothic churches, legends about Golem, alchemists are nothing in comparison with The Sedlec Ossuary or Bone Church in Kutna Hora. It is something you have never seen before or if you have, but not in such a scale. But for bones, in the little town of Kutna Hora you will have a chance to learn the story of first Czech coins made.
Moreover a day trip from Prague to Kutna Hora is a chance to see the great cathedral of Saint Barbara, which was used a place to shoot the famous thriller "Omen". Sounds attractive, doesn't it.
How to get to Kutna Hora
Kutna Hora is located some 80 kilometers from Prague, which makes this place accessible for tourists. It will take you about an hour to go by car or about the same time by train. The third variant is to go with a tour guide in a small group. Getting around the town is also quite easy, because you will have to walk from the station about 1 kilometer to the Bone Church and another 2-3 kilometers to the cathedral.
Tours to Kutna hora
On a tour from Prague to Kurna Hora we usually start with the visit to Bone Church, which kind of puts us back to the Earth and show, that we are not eternal in this world. Believe me, the impression of what you will see is very strong.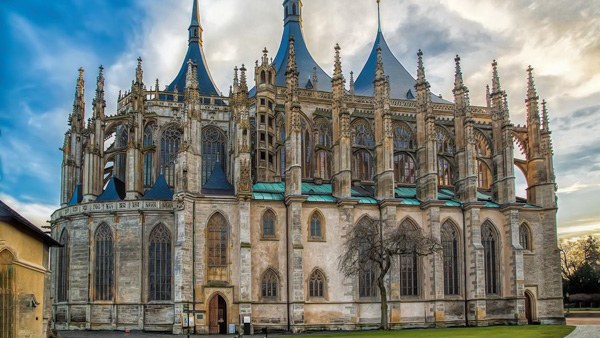 Being inspired with Sedlec Ossuary we will walk down the streets of the miners' town and visit St. Barbara Cathedral, the copy of Charles Bridge with original statues on it. And after spiritual food for our souls, we will come to a village Czech restaurant to get real local food and beer.
By train Kutna hora
For solo travelers willing to go from Prague to Kutna Hora by train I recommend taking the morning one leaving at 10:05 from the main train station. One way ticker in the office is 4 EUR and the trip takes 50 minutes. From my personal first time visit to this place, it is enough 4-6 hours.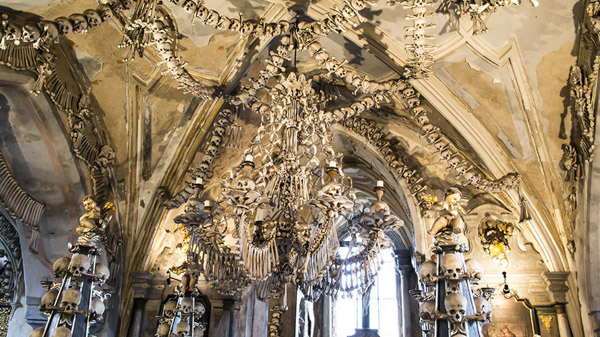 Among must do things in Kutna Hora are: visit to Bone Church, pictures in the copy of Charles Bridge and of course spend some time in St. Barbara Cathedral.
Day trip from Prague – Plzen
If beer is the symbol of Czechia, Plzen is the motherland of modern brewery. Therefore a day trip from Prague to Plzen will be an amazing opportunity to learn more about the history, technologies and traditions of the number one Czech beverage.
This city is all about beer with the main target — Pilsner Urquell Brewery. But also there is cosy central district with traditional architecture, local cafes and restaurants.
How to get to Plzen
Plzen is some 100 kilometers away from Prague and is among day trip destinations not only for tourists, but also for locals. Czechs love traveling and on weekends it is much harder to get to the brewery. That is why I sincerely recommend to consider the days between Monday and Friday for your trip. The easiest and cheapest way is to take direct train for 6 EUR for one way ticket. The road takes about an hour.
But if you would like to travel and discover in comfort, there is an option to have a guided day tour from Prague to Plzen.

Tours to Plzen
Private tour to Plzen we usually start around 10-11 a.m. but the time may change and depend on the spots for a brewery visit. The tour to Pilsner brewery is a unique experience and even if you don't like and don't drink beer much, this place is absolutely a must. Just know one fact: today 70% of all the beers produced worldwide are made according to the technic developed in the XIX century in Plzen.
By train to Plzen
There are also buses connections between Prague and Plzen, but I personally find train more comfortable, therefore recommend you this way. As mentioned above, oneway ticket is about 6 EUR and on the train you will spend about 1 hour 20 minutes. Enough time to gaze through a window at Czech landscapes and to read the map of Plzen.
Nature
Day trip from Prague – Bohemian Switzerland
The top destination for day trip from Prague for nature lovers is national park Bohemian Switzerland. This is a journey of hiking, fresh air, panoramic views, romantic view points and pure Czech nature. This is an absolutely incredible opportunity to see how this part of our planet used to look like millions years ago.
Watch the video, get inspired and book the tour with local guides from Prague to one of the most beautiful places in Czechia.
How to get to Bohemian Switzerland
I strongly recommend going to Bohemian Switzerland with a guide on a tour. The first reason is time. Since the distance from Prague to Decin (the closest big city with railway connection) is a bit over 100 kilometers and further 15 kilometers to Hrensko village, the whole trip is about 2 hours by car and about 1 and a half hour by train.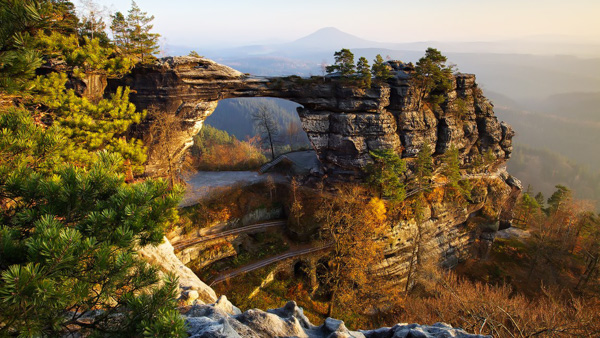 Tours to Bohemian Switzerland
Depending on your preferences our professional local tour guides are ready to plan and take you for several different day trips to Bohemian Switzerland. The most popular is by car from Prague directly to the entrance to the national park. The second variant to travel by train with bicycles and cycle in the area, since there are amazing bike roads.
So every of this tour options gives different opportunities for your to see the park and its wonders: Pravcicka Brana, mountains, river Kamenice.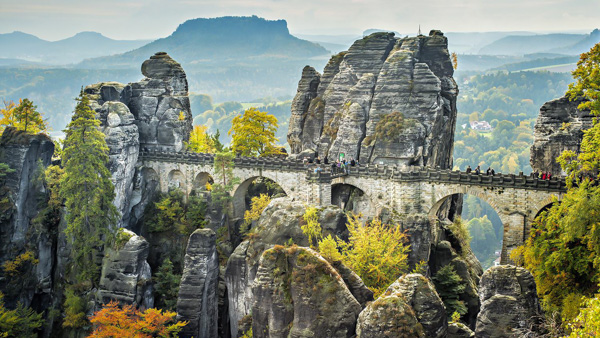 By train and taxi to Bohemian Switzerland
There are no direct connection between Prague and Bohemian Switzerland. For budget travels there is an option to go by train to Decin and there to take a taxi from Decin to Hrensko. One way train ticket is about 7 EUR. Taxi drivers may charge about 15-30 EUR for 15 kilometers drive. There are also local buses. You can learn the schedule on tourist information point at the railway station.
Day trip from Prague – Czech Paradise
Another destination for active tourists, who like hiking and biking is Czech Paradise. This national park and an amazing example of natural power is located around three towns: Czech Turnov, Jičín and Mnichovo Hradiště. There are numerous paths for walking around huge sandstones and rocks, which appeared on this territories millions years ago, when it was a part of a huge ocean.
Locals and tourists travel not only for one day trip from Prague to Czech paradise in order to enjoy the beauty of the nature, visit castles and take pictures with fascinating panoramic views.
How to get to Czech paradise
It is a big territory of over 180 square kilometers, which makes it completely difficult to discover within one day without knowledge and experience. If you are sure, that you will find all the information about the places to visit and how to get around, visit www.cz.cz and by tickets from Prague to Turnov.
But the best way is to go from Prague to Czech paradise with a professional knowledgeable guide on a private bike-hike tour from Prague.
Tours to Czech paradise
Since this destination is still not as popular as castles or towns in Czechia, we provide the tours only upon the request. Starting the tour at 8 a.m. from the city centre we go the destination with bikes in order to combine hiking and biking. There are several options of how to build the private tour to Czech paradise. Everything depends on the request and preferences.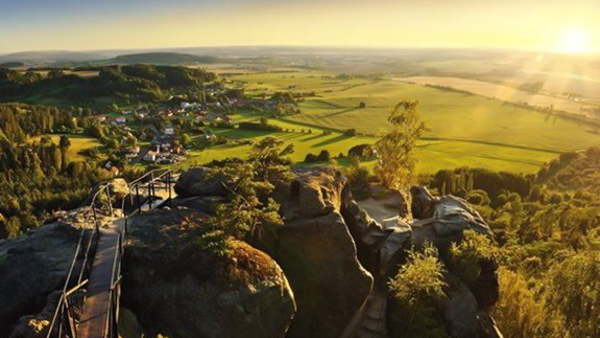 Check if the dates of your stay in Prague are available in our schedule and read more about day trips from Prague.
By train to Czech Paradise
As we've mentioned above, the easiest way to get from Prague to Czech Paradise is a train. The first direct regional train leaves from the main railway station at 09:25 and at 11:12 you are in Turnov. After you need to know the plan and to follow the map. Train tickets cost 4 EUR one way.
In order to avoid changes of trains on the way back, learn the schedule of trains or have it print-screened on your phone.
Day trip from Prague – Liberec and Jested mountain
If you would like to combine nature and architecture in one trip, Liberec is the destination you need to plan as a day trip from Prague. The town is located to the north from Prague 110 kilometers away. It has a unique mixture of Czech and German culture reflected in the way of life, architecture and design.
But for traditional attractions, Liberec is linked with another city Jablonec nad Nisou with tram line. Another interesting thing about the area is the three country boarder. Within few hours you can visit Czechia, Poland and Germany.
How to get to Jested mountain
But the very highlight of the day trip from Prague to Liberec is the mountain Jested and it futuristic Jested TV Tower. It is an amazing example of art which is beautiful both from the distance as well as when you get to the top of it. Jested opens fantastic views on the mountains which surround Liberec.
To get to the to mountain and to the top of it, you need to find tram No. 3 from going to to Horní Hanychov. There you will find a funicular. Return ticket is 149 CZK per person.
Tours to Jested mountain and Liberec
Our private tours to Liberec and Jested mountain usually begin at 8 a.m. to be in the city centre around 10. After sightseeing tour and a plunge into the history of the area we make the way to the top — Jested mountain.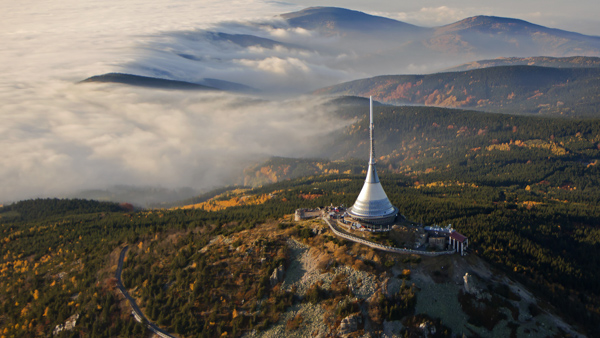 As mentioned above, you will have a unique opportunity to see the city and nature. At the top of the mountain we will have lunch with a view and make a lot of pictures.
By bus to the Jested mountain
For solo travelers and backpackers there is a very cheap and easy way to get from Prague to Liberec. Regiojet buses go every hour from Praha Cerny Most Station in the direction. The price per ticket is 4 EUR and the road takes 1 hour. The best time to start the trip is 8-9 a.m. so that you come back to Prague around 5-6 in the evening.
Cross Boarder Tours
Day trip from Prague – Dresden
Since Czechia has very close and interesting neighbors, cross-boarder day trips from Prague become more and more popular. Among all top destination is Dresden. Thousands of tourists on tours or with the help of public transport travel to the capital of Sachsen in order to see fully reconstructed city and to fell it art vibes.
How to get to Dresden
The distance between the two cities is about 140 kilometers. You will travel through beautiful landscapes and little villages. Quite nice experience, I must say. Though there are no boarders between Czechia and Germany, officers may randomly stop the vehicles to check the documents.
So if you plan a cross-boarder day trip from Prague, make sure to pack passport and medical insurance.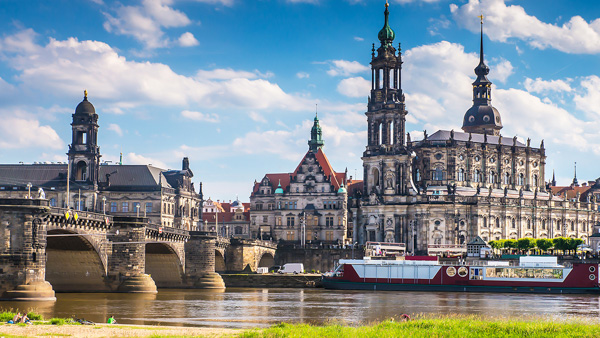 Tours to Dresden
But to my mind, the best way to quickly discover Dresden and it charm is a private tour with a local guide. They take care of planning, transport and all the rest. You will just have to follow and enjoy the knowledge and places. For culture and museum lovers after the city tour and quick lunch break we always suggest visiting Zwinger Gallery in Dresden.
But for impressive examples of local Sachsen art, you will have a chance to see one of the most well known pictures in the world: Sistine Madonna by Raphael Sanzio. According to your schedule the tour may be adjusted: we can plan a quick stop in Meissen or Bastei.
By train and by bus to Dresden
Since the route Prague – Dresden – Prague is very popular, there are several ways of how to get from one city to another. Buses of Regiojet and Flixbus companies go every hour and cost about 10-15 EUR for oneway ticket. Buses go every hour from various station in Prague.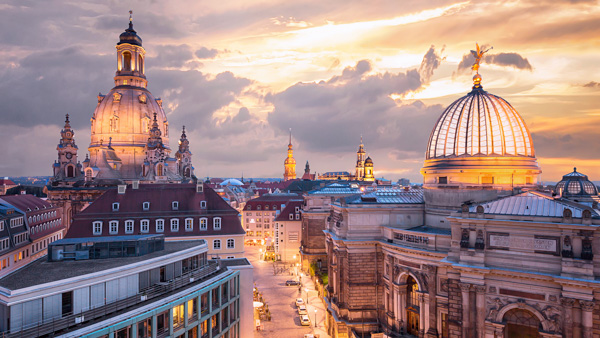 But I would recommend taking train from Main Railway Station, because the rails go along Elba river and open fantastic views on mountains of Bohemian and Sachsen Switzerland. Check the schedule and prices at www.cd.cz
Day trip from Prague – Vienna
Southern sister of Prague is Vienna. Along the whole history of Habsburg House these two cities were competing to house the capital of Empire. And Austrians won this battle. Today Vienna is one of the best cities for living (according to numerous reports).
So for tourists from the USA, Australia, Chine and all the rest far destinations who visit Prague, such a day trip to the royal capital is a must. Even though the distance is 300 kilometers, it is worth booking a day tour and go for it!
How to get to Vienna
Prague and Vienna are linked very well with all means of public transport. Businessmen fly with numerous flights from Vaclav Havel airport. It takes about 40 minutes in the air. Such a way is quite expansive: from 100 EUR for oneway ticket. But the most popular means of transport is simple and reliable buses.
Tickets cost from 10 to 25 EUR one way. Night direct train is 40-50 EUR for a ticket in a compartment, where you can sleep and arrive in Vienna at 7 a.m.

Tours to Vienna
Tours from Prague to Vienna are organized daily. Usually our guide picks up the tourists from the hotel at 7 a.m. in order to leave the city centre of Prague before morning traffic. In Vienna you will plunge into the imperial soul of the city: taste local food and enlarge the knowledge of the history.
By train to Vienna
Comfortable night trains connect Prague and Vienna. Daily they carry from one city to another thousands of people. For self tourists I recommend taking a train, because in Vienna there are too many things to see and you absolutely need to be relaxed before arriving.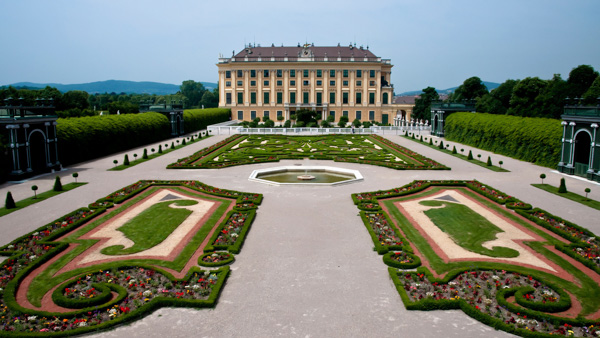 And a 7 hour sleep on a train is absolutely better than 5-6 hour road on a bus. Check the schedule at the page of Czech railways cd.cz
Day trip from Prague – Munich
It may sound a bit crazy, but a day trip from Prague to Munich is quite popular with tourists. The distance of 380 kilometers an experienced driver covers it within 4 hours. Therefore you need to be ready for quite a long day with early rise, a lot of fantastic landscapes, little towns and exciting Munich sightseeing.
It is the city where any tourist will find something special. History, food and of course beer! They all are waiting for you in the capital of southern Germany. For car lovers, there is a nice chance to visit BMW museum.
How to get to Munich
The only comfortable way of getting from Prague to Munich for a day trip with reasonable timing and price is a private tour or transfer. The guide will take care of stops, restaurants, tickets to museum and all the logistics. You will only have to relax at the back sit of a comfortable car and enjoy famous German roads.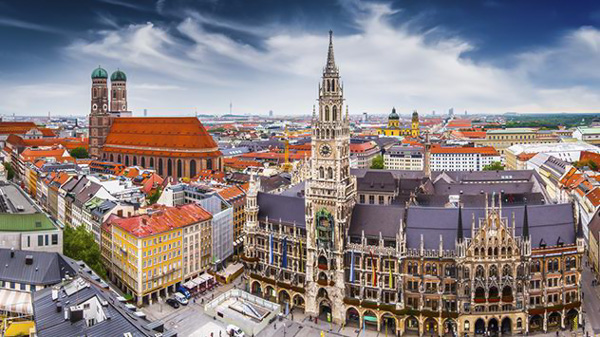 In case you are on a budget, pick up Deutsche Bahn bus going several times a day from Prague to Munich for 25-30 EUR one way.
Tours to Munich
As mentioned above, the most comfortable way to get to Munich from Prague and back is a private day tour with a local guide. Check the date of the tours and share your wishes to book the tour. We will start at 5-6 a.m. from your hotel in Prague in oder to get to Munich by brunch time.
After the sightseeing tour you will be able to choose between BMW museum visit and other options. The tour comes back around 11 p.m. the same day.

By bus to Munich
If you would like to go from Prague to Munich for a day trip on your own, book a night bus with Flixbus or Regiojet. It is a bit hardcore, but you will have a chance to spend more time in the city and to see more places. Bus ticket cost about from 15 to 30 EUR per person oneway.
Day trips from Prague review
I sincerely hope, that the huge work we've done to make this article will help you to plan a perfect voyage to Czechia and to pick up all the best options of day trips from Prague either with or without our local guides. Also we strongly encourage you to share opinions of the places you visit on a day tours. It will help us to make the list complete and based on our experience and your reviews.