Vnitroblock in Prague 7 Holesovice is one of the hipster places in the Czech capital worth visiting. What you can see, buy and taste in Vnitroblock? How to find the place and when to come?
It is complicated to name this place with one word, because the space is multifunctional and unites the people of various interests. Visitors come there to buy design and handmade clothes, accessories and souvenirs, to drink coffee, to eat, to meet with friends and to attend work-shops or dancing classes.
Coffee
Any proper hipster place in Prague should have good coffee. Vnitroblock follows this rule and offers big variety of various coffee drinks. At your disposal are also lemonades, tea, cocktails. For hungry visitors there is a tasty menu with breakfast, lunch and dinner. The food is healthy, cooked with passion.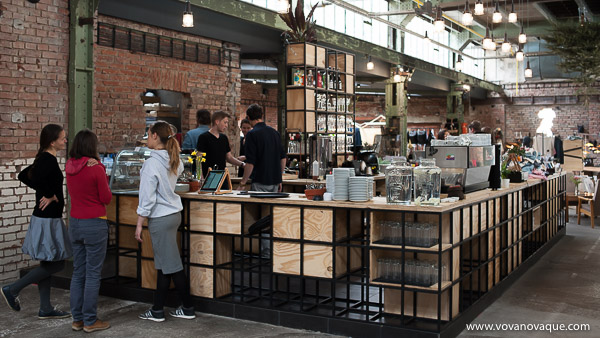 In the menu you will find a lot of easy food and vegetarian food
Design shop — SIGNATURE store
The space in this loft has several zone. In fact signature store occupies the biggest zone and offers design clothes and accessories. All the goods you can purchase in Vnitroblock are made by local Prague and Czech designers. There are clothes for men, women and kids. I personally like a huge choice of stone and glass interior accessories. If you are looking for a special and unique present to bring back from Prague, this is the very place to search for it.
Gallery
Since this space is made with passion for art and creativity, you will see a lot of picture and photos hanging on the walls of the loft. Some of artists, others you can buy. I personally liked the nude photos available in the main hall of Vnitroblock.

Dancing studio, lecture space, mini cinema
On the first floor you will find the dancing studio, where qualified trainers teach various styles of dancing. Class are available for anyone: kids, grown-ups, beginners and professionals. In a friendly atmosphere you are sure to master anything!
There is also quite a comfortable space for lectures and meetings. So if you are looking for a place where to hold you master-class or educational course, go for Vnitroblock.
For real cinema lovers there is a mini cinema. It is a tiny space, but very cosy and something absolutely different from traditional cinemas.
Vnitroblock Review
I am glad that in Prague 7 appeared another very local and friendly place as Vnitroblock. In fact it breaks all the stereotypes about Prague being interesting only in the city centre: Old Town Square, Charles Bridge or John Lennon Wall. Finally there is another amazing venue to include into "The other Czechia" bucket list.
General information
Address: Tusarova 791/31, 170 00 Praha 7-Holešovice;:
Telephone: +420 770 101 231;
Open: 9 a.m. – 10 p.m.; Sunday: 9 a.m. – 8 p.m.