When you plan to visit Czechia what do you think of first? According to my tourists, who come to the city of 100 spires, the most prominent attraction is Charles Bridge in Prague. It is a famous symbol of the Czech capital and definitely one of the most pictured bridges on our planet. Let's see, why this very bridge is so attractive, discover best time to visit and how to make a wish on the bridge in Prague. But first, let's see an amazing video!
Some facts for you to get inspired with the history of Charles bridge:
it was built in the 14th century;
they used eggs in clay;
the bridge is an example of Gothic style;
the father of Charles Bridge was Judith Bridge.
Petr Parléř is the architect who made the plan of the bridge.
They Say, that to make the construction stronger they used eggs
Construction
Charles Bridge is not simply an engineering construction, it is a piece of art. Being constructed in the Gothic style, later it was completed with Baroque statues. It happened in 17th century, but nowadays the statues you may see at the bridge are copies.
In order to prevent original statues from destruction, authorities placed the statues into one of Prague's museums. There are 30 statues on the Bridge, the most famous among them are Crucifix Statue, St. John of Nepomuk and Bruncvik Statue.

While crossing the Charles Bridge from the direction of Old Town to Mala Strana (Lesser Quarter) you will see 30+1 statue. Most of them are closely linked with religion and Czech royalty.
Calvary Adalbert of Prague;
Anthony of Padua;
Augustine of Hippo;
Bruncvík;
Francis Borgia;
Francis of Assisi;
Francis Xavier;
Ivo of Kermartin;
John of Matha;
Felix of Valois and Saint Ivan John of Nepomuk;
John the Baptist;
Jude the Apostle;
Lutgardi Madonna and Saint Bernard Madonna;
Saint Dominic and Tomas Aquinas;
Nicholas of Tolentino;
Philip Benizi de Damiani;
Pietà Saint Anne;
Saint Cajetan;
Saint Christopher;
Saint Joseph;
Saint Ludmila;
Saints Barbara;
Margaret and Elizabeth;
Saints Cosmas and Damian;
Saints Cyril and Methodius;
Saints Norbert;
Wenceslaus and Sigismund;
Saints Vincent Ferrer and Procopius Vitus Wenceslaus I.
Making a wish
Nowadays statues have symbolic meaning and they are very popular among the tourists. The statue of St. John of Nepomuk, to which visitors of Prague come to make a wish, is the most popular on Charles Bridge. This is the oldest statue on the Bridge and it is believed to bring luck.
St. John of Nepomuk is a martyr, tortured and drowned in the river Vltava in the year 1393.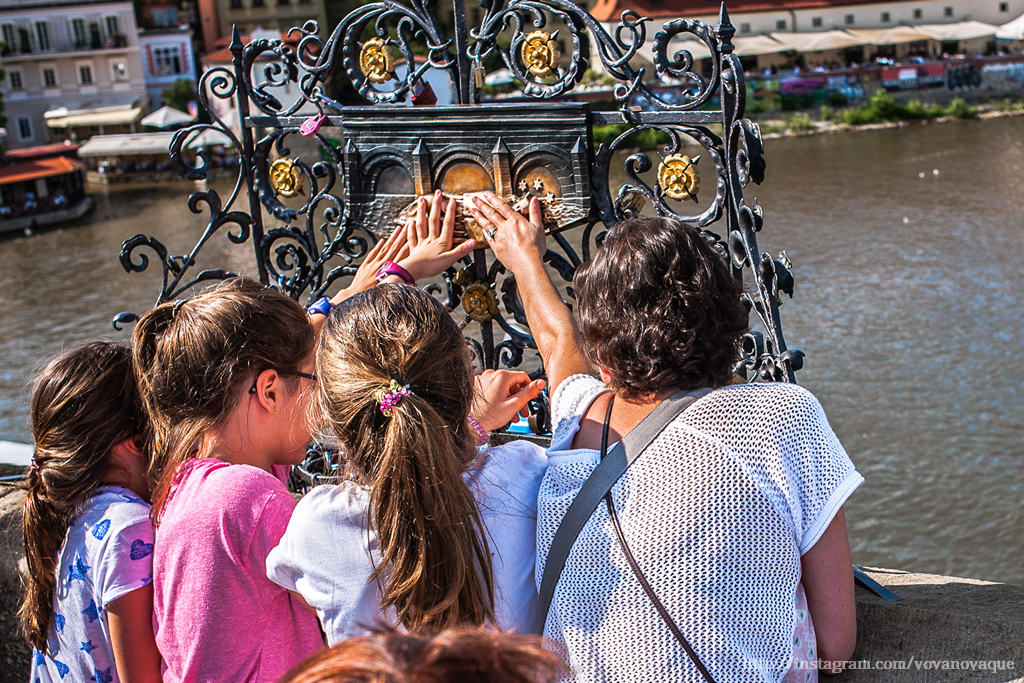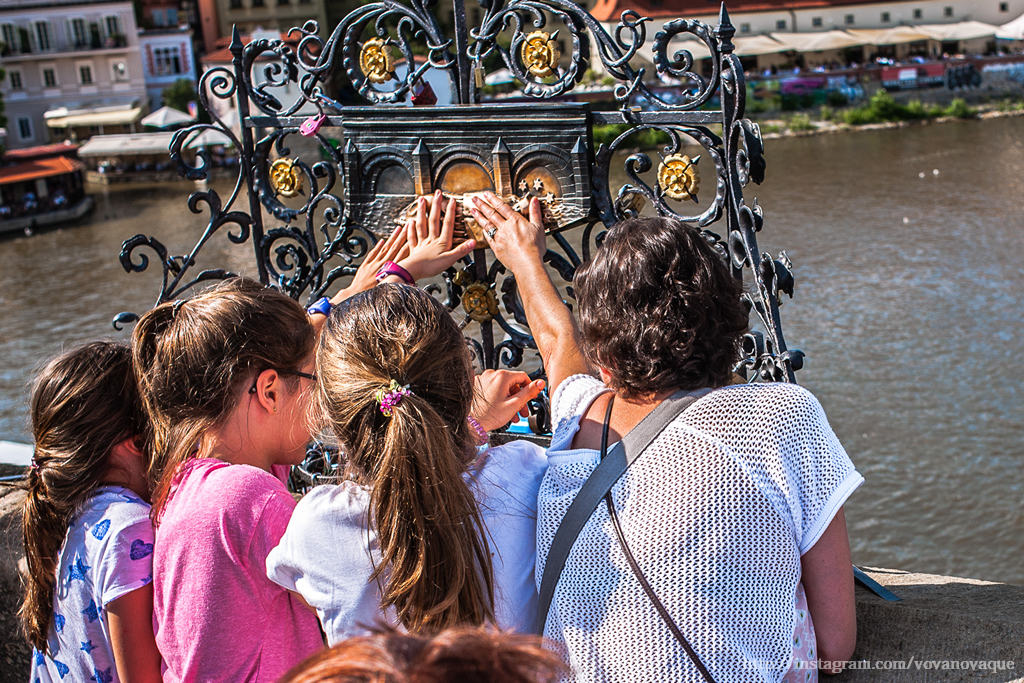 At the place, where they throw John into water there is a cross with five stars. If you want to make a wish, place each of your fingers on one of the stars and think. But be careful, as wishes made here, always come true.
Where to buy handmade souvenirs in Prague
If you art is among your interests, you should definitely visit Charles Bridge. It is a place, where local artists sell their paintings and photos. You can buy one to take a piece of Prague with you. There are also vendors of souvenirs such as hand-made jewelry. There is quite tough competition between the craftsmen, that is why only the best can get to the most popular attraction of the city.
They work on the bridge the whole year round. But be careful, you can spend a lot, because the items they sell are really of high quality and are perfect souvenirs.
Best time to visit
Charles Bridge is beautiful around the clock. But mind, that during the day, I mean between 10 a.m. and 10 p.m. the place is overcrowded. Especially if you plan a trip to Prague in Summer. I doubt that your first visit to the bridge will bring you joy, unless it is early morning or night. The photo below I took at 5 in the morning.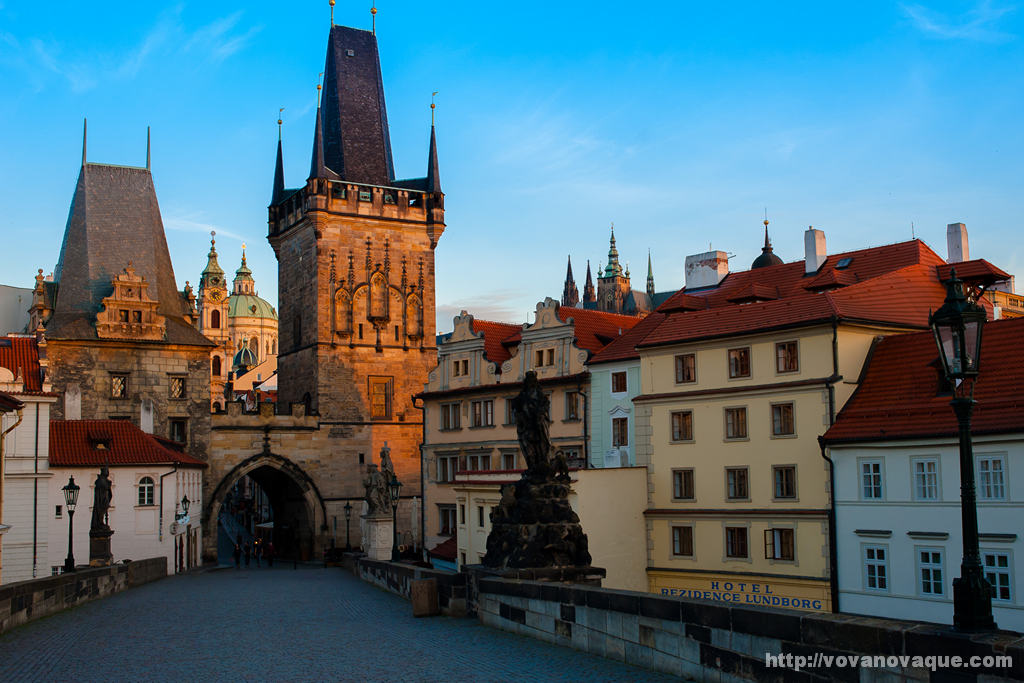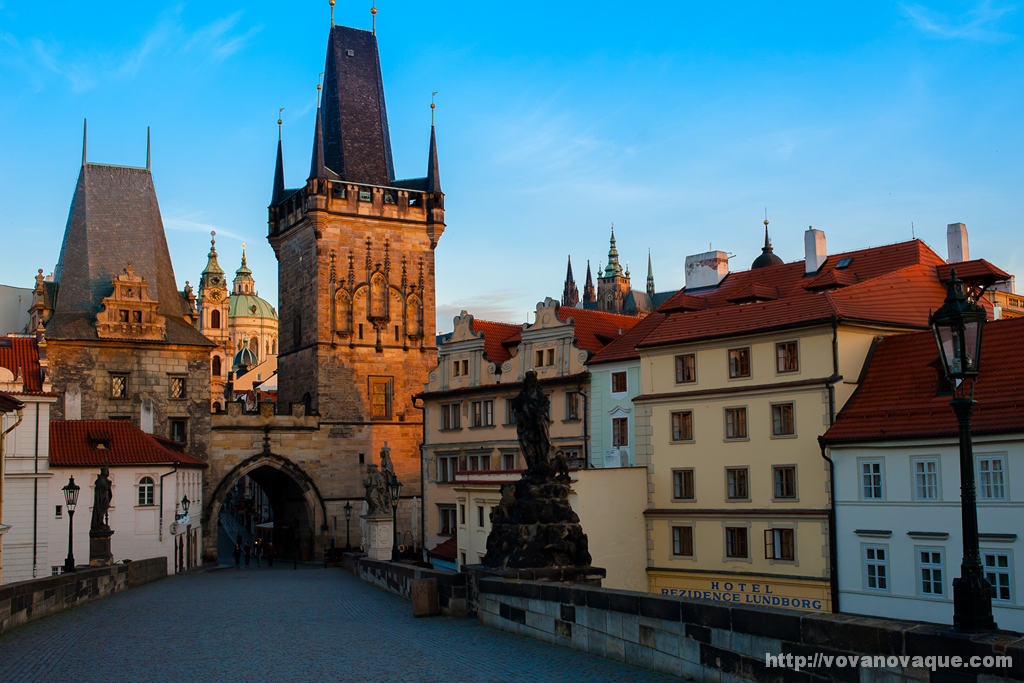 Charles Bridge Towers
There are two towers at the two ends of the Bridge. Both of them are open for visiting and from the top of each tower one can view a fantastic panorama of Old Town or Mala Strana. By the way Prague Old Town Charles Bridge Tower is a perfect spot where to take a selfie with a view over Prague Castle. To climb it you will make a way of 138 step to find yourself at the height of 47 meters. Believe me and just do it!
Hotels and Restaurants
If you want to start your day with a stroll on Charles Bridge, stay in one of the nearby hotels. No surprise, that there are many hotels in the area, such as five-star Four Seasons Hotel Prague, Charles Bridge Palace, Alchymist Hotel and Archibald at the Charles Bridge.
If you are looking for cheaper apartment, then Economic Hostel can be a good match.
After a long walk around Prague finishing at the Charles Bridge you may get hungry, so Kampa Park Restaurant and Restaurace Mlýnec will offer a variety of national dishes while Lehká hlava will please the vegetarians with their meat-free menu. Also in Mala Strana you can find tasty bistro Bakeshop or very good pub Local.
ALL OTHER HOTELS NEAR CHARLES BRIDGE
How to Get?
Usually tourists go to the bridge from direction of the Old Town Square following Karlova street. During the day it is a huge river of people. Slowly swim in these waters and you will get to Charles Bridge. Numerous restaurants, cafes, souvenir shops will try to take your attention, but be strong, resist and keep on going!
WARNING: in the crowd going to the bridge from Old Town Square cases of pickpocketing take place, therefore be wise and don't leave your pockets, bags, backpacks open.
The nearest underground station to Charles Bridge is Staromestska, you need to take Green Line metro A. Whatever way you choose, remember to wear comfortable shoes to enjoy a long walk around the city of saints and alchemists.
General information
Address: 

Karlův most, 110 00 Praha 1;

Length:

516 m;

Opened: 

1402;

Construction began: 

1357;

Architect: 

Peter Parléř;

Best time to visit: early morning and late evening, night.
Friends, I sincerely hope, that you will read the article about Charles Bridge in Prague carefully and follow my advice. To sum up I would like to single out the main points and make tips for you:
Book a private tour with local guide "Early Bird in Prague";
Come to the bridge after 10 p.m. and no later than 10 a.m.;
Buy souvenirs at the bridge.