My one day in Palermo is the trip I will remember for good. It was something special and outstanding from what I got used traveling through Europe. If you feel like looking at the former Sicilian capital from inside, read my travel plan for a single day to spend in this amazing city.
One day in Palermo in pictures
A day trip from Trapani to Palermo was a nice chance to see the difference between these two Sicilian cities. Locals say that every big city in the island is unique and has it is own character. Well, at the moment I can only estimate only Palermo and Trapani. Yes, each of them does have a strong charisma and its temper.
In this story I won't show any sights and popular tourists attractions. The route we started from Palermo port took us to the area where usually tourists don't go.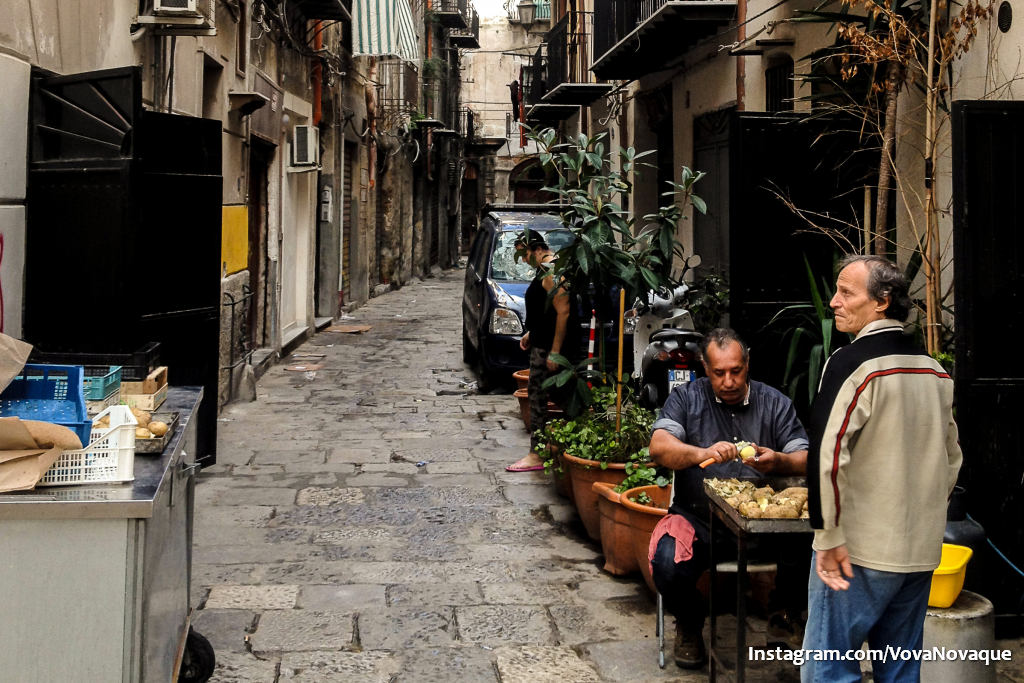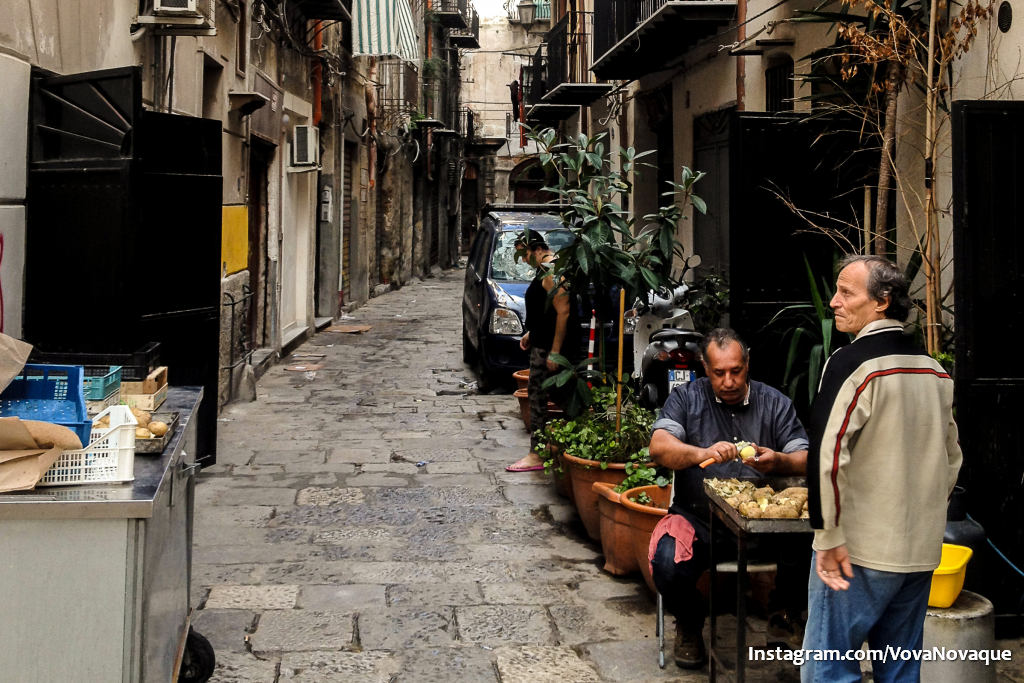 Where locals live
That was another trip of mine with no preparations and plan to follow. Just the same as in Barcelona and one day in Rotterdam. What I new about Palermo before we came there?
This is the biggest city in Sicily.
They grow lots of oranges in Palermo.
I've heard about mafia and criminals.
And I guess that's it. What I've learnt about the city during the trip? There are a lot of different and very charismatic local people. It is safe to walk around the neighborhoods which don't look like tourist friendly. They have amazing street food. It is cheap and tasty. Let's begin with it.
Street food
I've looked through several resources while making this article and found out, that there is a number of fancy restaurants in Palermo. Some of them offer amazing choice of seafood, variety of vines and dolce (deserts). But we had only one day in Palermo, therefore only street food was in our menu.
Following a random street into the depth of the city we came to a fish market. It was already sold out by the time we found it. But there was a queue of people around one man, cooking something. He was putting this something into buns and giving to people. The more clients came closer to chef, the faster he worked.
Pani ca' meusa
The man was cooking one of the most incredible street food I tried in my life so far. Looking absolutely disgusting pani ca'meusa has amazing taste. At least for me it was so. It is served with salt and lemon, costs about 2 Euros and makes you forget everything you've tried before under has tag #streetfood. This is really amazing and very simple dish, as many meals in Italy, ups, sorry in Sicily.
I'm sure most of you will have to make yourselves try this spleen burger, but it is quite worthy. Have a look at a short video about how it is cooked and served.
Arancina
Rice ball or Arancina (careful with the last "a", which should always be "a", but not "o") is something you will love with all your stomach.
Mind: the places where arancina in Palermo ends with "o" and the places with the price more than 1,8 Euro are not the best one to try this typically Sicilian food. Locals would never buy it.
This dish was introduced by Arabs when they first came to these territories. Year after year, arancina after arancina and Palermitans realized how delicious and vital this rice ball is. Today they even have a special holiday.
Since it was just a one in Palermo I could not have tasted all the street food and for the next visit there are: Pezzi di rosticceria, Sfincione, Pane panelle e crocchè, Rascatura, Babbaluci.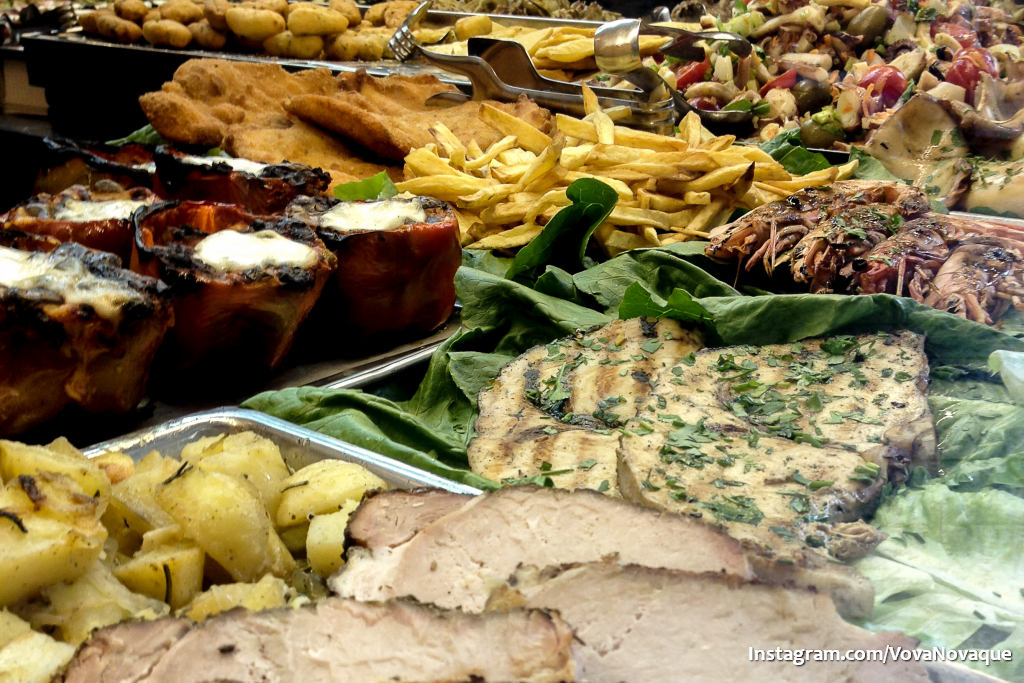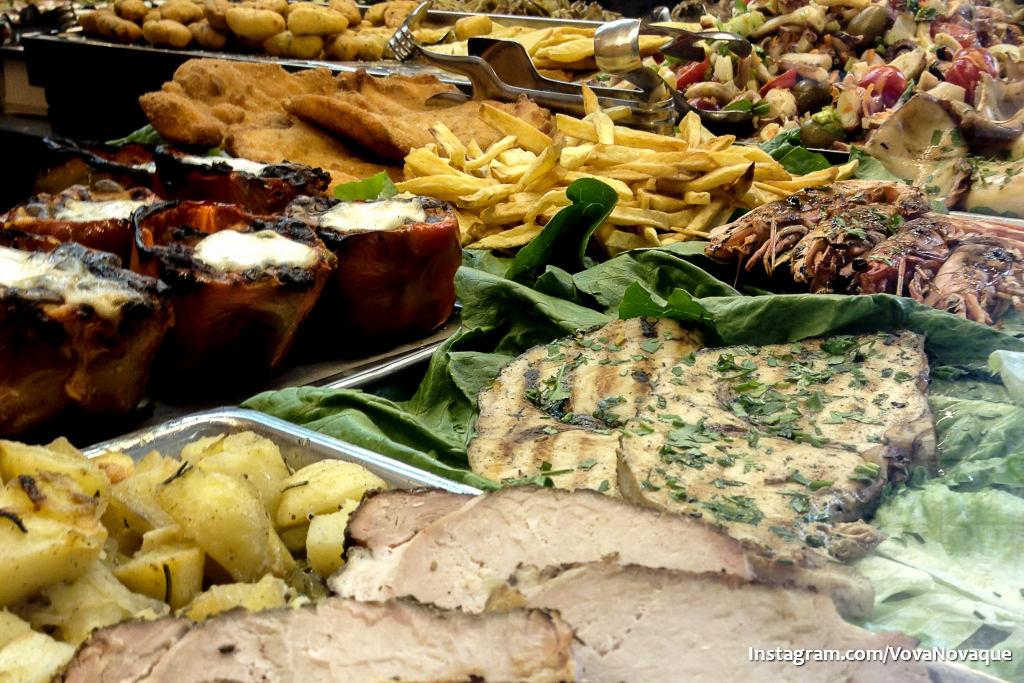 Architecture
After a while I compiled an image which describes my vision of the city and its architecture. Palermo is an old man, who used to be a very stylish person with charisma and temper, but one day something happened and his character was broken. There days when he shows the character, but the outlook has less and less recognizable features of baroque. Moreover the health of his body is very pour.

Palermo was under Arabic invasion and the influence of that country on the city is visible. There are lots of posters in Arabic, graffiti and even the names of streets are spelled in three languages.
I assume that we visited a very special area, but as it turned this neighborhood is located very close to the most popular city attractions and touristic zones.
Daily life
No need to say that the area we were wondering around is the very place where locals live and run their daily life. They peel the potatoes in the street (by the way in markets they sell already peeled potatoes), play games, enjoy the views, rush somewhere and make business. Just normal routine of Sicilian citizens.
I consider this one day in Palermo to be a very fruitful experience. First of all I saw an amazing city with long and diverse history. This history is visible on every corner of the city until it is cleaned and renovated. Most of the traditions remained form the past and this makes the place unique.
Moreover I got priceless driving lessons while going through the streets of Palermo. This is the paradise for street food lovers. And let this scenic time-lapse motivate you to visit this city.
Tickets and hotels
As usually I provide my friends and readers (who can also be my friends) with useful links for ticket search and hotel booking. There are more than 600 variants of where to stay in Palermo including hotels, hostels and apartments. With this table below you can check direct flights to Palermo from any city you are in.
I sincerely hope that once you will travel to Sicily and spend at least one day in Palermo or more. This city is special. It is the other Europe. If you are ready for adventures, go for it.