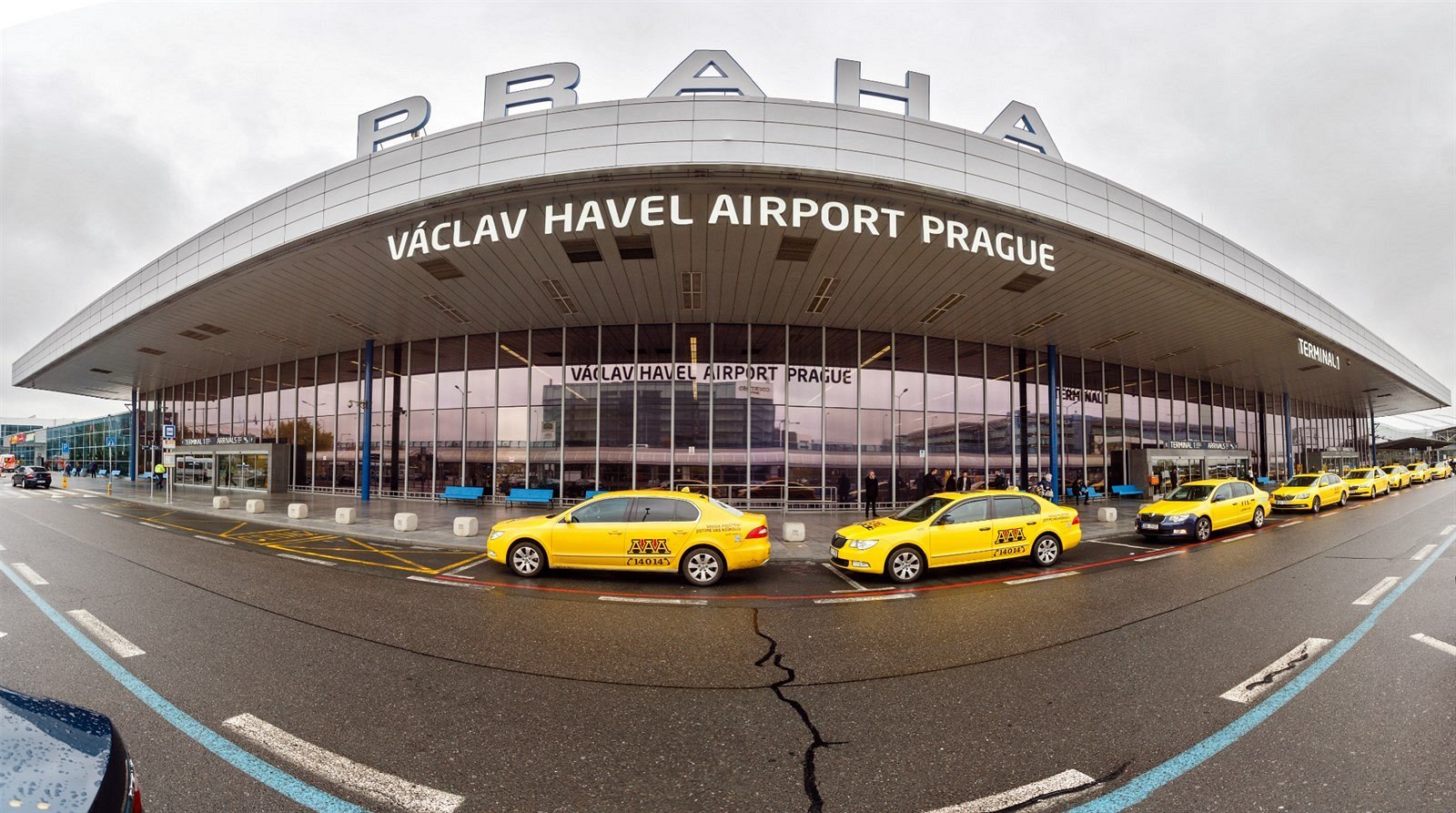 The first thing that most of the tourists arriving in Czechia see is the modern and comparatively small airport of Prague named after Vaclav Havel. This name has been recently changed in 2012 from older Prague-Ruzyne, therefore on some websites there are either two names.
Within last 10 years Prague airport has been modified and the service was getting better and better. Today hundreds of flights are received and detached every day, which gives travelers from all over the world to come and feel the ambiance of the Czech Capital. It is located to the northwest from the city centre, some 17 kilometers away.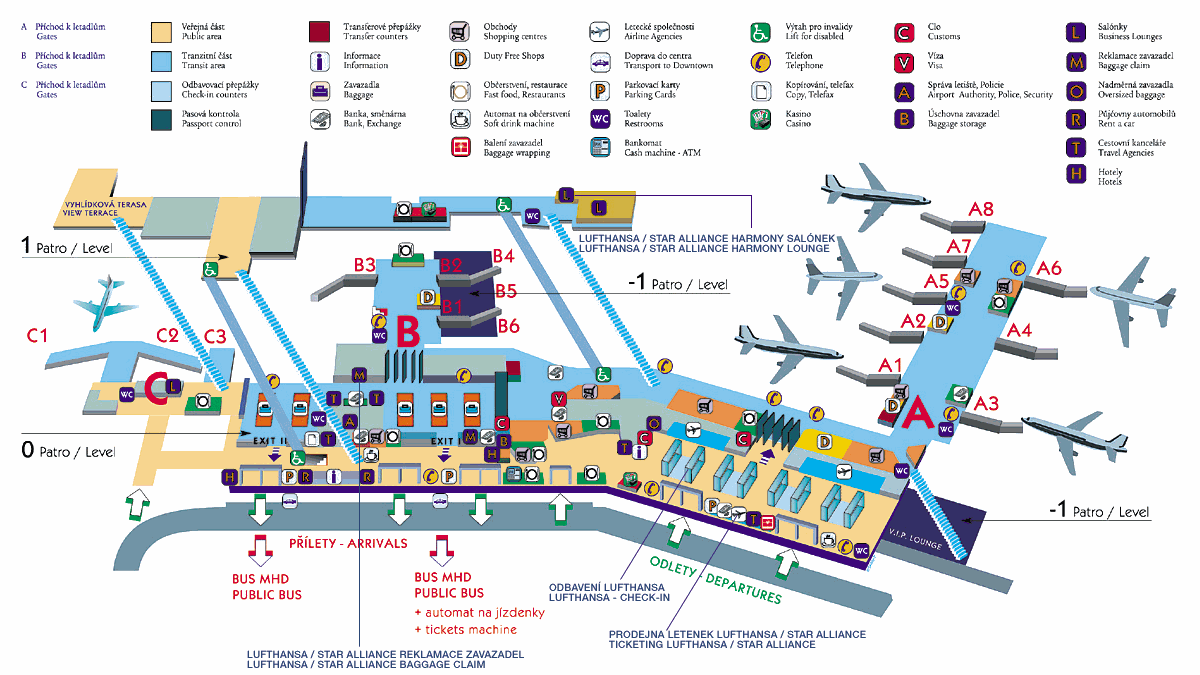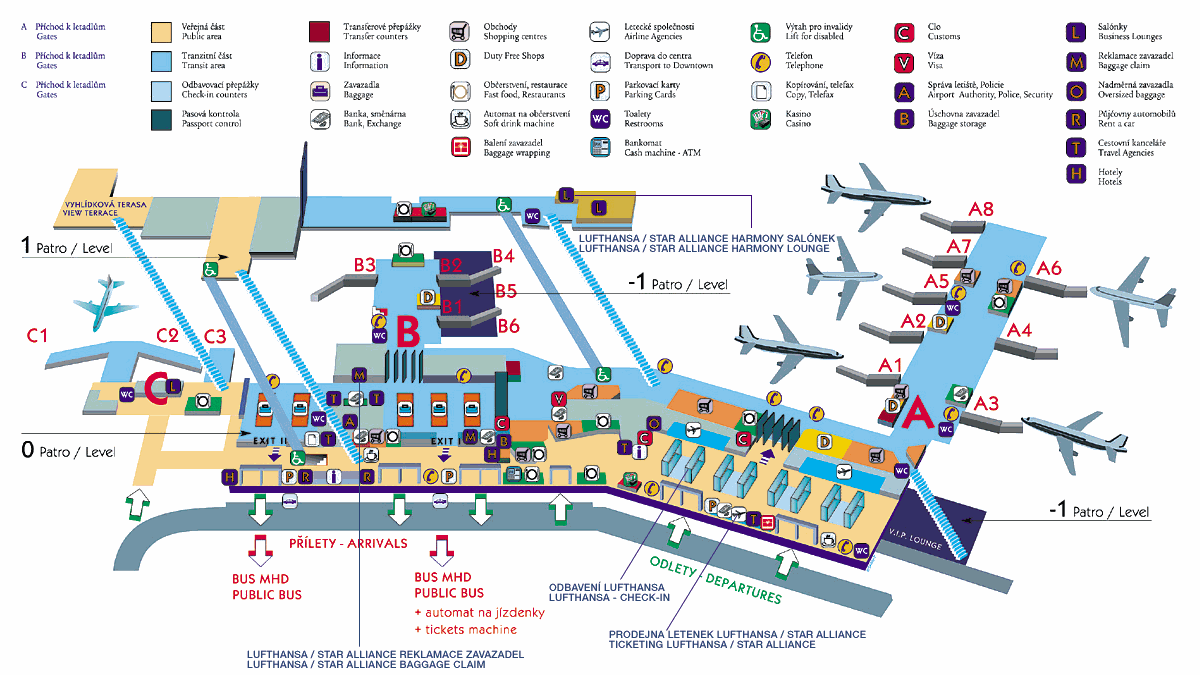 When you make you first steps in the airport you feel that it is a modern and very friendly place, with easy navigation system, Duty Free shops, toilets, bars and information desks. But under the curtain of such a welcoming attitude, there are several stones hidden, which may cause your first impression after arrival. But let's start with positive things first.
Terminal 1 in Vaclav Havel Airport
Terminal one is used for international flights which cross the Schengen Zone. You will arrive in this terminal if you have direct flights from South or North America, Asia, Africa, Australia, Russia and the rest of the countries which are not in the Schengen agreement. If you see on the ticket, that you arrive in Prague airport in Terminal one, be ready to go through the passport control as well as through custom control. It can go really fast one day and extremely slowly, the other day. In any case, just relax and be patient.
Do they check luggage?
Sometimes custom officers check the luggage of the tourists. It is not made on the regular basement, but it may happen. According to the Czech and European law people crossing the boarder can have limited amount of alcohol and cigarettes.
To be on the safe side, carefully look through the following information about the European regulations and amount of spirits, tobacco and money one may carry for personal usage.
How much alcohol and cigarettes can I bring to the Czech Republic?
According to the Czech Republic Customs, Currency and Airport Tax Regulations people entering the country can bring only limited amount of spirits and tobacco for personal use. 
Free import to passengers aged 17 and older arriving with goods purchased within the EU (for personal use only):
800 cigarettes
400 cigarillos
200 cigars
1 kilo of tobacco
10 liters of spirits over 22%
20 liters of beverages less than 22%,
90 liters of wine (though no more than 60 liters of sparkling wine) and 110 liters of beer.
Free import to passengers arriving from non-EU Member States (incl. Canary Islands, Channel Islands and other similar territories):
 200 cigarettes or 100 cigarillos or 50 cigars or 250 grams of smoking tobacco or
a proportional mix of these products;
1 liters of spirits over 22% volume;
2 liters of spirits or aperitifs made of wine or similar beverages less than 22% volume, or sparkling wines or liqueur wines;
4 liters still wine;
16 liters of beer;
food, fruits, medications and flowers for personal use;
other goods (for air travellers) up to a total value of EUR 430.- (per adult) or EUR 200.- (per passenger aged under 15 years).
See more information at http://www.iatatravelcentre.com
So if you don't go beyond the limits, choose the green exit where you don't have to declare anything. If there are certain items in your luggage that are over the limits, choose the red exit in Terminal 1 of Prague airport and declare the goods.
Terminal 2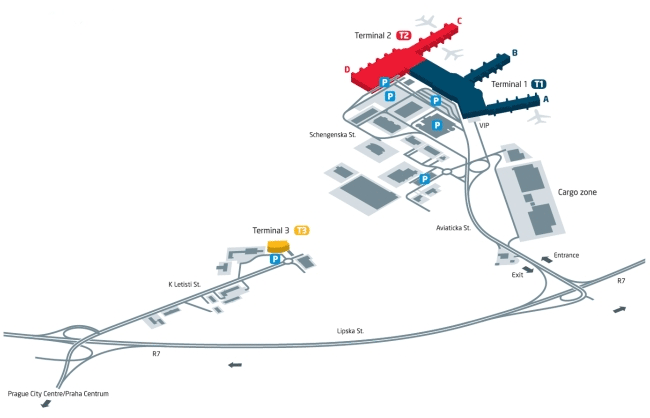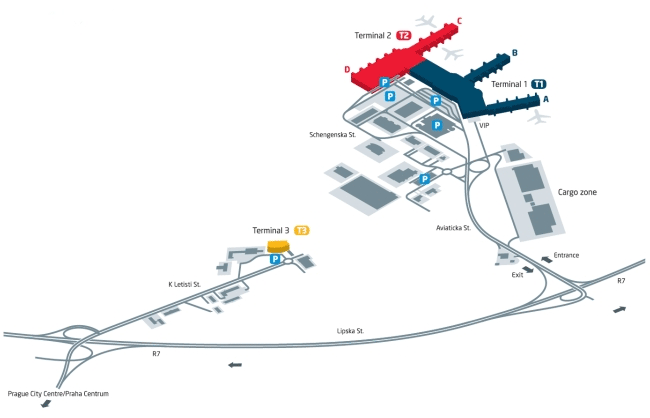 The second Terminal of Prague airport receives and dispatches flights from the countries within Schengen zone. So if you are on Euro trip and use one of the budget airlines you will come the Terminal two. The most popular destinations are: Germany, Austria, Italy, France, Spain. But every year companies launch new connections, which help us travel more and easy.
On you way back from Prague from Terminal two you can save time on check-in, making it online. Security check is quite fast. Sometimes I arrive 40 minutes before the flight which is quite enough to go through the security check, use toilet, surf the net and to find the gate of my departure. In case I travel with the luggage and have online check-in, I come one hour before the flight. The compact size of the airport in Prague allows to save time.
Terminal 3
These terminal are open only for VIP private jets and officials visiting Prague.
Exchange in Prague airport
Finally we got to the negative underwater stone, which can spoil the first impression of Prague. Remember,
never exchange
in the airport! No matter what happens to you! The exchange offices give unfair rate and moreover charge commission for every dollar, euro or any other currency you want to convert into Czech Koruna.
If you are not planning to stay in the airport for good, you are sure to find the best place to exchange in Prague, which is reliable and have no commission and always best rates.
Checked by me and my numerous tourists and friends. Tickets for the public transport can be purchased on the basement of the Terminal 2 with a credit card. If you choose taxi, you can also pay with card. Transfers from the airport are flexible and can either go through the street with good exchange offices, or you can pay with card, Euro, Dollars.
ATM in Prague airport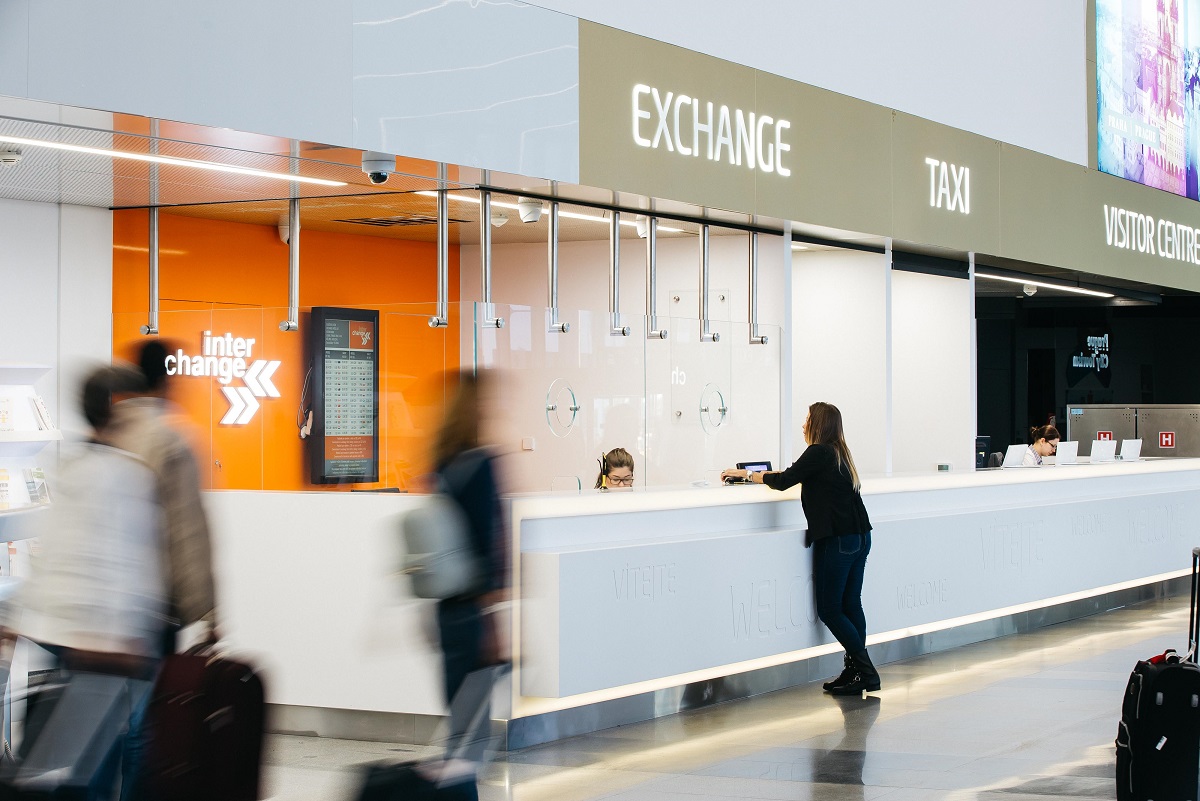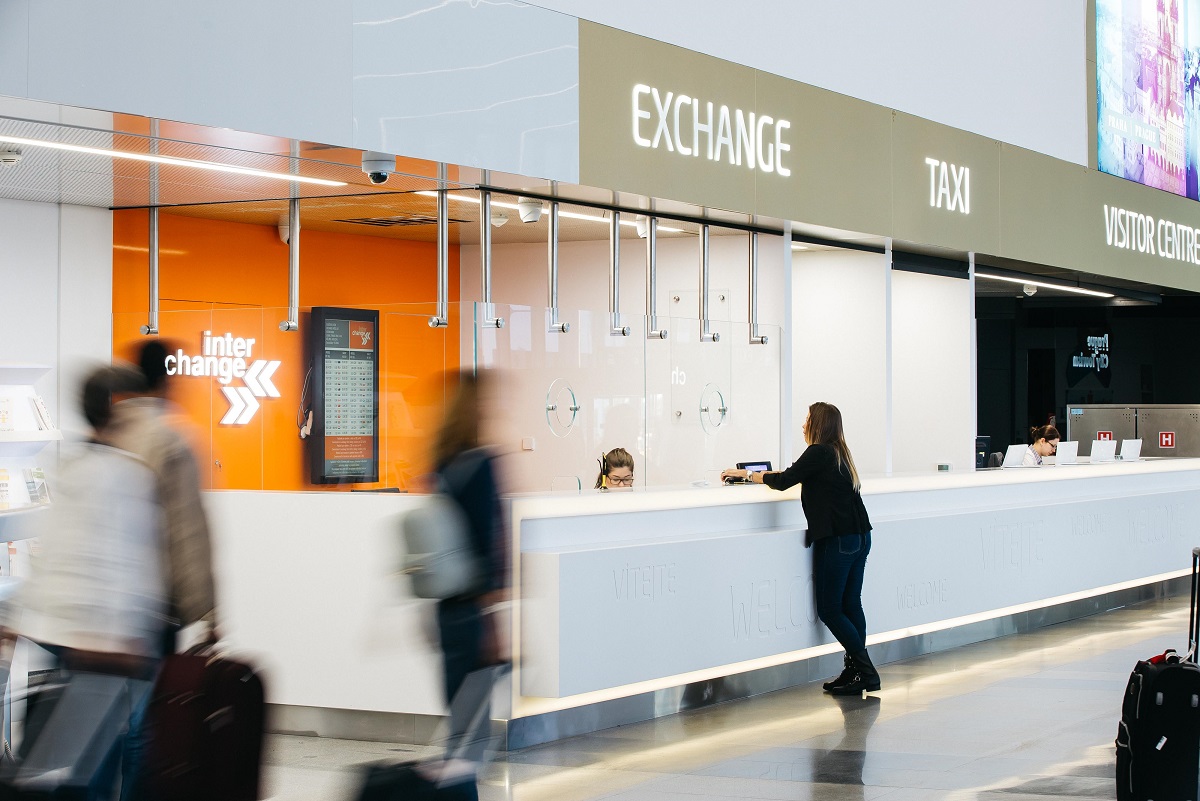 The first place to get Czech currency on your trip to Prague will be the airport. In Vaclav Havel airport you will find lots of ATMs both before and after security check. Mind, that despite the country of your destination and currency of your bank, the only possibility in the Czech Republic is to get Czech Crowns from ATMs.
No dollars, euros, rubbles or any other currency. The exchange rate and commission depends on your account setting and bak rules. So to be on the safe side, it is always better to consult your account manager in advance and check the limits you have on the card, because sometimes, when tourists go with a new credit card to a new country, after the first payment made, bank for the sake of security can block the card, which is not very comfortable thing, isn't it.
Restaurants and shops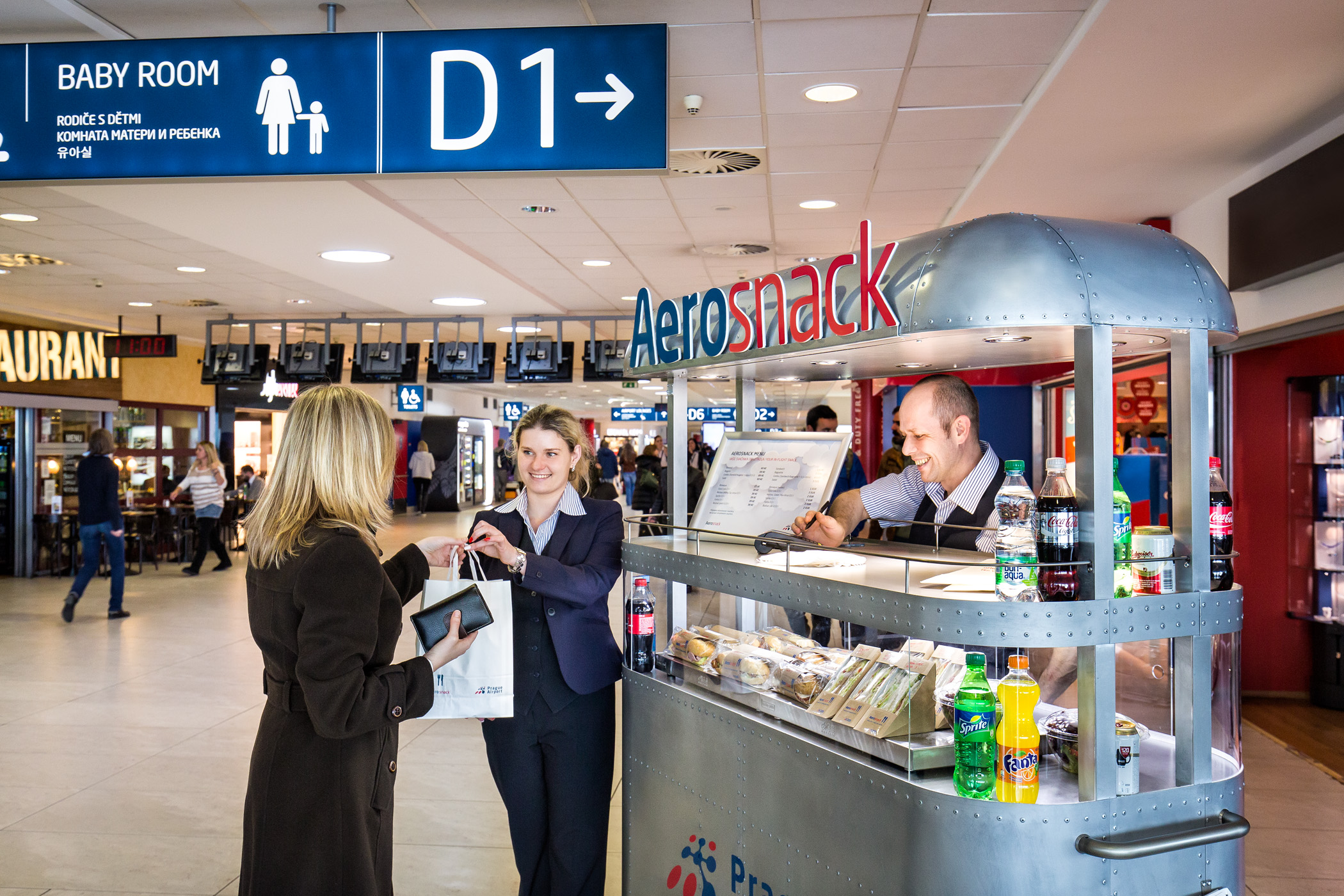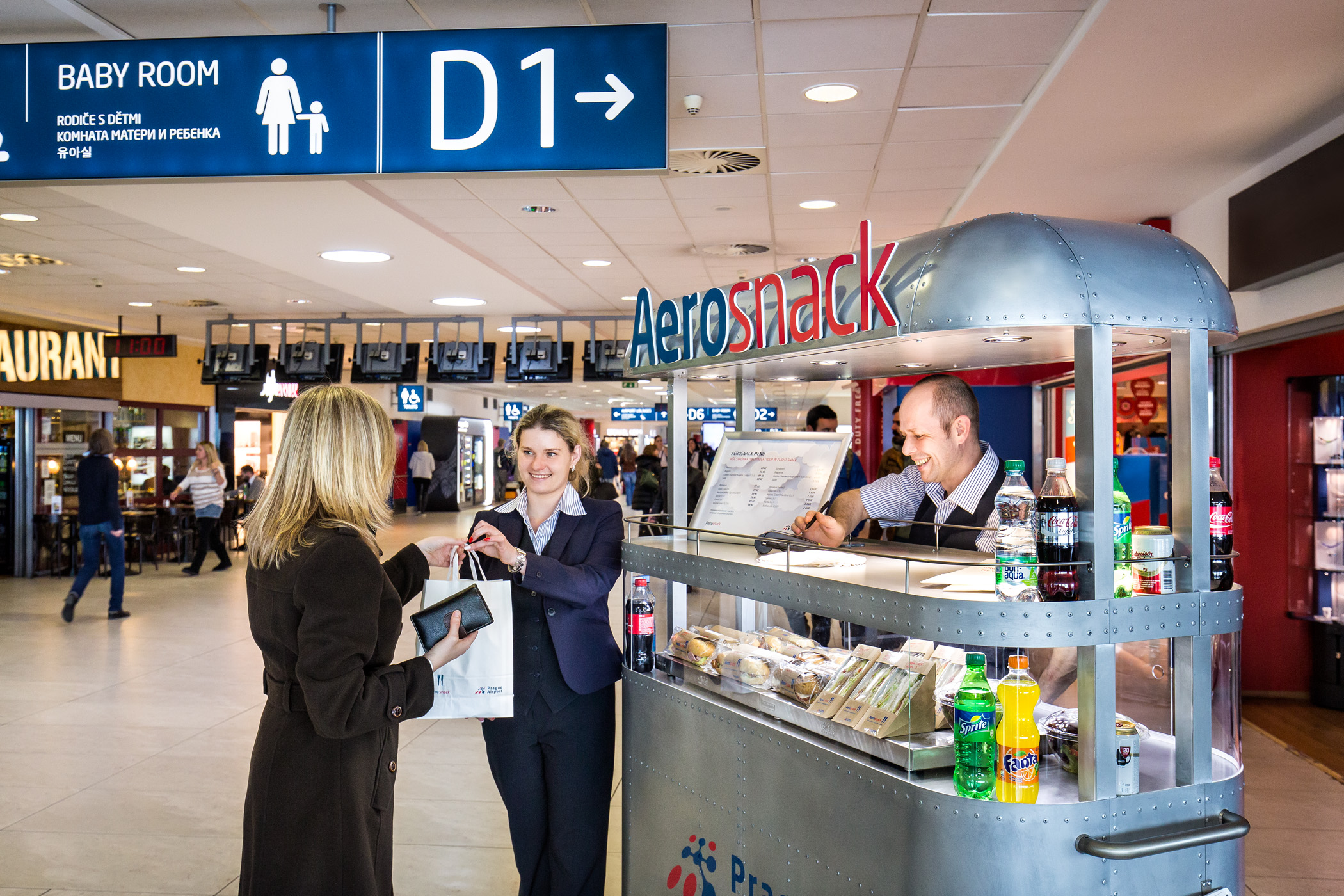 Speaking about the restaurants in Vaclav Havel airport I should say that all of them are not worthy visiting. The prices are not reasonable at all. In comparison with the same quality restaurants in the city centre, the average bill is two times bigger.
Unless you spend in the airport to much time, just avoid. Recently they have shared information that policy of double prices is going to change and meals and beverages will be cheaper, but in reality it would never happen. Half a liter of beer is 60-100 Crowns, just 2-3 times more than it should be.
Duty free shops have a good variety of goods and presents to buy. If you are traveling back home and have no presents for your friends and relatives to bring back, visit one of the shops to find traditional Czech Wafers or Becherovka from Karlovy Vary. Another good idea is to buy some cans of Czech beer: Kozel or Krusovice. As for the kids, they are sure to play with the Mall – the character from an old Czechoslovak cartoon.
Free Internet hotspots
Two Terminals of Prague airport are supplied with free Internet access, which is quite fast. It gives a chance to travelers not only to share experiences in social media, but also to work or upload files. To get connected you need to switch on wi-fi on your device and to choose Prg-air-free and agree with terms of free usage of the network.
Network: prg.aero-hotspot;
Access: 24/7.
Tax-free refund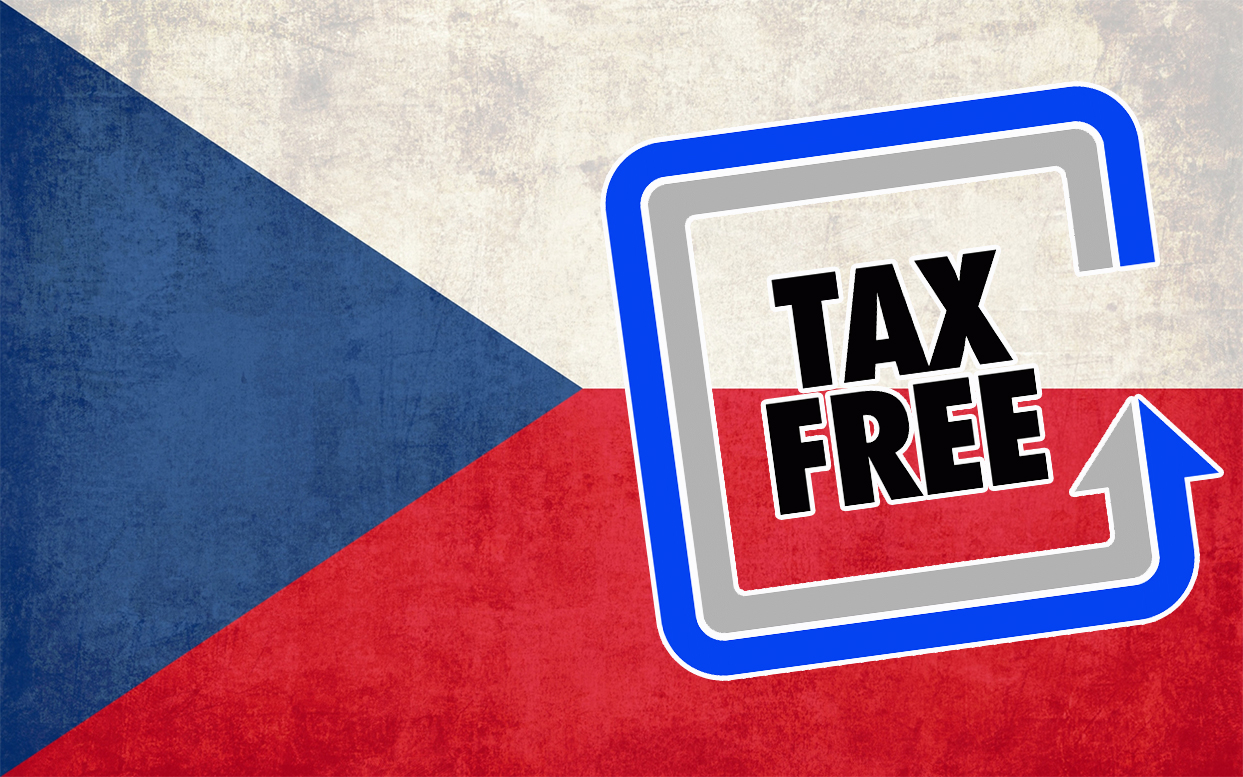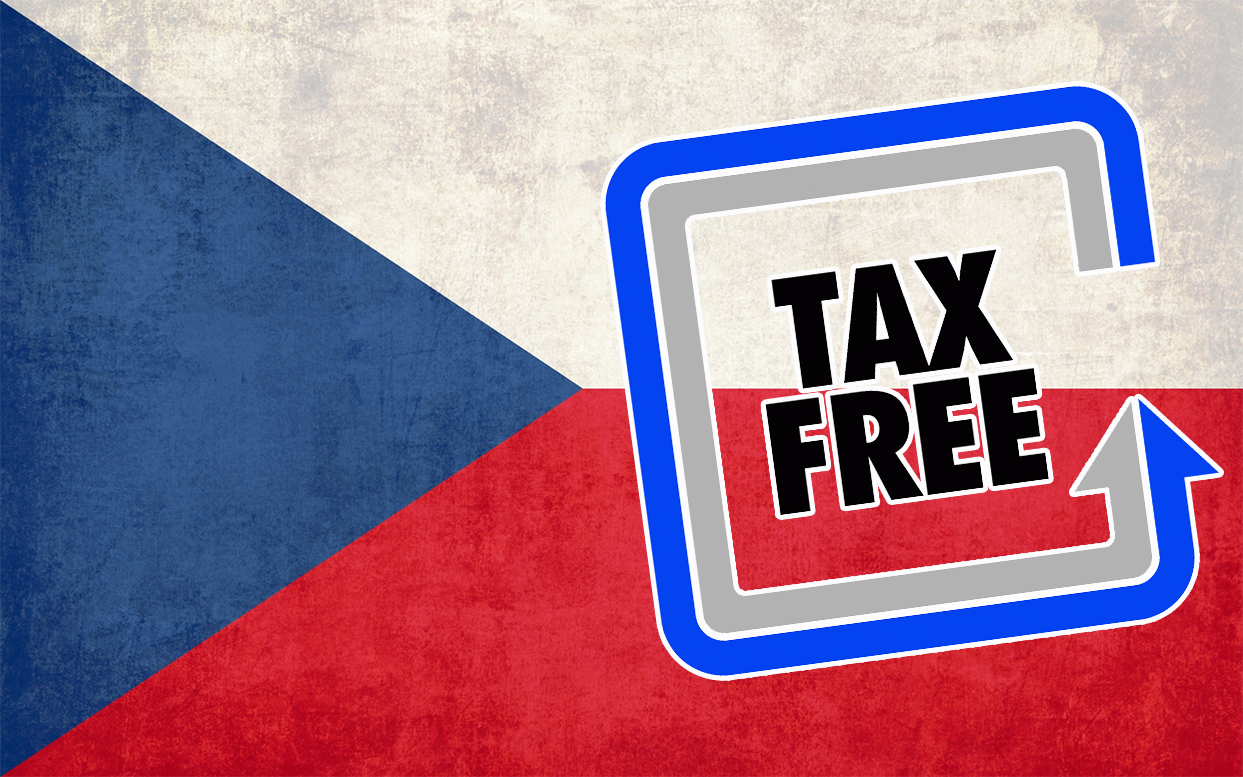 Tax-free refund in Vaclav Havel airport in Prague is a very easy thing to do, if only have all the documents required. Both terminal 1 and terminal 2 have special desks signed with  TAX FREE REFUND plate, where the officers will check your:
boarding pass;
passport;
goods to declare;
receipts.
Mind that all the goods you buy should be labeled and better not used. Authorities can check and if an item has no label, they have the right not to take it into the account. It is the rule, which sometimes works and sometimes doesn't.
Luggage package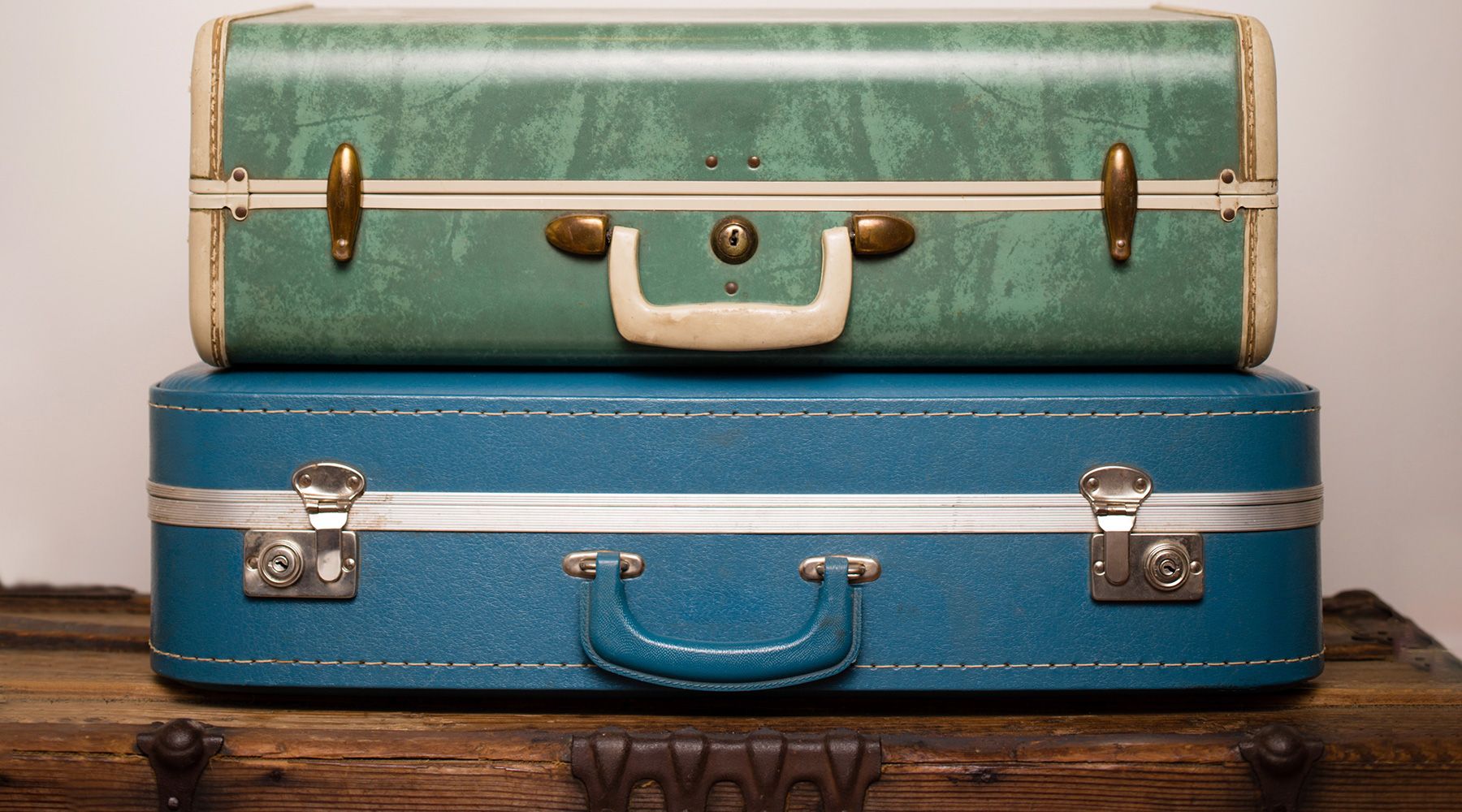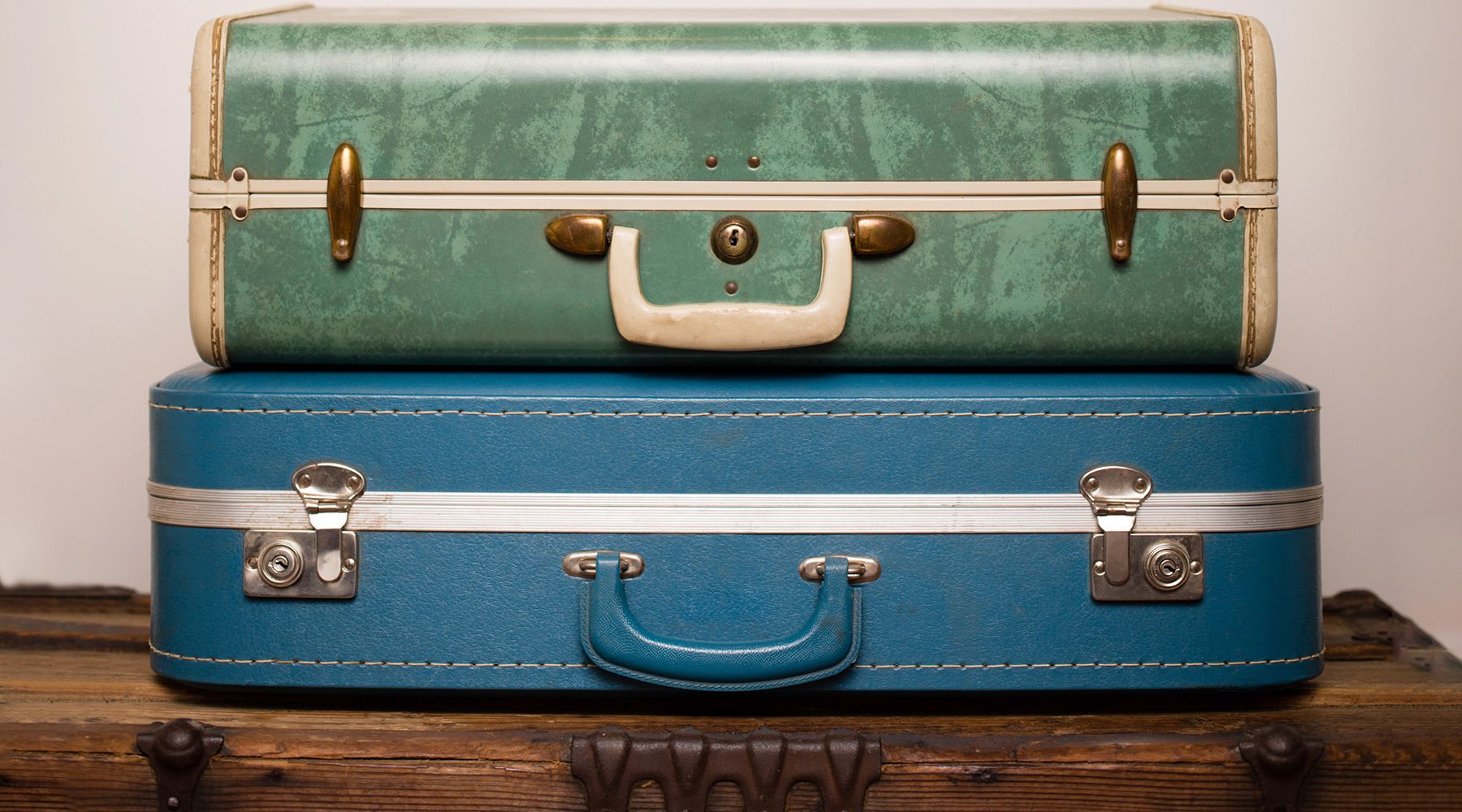 In Terminals 1 and 2 there are stands where passengers traveling from Prague and willing to protect the luggage can cover it with plastic. The price for this service is quite cheap: 100 Czech Koruna for normal suitcase and 200 – for sport equipment and other unusual luggage.
Baggage Deposit in Prague airport
For tourists using Prague just a transit airport and willing to send at least few hours in the city centre, there is an option to leave the luggage in baggage deposit, which is quite comfortable and cheap. The price for each item is 120 CZK (5 Euros) for 24 hours. You leave the luggage and get a receipt which you have to keep and show, when you want the suitcase back. The service works 24 hours. They speak English.
Parking
Parking in the airport of Prague is very easy and there are always enough parking places there. Special signs show the driver the number of free slots on each store and navigation system is very clear. Leaving the parking you need to pay according to the ticket you take at the entrance when arriving. After the payment is made you have 20 minutes to leave the parking. The price of parking in Prague airport of Vaclav Havel:
1 hour – 50 CZK (≈2 Euros)
1 week – 750 CZK (≈30 Euros)
How to get from the airport to the centre of Prague and back
There are three ways of getting from Vaclav Havel airport in Prague to the city centre. Each of them has pros and cons. Despite the one you choose, remember, never a taxi from the airport to your hotel. Never!
Transfer to your hotel/hostel/apartments
The most reliable and comfortable way of getting from the airport to Prague is a booked transfer with professional driver. Depending on your taste, number of people and suitcases, destination and time of arrival, you request for a transfer in Prague can be adjusted absolutely individually.
Estimated prices for one was trip Prague airport – city centre is 35 Euros. For this price you get the following service: driver meets you in the arrival hall with a plate on which he puts your name and surname.
The driver helps you with the luggage and drives you carefully to the hotel in Prague. On the way, if you prefer he might tell you some facts about the city or just keep calm letting you enjoy your first minutes of staying in the Czech capital. If the hotel is located in Prague 1,2, 3, driver can take you to the exchange offices (possible from 9 a.m. till 6 p.m.). Usually it takes about 25-60 minutes to get to the centre.
To book a transfer from Prague airport to the city centre, please follow this link and carefully feel out the lines with the information required.
Uber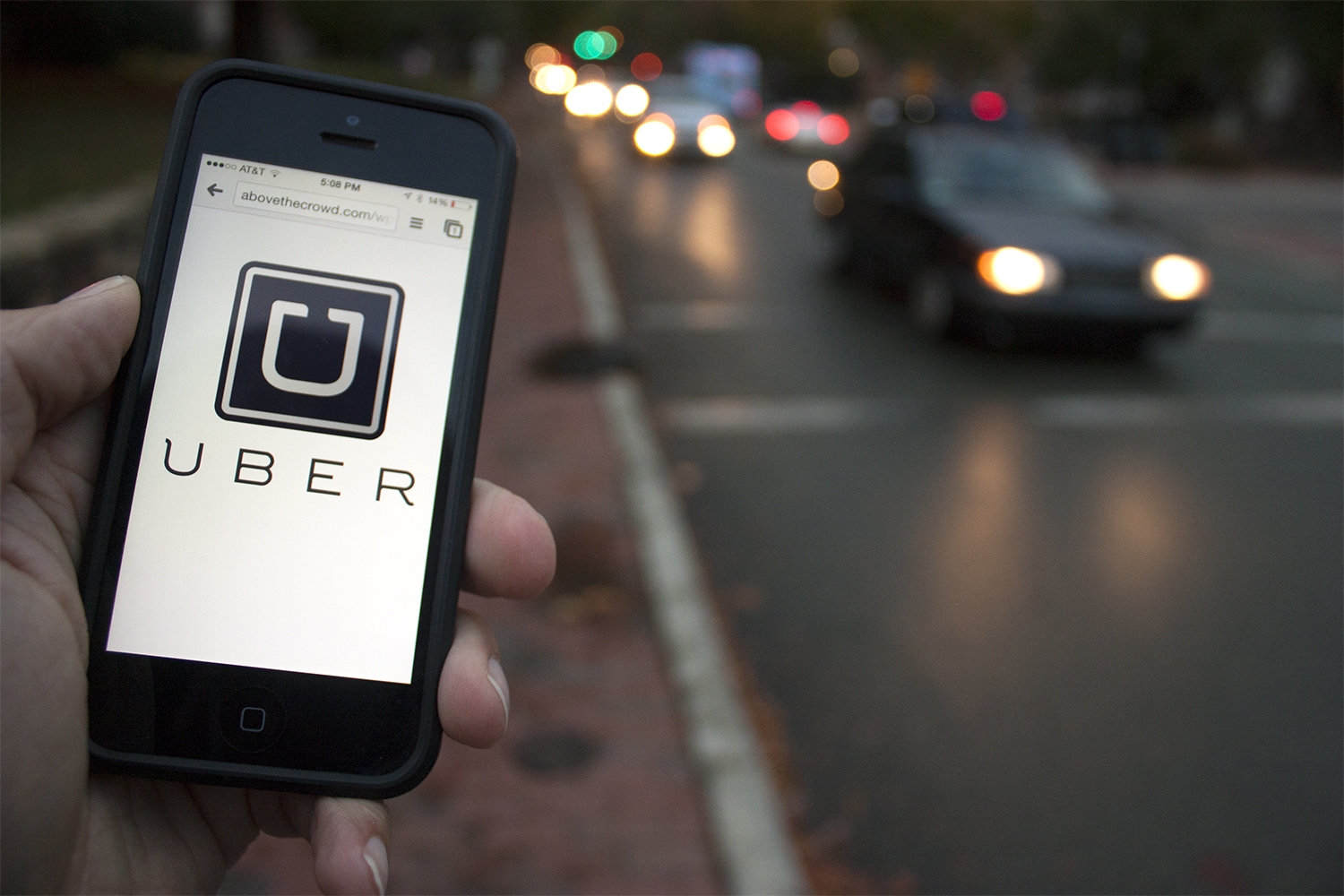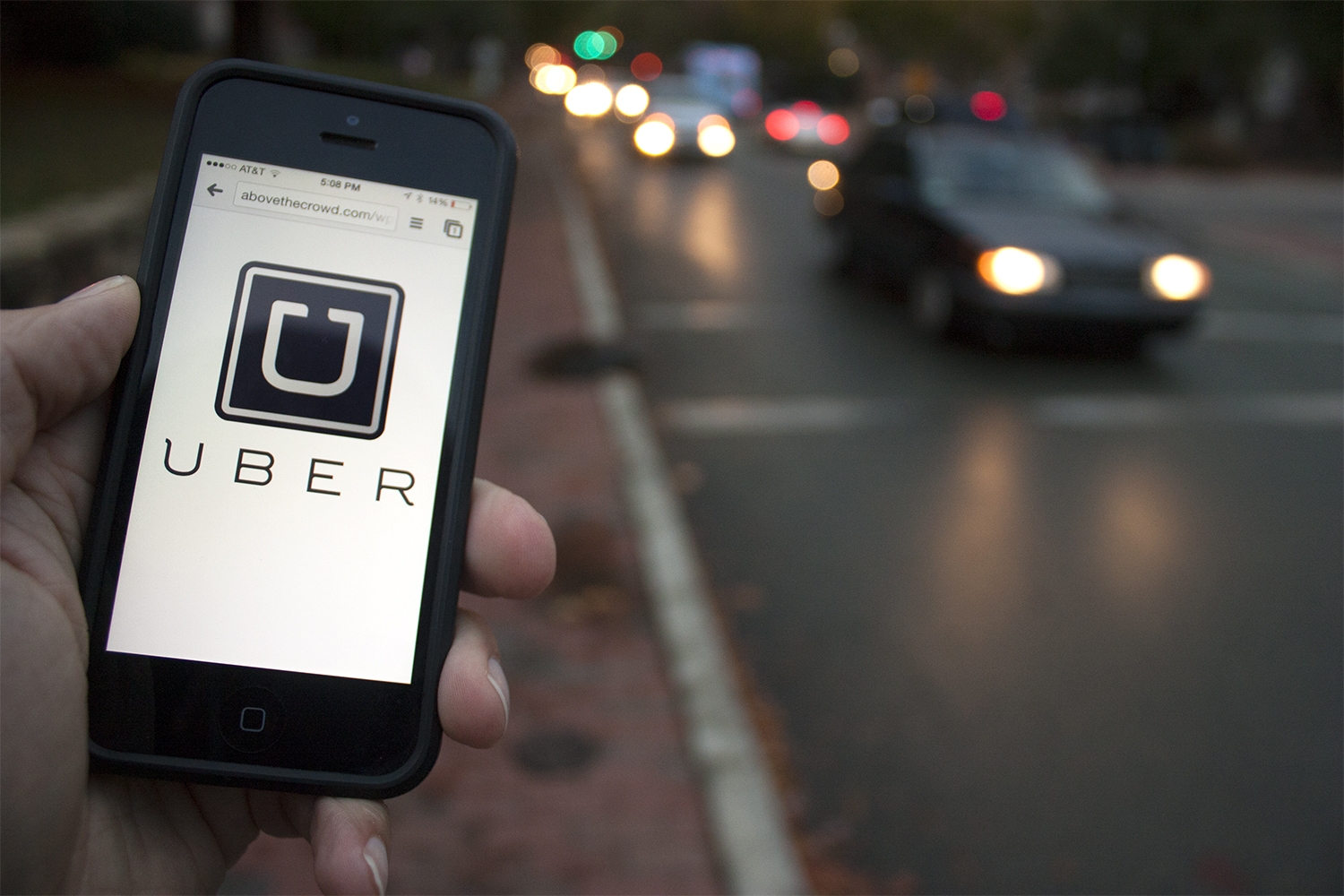 Another variant of getting around Prague is UBER. Quite a good choice for solo travelers, because you never know how big the trunk of the car will be. In case there are more than 2-3 pieces of luggage, they might not feet the car, therefore I strongly recommend having the variant 1.
Uber in Prague is quite cheap. Usually a trip from the airport to Prague centre is about 15-20 Euros. But mind the fact, the you can estimate the professionalism of the driver only according to the reviews left by other users of the application. If you have never been using this service, you can read my article about Uber in Prague and learn how to get a free ride. Approximate time 20-40 minutes. Today you can order: Uber pop, select and black.
Use the following promo code to get a free ride with Uber in Prague:
https://www.uber.com/invite/ubervovanovaque
Bus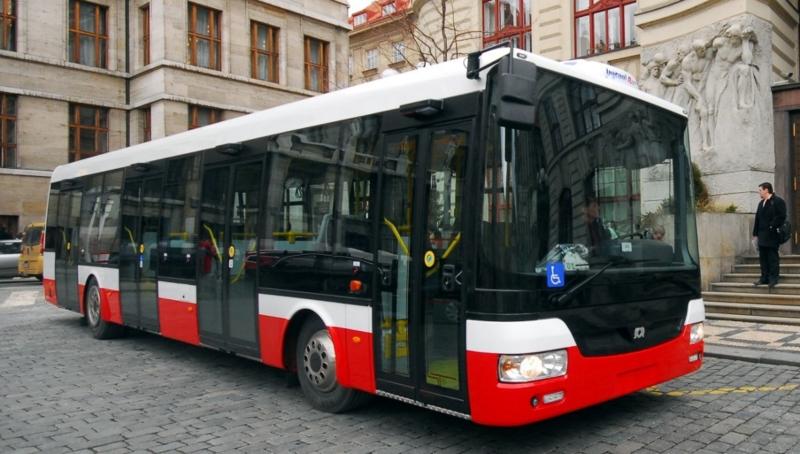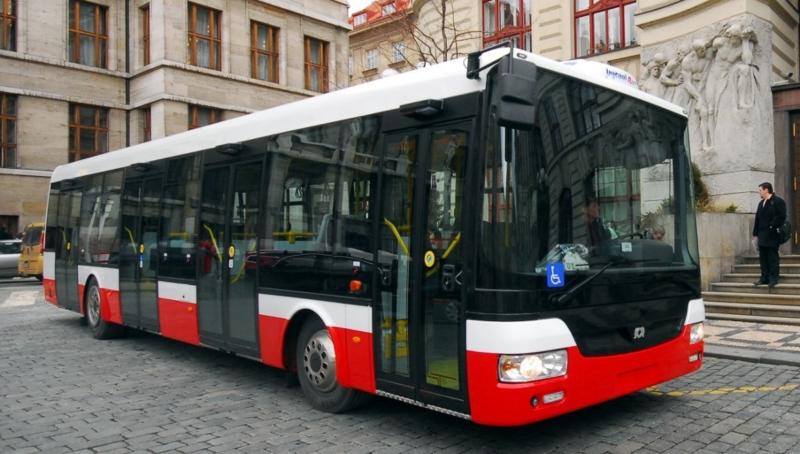 The third option of going to the centre of Prague is public transport. There is no direct connect, therefore it is better to have a ticket for 1,5 hours which you can purchase on the basement of the airport or in the machine at the bus stop.
The price is 32 CZK (≈1,2 Euros) From the bus stops located just 10 second walk from the exit of Terminal 1 or Terminal 2 you can take take 119 going to the direction of Nadrazi Veleslavin. This is the final stop, where you leave the bus and change for metro Green Line going to direction of Depo Hostivar. Total time is over 60-90 minutes.
Tickets price
3 days – 310 CZK
1 day – 110 CZK
90 minutes – 32 CZK
30 minutes – 24 CZK
Remember, that after you buy a ticket, you need to validate it! From this very moment the countdown starts.
Airport Express


Blue express buses from Vaclav Havel airport go to the main rail way station of Prague Hlavni Nadrazi. The buses also stop on requests at the stop along the way. The price is 60 CZK for a one way ticket. The AE buses run with 30-minute intervals on the daily bases from 6:30 a.m. till 10:00 p.m. – direction from the Railway station to the Airport. Return bus goes from 5:30 a.m.
From my experience, if you have more than 2 suitcases with you or you are in a group of friends, better book a transfer or at least use UBER. Thus you will save time and your health on caring your heavy luggage. 
Car rental in Prague airport
If you plan to discover Prague and Czechia on your own, the best choice is to rent a car in Prague. In the airport there offices of the following companies: AVIS, BUDGET, EUROCARS, HERTZ, RENT PLUS, SIXT, DVORAK RENT A CAR SRO, CZECHOCAR.
To book a car in Prague use the following form and get the best variant which goes with you plan of the trip.
General information and my opinion
Carriers: 60;
Routes: over 130;
Travelers: over 12 million per year;
Address: Aviatická, Praha 6;
Phone: +420 220 111 888;
Page: www.prg.aero.
Tickets to Prague
If you are visiting Prague as a part of Euro Trip, there are some nice ideas of where to fly quite cheap. My most popular destinations are Rome, Barcelona, Amsterdam, Paris, London and Venice. In the table below find the destinations and prices for tickets. All the flights are despatched from Vaclav Havel Airport.
Hotels
Near the airport you can find several good hotels with reasonable prices and perfect service. This link will show you the exact hotels in Prague airport and here you can find the manual of how to book a hotel in Prague.
So to sum up all the information given above I would like to write 10 tips for travellers arriving to Vaclav Havel Airport in Prague. I sincerely hope that these 10 sentences will help you to avoid any misunderstanding and unpleasant experiences, which actually happen to a lot of people.
Never exchange money;
Never take yellow taxis;
Use private transfers or UBER to get to the city centre;
Rent a car in the airport – it is cheaper;
Don't mess with alcohol and tobacco – know the limits;
Plan the trip in advance – make the bookings;
By souvenirs in Prague rather than in the airport;
ATMs give only Czech Crowns;
Online check-in will save your time;
Be happy – you are in Prague!
Vaclav Havel airport in Prague is the biggest one the Czech Republic. It is a good example of relatively small hub, with comfortable navigation, well-planned travel system and all necessary cervices for ingoing and outgoing travelers. If you follow the advice provided above you are sure to have good time spend both in Prague and in the airport.
For any questions about your trip to Czechia you can contact your best friend in Prague via mail@vovanovaque.com Individual travel plans, advice and sincere recommendations are included. Enjoy Prague in the right way.