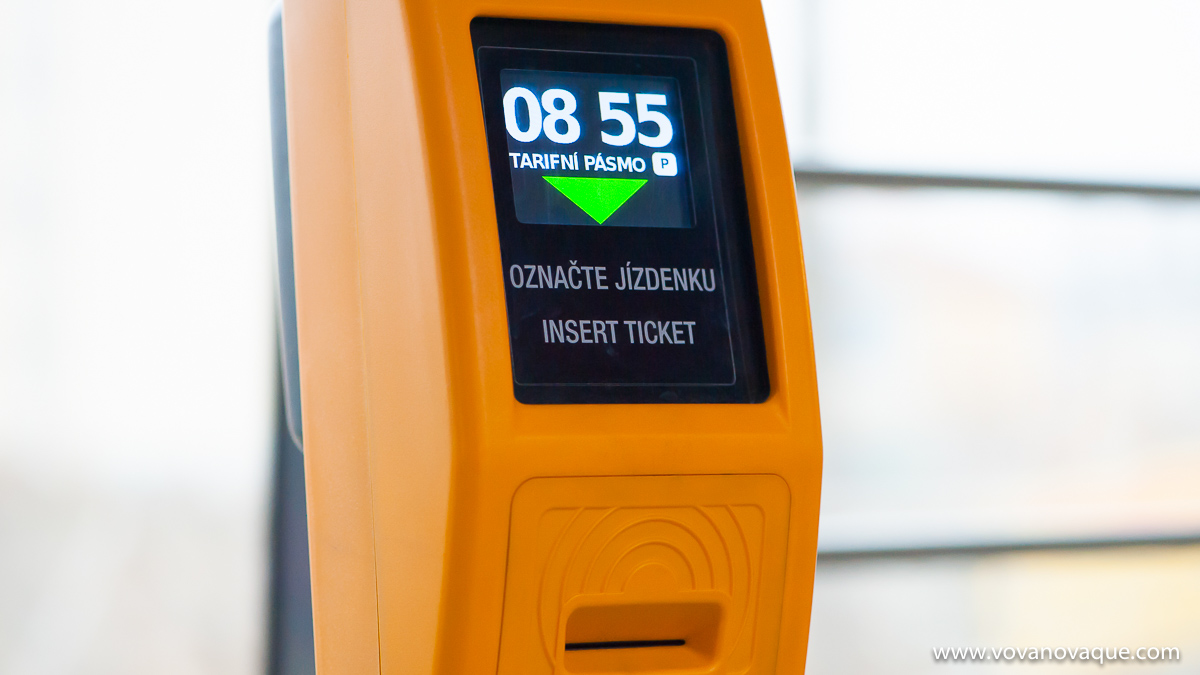 Public transport in Prague is a well-developed, thoroughly planed and very comfortable system, which operates according to a perfect schedule. I have compiled all useful information, tips and recommendations to help you travel safe and easy around the Czech capital. Learn, how and where to get tickets for metro, trams and busses in Prague.
Tickets and passes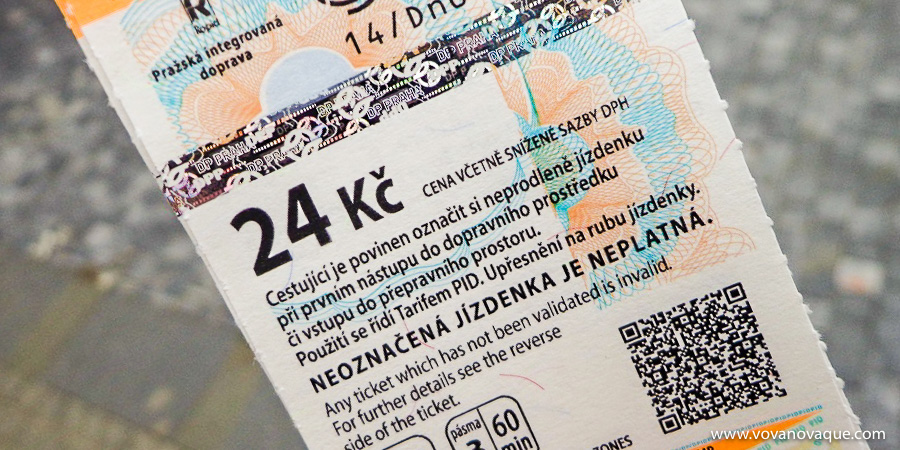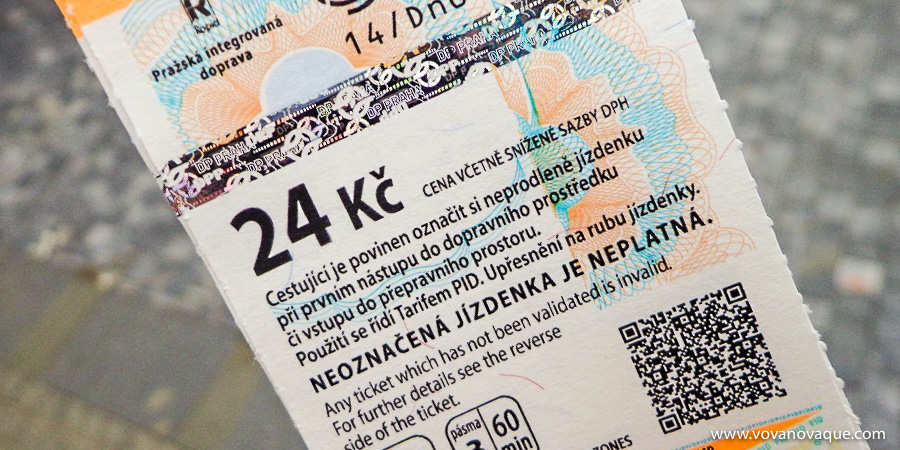 All means of public transport in Prague are integrated into common system called DPP. Therefore all the tickets are valid in buses, trams, trains, metro and funicular. After the purchase you have to validate it in a yellow machine, which prints on the ticket current date and time. This is the start. The question is how long you can stay in.
Tickets to buy in Prague
30 minutes – 24 CZK;
60 minutes – 32 CZK;
24 hours – 110 CZK;
72 hours – 330 CZK;
Children under 6 ride free.
Above you see the prices to pay and the time you can use public transport in Prague. Locals have their individual cards which cost 550 CZK per month. The card is called l Litačka and can be issued for you as well, provided you plan to spend in Czechia several weeks or months.
Usually tickets are bought in special machines at the tram stops, in newspaper or tobacco shops. Unfortunately drivers do not always sell tickets, so you should have one before you get in. There are several central ticket offices located closer to the city centre. You can find them at the following metro stations: Hradčanská, Můstek, Florenc, Hlavní nádraží, Nádraží Holešovice. They are open from 6:30 a.m. to 6:30 p.m. with an hour break for lunch.
In some new trams electronic machines have been recently installed. They allow to purchase public transport tickets with your credit card. Or if you have a local sim card, you can send an SMS to 90206 with text: DPT24, DPT32 or DPT110, DPT330 depending on the ticket you need. Within some 2-3 minutes you will get a reply with confirmation and code. This code will be checked by inspectors.
Inspectors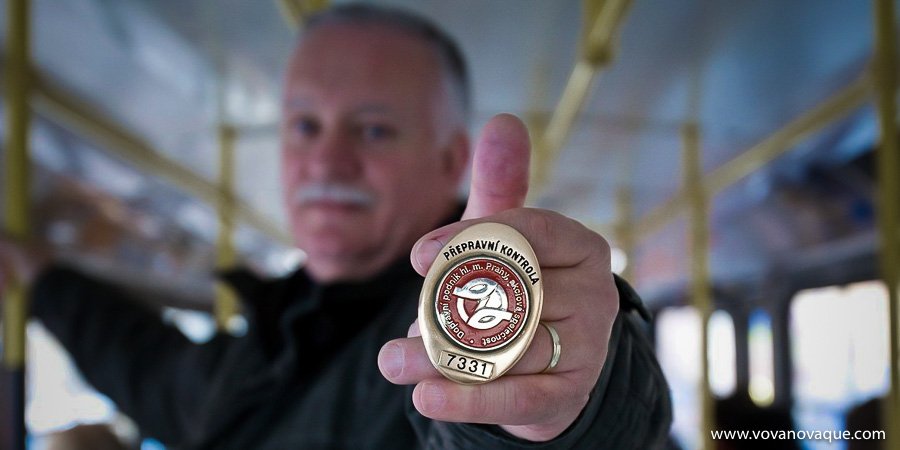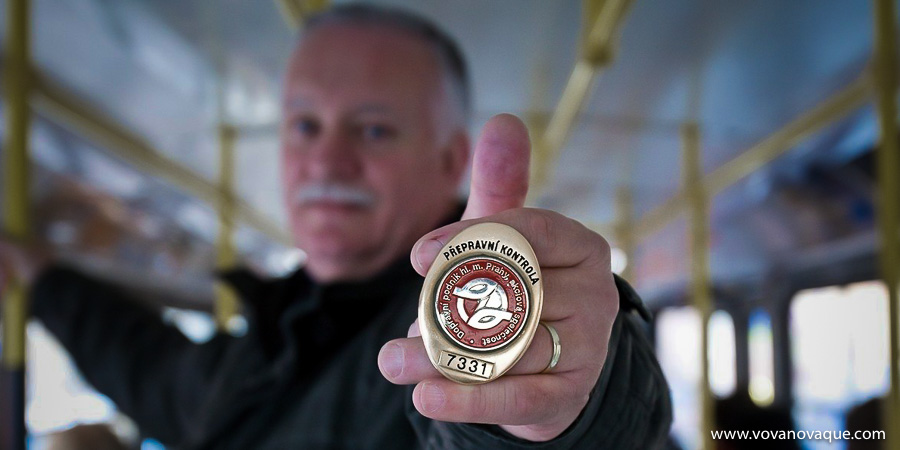 Do they check tickets in public transport? Yes, in Prague they do check. But it this checks are irregular: from time to time inspectors work in metro and trams checking the passengers. With no ticket or pass, they can fine you up to 950 CZK. Though you can negotiate the sum and try to reduce it to 500 CZK. In case you have no money, together with a police officer inspectors can hold you till the issue is solved. Thus my sincere advice for you: always buy tickets in Prague. They are cheap and easy to get.
The question with tickets for public transport in Prague is clear, so let's get deeper into the transport means: metro, trams, buses, ferries, funicular and trains.
Metro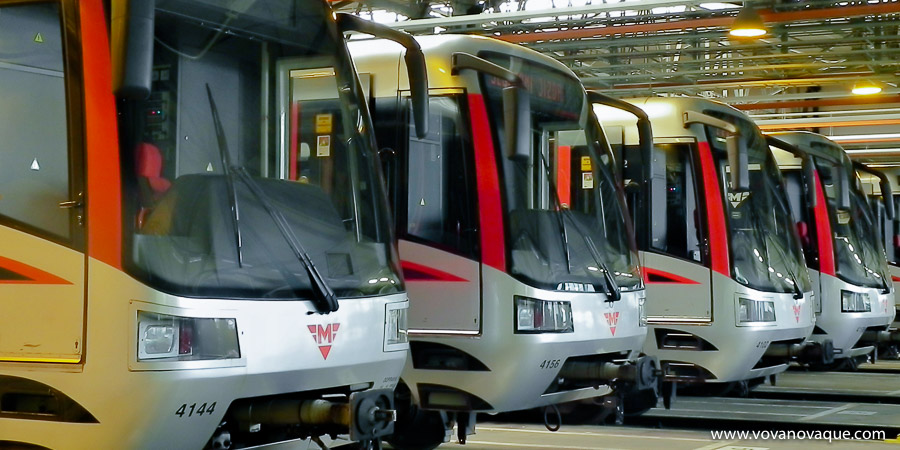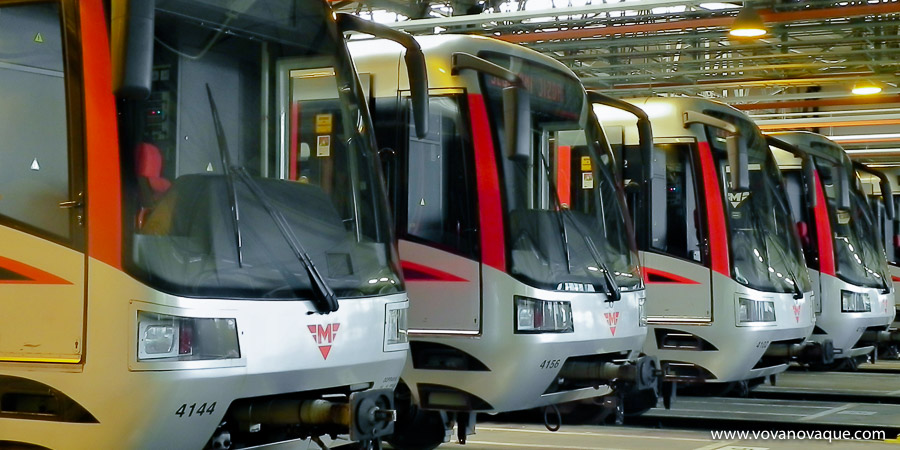 Prague has 3 metro lines: green, yellow and red, which covers the city quite well, though locals always complain. All the lines cross each other in the city centre making a triangle between: Muzeum, Florence and Mustek. All in all there are 61 station with total length of 62 kilometres. Authorities plan to build a new blue line (the 4th) and open it for public in 2022. The approximate budget of the project is 45 billions CZK.
Annually underground trains carry over 600 million passengers, which make about 1,6 millions a day. Why so many locals use it? Prague metro is a comfortable, save and quite fast means of transport. Moreover it is relatively new, because its history began only in 1974 during communist times.
Line A (Green)
Green Line A of Prague metro start at Depo Hostivar and stretches within 17 stations in the direction of Prague airport to Nemocnice Motol. It was supposed that this line will help tourists to get to the airport directly, but one has to change for a bus at Nadrazi Veleslavin.
List of stations Line A:
Nemocnice Motol, Petřiny, Nádraží Veleslavín, Bořislavka, Dejvická, Hradčanská, Malostranská, Staroměstská, Můstek, Muzeum, Náměstí Míru, Flora, Želivského, Strašnická, Skalka, Depo Hostivař.
Line B (Yellow)
Yellow line runs from Cerny Most to Zlicin and cuts the city of Prague from East to West. There are 24 station. This line has good connections between shopping molls and big neighbourhoods.
List of stations Line B:
Černý most, Rajská zahrada, Hloubětín, Kolbenova, Vysočanská, Českomoravská, Palmovka, Invalidovna, Křižíkova, Florenc, Náměstí republiky, Můstek, Národní třída, Karlovo náměstí, Anděl, Smíchovské nádraží, Radlická, Jinonice, Nové Butovice, Hůrka, Lužiny, Luka, Stodůlky, Zličín.
Line C (Red)
The third line of Prague metro is called red. It has 20 stations from north to south. Among the most popular stations there are Muzeum – which is the city centre, Nadrazi Holesovice – the best way to Prague Zoo.
List of stations Line C:
Letňany, Prosek, Střížkov, Ládví, Kobylisy, Nádraží Holešovice, Vltavská, Florenc, Hlavní nádraží, Muzeum, I.P. Pavlova, Vyšehrad, Pražského povstání, Pankrác, Budějovická, Chodov, Opatov, Háje.
Line D (Blue)
The beginning of 2017 brought good news. Prague authorities made the final decision to start the project of new metro Line D (blue line). According to general plan, they will start construction in 2017 and it will last about 6-7 years.
Schedule and intervals in Metro
open from 4:45 till midnight;
2-4 minutes between trains during rush hours;
4-10 minutes in off hours.
Remember, that there are no barriers in the metro and you always have to validate the tickets before getting downstairs on the platform. Please, be really careful with this issue, because the fine is about 1000 CZK and the inspectors would never listen to your stories. Though they don't appear very often, 24 CZK is not worthy any problems you can get while go around with public transport in Prague without a ticket.
Trams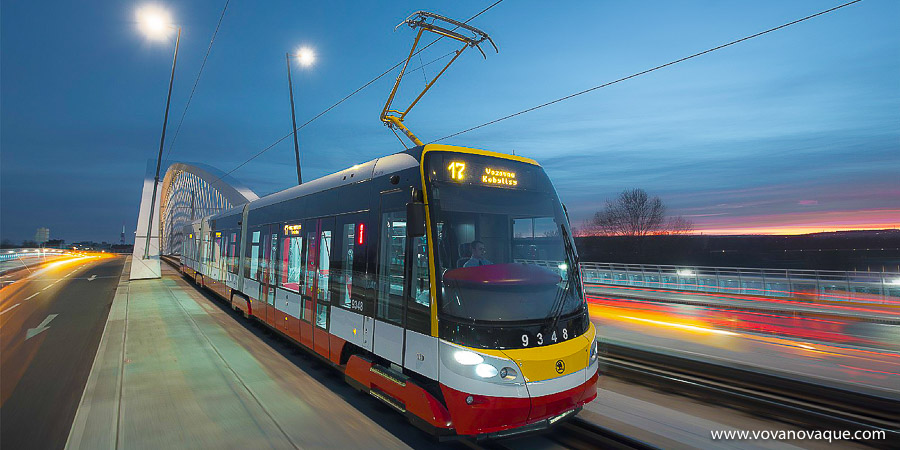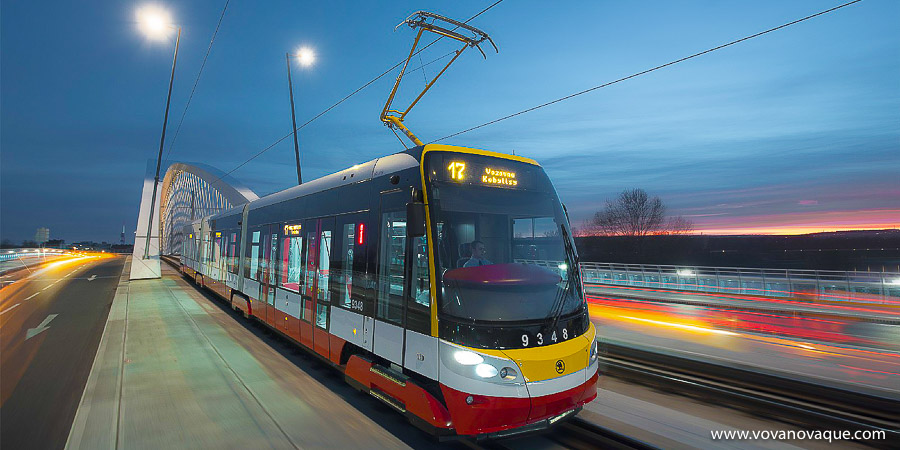 To my mind this is the tram which should always be used by tourists for getting around Prague. Red old school and modern Porsche design snakes – they help to feel the atmosphere of the Czech capital. Do you know why? Because the sounds of heavy wheels ironing the rails, ringing bells, cutting the air and the charm of smooth movements of these heavy machines are an inseparable parts of the atmosphere.
The history of tram traffic in Prague has more than 100 years. To plunge into the depth of tram culture, one has to visit Public Transport Museum or at least to take tram 91.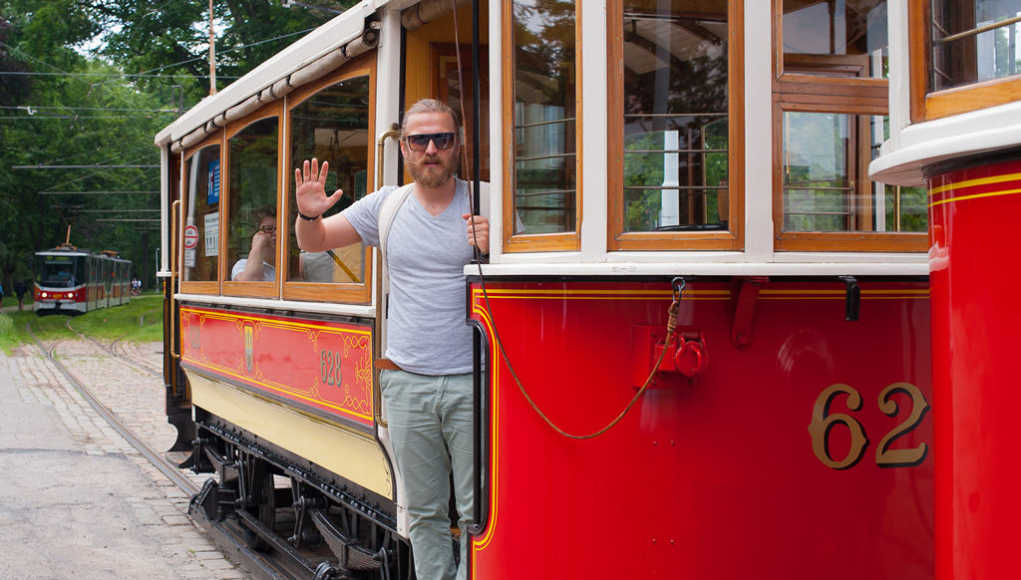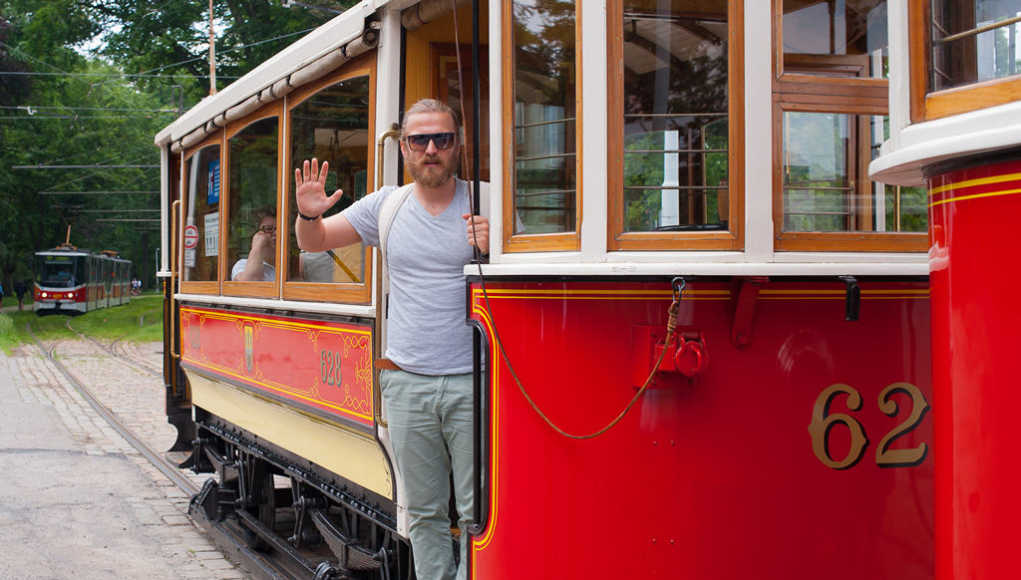 Total length of tram tracks in Prague is over 500 kilometres;
Usually each stop is located in 2-3 minutes from the previous;
To go along the whole route one has to spend about 16-20 hours;
Annually about 300 000 000 passengers use trams in Prague
The most popular lines for tourist are: 9, 20, 17, 15. Though I would not recommend remembering this information, because from year to year the lines are changed due to various reasons. At the end of the article I will share with you my life hacks of how to find optimal way, tram stop and tram number in Prague.
" style="background-image: url("//i.ytimg.com/vi/7b-gePVxBBI" width="560" height="315" frameborder="0" allowfullscreen="allowfullscreen">/hqdefault.jpg");">
In new trams you can get connected to free Wi-fi spots. Of course the signal is not perfect, but is enough to check you email or read feeds in Facebook or Instagram.
Intervals and schedule of Trams
There are two schedules of trams in Prague: day and night. Though the day schedule is also subdivided into week days and holidays (days off). The latter means that intervals are longer.
Day trams go from 4:30 in the morning till midnight every 7-11 minutes and 8-16 minutes on weekends. Night trams change their numbers to 51-58 and start 00:30 at night till 4:30 a.m. with intervals of 30-40 minutes.
Buses
Buses in Prague mostly cover the outskirts of the city. Usually they go to the neighborhoods where trams do not go. Intervals for day schedule are 5-9 minutes at rush hours and 9-21 minutes in the off hours. Night buses have numbers between 501 and 513. They go every 30-60 minutes depending on the route and usually follow the metro lines or most popular tram lines.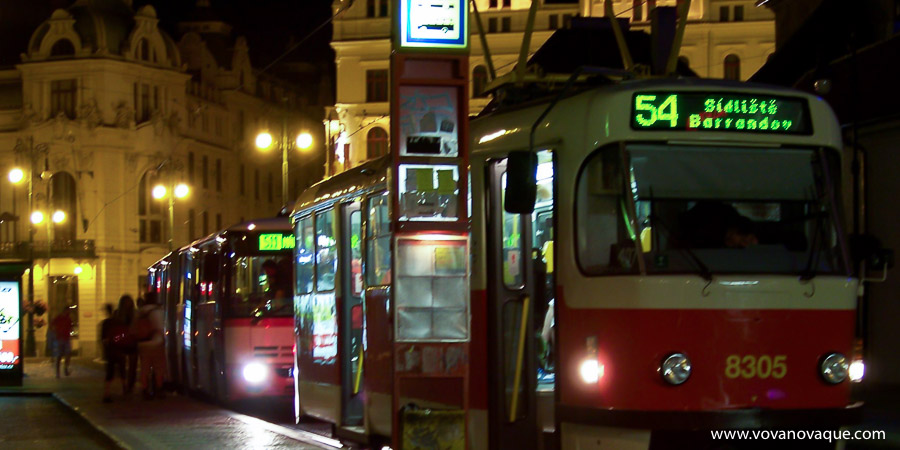 Though night buses are quite fast, they are not the safest means of transport. From time to time homeless people, drunken or in any other way strange passengers also go there adding special charm for the trip.
Funicular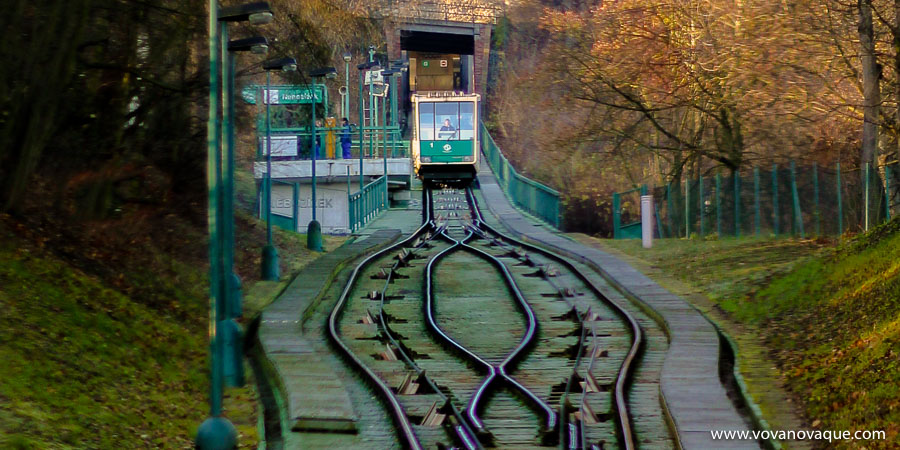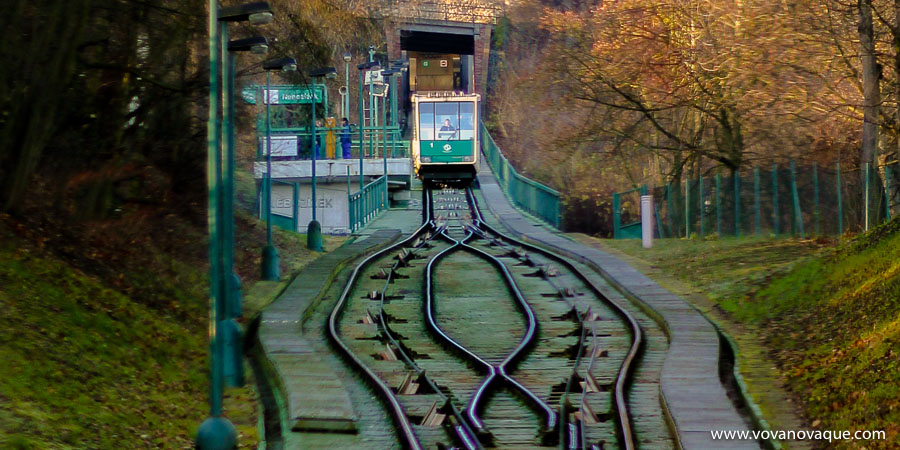 One of the most attractive means of transport in Prague for tourists is funicular. Its history began in July 1891. There were three times when the funicular stoped for non-technical reasons: 1916, 1932 and 1965. The last one happened after terrible landslide, when the track was absolutely destroyed. The way we see the funicular today dates back to 1985.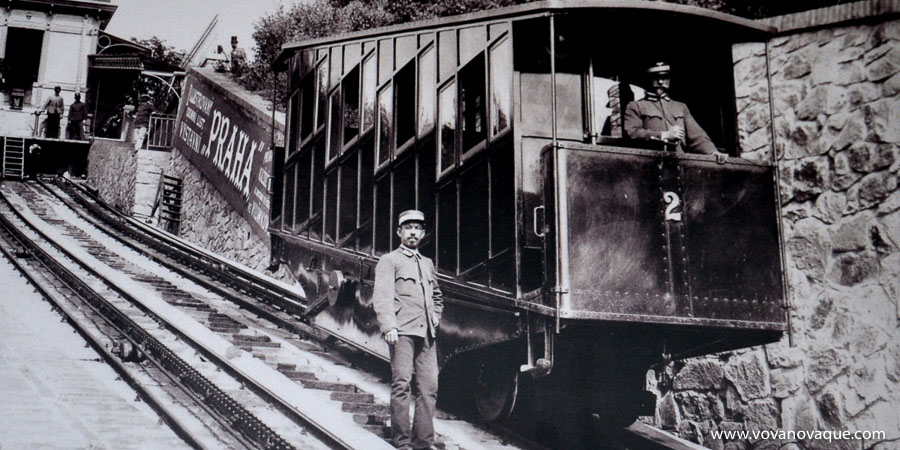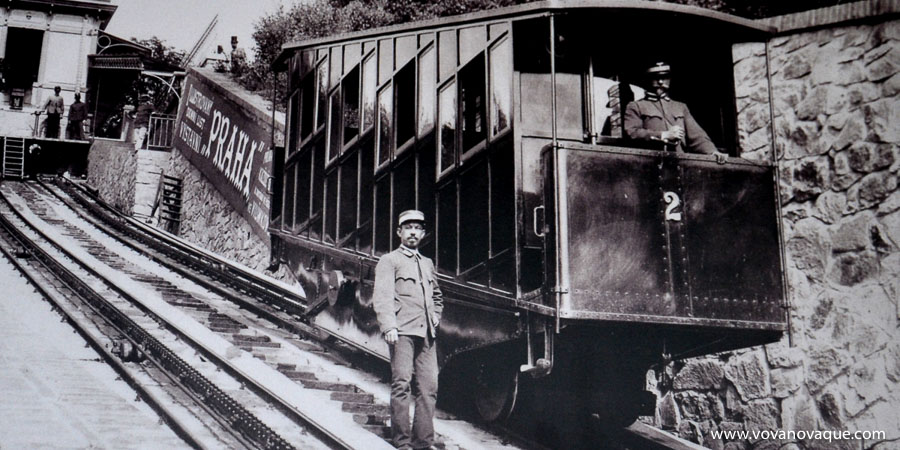 Funicular goes up Petrin Hill. There are 2 stops Nebozizek Restaurant and Petrin Hill. To get into the carriage you have to buy a normal ticket or use the one you already have validated, provided it is till valid. Though the ride is quite slow, it is a great fun. 510 meters of amazing views with rise of 130 meters at speed of 4 meters per second.
Time and schedule of Funicular
April-October: 09:00-23:30 (every 10 minutes)
November-March: 09:00-23:20 (every 15 minutes)
N.B. Funicular closes for maintenance between 10-22 October.
Boats or Prague ferries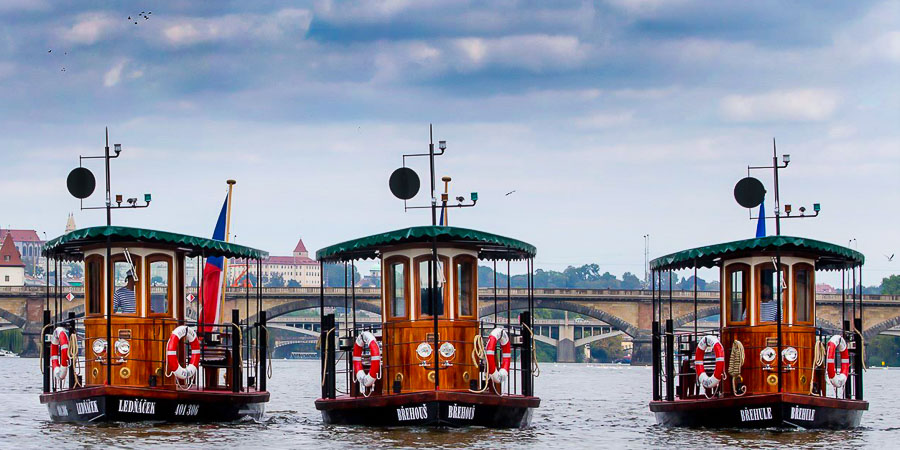 Since old times Prague used to have ferries as one of the most important means of public transport in Prague, because they linked the two banks of the river. Vltava was quite an aggressive river sometimes and destroyed all the wooden bridges. Today the places where ferries used to work, we can see bridges.
Ferries are integrated into the Prague public transport system. There are 6 lines on Vltava in Prague. Passengers travel with time tickets, which you can also buy from the ferryman. The only exception is P3 link. There you have to buy a special ticket, because it is a touristic link going around Charles Bridge.
I sincerely recommend you to plan at least one boat trip on Vltava either with a ferry or with a steamboat. Especially if you travel to Prague in summer season. It will bring you a lot of joy and you will have an amazing chance to see the city from a different perspective.
Trains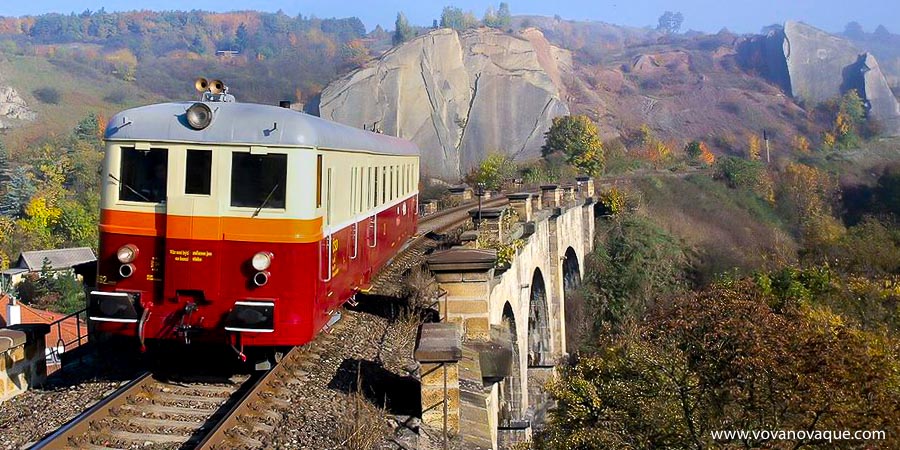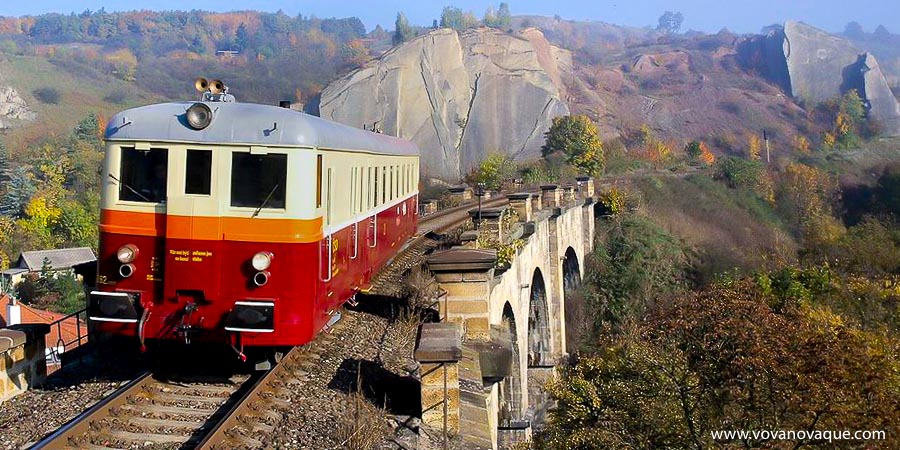 Another quite comfortable and fast way of getting to the distant areas of Prague by public transport is a train. One can go between the railway stations located in the boarders of the Czech capital with normal time ticket. For example, there is a train from Hlavni Nadrazi (Main railway station) to Smichovske Nadrazi which goes some 10 minute, which is the fastest way from all possible.
There are also variants of using this train links from Masarykovo Nadrazi and Praha Holesovice. For more details I recommend you to visit www.dpp.cz/en and look through the pages of the resource.
How to find a stop or station of public transport in Prague?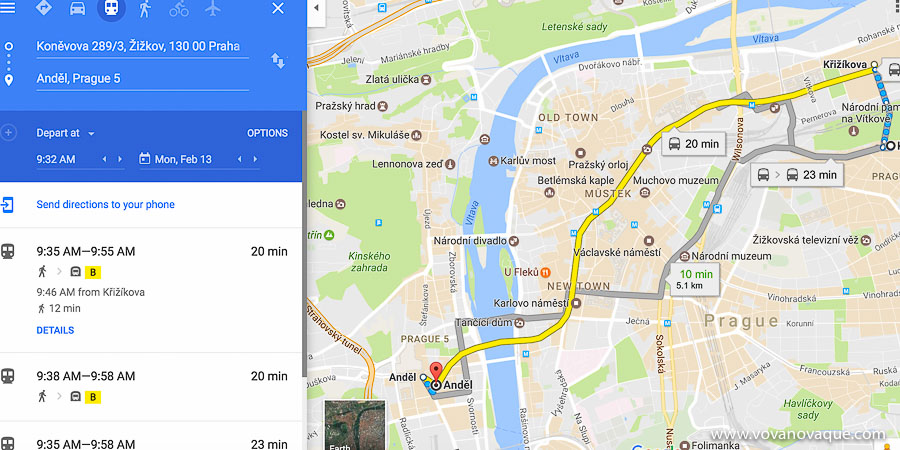 I use several applications to get around the city. From the 2015 google maps started to support Prague public transport. Therefore you can always check your current location on the maps and filling out the second line with the destination you will get several options of getting there.
The second application which is very helpful, is called DPP INFO. You can instal it for IOS or Android. The latest version is sometimes slow. Moreover you need to know either the names of the stops/stations you are at and you need to get at. This app has map function as well.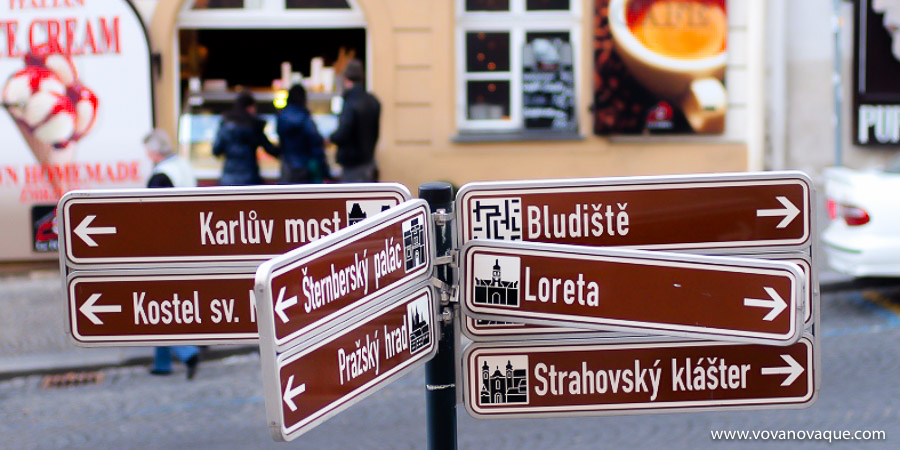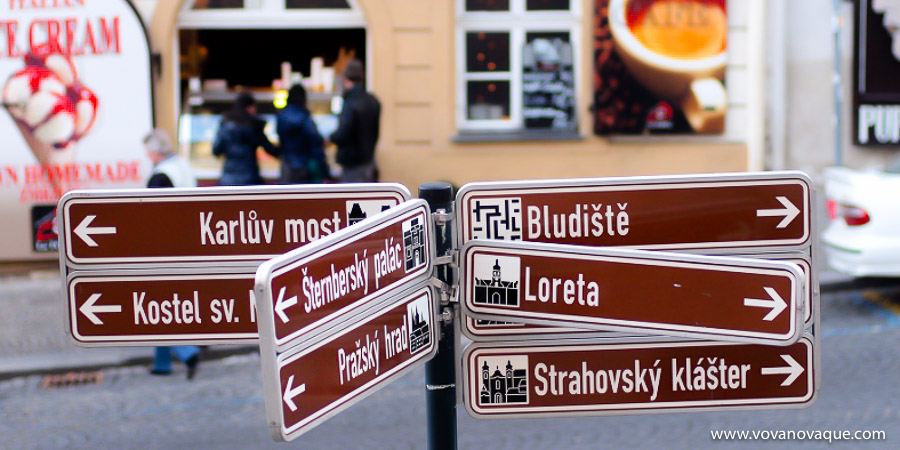 Public transport navigation is the third option for you to find the way in Prague. Just stop for a while in front of the information stand and read carefully the instructions. In case you still have problems, come to the locals and show them the place you need to go. Give you 100% that you will be given all the information and even if not in English, but with the right directions.
Travel Etiquette
There are several rules you need to remember to avoid unpleasant situations while using public transport in Prague. They come both from my personal experience and from the knowledge of my friends and tourists.
You always stay to the right when on metro escalator, otherwise you risk to hear kind of rude and angry voices at your back.
New trams and all metro trains use a green buttons which you have to press in order to make the doors open.
No bikes are allowed in trams.
In metro bikes allowed only in the last carriage.
Large seatless spaces are usually reserved for passengers with baby strollers, mind it.
Grandmothers and grandfathers never mind getting a seat, so be nice.
Don't talk to loud in the public transport – a lot of people read and you may disturb them.
Make you way to the entrance in advance.
Get you ticket validated in advance.
Hope this article will help you better understand the Czech capital and to discover its attractions. Public transport in Prague can be a very helping solution for you, provided you get ready for the trip in advance and always have a valid ticket with you.