I had a long conversation with my friends about travelers and tourists. We were discussing the difference between these two types of people. It was a late night talk after several beers, so no wonder that next morning we could hardly remember the conclusion of our discussion. And that was very sad.
But today I came across a very interesting page with pictures showing the key points of being a traveller and being a tourist. They are absolutely clear and true to life. Let me know, what you personally think of the difference. Who you are: a traveler or a tourist? How do you usually discover a new place, get ready for trip?
Who do you travel with?
I like traveling alone: it gives more freedom of choice. But also I do go for trips with my friends. In this case we have a golden rule: there is always one man planning and leading the day. All the rest of us, just follow.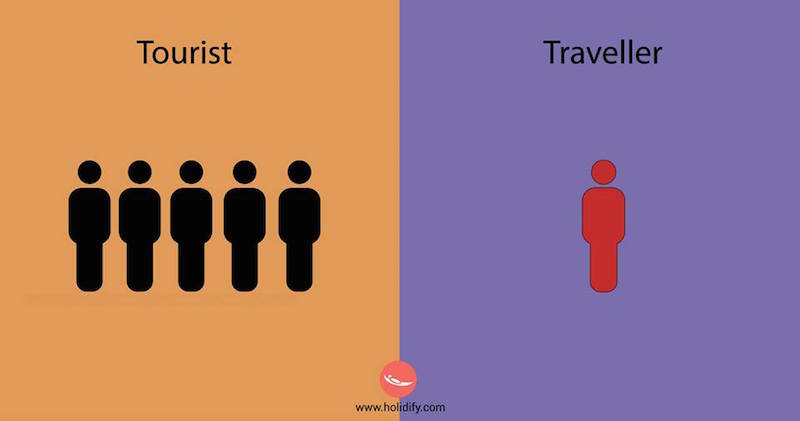 How do you plan a trip?
Easy people go for trips easy. Have you ever started a trip with no plan or even with no bag pack? I have some stories, when being in the centre of Prague with friends in the afternoon, I was traveling to Wroclaw in the evening to see my other friends and to visit this amazing Polish city. Though I admit that long trips should be made as a tourist would do.
Where do you find the source of inspiration?
I don't agree with this picture. Both a traveler and a tourist need to get knowledge and inspirations to start a trip. Geography, history, movies, books, friends, TV show — all these things first of all educate people and only after they become travelers or tourists.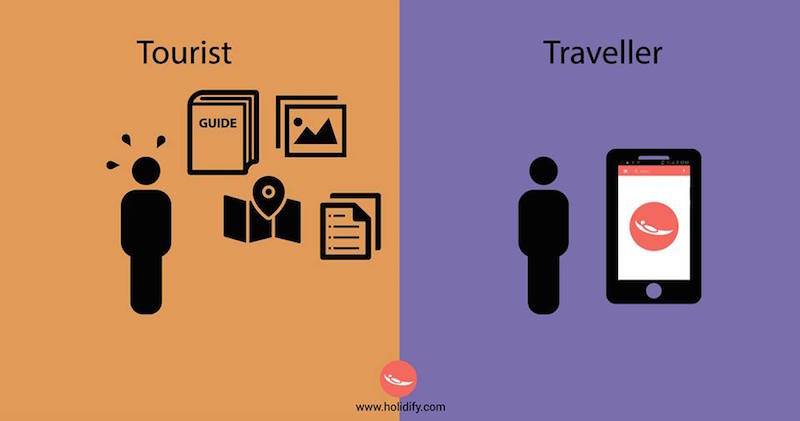 How do you pack?
With packing everything is clear. But to tell the truth, some travelers look like homeless after long trips. And it looks that don't really enjoy what they do.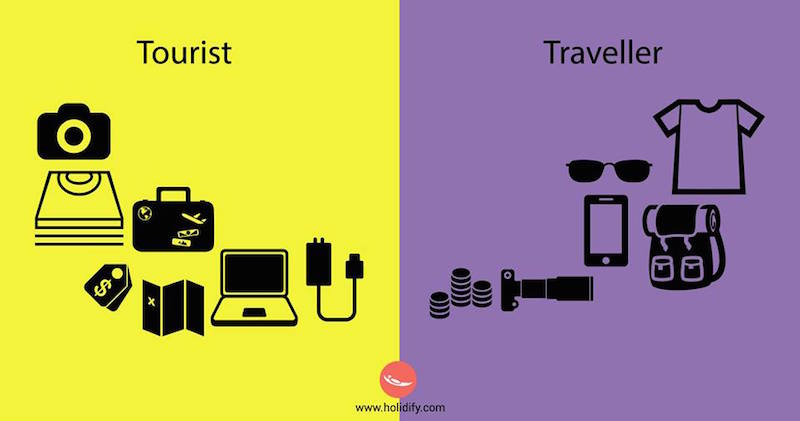 What is you aim?
The final aim of any trip is knowledge, experience and emotions. At least these are my aims. Depending on the character, interests and destinations, people choose and plan activities available in this or that part of the world.
How do you discover?
This slide looks a bit strange to me, because it shows two different activities. Can't a skydiver visit a temple after another base jump from a local TV Tower?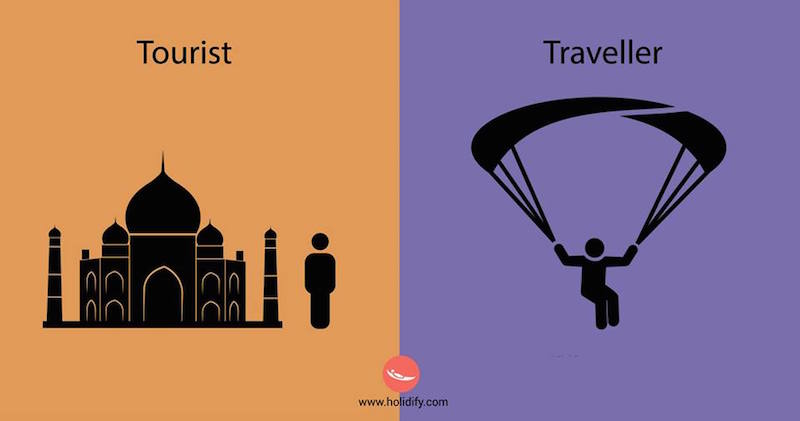 Where do you sleep?
Once I was traveling with friends. We stopped in a hostel, which was very comfortable with big rooms. But that day they had problems with central heating and we decided to put tents to sleep. So who were we that night: travelers or tourists?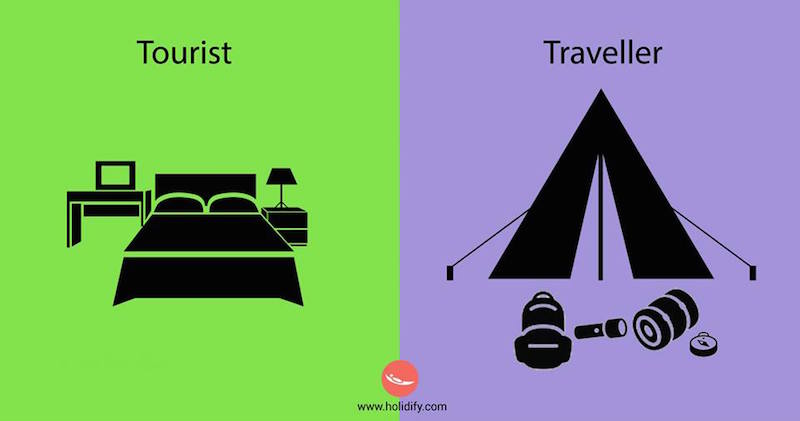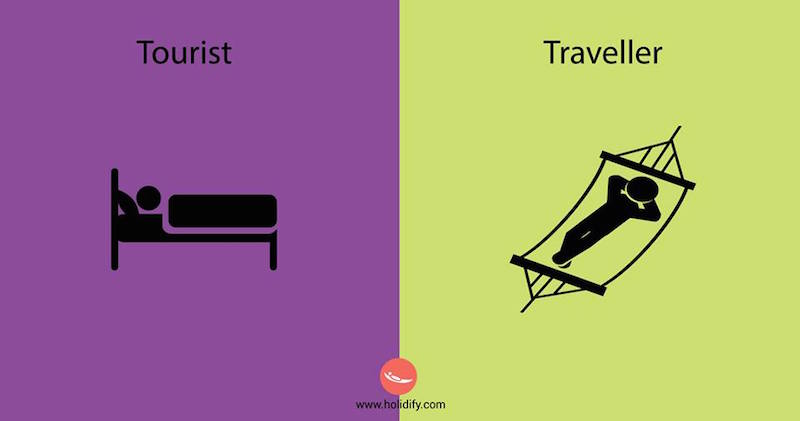 How do you get around?
Well, well. I use UBER in any city it is available in. Sometimes it is more comfortable to book a private transfer, when you are pressed for time. Thus you give local drivers work and get good service.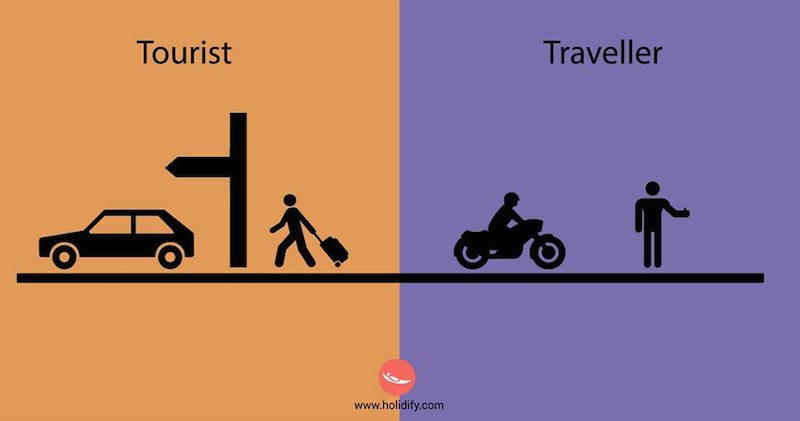 How do you take photos on a trip?
Funny to say, but I used to take selfies a lot, when it was a trend. Today more and more tourists and travelers ask strangers for a picture, use tripods and selfie sticks. But any kind of a picture is good, because it reflect place, time and you. It gives memory of the trip. The only problem is not to loose it in your memory card. Because unfortunately neither tourists nor travelers don't publish travel photos so often.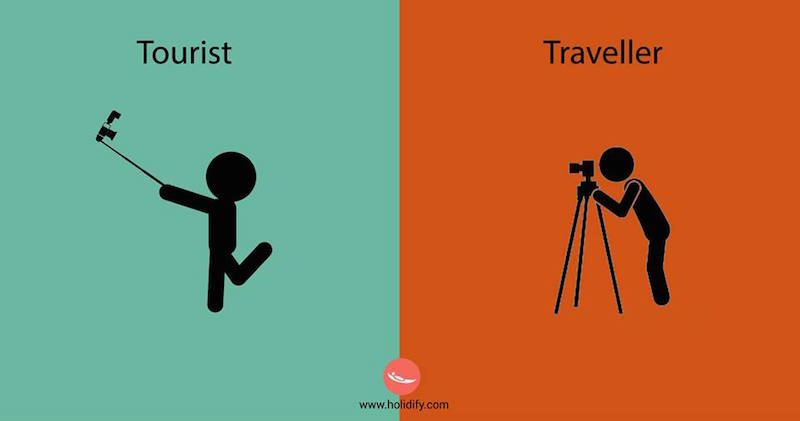 What do you dream of?
Dream make us move forward and plan our life. Some big dream big, others have certain limits and blocks. But I am sure, that it is traveling, which makes everyone dream more often. What do YOU think of? What is your next destination?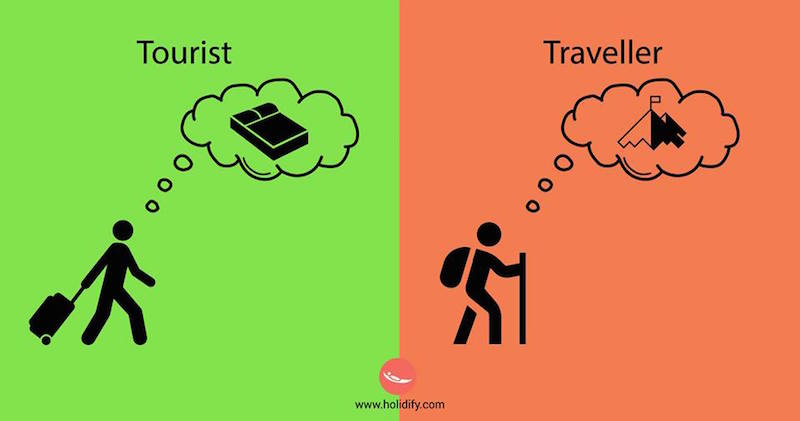 Friends, let's be honest. All of us are travelers and tourists in our hearts and souls. One day you get things packed, trip planned and hotel booked. The other day, you find yourself on a train going to a small town that name of which you have just seen in a newspaper. Do you agree?