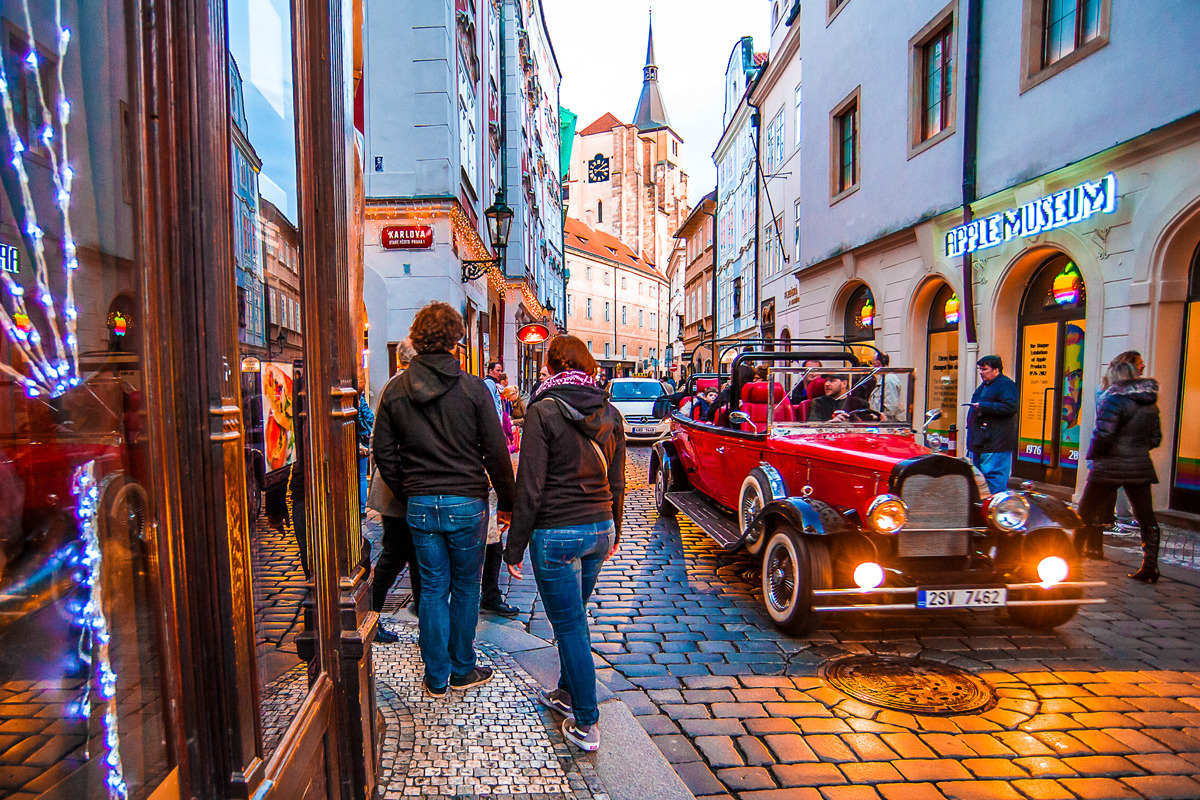 Some months ago I wrote an article about the best time to go to Prague. I did my best to sum up the experience and knowledge about the weather in Czechia, thins to do and places to visit. I am sure that article will help you to plan a trip and choose the best season for a visit to the Czech capital. But today I want share with you the most essential information about April in Prague. By the way, one of the brightest months of the year, because of magnolia flowers and extremely colorful sunset.
Weather in April in Prague
Weather in April in Prague is the most essential factor for the increasing number of tourists arriving to the city. Winter is over and sunny days come to Prague. Nature wakes up and the air is getting warmer with each day. That's why all the parks and gardens, which are closed for the winter period are open from the 1st of April.
Though the beginning of the month is quite chilly, at the end the temperatures grow up to 22 Celsius during the day sometimes. But the most important thing in April is the growth of the daylight. Look at the average figures:
Day average temperature in April: +15 °C;
Night average temperature in April: +5 °C;
Number of sunny days in April: 4;
Average rainfall in April: 32 mm;
Relative average humidity in April: 65%.
What to pack and to wear?
Though we have the average temperatures of Prague April, it is very hard to predict the exact weather for your trip. In spring things change very quickly: it can be cold in the morning and super hot during the day. That is why, I sincerely recommend having a small backpack with you. There you will put a sweater or a jacket. Remember, an umbrella or a raincoat should also be in your luggage, just in case.
From the clothes proper for April weather I recommend jackets, vests, jeans, gloves (for early morning or late night), raincoats. But everything should be very light and small to fit you bag. Also, sometimes it can be quite windy. So take a scarf to protect your throat. And the shoes. Prague is a very demanding city, especially for long walkers. Put on a pair of comfortable and reliable snickers or boots, if you plan to go hiking.
Things to do and places to see
Prague is extremely reach on various attractions and places to see. April brings even more possibilities for travelers to discover, first of all because it is the month, when all parks and gardens open after winter break. One of them is Vrtba Garden — the perl of Baroque landscape in Prague. But not only gardens start the season. Most of the castle and chateaus in Czechia open the doors to visitors on the 1st of April as well. That is why, it is really a good period for a trip to the Czech Capital.
April is the first month in a year, when you can rely on weather and enjoy quite warm days. Though in the evening it may be quite cool outside.
April Holidays and Events in Prague in 2018
There are 2 main holidays in April 2018: Easter and Witches' Night. The first is religious and I have a big article about the traditions of Czech Easter, have a look at it. The second one is of pagan routes. And both are celebrated throughout the country by people of all ages and views. The latter is like Slavic Halloween. To see what happens there, visit Patrin Hill or one of the biggest parks in the city like Stromovka or Landronka.
Easter in Prague 2018: 30.03.2018 – 02.04.2018
Easter Markets in Prague 2018: 17.03.2018 – 08.04.2018
Prague Half Marathon: 07.04.2018
Withches' Night (Paleni Carodejnic): 30.04.2018
I sincerely hope, that you find April in Prague as a suitable month for your trip. In case you are not sure or still have questions, feel free to ask them in the comment below. Also for my readers I make travel plans. It is enough to write a message with dates of your trip, budget, number of people and wishes for Prague to mail@vovanovaque.com From my side I will compile the plan and share it with you.