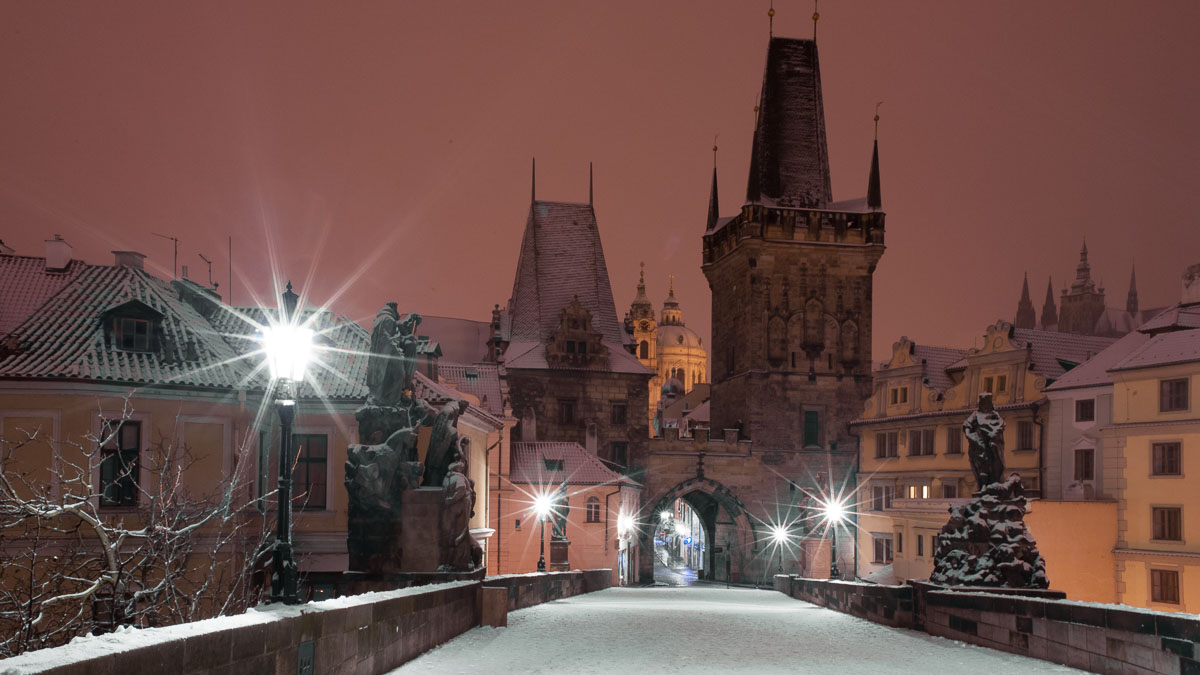 January in Prague is wonderful in its own way. Despite the calendar winter is already in full play the weather is quite comfortable. Roofs of the houses covered with snow, shopping windows still decorated with string of lights and Christmas balls create the impression of a magic fairy tale. I can say that there is still an atmosphere of Christmas and New Year especially in the evening when artificial illumination is turned on and the city shows itself in another light.
Weather in January in Prague
January in Prague is considered to be quite a cold month with the average temperature from 0°C to -1 °C during the day time and from – 2°C till -4 °C after dark. In warm days the temperature is from +1 to +6 °C. In January, Prague enjoys an average of three hours of sunshine each day.
Across January, wind speeds range from 2 m/s to 6 m/s, almost never exceeding 14 m/s. What concerns atmospheric fallout: we can divide the month in 15 rainy days and 11 snowy days.
Look at the average parameters:
Day average temperature: – 1 °C;
Night average temperature: – 2 °C;
Number of sunny days: 2;
Average rainfall: 20 mm;
Relative average humidity: 85%.
What To pack and what To wear?
Of course, you should dress for the weather, as it's difficult to predict whether it's going to rain or not, make sure you pack some water-proof clothing or an umbrella. Take a scarf, hat and a pair of gloves as well. And please pay special attention to the shoes: your footwear should be comfortable, water-proof and quite warm.
Things To Do And Places To See
Prague is rich in winter attractions: various icerinks, ski slopes, as well as special children's play areas. Also you could devote your time to the most significant museums of the city, believe me they are worth to visit. Of course, do not forget about so popular Czech restaurants and bars. Book one of the private tours in Prague. For those who are fond of shopping, Prague shopping-malls open their doors for you, it's a period of sales that start from 5-6th of January and last till the end of February.
January Holidays And Events In Prague In 2018
There are 3 main holidays that locals celebrat in Czech Republic in January: New Year and Restoration Day of the Independent Czech State (on the same day – 1st of January), Three Kings day.
A meaning of New year is quite clear it's a holiday of the first day in a year. Actually, in Czech Republic people give preference to Christmas which is celebrated on a large scale. Though New Year is also a holiday with street parties and fireworks. Restoration Day of the Independent Czech State is a day of formation of Czech Republic independent from Slovakia. That's why on the 1st of January you will see amazing fireworks.
Three Kings day – a religious holiday that on the 6th of January. It is about three wise men, who according to the Bible, came to Bethlehem to meet the baby Jesus, to whom they gave three gifts: gold, myrrh and frankincense. On this day every year a traditional fancy-dress demonstration takes place.
I sincerely hope, that you find January in Prague as a suitable month for your trip. In case you are not sure or still have questions, feel free to ask them in the comment below. Also for my readers I make travel plans. Write a message with dates of your trip, budget, number of people and wishes for Prague to (mail@vovanovaque.com). From my side I will compile the plan and share it with you.