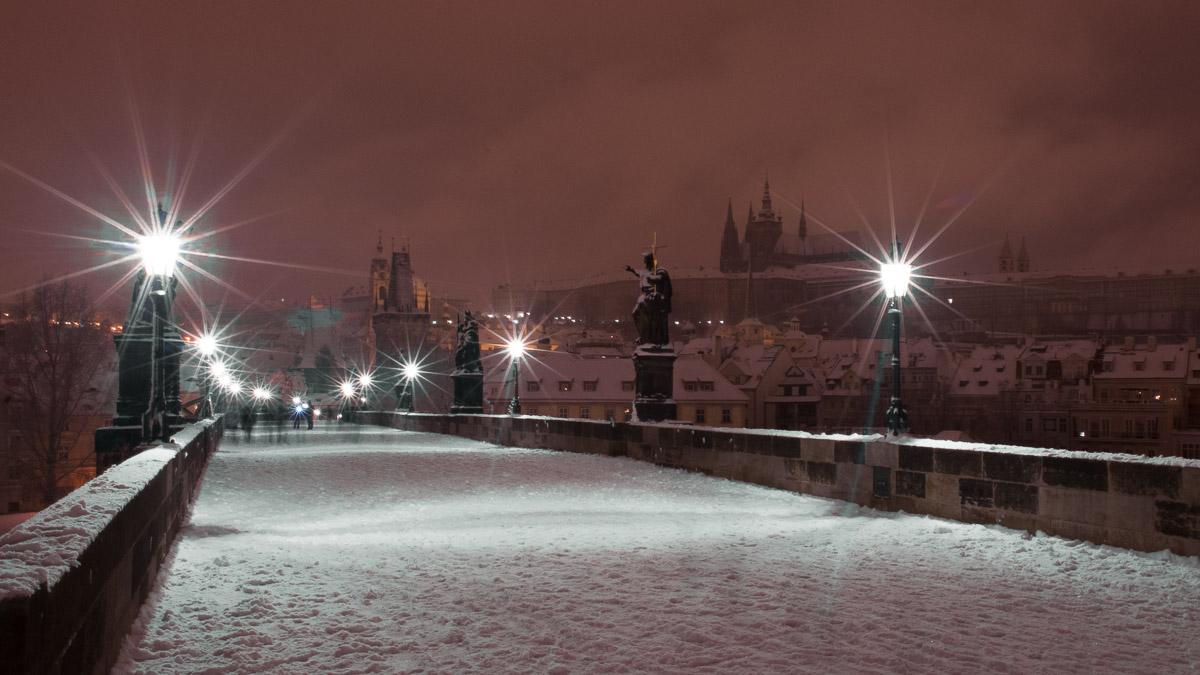 Czech capital is a city that is magnificent in any season and in any weather. So do not hesitate find yourself in February in Prague. Believe me, you will definitely love it. First of all, you might catch some snow. The 14th of February is a nice date for a romantic trip. Moreover, there are almost no people!
Weather in February in Prague
As everywhere in Europe the weather in Prague in this time of the year is freak and changeable. February in Czechia is quite a severe winter month but step by step winter begins to lose its ground. March is already round the corner. The average figures are:
Day average temperature in February: + 2 °C;
Night average temperature in February: – 5 °C;
Sunshine hours: 3-4;
Average rainfall in February: 20 mm;
Relative average humidity in February: 85%.
What To pack and what To wear?
As I've already mentioned February is a cold and damp month, do not neglect warm clothes. The best choice will be a down jacket, a sweater, a scarf, a hat and gloves. Give preference to warm, comfortable flat-soled-shoes. You will walk a lot so be well prepared. Also take an umbrella as the weather is unpredictable.
Things To Do And Places To See
When it is getting cold outside go to any of Prague museums or visit exhibitions and galleries. Luckily the variety of places with social heritage is big. Winter in Prague is a peak season of theatre and concert performances. So jump at the chance to connect with art.
Also all the winter in Prague open various ice rinks, ski slopes and special children's play areas. For adventure travelers in Prague work aqua parks, swimming pools and an air tunnel. If you are traveling with children visit Prague zoo. And a good news for shopping addicts the sales period in shopping-malls has not finished yet, it lasts till the end of the month.
February Holidays And Events In Prague In 2018
February is remarkable by very interesting events. The first one is a Meet-Fare Sunday that people start to celebrate at the end of January – the beginning of February (according to the religious calendar) but the high point of celebration is the last week before the Great Fast. There are magnificent parades, fancy-dress demonstrations and theatre performances accompanied by street orchestras. The most showy events take place in Zizkov district.
The second event of the last winter moth is a Bohemian Carnival (the last day before the Great Fast). It's a unique action full of fresh colors and gastronomic diversity. Main street parties are held on the Old Town Square. For lovers visiting Prague in February is a nice opportunity to celebrate the most romantic holiday of the year, St Valentine's Day, in one of the most romantic places in Europe.
I sincerely hope, that you find February in Prague as a suitable month for your trip. In case you are not sure or still have questions, feel free to ask them in the comment below. Also for my readers I make travel plans. It is enough to write a message with dates of your trip, budget, number of people and wishes for Prague to (mail@vovanovaque.com). From my side I will compile the plan and share it with you.