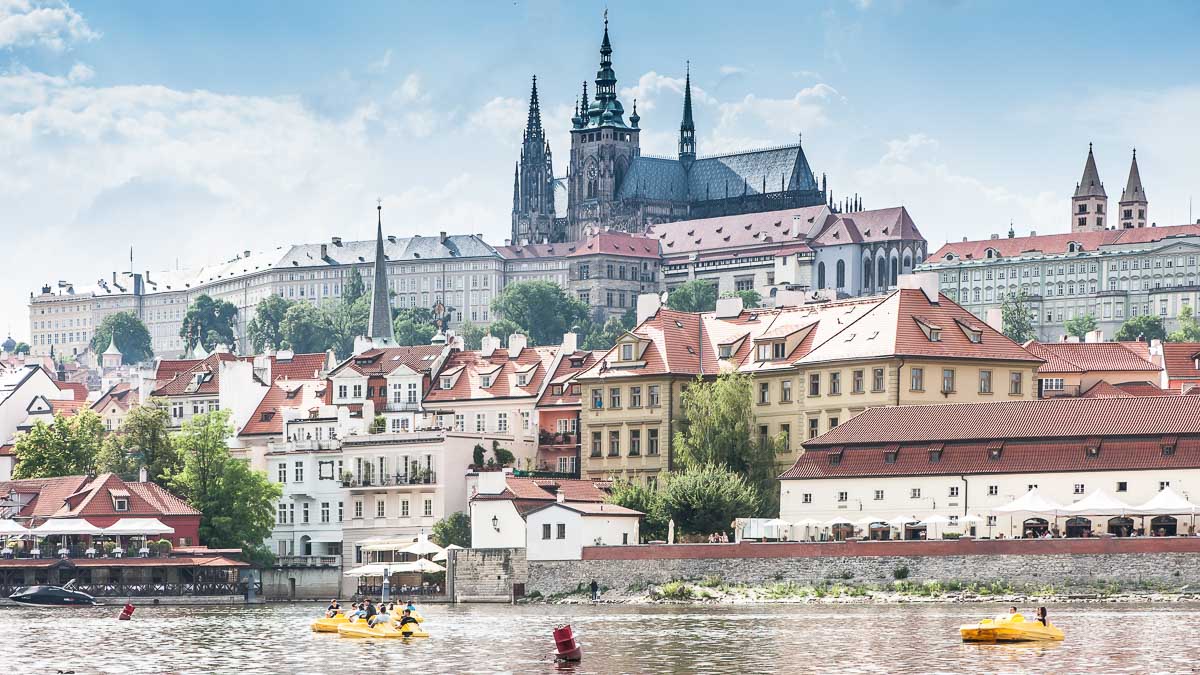 July in Prague — the month of hot sun, many tourists and lot of beer. It's not a secret that July in Europe is a holiday season. And Prague becomes one of the most desirable destinations for tourists coming wither for a short or long visit. Thanks to good weather, bright sunlight and green gardens, the city is covered by cheerful relax atmosphere.

Weather in July in Prague
July is the warmest month of the year. But the average temperature in Prague is quite comfortable and grow to 24 °C above zero. At night the temperature lows of +14 °C. Sometimes the temperature can rise as high as +35°C. But it doesn't happen every year. The sun rises at 5 a.m. and is setting at 9 p.m.so you have plenty of time to make friends with the city.
Look at the average figures:
Day average temperature: + 23 °C;
Night average temperature: +14 °C;
Sunshine hours: 9;
Average rainfall: 69 mm;
Relative average humidity: 70%.
What To pack and what To wear?
Take comfortable summer clothes, a swimming suit, sunglasses, a cap. Though some warm clothes as a jacket or a sweatshirt to put on, if you continue walking after the sunset. Remember the main rule of a tourist – your footwear should be rational, give preference to flat-soled-shoes like sandals, sneakers or mule shoes.
Things To Do And Places To See
As you know Prague is rich for different sightseeings options. The choice of attractions is really great. You may walk along the streets of Old and New Town, go cycling through the city, choose river cruise or rent a rowboat or pedal boat. Those who got tired after long walking tours, could visit open air swimming pools in Prague.
July Holidays And Events In Prague In 2018
There are 2 public holidays in July. The first one is Saints Cyril and Methodius Day (5th of July). It's a public and a religious holiday at the same time. The second one is Jan Gus Day (6th of July). Jan Gus was a priest and a church reformer who argued against the doctrines of the Roman Catholic Church. You could see a monument devoted to Jan Gus in the center of Old Town Square.
From 19th to 22d of July "Prague Folklore Days" will take place in the Czech capital. It will be a 12th annual international meeting of folk groups from all over the world. The festival will last four days at the main city squares (the Old Town Square, Wenceslas Square and Republic Square). Amateur folk groups will present their own style of folklore. On Saturday afternoon there will be also a parade of all ensembles through the city center of Prague.
Find July in Prague as a suitable month for your trip. And feel free to ask any question in the comment below. Or drop me a message with dates of your trip, budget, number of people to (mail@vovanovaque.com). I will compile the plan and share it with you.