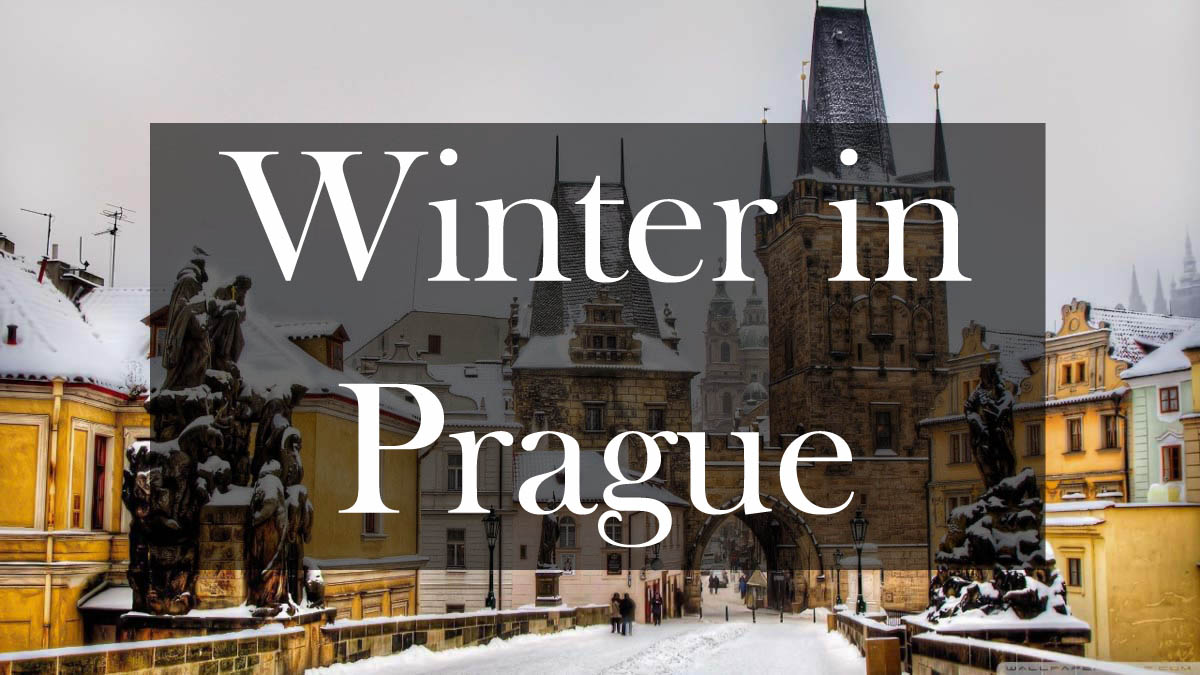 Winter in Prague attracts tourists and brings them new spectrum of emotions. Despite the fact that the weather is unpredictable, it is not an excuse to delay the visit to the Czech capital. In this article we will disclose what winter in Prague is, the weather and what to wear.
Winter in Prague
Everyone knows that the weather is as capricious as a child and it's impossible to predict what we will face during the next season. Characterizing winter in Prague, usually it is snowy, sunny and frosty. But, of course, some unpredictable meteorological conditions also happen.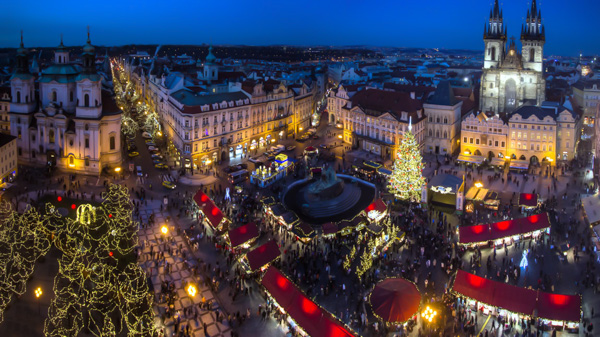 In this article I tried to mention every necessary point for a traveler to be prepared and know what to pack.
In winter tourists attractions look really wonderful. Moreover, there appear Holiday Markets on squares. There you can try famous Czech goodies, warm drinks, speak with locals and enjoy the time. For example, Old Town Square is the central point of Christmas in Prague.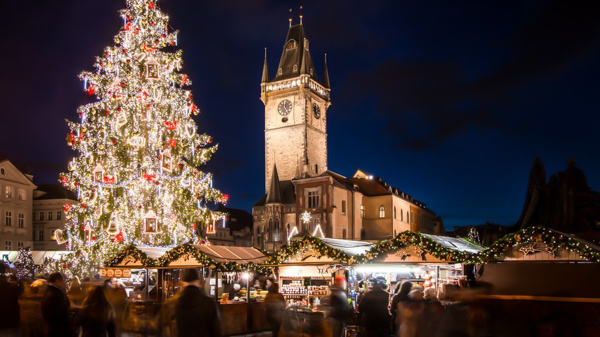 There appear hundreds of stalls with food, souvenirs and presents. Besides, there is a main stage where a lot of concerts take place.
Average temperature during winter in Prague
Prague owns a good geographical location and has quite good weather in winter. Coming here you will have a chance to enjoy this marvelous time of the year but also you will avoid complete freezing. Here is the average temperature:
December: 4°C (39°F);
January: 3°C (37°F);
February: 5°C (41°F).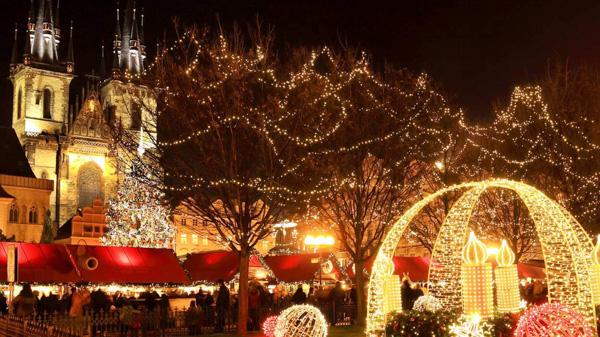 Packing your bag keep in mind that all winter months in Prague bring about 6 rainy days, 11 snowy and approximately 2 sunny days. This fact is unpredictable, however you can watch the forecast and be prepared to everything.
December
Prague in December is wonderful, because of all-round preparations to Christmas it becomes majestic. Everything outside begins to shine and sparkle giving more warmth to overall atmosphere. It often happens that the weather coddles Prague visitors with sun and light freeze without strong winds and rain falls.
Weather in December in Prague
The weather in December is usually cloudy, rainy or snowy. In the middle of the month the temperature starts to drop down to 0°C. The amount of average precipitation is only about 22 millimeters and usually it is snow or light rain. The days are short and it is getting dark after 4-5 p.m. Due to the high level of humidity and quite cold weather you should take winter clothes including thick coats, scarves, gloves and hats.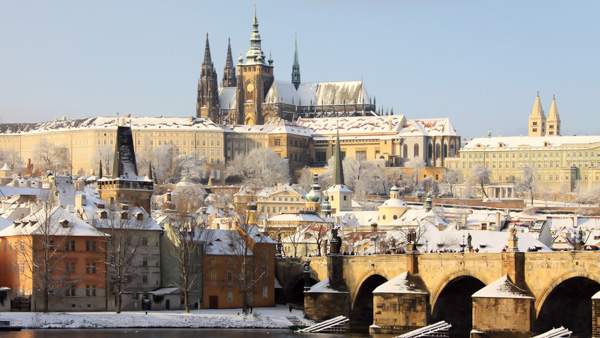 Just make sure you stay warm during your holiday in Prague. Besides, give preference to comfortable waterproof footwear.
Day average temperature in December: +2 °C;
Night average temperature: -2 °C;
Number of sunny hours: 1;
Average rainfall in December: 26 mm;
Relative average humidity: 81%.
As we have mentioned before, at this time Prague turns into a real fairy-tale miracle. All shops, stalls and main squares wear special decorations, thus adding more feelings to the festive mood. First of all, visit the main Old Town Square's market. The place attracts both local and tourists by giving them entertaining, carol singing, delicious street food and warm up drinks. Besides, it is the home of the biggest Christmas tree in Czechia!

Also include into your to-do list visiting of Bethlehem Chapel. Every winter there appear wax Nativity scenes such as: Little Jesus with Maria made from sheep fleece, Prague's Nativity scene with Rudolph II and Franz Kafka, Czech fairytale characters Křemílek with Vochomůrka and Rumcajs with Cipísek.
January
January in Prague is special in its own way. Despite the calendar, the weather is quite comfortable. Roofs of the houses covered with snow, shopping windows still decorated with lights and Christmas trees. All of these create the impression of a magic fairy tale. I can say that there is still an atmosphere of Christmas and New Year especially in the evening.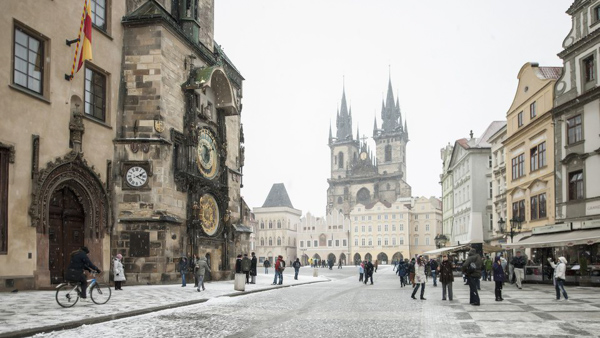 All illumination is turned on and the city shows itself in another light.
Weather in January in Prague
January in Prague is considered to be quite a cold month with the average temperature from 0°C to -1 °C during the day time and from – 2°C to – 4 °C after dark. In warm days the temperature varies from +1 to +6 °C, but sometimes it drops -10 or more below zero. Across this month, wind speed ranges from 2 m/s to 6 m/s.
What concerns atmospheric fallout: a month could be divided in 15 rainy days and 11 snowy days.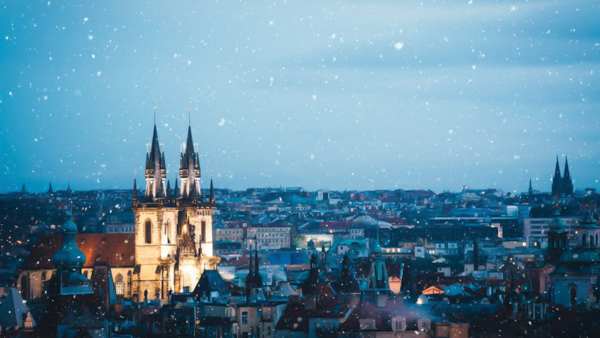 Of course, you should dress for the weather, as it's difficult to predict. Make sure to pack some water-proof clothing or an umbrella. Take a scarf, hat and a pair of gloves as well. Pay special attention to the shoes: your footwear should be comfortable, water-proof and quite warm.
Day average temperature in January: – 1 °C;
Night average temperature: – 2 °C;
Number of sunny days: 2;
Average rainfall in January: 20 mm;
Relative average humidity: 85%.
Events in January in Prague
Well, doing to Prague at the end of December you will face the biggest party of the year – New Year celebration. It takes place on Old Town Square and lasts all night long. All bars, pubs, restaurants and clubs are full of people. Moreover, you can watch fabulous firework when the clock strikes midnight.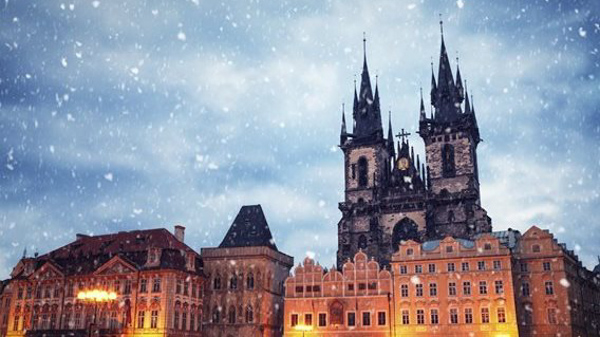 If the weather is not walking-friendly, you can visit Prague's museums or galleries, get acquainted with traditional Czech food or world-known beer.
February
February in Prague is usually cloudy and sometimes rainy. But in spite of grey days Prague is a place that can surprise and inspire. That is why it's worth visiting in any time of the year. Nevertheless, if the weather is really bad this articles may be helpful: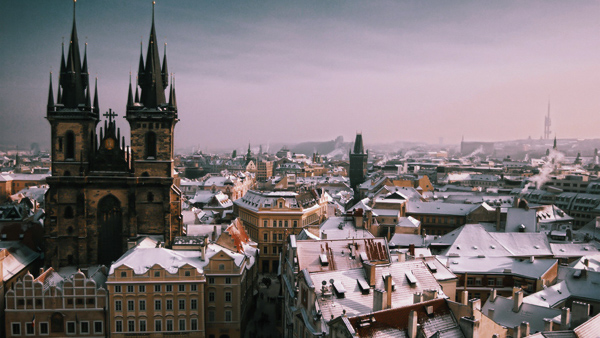 Weather in February in Prague
As everywhere in Europe the weather in Prague in this time of the year is freak and changeable. February in Czechia is quite a severe winter month. But March is already round the corner and days become longer. The average temperature is +2 °C during a daytime and -5 °C after dark.
As I've already mentioned February is a cold and damp month, so do not neglect warm clothes. The best choice will be a down jacket, a sweater, a scarf, a hat and gloves. Give preference to warm, comfortable flat-soled-shoes. You will walk a lot so be well prepared.
Also take an umbrella as the weather is unpredictable.
Day average temperature in February: + 2 °C;
Night average temperature: – 5 °C;
Sunshine hours: 3-4;
Average rainfall in February: 20 mm;
Relative average humidity: 85%.
Events in February in Prague
This month is quite unpredictable, but in any case you have more time for discovering main attractions, interesting contemporary statues or enjoy Prague's nightlife and other cultural events. But other than that you can spend time ice-skating on open-air rinks. They appear on the main squares in Prague and other popular spots.
Tours
Winter in Prague is really charming and you will have a lot of fun here. Therefore start planning your trip to Czechia. We provide you with the best private Tours with Local Guide in Prague. Feel the capital of Czechia as if you are a local!