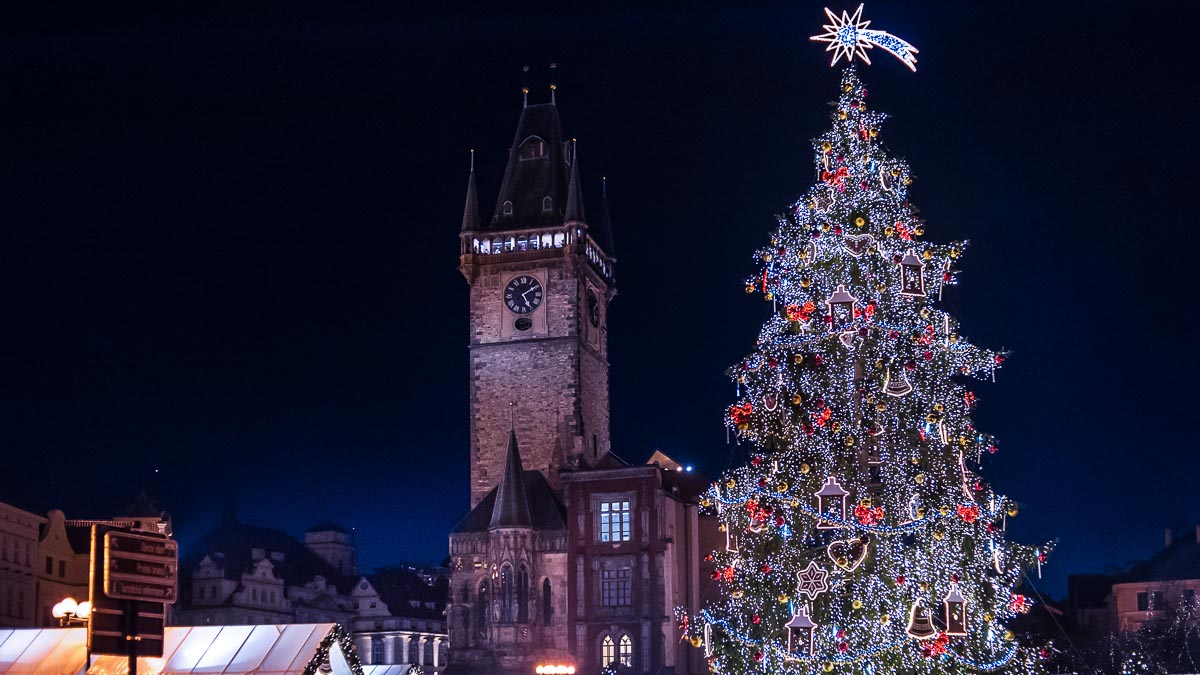 December in Prague is a magic month. The city becomes so picturesque because of all-round preparations to Christmas celebrations when everything begins to shine and sparkle. It often happens that the weather coddles Prague visitors with sun and light freeze without strong winds and rainfalls.

Weather in December in Prague
The weather in December is usually cloudy, rain or snow precipitation could also happen. In the middle of month the temperature begins to drop to 0°C, but usually not less than this mark. The average figures during the first winter month are:
Day average temperature: +2 °C;
Night average temperature: -2 °C;
Number of sunny hours: 1;
Average rainfall: 26 mm;
Relative average humidity: 81%.
What to pack and what to wear?
Due to high level of humidity and quite cold weather you should take winter clothes including thick coats, scarves, gloves and hats – to make sure you stay warm during your holiday in Prague. Give preference to comfortable waterproof footwear. I strongly recommend wearing flat shoes, with proper sole for slippery Prague cobblestones.
Things To Do And Places To See
Prague is a city of hundred spires, castles and landmarks. Go to a walking city tour with local guides and see all this beauty with your own eyes. When you are cold you may go to a museum or an exhibition, there are many of them in Prague. For those who like active leisure visit one of numerous ice-rinks or ski slopes. And of course, do not forget about so popular Czech restaurants and bars, it would be such a pleasure to have a rest in a cozy place.
Holidays And Events In Prague In December 2018
During the month in the city of Prague work Christmas Markets. There are many brightly decorated wooden huts stocked with handicrafts and local food and drink. You could find here nice souvenirs to take home and taste traditional Christmas food.
An interesting holiday of St. Nicholas Day is celebrated on 5th of December. Don't be afraid when you meet a group of strange people in costumes in the street, they are characters:
St. Nicholas;
the Angel who represents the Good;
the Devil representing the Evil.
The tradition of St. Nicholas comes from a 4th-century Christian saint, Nikolaos of Myra, who it is said secretly gave gifts to people.
On 15th of December Magnetic Festival will be organized. It's the highest indoor Electronic Dance Music festival in Central and Eastern Europe. The event will take place in the Exhibition Centre Prague. 24th of December is a Christmas Eve. It is a wonderfully peaceful day in Prague, the day of preparation to Christ birth. On 25th of December Christmas comes. The markets and shops are open, and tourist attractions and sightseeing tours operate as normal.
I sincerely hope, that you find December in Prague as a suitable month for your trip. In case you are not sure or still have questions, feel free to ask them in the comment below. Also for my readers I make travel plans. It is enough to write a message with dates of your trip, budget, number of people and wishes for Prague to mail@vovanovaque.com From my side I will compile the plan and share it with you.
How I book hotels, when I travel?