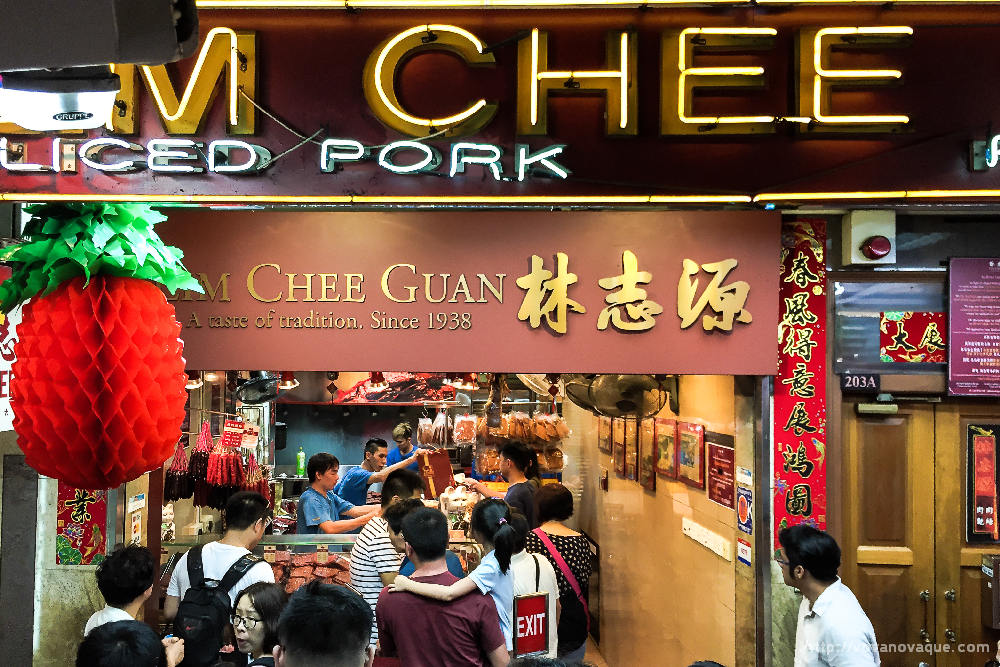 Another tasty discovery was Bak kwa in Singapore. It was love from the first sight. And the the best place to taste this traditional BBQ street food dish in Singapore is Lim Chee Guan. These are not only new words to learn, but also quite a unique dish to eat. Let's have a look at the this short video to see how this meat speciality looks like.
These are delicious slices of meat cooked in a sweet and spicy sauce, which makes it absolutely unique. This is Bak kwa in Singapore.
Lim Chee Guan – best Bak kwa
There are a lot of places to eat Bak kwa in Singapore. Some of them are located in shopping molls and in the markets. But the most popular "restaurants" you will find in Chinatown. And among all of them one place is extremely popular with locals and tourists. It is Lim Chee Guan.
They started their long way in 1938 when the first portion of BBQ pork was grilled there. Since that times they have sold tones of Bak Kwa meat in Singapore. The pick of season for this local dish is Chinese New Year. This is the period when people buy even hundreds of kilos in one hands. The queue can be 3-4-5 and sometimes even 6 hours long.
Look at this video below. It took me about 2 minutes to get through the line of hungry people waiting for their turn to buy Bak Kwa in Lim Chee Guan.
Unfortunately, I didn't have enough time to stay in the queue to buy this very type of Bak kwa. I picked slices in various kiosks where they cook and sell this BBQ pork. It is absolutely delicious: a bit spicy, a bit sweet and very unusual. The price for a kilo of Bak kwa in Singapore varies between 40-45 and 50-55 dollars. Longest queues are in the period of Chinese New Year when most of locals and tourists are hunting Bak kwa as it is a traditional gift.
If you are lucky to find Lim Chee Guan with less people than in the video above, stay in the line to buy the best bak kwa in Singapore. To my mind it is one of the dishes besides Chilli Crab you have to eat in Singapore.
Where to buy bak kwa in Singapore?
As I said, there are a lot of places in Singapore where one can try or buy bak kwa meat. But if you would like to visit Lim Chee Guan in Singapore, please find below the 3 addresses.
Addresses:
203 New Bridge Road, Singapore 059429 (main branch)
1 Park Rd, 01-25 People's Park Complex, Singapore 059108
2 Orchard Turn, B4-37 ION Orchard, Singapore 238801
Opening Hours: Daily from 0900-2200hrs
Telephone: +65 6227 8302
Website: www.limcheeguan.com.sg