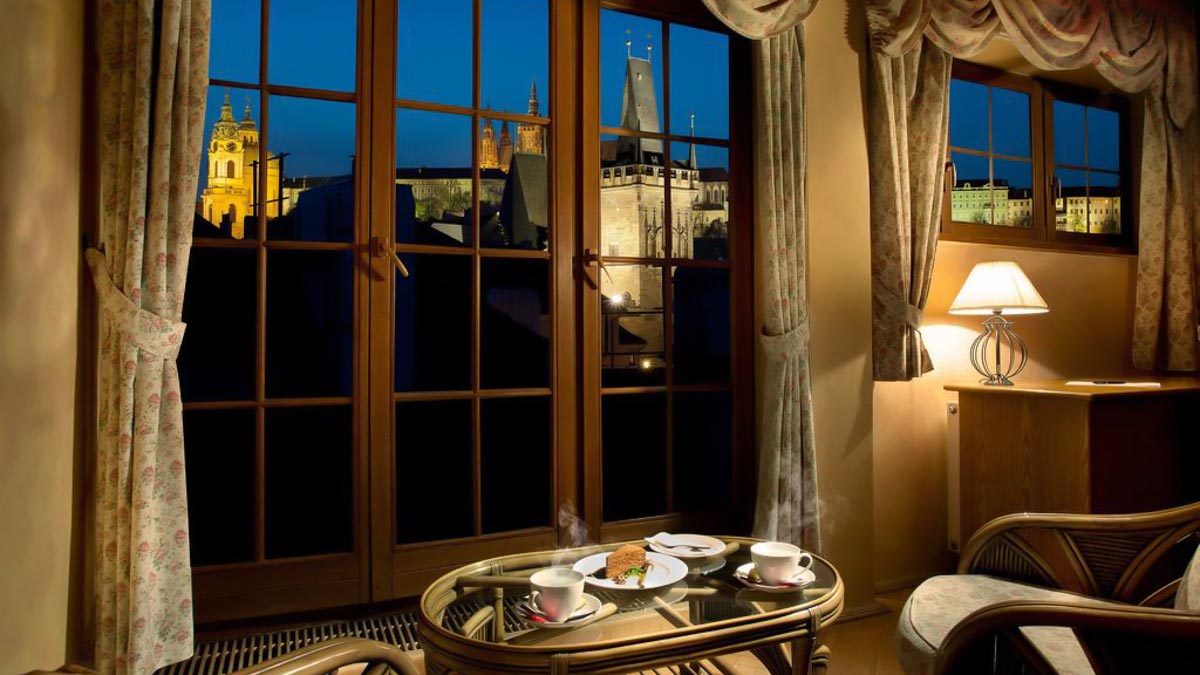 Prague's cultural side needs a lot of time for exploring. That is why staying in the city center helps a lot with it. In this article we will speak about the best hotels near Charles Bridge in Prague. We will mention description, location, amenities and service.
Among all hotels near the Charles Bridge the following have the closest location and highest review scores: Hotel U Jezulatka, U Zlatych nuzek, Archibald at the Charles Bridge, U Zlateho Stromu, Hotel Certovka, U Páva, Charles Bridge Palace, Four Seasons Hotel Prague, Hotel Kampa Garden, Smetana Hotel.
Hotel U Jezulatka Prague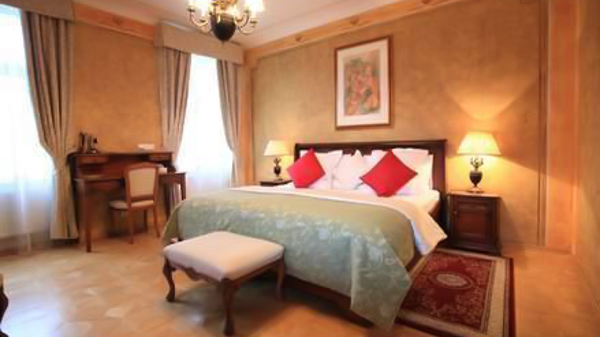 Only 200 meters from Charles Bridge, the 4 star hotel is located in the old 16th century building. It was restored but still represents the unique charm of the Bohemian life, despite it is small. Besides this, the hotel offers a wide range of amenities for a comfort staying.
Free Wi-Fi, flat screen TV with satellite channels, breakfast in the room, stylish interior and cozy atmosphere are in all units. Moreover, there is an elegant on-site Club Restaurant with a view over Charles Bridge.
U Zlatych nuzek Prague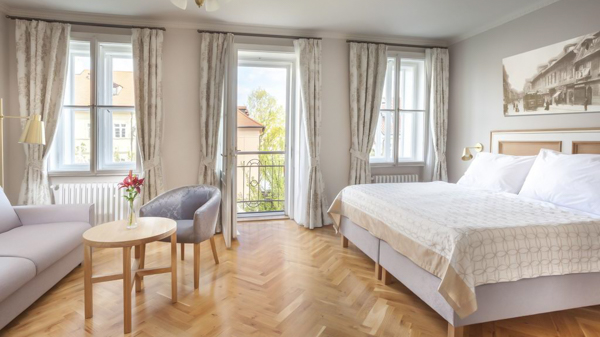 The next place in our list of hotels near Charles Bridge occupies exclusive location on the Kampa Island. There is a restaurant with a summer terrace offering local Czech national dishes as well as wine and traditional beer.
Rooms have free Wi-Fi, satellite TV, deposit safe box and a mini bar. If you are going there by car or want to rent a car in Prague, the hotel offers private parking 10 minutes away from the property.
Archibald at Charles Bridge Prague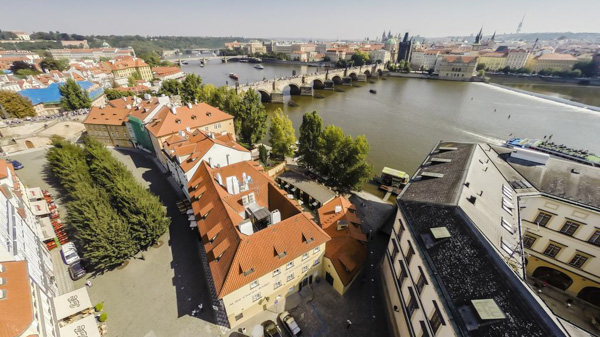 This is another great place to stay in near the famous bridge. Moreover, Prague Castle and the Old Town are within a walking distance from the property. The building of the hotel has the National Heritage Council protection, as it dates back to the 16th century.
Speaking about the services here, they are: free Wi-Fi, complimentary brunch, free of charge working space with PC, restaurant with excellent cuisine. Furthermore, amenities include everything a tourist needs for a comfort staying.
U Zlateho Stromu Prague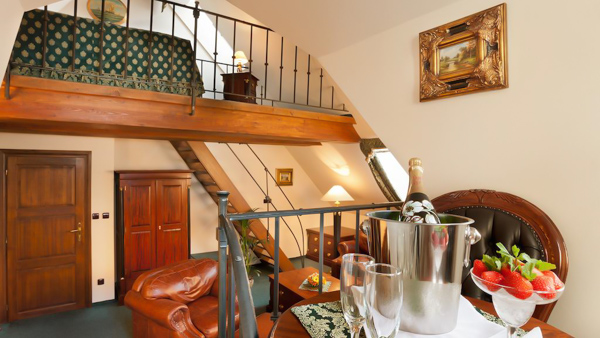 Only 200 meters from the bridge and the bank of Vltava River, the property offers good accessibility to all sights. The interior of the rooms represents the Renaissance style, with painted ceilings and elegant furniture.
Besides, after discovering Prague you can take a rest in the on-site restaurant here. It serves national Czech and international cuisine. In addition, down steps there is the Music Club.
Hotel Certovka Prague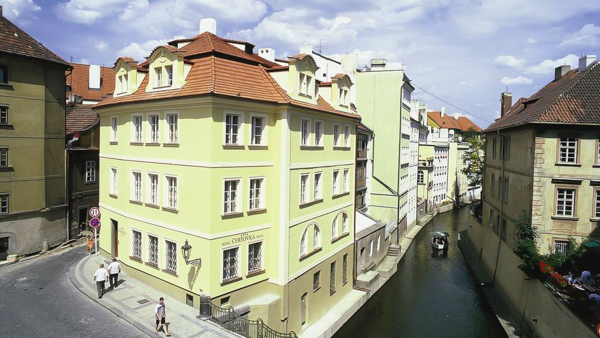 4 star Certovka Hotel owns location on the bank of Vltava River near the Certovka channel. For you to have pleasant emotions, both service and amenities are on high level. Rooms include elegant furniture, satellite TV, mini bar and private bathroom.
Most noteworthy, the bigger of them open a view over Charles Bridge and Prague Castle. The place serves breakfast every morning. Nevertheless, many restaurants, bars and cafes are nearby. Furthermore, on request the hotel provides airport shuttles for an additional fee.
U Páva Prague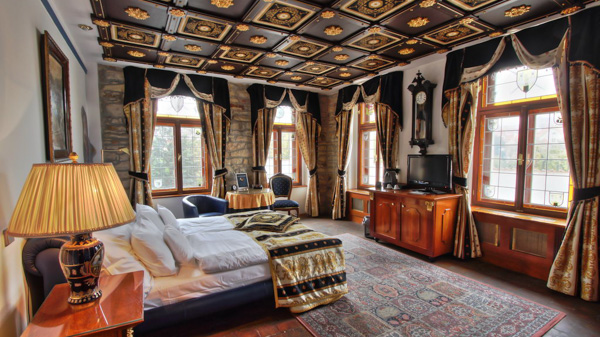 Let's continue our list of hotels near Charles Bridge with a cozy family run property. The bridge, the Kampa Island and other attraction are nearby. The Old Town Square is also within 15 minutes stroll across the river.
In this small historic building you will meet all amenities: free Wi-Fi, original furniture, air conditioning, etc. The rooms provide unique design and magnificent views. In the on-site restaurant you can enjoy daily breakfast. In the cellar there is a club wine bar.
Charles Bridge Palace Prague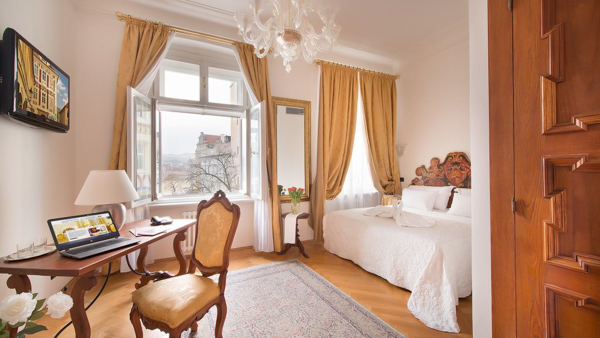 Owning a central location 150 meters near Charles Bridge, the hotel features a wide range of services. The Jewish Quarter is within 15 minutes from here. There is an on-site restaurant with local dishes, there are rental cars options, laundry and a concierge services.
The interior presents elegant decoration combining it with the modern amenities like air conditioning, flat screen TV, mini bars, and marble bathrooms. Almost all rooms have a view over the Vltava River and Prague Castle. Amazing variant to stay in Mala Strana.
Four Seasons Hotel Prague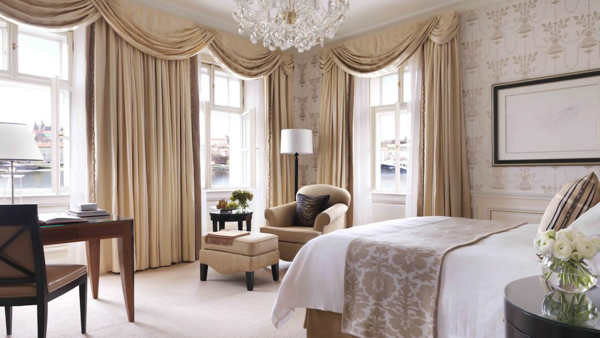 This 5 star hotel is located in the Old Town and offers units with a view over the Prague Castle and the famous Charles Bridge. It has the restaurant Cotto Crudo with Italian dishes, also has a raw bar, a cheese cave, a wine cellar, a salami and prosciutto tower.
To have a great time here you can enjoy AVA Spa overlooking the Prague Castle. You will also have a chance to take an advantage of unique facial and body treatments as well as thermal baths. The complex consists of 4 buildings, 3 of them are historic ones. All rooms have free Wi-Fi, flat screen TV, mini bar, bathroom, a seating area. Private parking is also available.
Hotel Kampa Garden Prague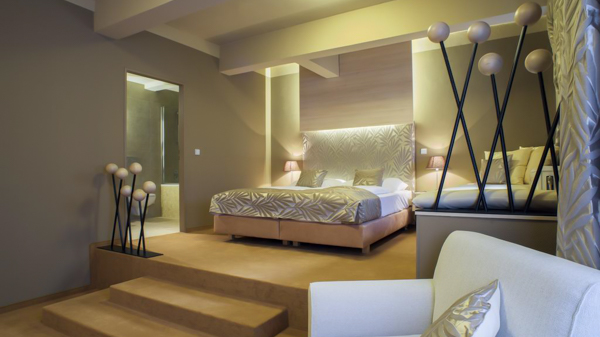 Kampa Garden has a quiet location only 300 meters from the bridge on the Kampa Island. It has a cozy interior with nice décor elements that create its special mood. Moreover, on request the hotel offers private parking for an additional fee.
Among the amenities hotel provides free Wi-Fi, airport shuttles, flat screen satellite TV, mini bars, private bathrooms and a buffet. Everything here is made for your complete relaxation after long walks around the city.
Smetana Hotel Prague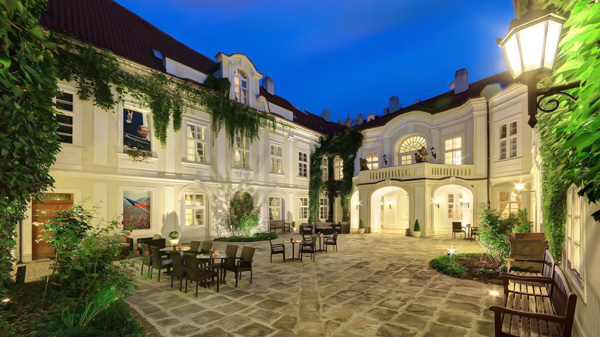 The last, but not the least is a 5 star Smetana Hotel. It is located within 5 minutes from the Old Town Square and 1 minute to Charles Bridge. Most noteworthy, there stayed Mozart during visits to Prague. At an extra fee guests are offered in-room massage procedures.
All units have free Wi-Fi, air conditioning, mini bar, tea or coffee making facilities. Every day the hotel offers a-la-carte breakfast. In the on-site Café La Crema and Atelier Kalina you can enjoy best dishes of Czech cuisine and meals from all over the world.
Hotels near Charles Bridge in Prague Review
The places in our list of hotels near Charles Bridge in Prague have the highest review scores and excellent location. The service, interior and comfort will meet or exceed your expectations, so your time in Prague will be great! Besides, leave your thoughts and reviews in the comments below!