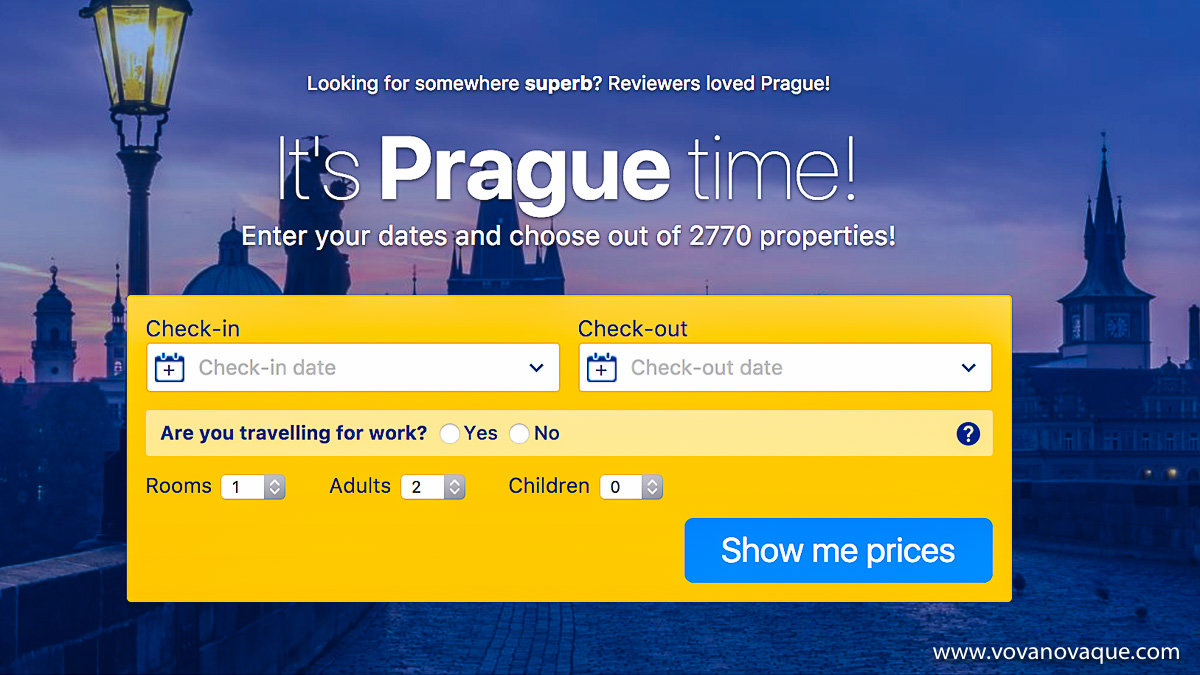 Today I will share with you insides and manual of how to book a good room in hotel in Prague, hostel or apartments by yourself and for reasonable price in with comfortable location. So, if you are planning a trip to Czechia, read carefully this information, which I picked up from my touristic experience and experience of staying in the hotels of my tourists. Best locations, prices, reviews and facilities were thoroughly processed to make this article.
Read, learn and save this page in bookmarks!
As many other European cities the Czech capital becomes more and more popular with tourists and travelers, businessmen and students, therefore new hotels, hostel, apartments constantly appear in the map of the city. So how not to get lost and to choose the place to stay in Prague according to your budget, needs and location required?
The dates of arrival and departure
The first thing of planning a stay in hotel is the date of check in and the date check out. I know that sometimes people search for cheaper offer and try to fit the dates of the trip to the offers, but from my travel experience I can say, that on every date, unless it is state holidays, New Year or busy days like that, you can find reasonable price in good areas. Of course the earlier you book, the more variants you find.
The best and the most reliable service I have been using for hotel booking in Prague and other European cities is BOOKING COM. This is the biggest resource with the most attractive offers, easy search forms and numerous filters, which help to pick up the most suitable room in the hotel. Let's see, how you can use it in the best way to find your place in a new city.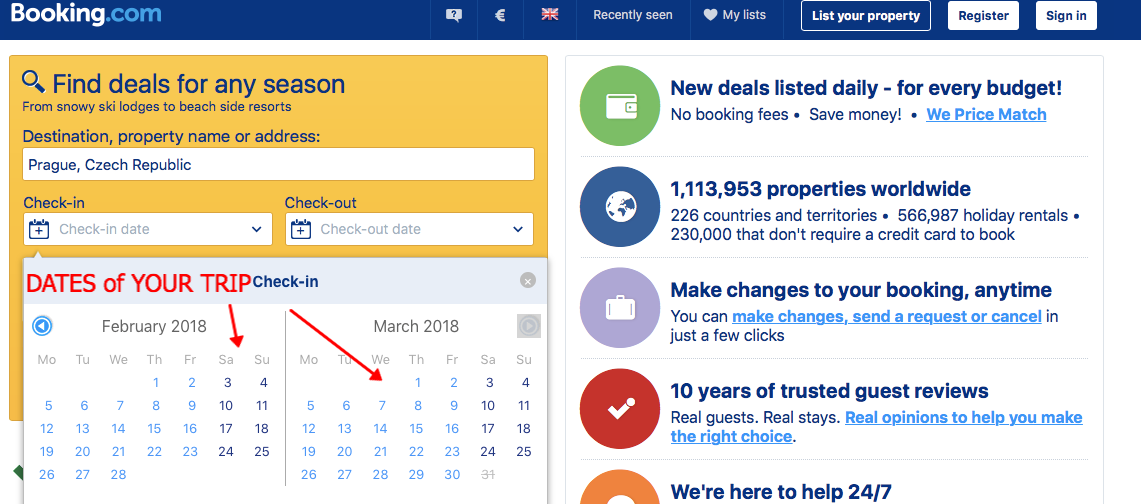 When the dates of the trip to Prague are set, you have to think of the budget you are ready to spend for one night. There are options from 5 star hotels of 1000 Euros per night as well cheap hostels of 4-10 Euros per night in a big room with other people. It all depends on the comfort one would like to get. Therefore we will look through different variants of prices and comfort and you will choose the best for you! So let's think about the money.
Reliable and comfortable transfer from and to airport in Prague

Budget for hotel in Prague
Prague is a perfect destination both for budget backpacker and for luxury travelers. There are 5***** exclusive boutique hotels for 1000 Euros and more per night as well as cheap hostels with rooms for 4-10 Euros per night. Below you can find possible variants of comfort and the price tourists usually pay for it.
20 Euros per night – no service just a place to sleep;
80 Euros per night – bed and breakfast in 3 star hotel;
250 Euros per night – good service, "thank you, sir" style;
1000 Euros per night – luxury living with individual service.
Location
Looking for a hotel in Prague remember one important rule: there is always a room for your budget in the city centre, of course if you look for it in advance (at least 2-3 weeks in before arriving). In the city centre I would mention areas of Praha 1, 2, 3 and 7. Look at the picture below.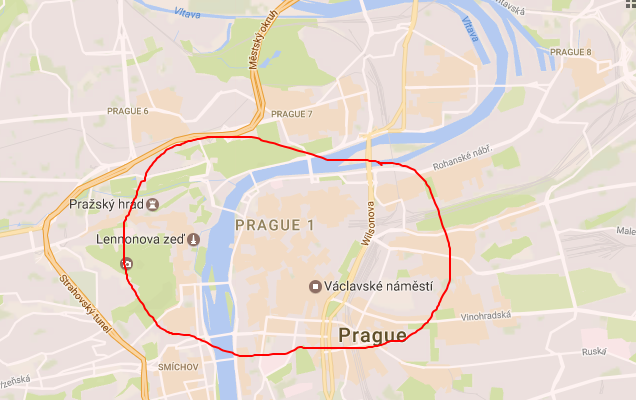 This areas are well packed with hotels, hostels and apartments of all kinds. For unlimited budgets there is only one option: book the best in the very heart of Prague. Tourists who are not going to spend on hotels in Prague hundreds of Euros per night, should not always pick up far areas. I will prove it to you below.
Manual
So let's take as the date of trip September 2017 and the budget of 80 Euros per night for 2 grownups. First you go to Booking.Com and put the initial information in: date of arrival and departure, number of people, and the point of destination of course.
Step 1: date, number of people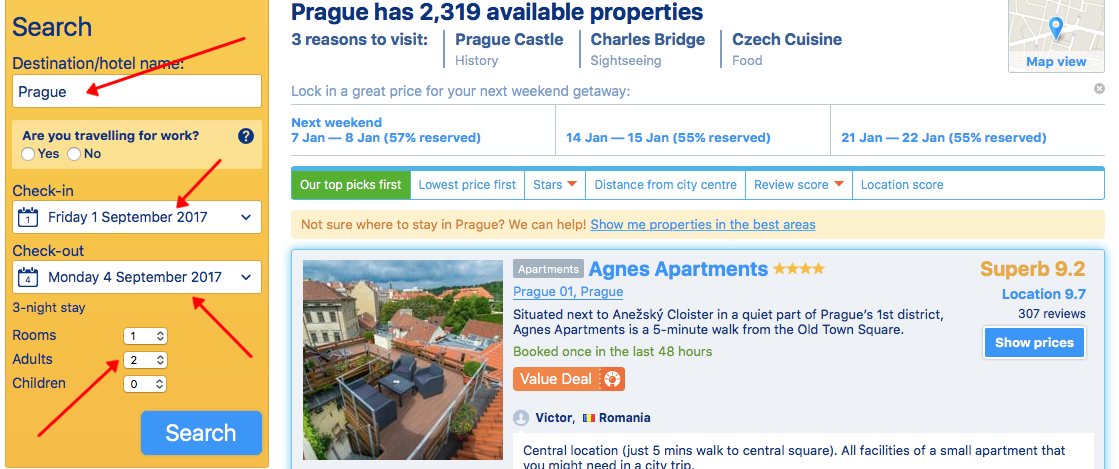 Step 2: options to choose: breakfast, deal, parking, review, price
You second step of choosing a hotel in Prague is to play with options. In the left sidebar of the page you will find filters, which help to adjust the numerous variants to your needs. So, click on what you would like to have. Choose breakfast, for example, free parking, non-smoking or anything you would like to have in your room.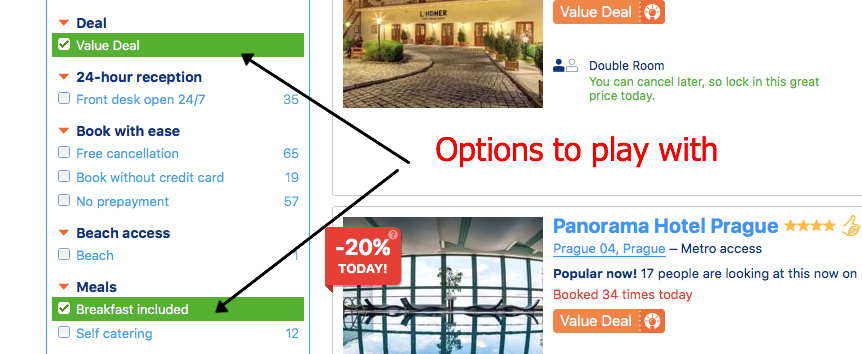 Step 3: choose among variants
Now you have the selections of hotels in Prague according to your needs, dates and budget. Looking through them, pay attention at what kind facilities they offer, location matters as well (remember: Prague 1,2,3,7) are the best areas to live in. Stars can be tricky, because if you book in advance, even the 4-5 star hotels charge quite reasonable price per night.
Step 4: booking
Different hotels run different policy of cancelation. For example in the 4 Star hotel with rating of 9.0 (which means that it is almost heaven) give a free cancelation option before certain date. So if you like the option, but still hesitate, make the reservation and look through other option in order not to miss the variant. If you find a better variant, you are free to cancel (look carefully at the rules of the hotel) and book a new one.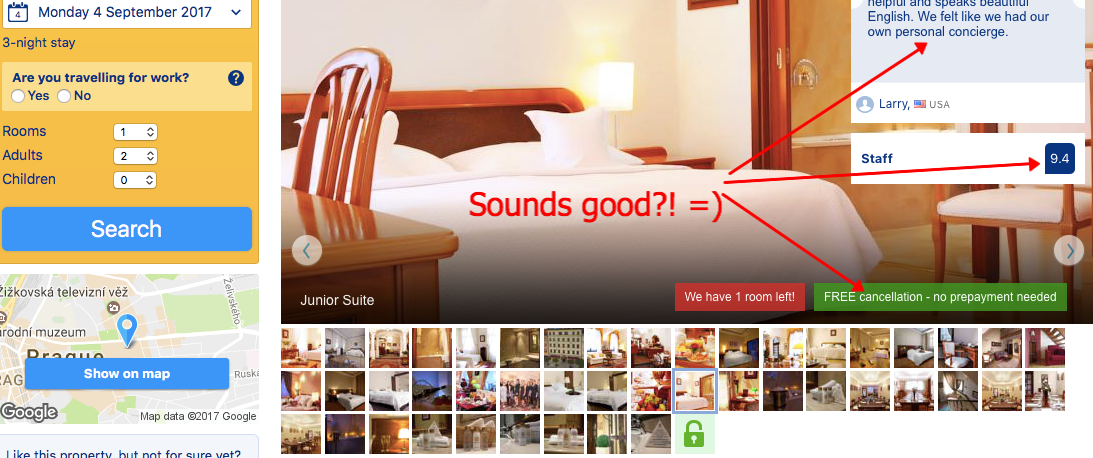 Step 5: payment, check-in, check-out
When the hotel is booked, you will receive an email with information about check-in and check-out time, breakfast and other included services. If you would like to add anything else, or have early/late hours of arrival, use the contact information from the email and discuss the requirements with the manager of the hotel.
A life-hack from me: if you are a couple, notify the manager via email that you are on honeymoon and would like to have a room with a beautiful view, if it is possible. But be very polite and may be, they will upgrade you. Sometimes they promote from a simple room to suites!
Hotels in Prague 1
Let's have a look at some hotels located in Prague area. Of course I am not able to check them all, therefore this chart is also based on the recommendations of my friends and tourists, who book my private tours in Prague.
Luxury
There is quite a number of luxury 4-5 star chain hotels, boutique hotels and apartments. To find the offers, follow the link and book the one that attracts you most of all. The prices start from 200-300 Euros per night. Each place has a restaurant and provides high quality service for the guests. Personal speak English, Spanish, German and other languages. The variants I have chosen for you have SPA, unique design and perfect location in Prague.
LUXURY IN PRAGUE – use the link to see the offers
Among the most popular are: 
Paris;
Bohemia;
Mark;
Alchymist;
Four Seasons;
Kings court;
Mandarin;
Three Storks;
U Prince;
Aria.
Good
Good hotels in Prague 1 are the ones that combine nice, clean, calm rooms with friendly service for reasonable price. There you can find variant beginning from 40-50 Euros up to 100-150 Euros. Most of them are of three stars.
GOOD IN PRAGUE – use the link to see the offers
Cheap
Cheap variant of hotels in Prague can be quite surprising. On the one hand you can find perfect service for very cheap price, but on the other it might be very difficult to find a calm room, because usually, there are the students and youngsters who want to save money on hotels. Staying in such a hotel will bring you new experience and friends from all over the world.
CHEAP IN PRAGUE – use the link to see the offers
Royal Plaza;
Palac U Kocki;
Salvator;
Kampa Garden;
Motel One.
Apartments
From experience of my friends and tourists for families or groups with more than 3-5 people it is better to find a proper apartment in the city centre of Prague. For this purpose I sometimes use Airbnb service, which is quite good, but after the trip to Barcelona and Salou I don't fully believe the pictures that I see on the pages of Airbnb. For those who wants to try I share the invite link which will give you and me each 33 Euro credit for the following trip. This is the link.
Now if I need to find apartments, I still use booking dot com and it seems that they do have more true to life reviews and very good options of living in Prague and other cities of Europe.
USE THIS LINK TO FIND THE BEST VARIANTS OF APARTMENTS IN PRAGUE
Hostels
According to the statistics, there are several hundreds of hostels in Prague, where tourists can sleep for quite a little sum of money, thus save more on tours, food or souvenirs. But there is a tricky moment with staying in hostels, some of them are absolutely messy and far from being comfortable, therefore pay attention at the reviews, when you are planning your trip to Prague.
With help of filters and my knowledge I have picked up the best variants of cheap stay in Prague. These hostels will provide you with perfect service, they are located in good neighborhoods and what is more important, they are quite cheap. Unless you want to book a place or a room a week before the high season like New Year or some sport events.
USE THIS LINK TO FIND THE BEST VARIANTS OF STAYING IN PRAGUE
Most popular and interesting hostels:
Post Hostel;
Charles Bridge Economic;
Plus Prague;
Ananas;
One Home;
Sophie's.
My review
I do hope, that this article will help you to find the best variant of sleeping in Prague during the visit. Use the advice I've given and go on with booking. I will strongly appreciate, if you use the links I provided in this article to book a room not only in Prague, but also in other cities you travel to. Being an official partner of Booking dot com I get a small reward for your bookings (it doesn't cause any price changes), and this money helps me to develop the project and travel more to share my personal experiences with you. Save this link http://www.booking.com/index.html?aid=963449 to your bookmarks and use when planning a trip.
So as you see it is very easy to find a good hotel in Prague and to book it by yourself according to the dates, budget and the level of quality you require. If you still have any questions, opinion to share or review of a place to leave, welcome to the comments below.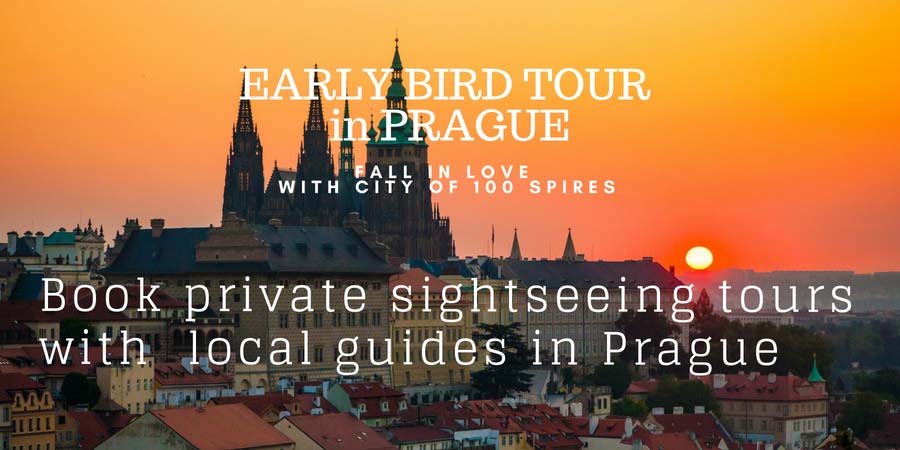 Have also a look at the articles about the top boutique hotel in Prague, 5 star hotels, and the most interesting hostels. If there are questions about hotels, apartments or hostel in Prague, which you would like to book by yourself, ask them in the comments below.