What did I know about Chilli Crab in Singapore before my first visit to the country? Just the fact that it is traditional local dish. I even had a white t-shirt with a funny chilli crab and «flavor of Singapore» note.
I read numerous article about the history of the dish and discovered some interesting facts. They helped me to understand the reasons, why crabs are so popular in the region. Let me share with you the taste of Singapore!
History of chilli crab
Singapore is a very young country, which history began some 60 years ago. Therefore there are still a lot of people who remember the old traditions, customs and stories. Among them there is a very bright and even romantic episode. It tells us how the dish "chilli crab in Singapore" became number one dish gained its popularity.
In different sources one can meet the name of madame Cher Yam Tian as an inventor of the original recipe we all know today as a chilli crab in Singapore. It was her, who in 1950's cooked a simple crab with tomato sauce. But the stir fried dish was too sweet, therefore the future heroes of Singapore cuisine decided to add some chilli to regulate the taste. That was the decision, that changed their lives.
Home made dish
After some time the family was selling their chilli crab for locals from a pushcart along the street where they lived. Next step of this yummy start up was to move to a shack and to sell chilli crabs in a permanent place. It gave them more clients.
In 1963 the family opened the first place which can be called as a restaurant. Serving only five dishes they were always full and busy. The name of the place was Palm Beach Seafood. That was the time, when chilli crab in Singapore became a national dish.
Where to eat?
Today locals and tourists can enjoy chilli crab in many restauratns in Singapore. As it usually happens, in touristic areas they serve good, but not the best portions, which can actually spoil the first impression of the dish.
Therefore no to get in such a situation, I always try either to find locals to show the best place to eat specialities or to make a proper research to find the best place.
In Singapore I have friends, who took me and my fellow friend to an amazing restaurant called Mellben Seafood Toa Payoh.
Mellben Seafood Toa Payoh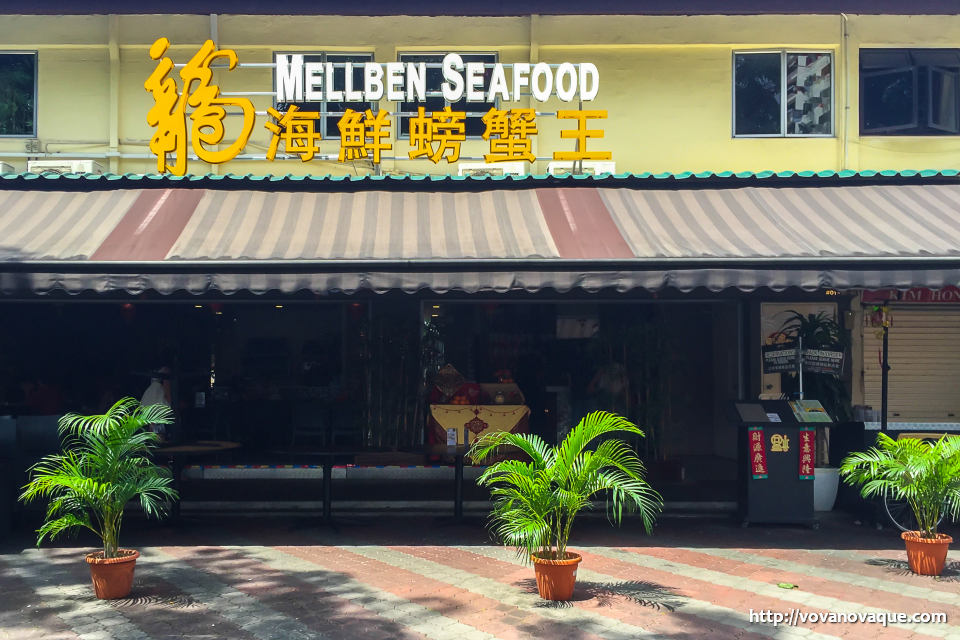 I assume that there are many good venues, where people go to eat true Singapore chilli crab, but since I have only one time experience, I can't but call Mellben Seafood Toa Payoh the best ever place! If you follow my recommendations, mind, that a table should be booked in advance, because of big popularity of the restaurant. So I can say, that we were lucky to have a table booked for 4 people just a day in advance.
The place is not too big, but it is very cosy and what is more important it is very tasty. Being with local friends out to eat is always a big pleasure. They know your tastes and can order only best dishes. The same happened with chilli crab in Singapore we ate that day.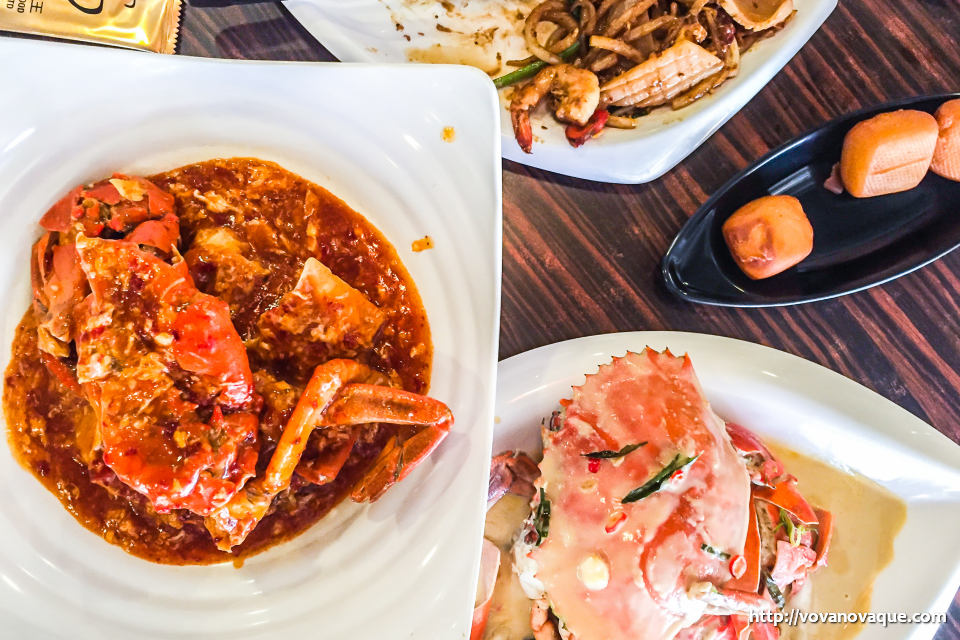 There are several recipes how to cook this seafood. Since our European stomachs are not so friendly with extremely spicy food, were chose two: Creamy Butter Crab and his friend Chilli Crab. As a side dish there was a portion of noodles and some amazing local bread. The latter I used as a spoon to eat the sauce. And of course we ordered several fire extinguishers — cold local Singapore beverages.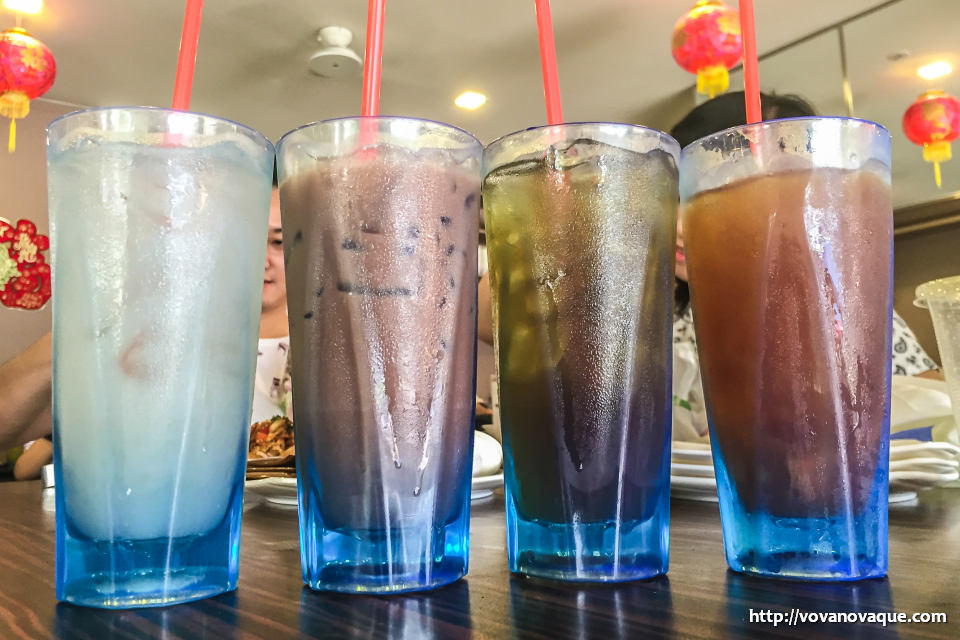 How to eat a crab?
Each carb has a big and a small claw and six legs. In such situations when at the table there are 4 people and on the plates there are 2 crabs, the big claws go to guests. Being also first time crab eaters, we were afraid of getting dirty with the sauces while cracking the shells with a special tool. And of course after the lunch our t-shirts were decorated with little marks, that told everyone around that we had had an amazing time with chilli crab in Singapore!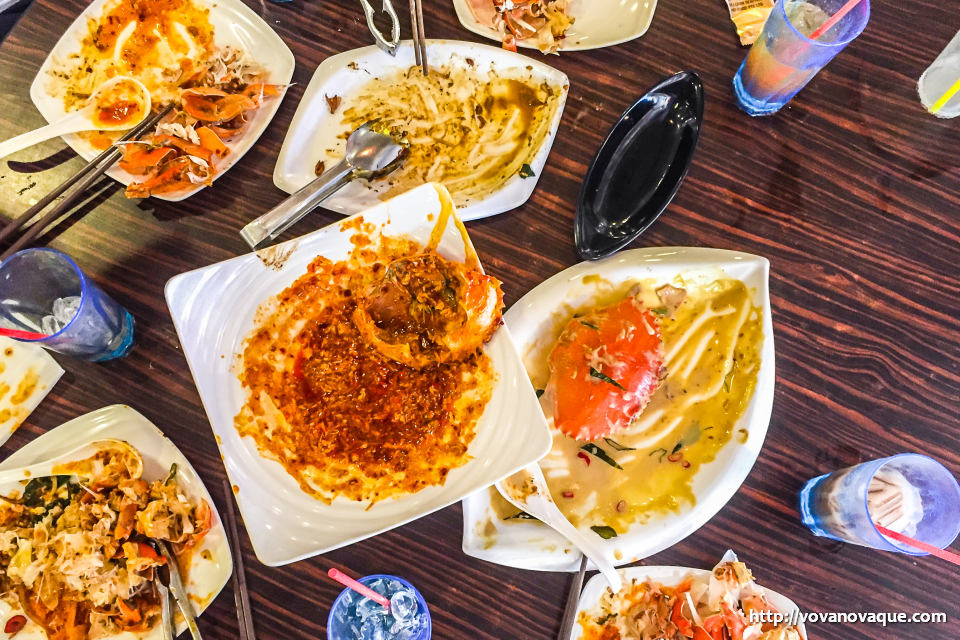 Now writing these words I feel strong desire to eat the dish again and again, to enjoy an amazing change of taste of meet to fire in my mouth. After every piece of crab I put into my mouth, I made a gulp of cold milo. That was the only possible way not to get burned from the inside.
And that was not a super original chilli crab. It was less spicy version, that our friends ordered specially for us – cookie-pushers. But in the end I got adjusted to the spicy taste and now I miss it so much. Anyone, send me a portion, please!
I liked more the Creamy Butter Crab for its very creamy source. It added to the meat special flavor. Will I eat it again? Absolutely! Next time, I will take one just for me.
Some basic rules of how to eat a chilli crab:
Don't be in a hurry, one wrong move and you are dirty;
Eat the crab with your hands only;
Pull off all the legs and claws with a twisting motion;
If the leg or claw is "closed" carefully use a claw cracker;
Don't be shy to ask for assistance if you can't deal with anything;
Enjoy your first chilli crab in Singapore!

How do they cook chilli crab in Singapore?
After we ate the crabs it was time to pay the bill and to leave the restaurant, giving the place to people waiting outside. But I really wanted to see the kitchen where they cook chilli crab in Singapore. So I asked the waiters if it was possible to go to the kitchen and see how they work.
Frankly speaking after some days spent in Singapore I realized that with our European impudence and with local hospitality all the doors can be open and there would not be any problem to get the kitchen. And I was absolutely right. They let me in and showed the final process of cooking of the dish.
I found a recipe of chilli crab at one of web-sites. My friends from Singapore, told me that it looks true. But in case you would like to cook it at home, mind that you need a very strong fire. I mean not a lot of fire, but strong stream. Only if you have this special equipment, go for cooking a crab, otherwise you may fail.
Ingredients:
2 kg Live Mud Crab;
3 to 4 Eggs beaten;
1 pot cooking oil (vegetable oil except olive oil);
35 mg minced ginger;
50 mg minced garlic;
100 mg shallot;
½ cup cornstarch (corn flour);
½ chicken stock;
3 tbsp. salted bean in jar;
¼ cup chilli sauce;
½ cup tomato ketchup;
1 pinch salt;
1 pinch sugar;
Garnishes:
10 mg sliced red chilli;
10 mg sliced spring onion;
15 mg Chinese coriander leaf;
a few Mantou buns or French loaf.
In Singapore people can tell you by the taste of meet, if a crab is prepared on weak or strong fire.
Remember, that first time you taste chilli crab in Singapore in a place where they serve only crabs. Just the same rule as with pizza in Italy.
Don't get dressed too fancy, because your first time affair with a crab can be reflected on the clothes you wear.
Don't underestimate the «Chilli» word it is going to be spicy!
Ask for at least 2 glasses of local lemonade, they all are amazing.
Enjoy your chilli crab in Singapore and don't forget to take some pictures to tease you friends.
How I saved good money on a hotel in Singapore