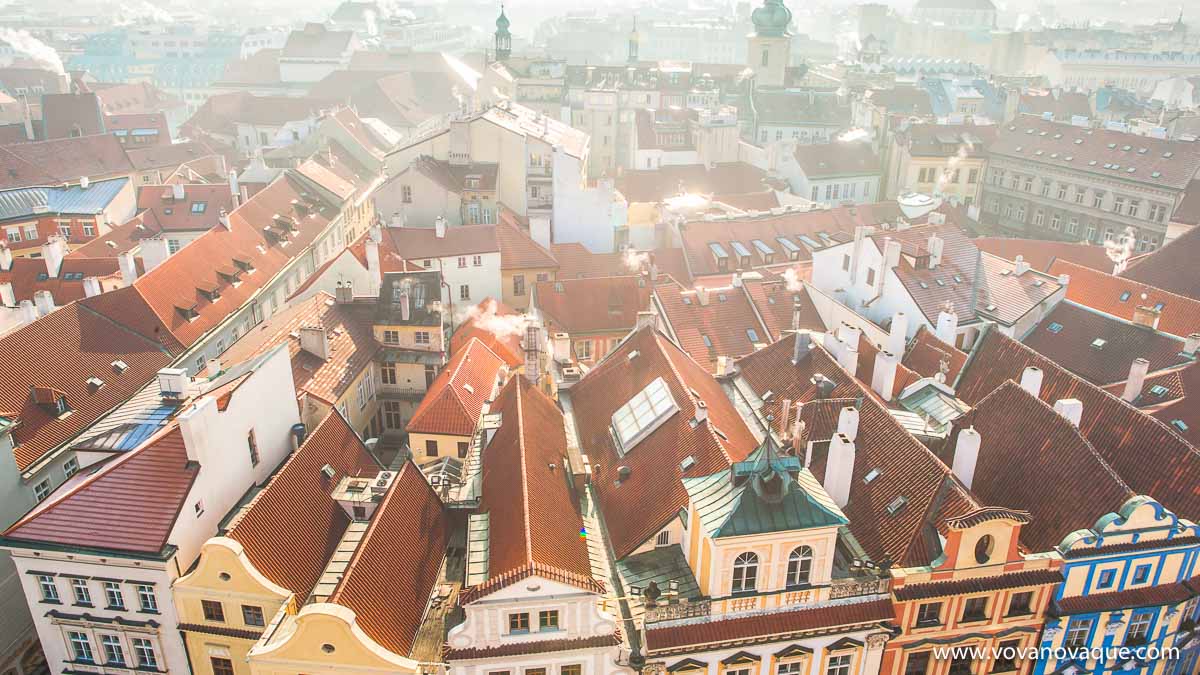 Recently Prague became a very important touristic destination and more people ask google «where is Prague?». The questions of geographical location of Czechia and its capital is still open for some many travelers. Therefore I decided to sum up these questions and to give the answers to all of them:
What county is Prague located in?
Is Prague in EU?
What time is in Prague and Czech Republic?
What is the population of Czechia?
Why Prague is the city of 100 spires?
But first check the list and prices for places to stay in Prague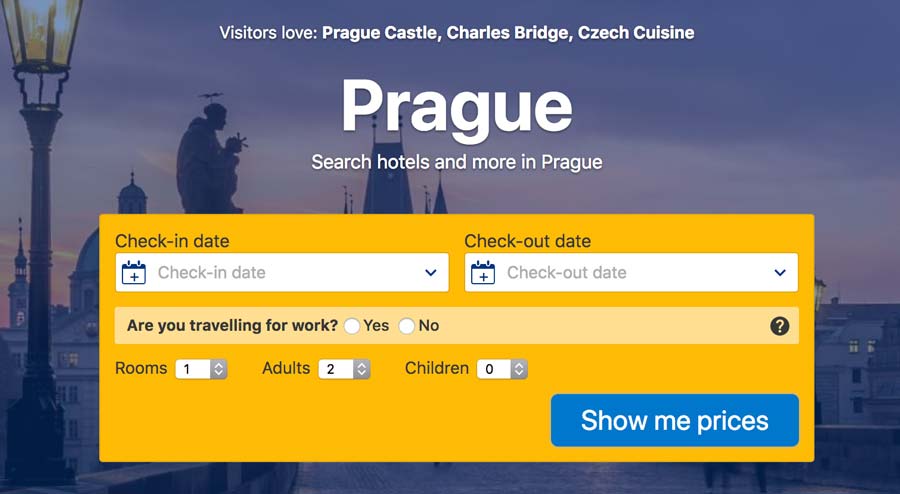 Geographical location
What country is Prague located in? It is located in the centre Czech Republic. Prague is the biggest and the most important city in the country. From ancient times it used to play a significant role in European life.
General information
The city of Praha (the original name in Czech) is the heart and the busiest transport hub of the country. There is one airport named after Vaclav Havel. There are numerous railway an bus stations, linking the city with other European places. Since Czechia has borders with Poland, Slovakia, Austria and Germany, it is very easy to travel to Dresden, Vienna, Bratislava, Wroclaw from Prague.
The territory of the country is hilly with chains of Czech mountains. The highest point of the country is Snezka mountain. It has 1603 meters.
The country of Czechia is divided into 13 regions and the capital – Hlavni Misto Praha.
Is Prague and the Czech Republic in EU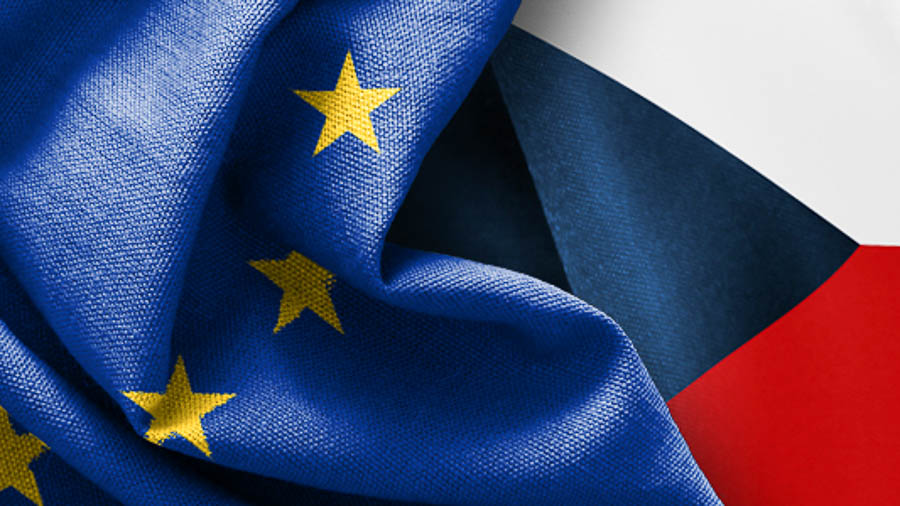 The Czech Republic has been a member of EU (European Union) since the 1st of May 2004. So, yes, Prague is in EU. It shares the common market with other members, but still has its own currency. It means you can't pay Euros in Prague and other cities. You need to exchange currency in Prague or to take cash Czech Crowns from ATM.
Czechia is also a member of Schengen Zone and agreement. It has no visual boarder with neighboring countries. Therefore if you have any Schengen visa, you can travel to and from Czechia.
Czech Currency
Speaking about local money we should mention, that Czech Crown is quite a stable currency. During the recent years the currency exchange has been on the same level of 27 CZK for Euro and 25 CZK for 1 American Dollar. Getting ready for a trip to Czechia, mind that there can issues with money exchange issues.
What time is in Prague?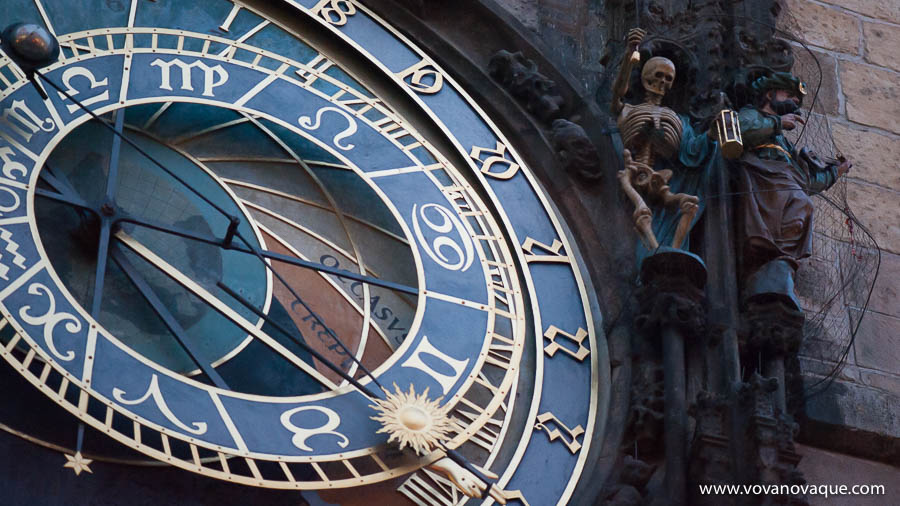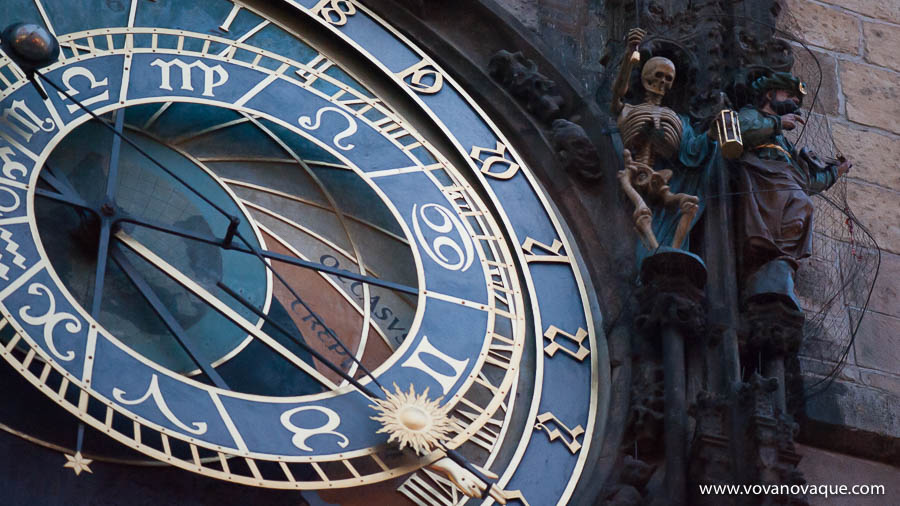 Prague is located in CET Central European Time Zone. It has the same time as almost in all European countries: Austria, Germany, Poland, Italy, France and others. CET goes one hour forward to GMT (Greenwich Mean Time).
They change time 2 times per year in Czechia. Calendar of daylight saving time changes in Prague:
26 of March
29 of October
25 of March
28 of October
31 of March
27 of October
City of 100 spires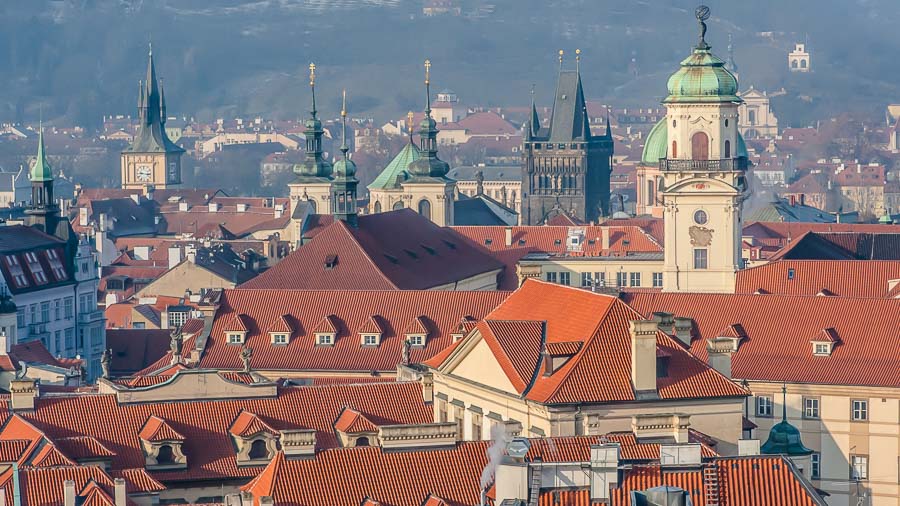 One of the nick names of the Czech capital is the city of 100 spires. What does it mean and why people call this city like this? To get the reply you need either to climb one of numerous towers (for example the Powder Tower) or at least look at the picture below.
Central part of the city – Old Town – is full of buildings with spires. They were built in different epochs and preserve history of different times. That's why people call Prague the city of hundred spires.
How many people live in Prague?
Population of Prague is constantly growing. There are factors: expats and extension of the city boarders. According to recent calculations (2016-2017) today in Prague give about 1,3 million people. If we take closest villages and towns, the total population will be about 2 million citizens.
Is Prague in Czechslovakia?
Prague used to be the capital of Czechoslovakia, but since 1991 these two countries live there own lives being separated after the Velvet revolution. Hence, there is such a country as Czechoslovakia and that is why Prague can't be in it.
What does Prague mean?
The word Prague is an ancient Slavik noun. Since the city was built on the river (its name is Vltava) there were a lot of fords (crossings). And the original name of the Praha stands for such a ford. Let's continue search for the reply to the question "where is Prague".
Prague river — Vltava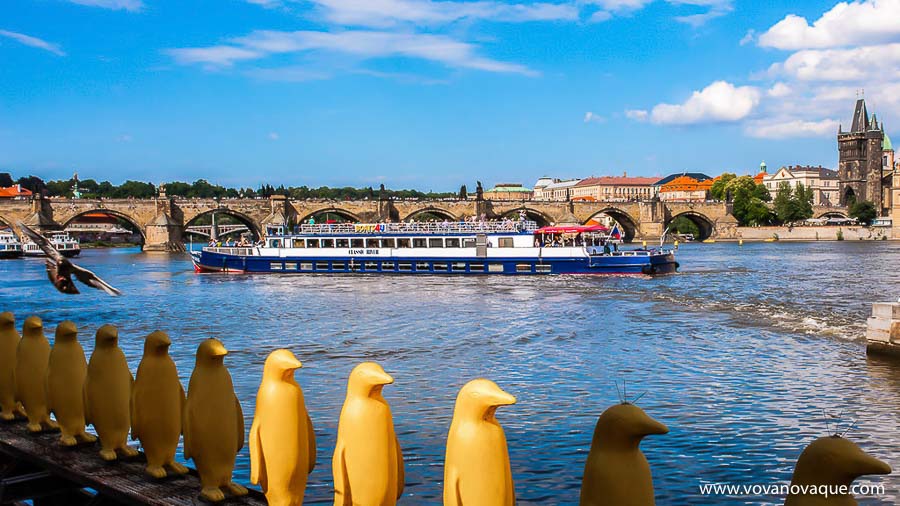 The river in Prague is called Vltava. It begins with little springs in the southern part of Czechia on the boarder with Austria. Vltava goes through Czech Krumlov, where you can cross it bear foot.
But with some 300 kilometers of its way to Prague Vltava brings a lot of water from hills and mountains. Therefore floods do happen. The last big water and flood in Prague was in 2013. The level of the river exceeded normal level on several meters. But the biggest flood in Prague was in 2002. That was a real disaster. The flood  ruined a lot of buildings. Terrible things happened in Prague Zoo.
But Vltava brings also joy and fun to people. Locals and tourists like to raft and go for day boar trips. The river brings its water to Elbe. This river goes from Czechia to Germany.
Where is Prague located on map of Europe?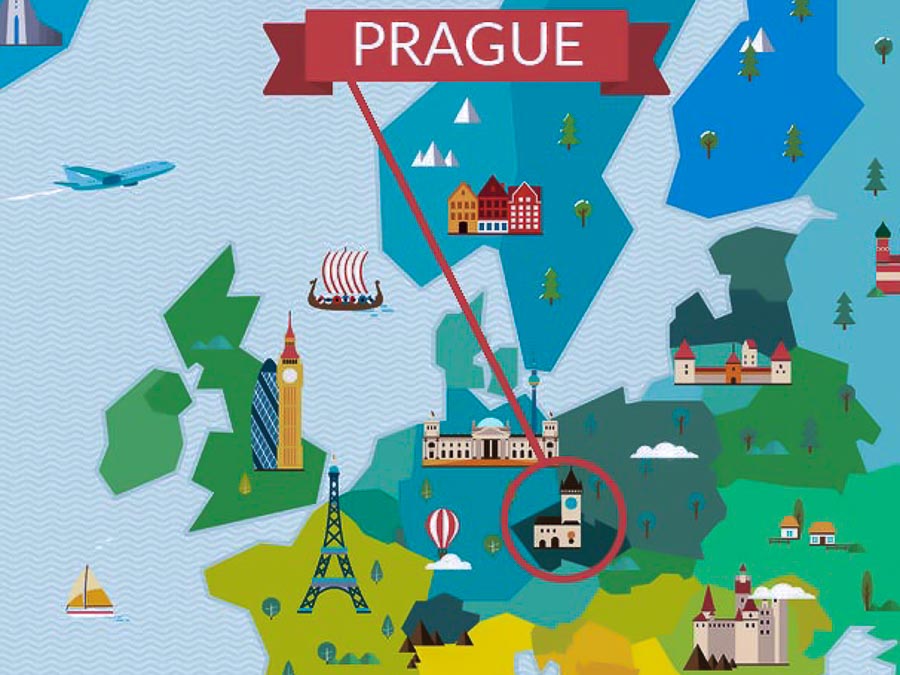 If you still have the question where is Prague, look at the map above. The capital of the Czech Republic is situated in central Europe. As I have already mentioned, the transport system very comfortable. Below I will give the distance and travel time between the biggest European cities and Prague:
Vienna 292 km;
Berlin 349 km;
Munich 386 km;
Warsaw 677 km;
Amsterdam 876 km;
Budapest 527 km;
Paris 1035 km;
Rome 1303 km;
Venice 775 km.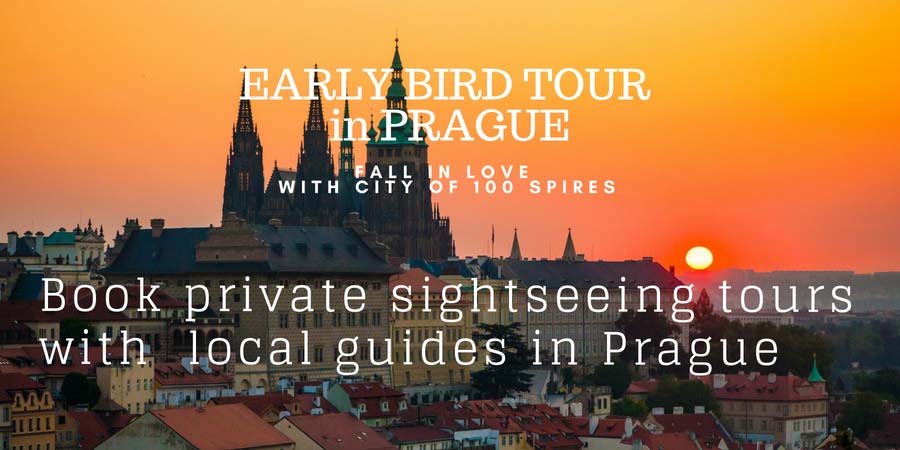 I do hope that this article gives you a reply to question of where is Prague on the map of Europe. Would appreciate any comments and further question you have about the city of 100 spires. If you are going to visit the city and the country, feel free to request a travel plan created by local guides for you personally. Give us the dates of your trip, tells us about the plans and your budget at mail@vovanovaque.com We will make you trip to Czechia unique.