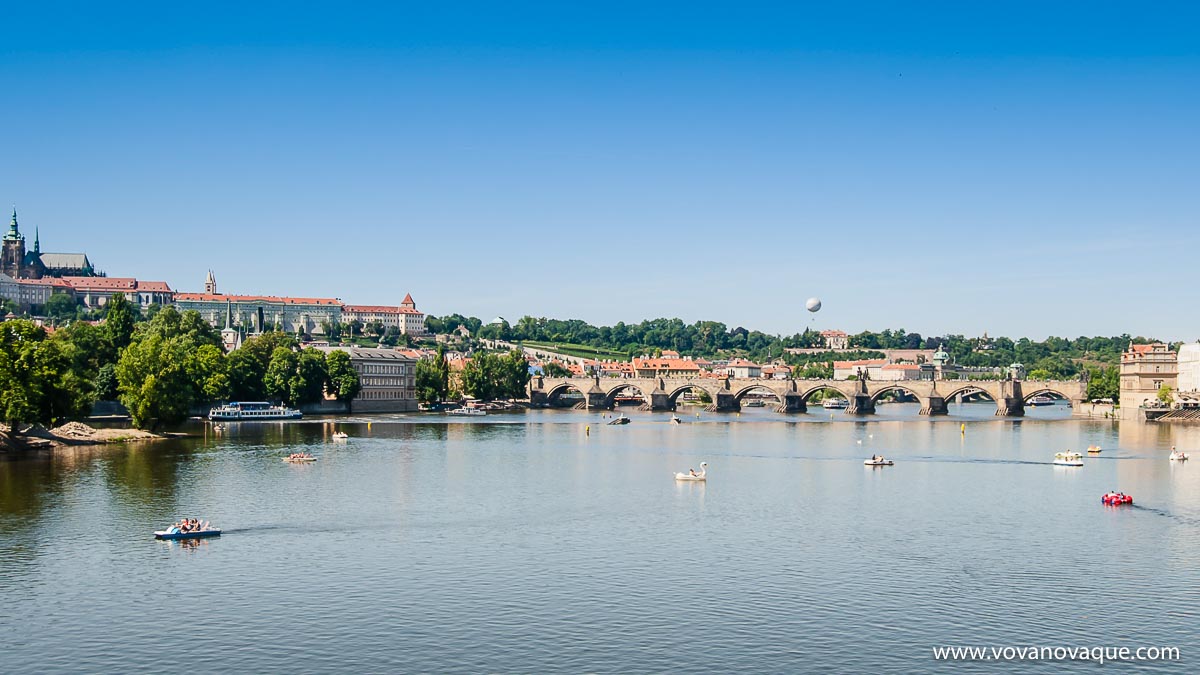 Summer in Prague is comfortable and warm. It is one of the best seasons to visit and discover Czechia and the city of 100 spires. So what is the weather like in Prague in summer, what to wear in June, July, August? These are two main questions I will answer below to help you really enjoy the trip. And as a bonus you will find Prague summer calendar 2017: events, holidays, the most interesting festivals and concerts.
June
June is my beloved month, because it is the beginning of summer and moreover I have my birthday in June. If you plan to visit Czechia in this month, mind, that it is already high touristic season. Lots of people from all over the world travel through Europe and make stops in Prague. Therefore summer in Prague is hot in temperature as well as in number of people in the streets. That is why I strongly recommend planning you trip early in advance in order to be able to book the best hotels in Prague.
Weather in June
If we speak of the weather in June in Prague it is one of the best months. Average temperatures are between +19 and + 29 degrees Celsius. Though evenings might be a bit cooler — about +15. The days are quite sunny, but sometimes it rains.
What to wear in June in Prague?
Packing for a trip, mind that even June in Prague can be tricky, that is why I would recommend having something warm in your suitcase: jacket, pullover or hoody will be the best solution. But if you do not really want to carry extra clothes, you can always go for quick shopping in Prague and buy anything you need for reasonable price.
Day average temperature in June: +23 °C;
Night average temperature in June: +14 °C;
Number of sunny days in June: 6;
Average rainfall in June: 60 mm;
Relative average humidity in June: 65%.
July
July is the second summer month is Prague. This is the middle of summer, therefore the Old Town is boiling. That is why, on every corner they sell cold drinks, hats, ice-cream and beer. Walking around the city centre during they day can be quite dangerous for people with blood pressure and heart diseases. Therefore I strongly recommend having a look at the best possible way of comfortable discovery of summer Prague, which is private early morning Prague tours.
Weather in July
Speaking about temperatures in July in Prague I need to say that recent years it has extremely hot. Believe me or not, but there were several weeks of +35 Celsius with no rain and almost no wind. After this local authorities decided to improve public transport system and introduced new trams with air conditioners. So make sure you have a hat and a cold beer place in your head.
What to wear in July in Prague?
Well, this is quite a question, because July heat in Prague makes people dress really easy, thus putting more skin at the sun. That is why make sure to pack at home or buy in local shop sunscreen and sun glasses. It is always better to avoid rather that cure, because Prague sun is really strong and hot.
Day average temperature in July: +26 °C;
Night average temperature in July: +16 °C;
Number of sunny days in July: 7;
Average rainfall in July: 82 mm;
Relative average humidity in July: 68%.
August
August in Prague is a sad month, because summer comes to an end. But it is still as hot as July. Most of locals try to avoid staying in the city centre and travel to the country: lakes, mountains, forrest. The luckiest have holidays in August and can travel abroad. Tourists usually find shelter in numerous parks of Prague.
Weather in August
Speaking about Prague weather in August I should say it is still amazing, sometimes it is hot, a bit rainy, but in general very good. Again, follow the rules of common sense and do not spend to much time in the sun without protection, do not drink to much of alcohol during the day. I would also recommend visiting parks, beer gardens and open air pools, such as Podoli.
What to wear in August in Prague?
In your luggage for a trip to Prague in August you need to have both summer clothes and an umbrella. Sometimes August mixes sunny days with rainy evening or vice versa. Therefore you need to be ready. Moreover there are a lot of outdoor activities for travelers, who would like to discover not only Lennon Wall and Stone Bell House.
Day average temperature in August: +25 °C;
Night average temperature in August: +14 °C;
Number of sunny days in August: 7;
Average rainfall in August: 65 mm;
Relative average humidity in August: 71%.
What to do in Summer in Prague 2017 (calendar)
However, the capital of Czechia is the city, which lives 365 days a year. I love to say, that there are no Mondays in Prague, because so many different events take place there. And Summer in Prague is just the climax of the year: everyday something happens: exhibitions, performances, gigs, festivals and so on. Of course it is close to impossible to name of all summer events that take place in the capital and other Czech cities.
Events
Summer in Prague 2017 as usually will bring a lot of interesting people, stars, street artists and performers to the city. Everyday something going to happen from a local party in Praha 7 district for example to the concerto of a well-know musician in the biggest concert hall. That is why I would numerate only the biggest and the most interesting from my point of view.
festivals;
concerts;
other.
Festivals
Concerts
Other events
Prague Museum Night – 10.06.2017 (info: Prague Museum Night);
Speedway Grand Prix – 10.06.2017 (info: Speedway Grand Prix);
Saints Cyril & Methodius Day – 05.07.2017- Public Holiday;
Jan Hus Day – 06.07.2017 – Public Holiday;
Prague Folklore Days – 20.07.2017 – 23.07.2017 (info: Prague Folklore Days).
.
As you can see summer in Prague is full of fun, the weather is nice, there are a lot of people from all over the world. Therefore start planning your trip to Czechia and remember, that our team will provide you with the best private tours in Prague.