There are 5 big hills in Prague which open amazing views on the city. These are: Letna, Prague Castle, Petrin hill, Vesehrad and Vitkov. All of them are among top 10 must see places of the Czech capital, therefore I strongly recommend you including them into your bucket list of attractions to see in Prague.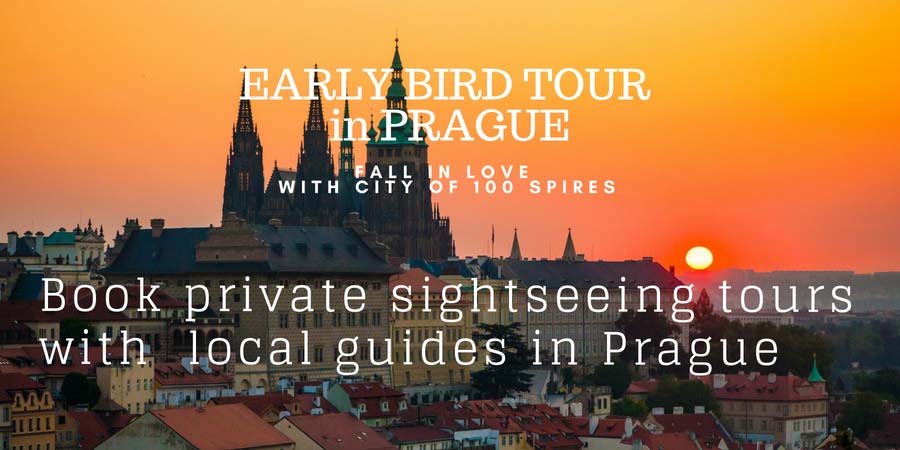 Letna park
I would like to start with my beloved place Letna Hill/Park (in Czech Letenské sady). When you stay by the river on the side of the Old Town and look at the green forest, it seems that the hill is a continuation of the fortress wall between the the Castle and Praha 7 district. Being the second biggest park of the area, Letna is also popular with locals and individual tourists.
Due to the height of the Letna hill, big touristic groups never include the object into their must see lists, which is quite positive.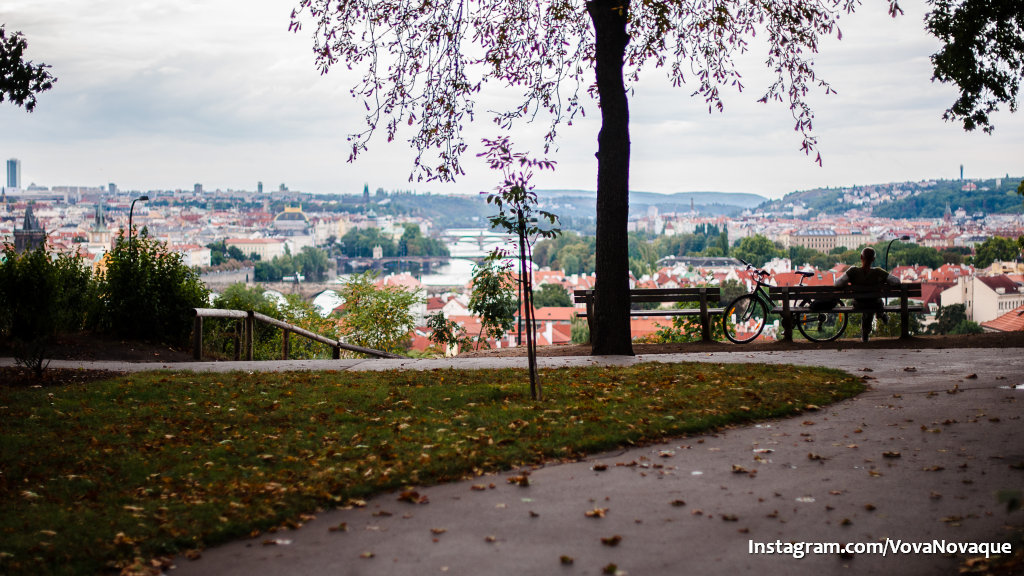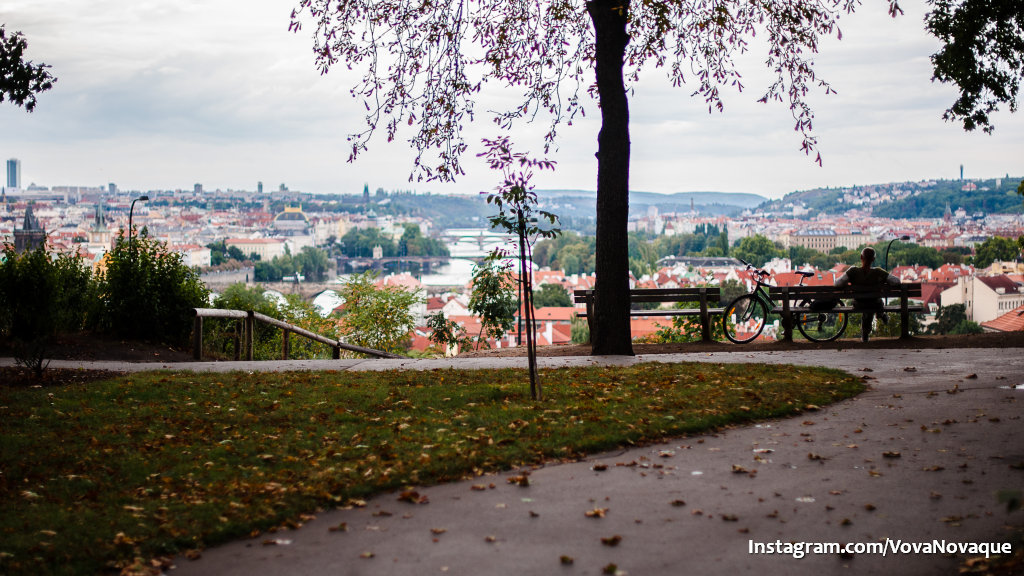 The park has three main spots where one can enjoy panoramic views:
Letna Beer Garden;
Stalin;
Hanavsky Pavilion.
Letna beer Garden
Beer Garden at Letna is one of the best spots where Czech beer meets with red roofs of the city. A very interesting combination, I would say. Come and sit on the hill in a company of fellow travelers, locals or just alone with your cell phone or book. Every minute spent there charges your soul with energy of scenic panorama. In summer "parties" can continue till late night and sometimes even till the morning.
Stalin
Ask any youngster in the city where the "true" area for skaters is and they are sure to name "Stalin". This is the central part of Letna hill, which was crowned in 1955 with a 65-meter high monument to Josef Stalin. But in 1962 the huge construction was blown up and today this is one of the symbols of freedom and independence. At the very place of the former dictator's monument a tall red metronome cuts the sky. Under its arrow you will find a another "oh my God" view and a place to hang down the legs.
Hanavsky pavilion
Have you ever seen a postcard of Prague with 5 bridges in a row? The place where such a view is available every day, is Hanavsky pavilion and the edge of Letna Hill. Built in 1891 as a "office" of General Land Centennial Exhibition, this construction was preserved in Neo-Baroque style and today serves as a luxury restaurants for romantic dinners. Since it faces the southern part of Prague, I recommend to come there in the afternoon and closer to the evening.
To my romantic readers: choose this location as a place to pop up the question to you girlfriend. I've taken there many engagement photos from this hill in Prague. In case you need any help, just send me your questions or text to mail@vovanovaque.com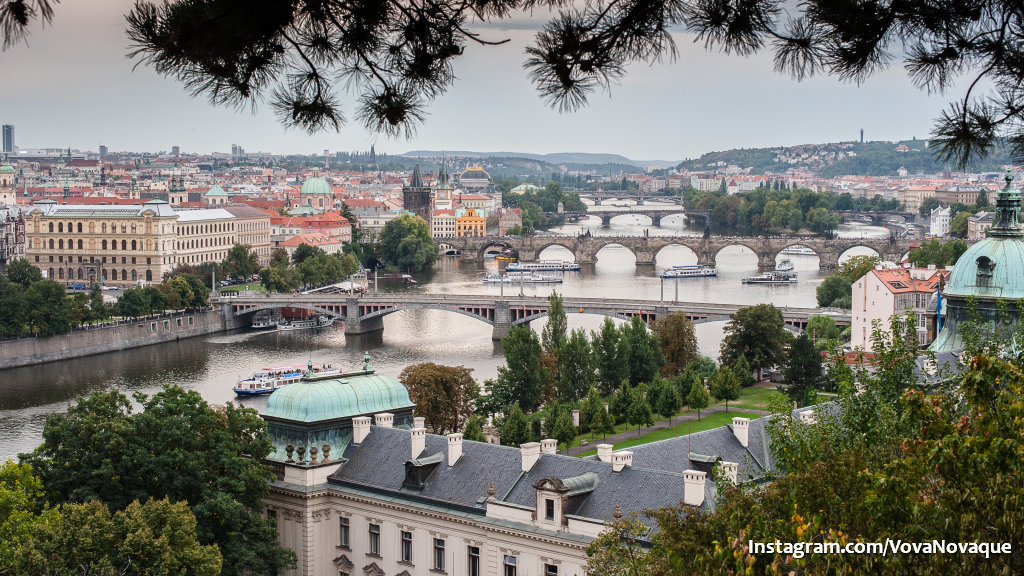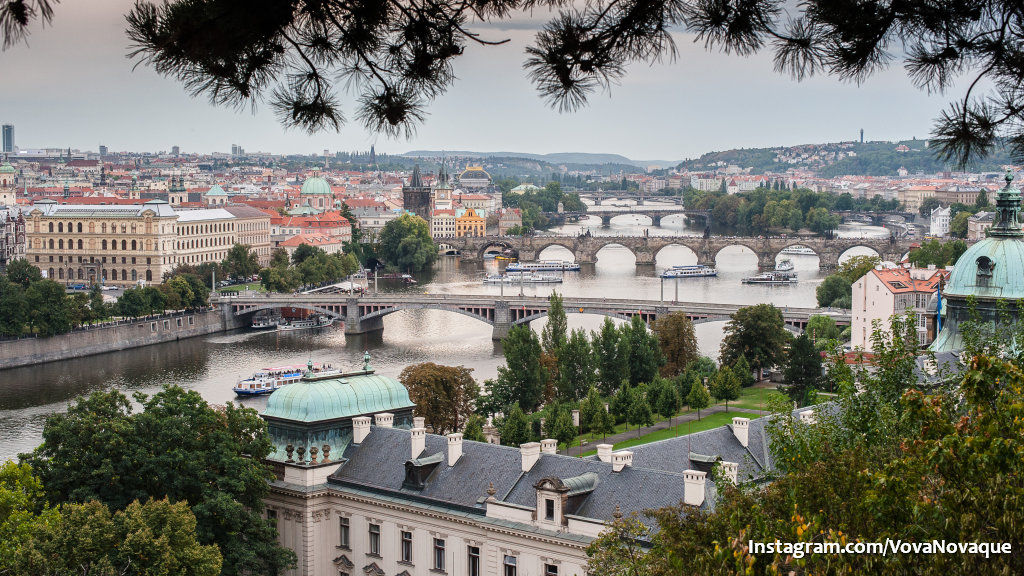 Vitkov hill
This is hill of Prague is the symbol of power and strong will of nation. To motivate to climb this hill during the visit to the Czech capital, I will tell you, that Vitkov hill has the third largest bronze equestrian statue in the whole world. And yes there is another stunning view, so just believe me and move up the path to discover the place.
Reliable and comfortable transfer from and to airport in Prague

Statue of Jan Žižka
National Monument in Vitkov
Statue of Jan Žižka on Vitkov
The man on the horse at the top of Vitkov Hill is Jan Žižka, famous for the victory in 1420 over the Emperor of Holy Roman Empire and King of Bohemia. The whole stir began after John Hus (the priest) was burned as a heretic by the order of Pope Martin V. That was the beginning of Hussite wars lasting from 1419 to 1434. For those who are very interested in facts and dates, here is a link to wiki.
National Monument
After the reconstruction the National Monument was open to public and became another must see place in Prague, since it has a unique collection of artifacts, stories and legends from the old times to last century. There are the Ceremonial Hall, exhibition of Crossroads of Czech and Czechoslovak Statehood, the Tomb of the Unknown Soldier and many other exhibition halls.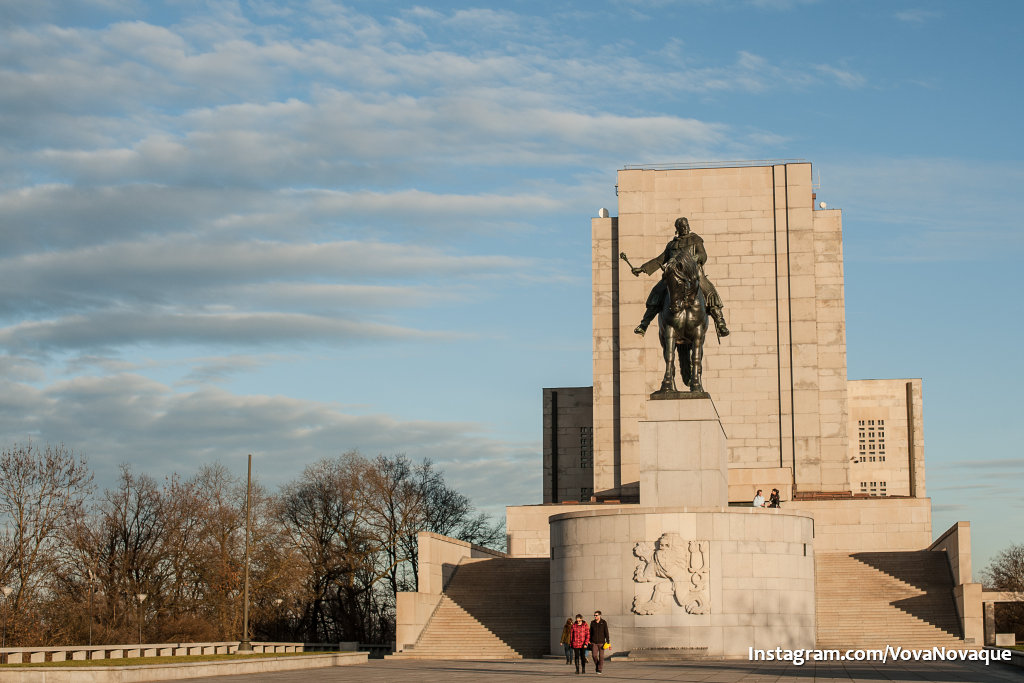 Vitkov hill opens panoramic views over the whole city centre of Prague. Numerous railways running to and from the main Station and add special drama to the scene. In the horizon St. Vitus Cathedral sticks the sky. Don't forget your long lenses to capture the details of the city: Tyn Church, Powder Tower, Prague Castle.
Vysehrad
The third and the most distant hill of Prague (listed in this bucket) is Vysehrad. It is a former fortress and residence of the king. Nowadays only the brick high walls remind of the battles and blood. To my mind today it is a very calm and solemn places. Old trees, ancient church and a very beautiful cemetery with noble and famous buried there, create atmosphere of philosophy.

Sitting at the edge of brick wall and absorbing panorama you get relaxed and feel easy Prague rhythm dictated by the river under your feet.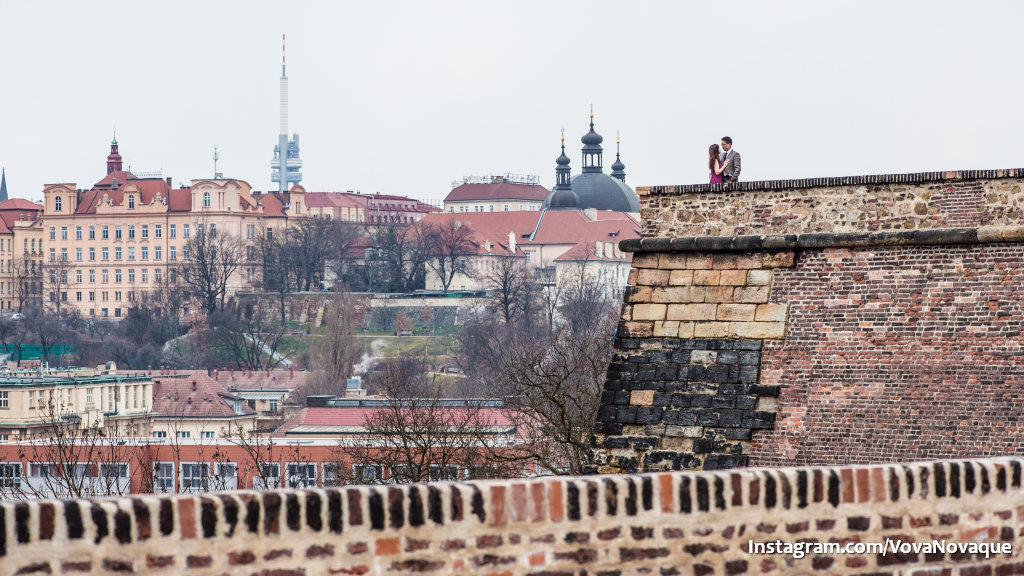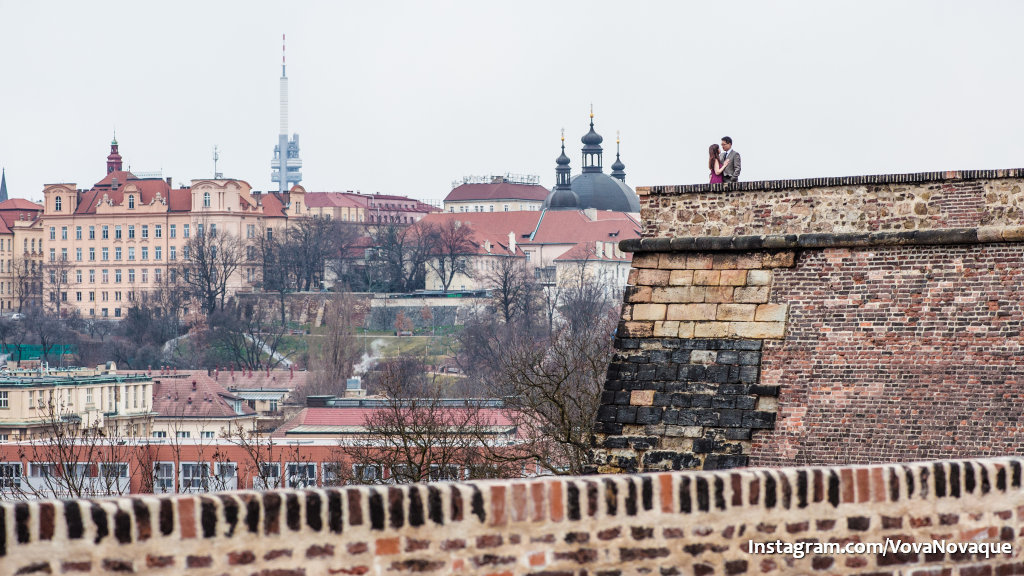 Petřín
Coming back to the city centre you shall climb another hill, which took it's name from a Latin word "petra" – rock. Before this area was a huge mine for stones. These stones became the basement of numerous constructions in Prague. Today the catacombs are closed: no miners, no visitors are let in unfortunately. Petrin hill is lined with kilometers of paths leading up and down. For lazybones in 1891 was open a funicular line integrated  in the system of Public Transport and it still operates caring each day hundreds of tourists.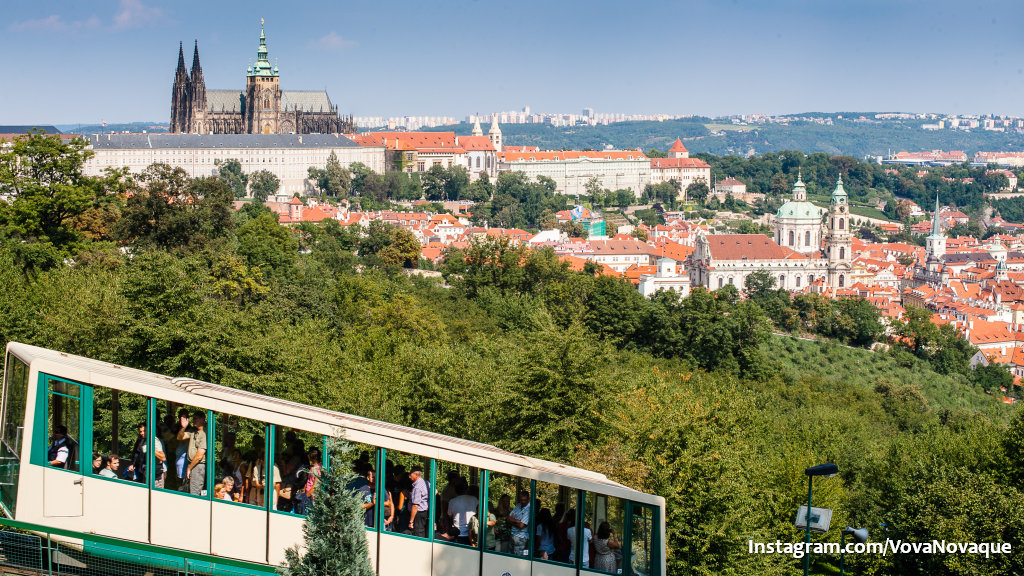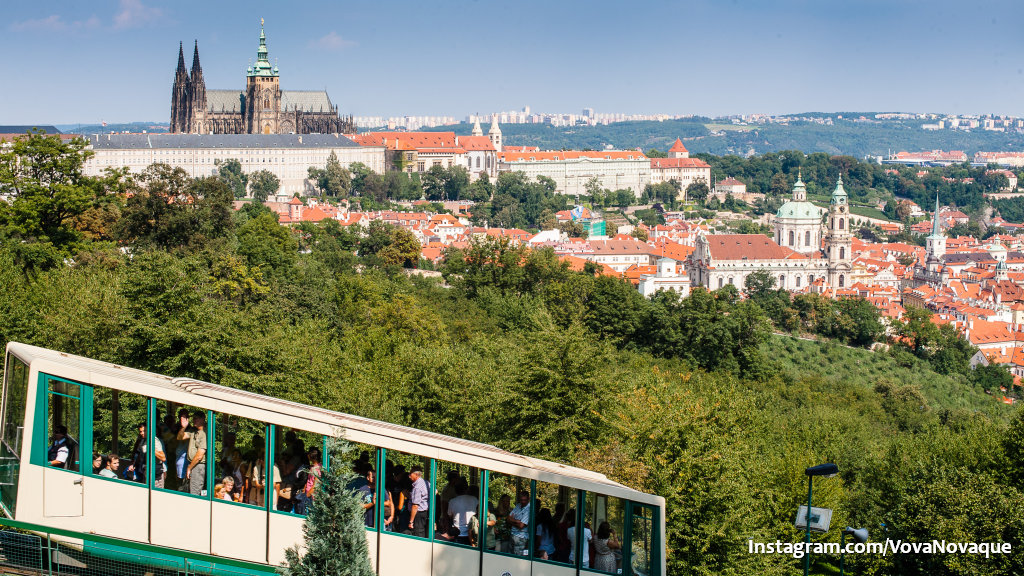 Travellers with framed time to spend in Prague may kill two birds with one stone. At the top of the Petrin hill there is a tower — exact copy, but of smaller size, of Eiffel Tower. So visiting Prague you can also experience a bit a Paris ambience. Shall I say anything about the possibilities to enrich you instagram profile with unique photos?
Prague Castle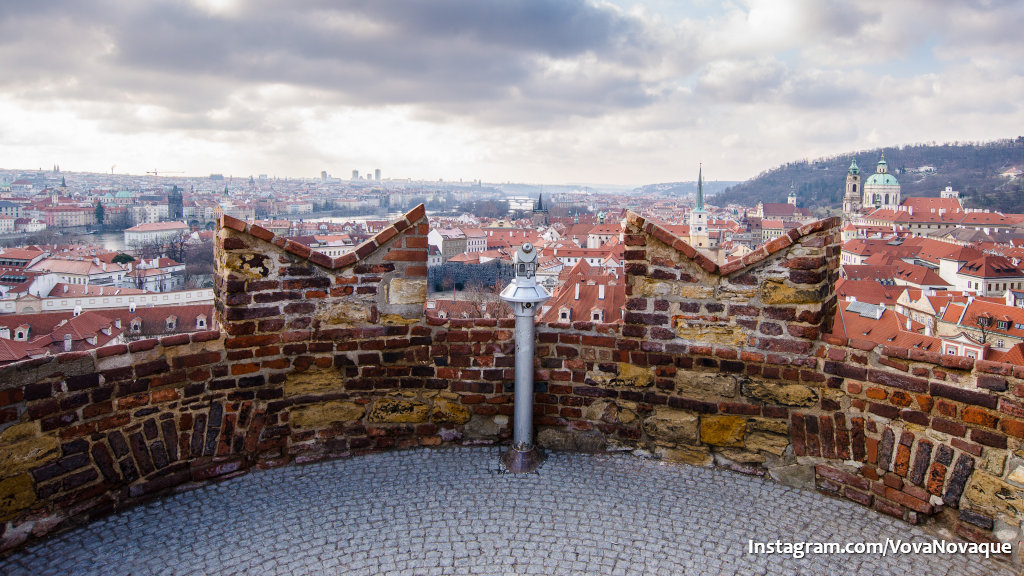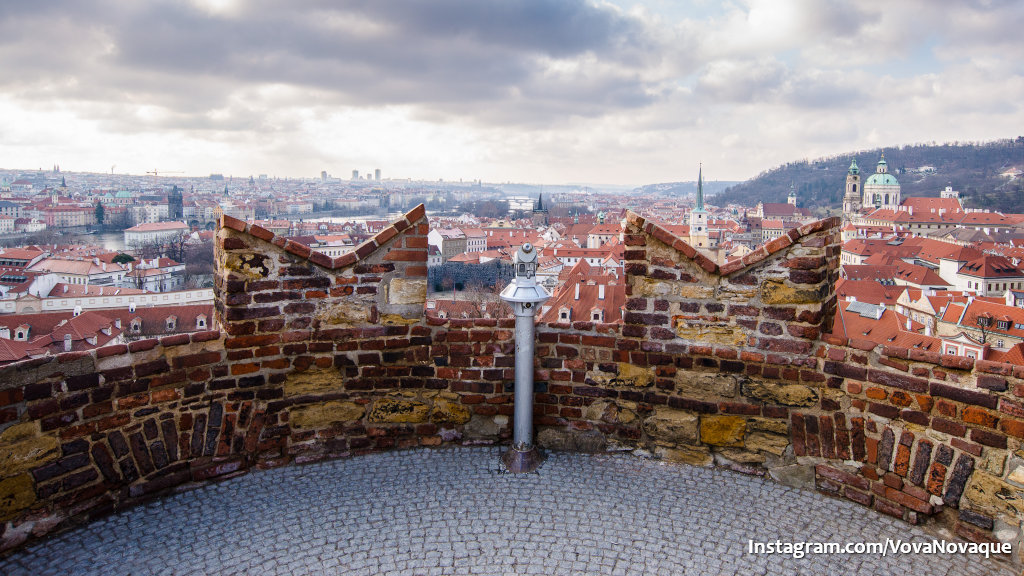 The last one in the chart of Prague hills is Prague Castle. The reason why I put it the last is very simple. It is visible barely from any part of central Prague and is too mainstream, always overcrowded and too fussy. My strong recommendation for those of you, who doesn't feel ok with long walks up and down, to take a tram or UBER and after to roll down the hill. The gates of Prague Castle are open for visitors every day from 6 a.m. till midnight. Fancy looking at St. Vitus Cathedral at night!
If you don't plan to visit every palace and numerous museum of the castle, climb the hill of Prague Castle in the evening.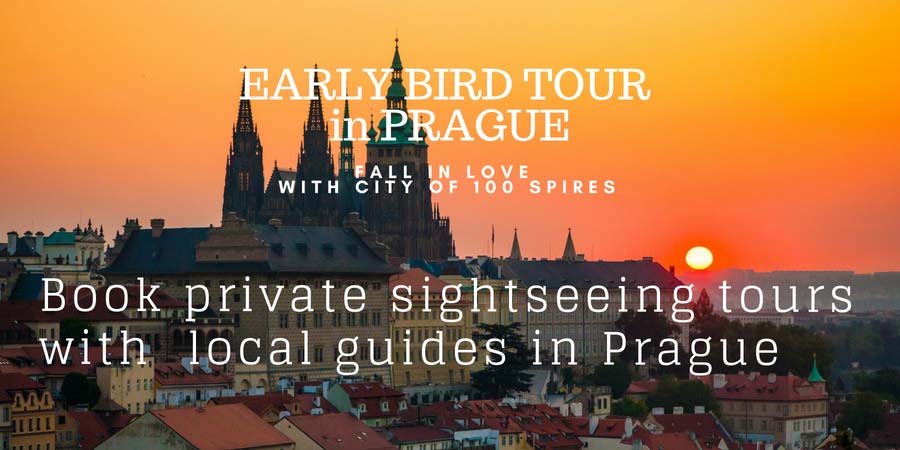 I would like to mention one interesting fact. All the hills from this Top 5 list used to serve as vineyards (and some of them still are). Maybe therefore the views are dizzying. Mind, that you can cover all the places within a day with no problems, but I would recommend to have at least 2-3 evenings for this part of Prague discovery.