If you have only one day in Prague, you have to plan it properly. I have picked up all my knowledge, reviews of the tourists to compile this ideal single day trip plan. So be ready to enjoy Prague even if you are pressed for time.
One day in Prague ideal plan
Let's think that you are in the city centre and it is about 11 a.m. It is the start of our single day journey to the Czech capital. And I suggest beginning this day with a substantial meal. No need to explain, that hunger blinds and make people irritated.
Where to eat a lunch?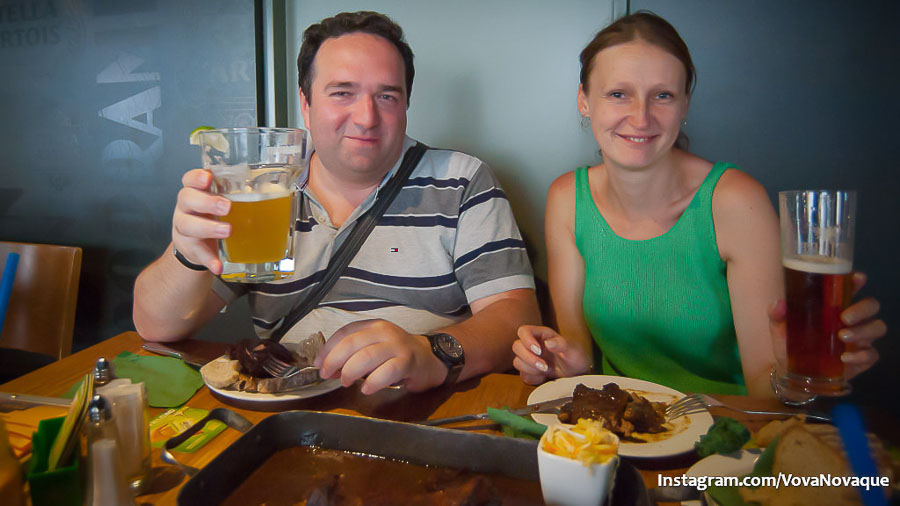 To my mind the first acquaintance with local culture should begin in a restaurant. Fortunately, there are quite many good places where you can get charged with amazing Czech food. Personally I would recommend a place with:
good quality food;
English menu;
draught beer;
wide variety of non-alcoholic beverages;
tourists friendly waters;
reasonable prices.
A perfect place for lunch in Prague is Potrefena Husa (Hybernska Street). Potrefena Husa is a chain of restaurants, but each place has its own menu. This place I call as the best one to taste amazing pork ribs. They have Staropramen beer and friendly atmosphere of a good quality Czech restaurant.
The lunch will take you about 90 minutes and 300-500 CZK depending on you hunger. By the way, take some bread in your pocket. You will need it soon.
Where to go?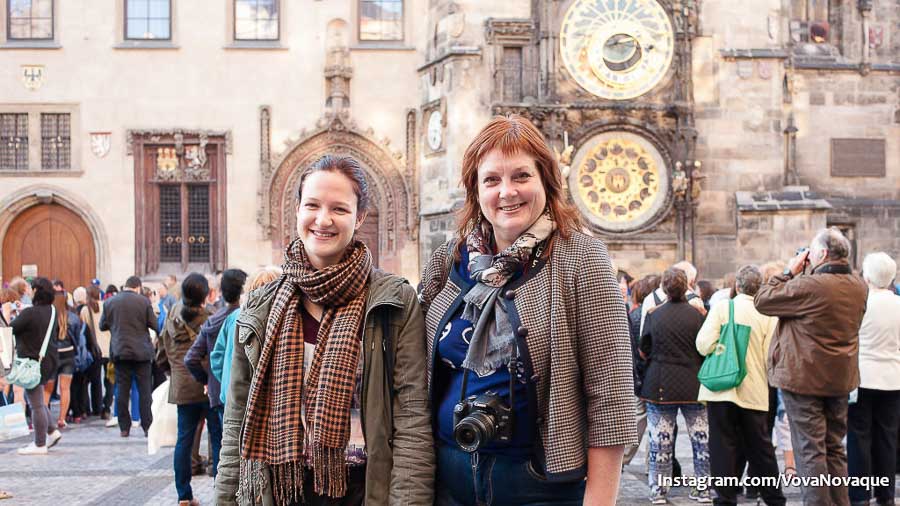 At 1 p.m. you are done with the lunch. High time to continue the one day in Prague. The second place to go is the Old Town and its main Square. Let's say, that with all the pictures you are sure to take on the way you will come the square around 2 p.m. Find the Astronomical clock.
Old Town Square
At sharp 2 p.m. (and every hour sharp form 9 a.m. to 9 p.m.) there will be a show! Look at the show and after it go climb the Old Town Hall Tower. The ticket is 130 CZK. You will need about an hour for this attraction.
But don't hesitate and go! As a reward you will see amazing panoramic view of the whole Old Town Square. Now it is 3 p.m. and you have to make you way to the most famous bridge in Prague.
Charles Bridge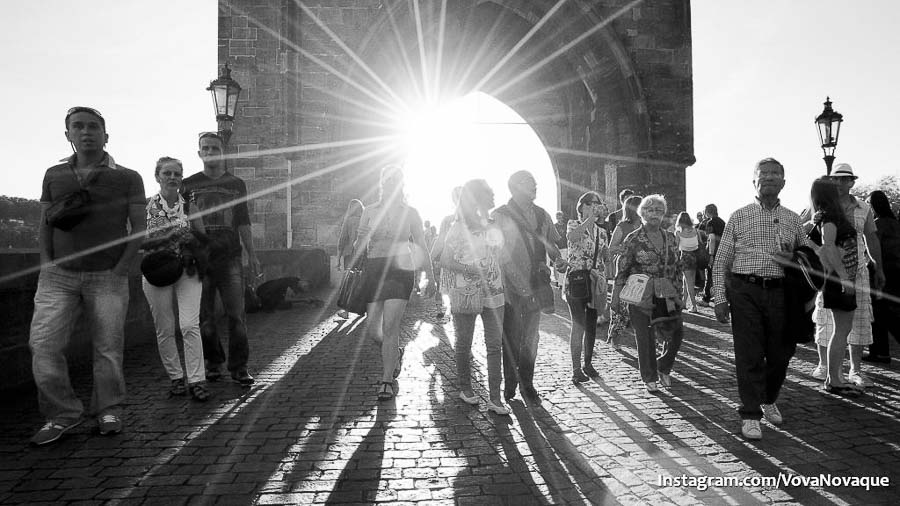 Continue your way through the tiny streets, find souvenirs in small shops and finally arrive at Charles Bridge. Following the crowd and there will be crowd for sure, cross the bridge, take pictures, buy more locals souvenirs.
You can also feed the birds with bread if you have any. Usually with all stops and photos you will spend another 30 minutes.
Mala Strana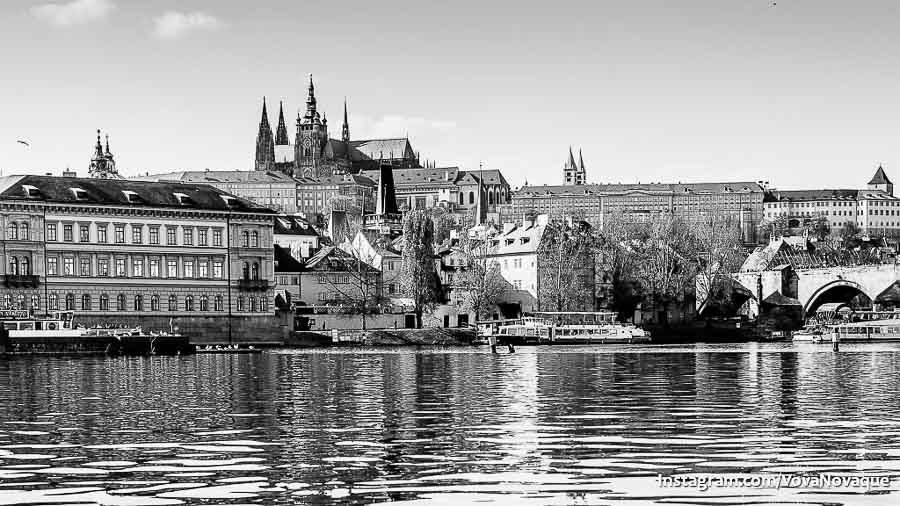 But don't go till the end of the bridge. To the left there is Kampa Square. Usually markets take place there. And just around the corner from the square, you will find John Lennon Wall. This is quite an unusual attraction, but very popular one. It is 4 p.m. already. High time to have a beer and continue your one day trip in Prague.
Where to have beer?
I will recommend you to drop into "Lokal u bile kuzelky" — bar where you see a lot of people having beers, eating meat and cheese, talking and having good time. Local is quite a new chain of pubs in Prague.
Address: Míšeňská 66/12, 118 00 Praha 1-Malá Strana
In this bar you can have only 3 kinds of beer: dark Kozel, Pilsner and Birrel (non alcoholic). Just enough for a beer stop in one day in Prague. All of them are fresh and draught from tanks. Their home made food is very delicious. In my usual "Local" menu there are: Pickled cheese, Tatarak, Fried cheese, Gulash or sausages. 
Prague Castle
It is almost 6 p.m. that means Prague Castle is free of tourists and you need to go there. In order to save your time and power, I recommend taking tram number 22 and going to the tram stop: Prazsky Hrad. Public transport in Prague is reliable and easy to use, of course if you know how to.
Find the tram stop Malostranske Namesti
Buy tickets from the ticket machine.
Take tram 22 going to your right if you look at Starbucks.
Validate the ticket.
Take off at Prazsky Hrad — the third stop.
Prague castle and St. Vitus Cathedral will be the last point on your one day trip in Prague. One can spend there hours, walking along the palaces and enjoying the panoramic views of the city. It all depends on the time you still have to spend in the city.
Where to have dinner?
As a good final dinner stop on your one day in Prague, I will recommend Klášterní pivovar Strahov. It is the place where you will taste beers brewed according old Monastery traditions and eat very delicious pork knee. Address: Strahovské nádvoří 301/10, 118 00 Praha-Hradčany
Booking a tour
There are two variants of spending one day to Prague: to be alone or to be with a local guide to show you places, tell the stories and make the trip easier for you. If you are ready to book a private guide in Prague for a single day tour, please follow the link and leave us a message with the dates of your trip, time of arrival and departure.
We will help you to:
plan this journey;
book a transfer from the airport to Prague downtown;
enjoy every minute of your stay in the city.
BOOK A PRIVATE TOUR IN PRAGUE WITH A LOCAL GUIDE