Christmas and New Year 2018-2019 in Prague are the two holidays when the city is totally sold out. Everything from the rooms in the hotels to tables in the restaurants is overbooked. Prague local guides during Xmas season don't sleep, don't eat. Private tours go one after another. Sounds a bit scary, but this is our reality of life. Why does it happen?
This article will help you to plan a trip to Czechia for Xmas and New Year breaks and holidays.
Planning a Christmas trip to Czechia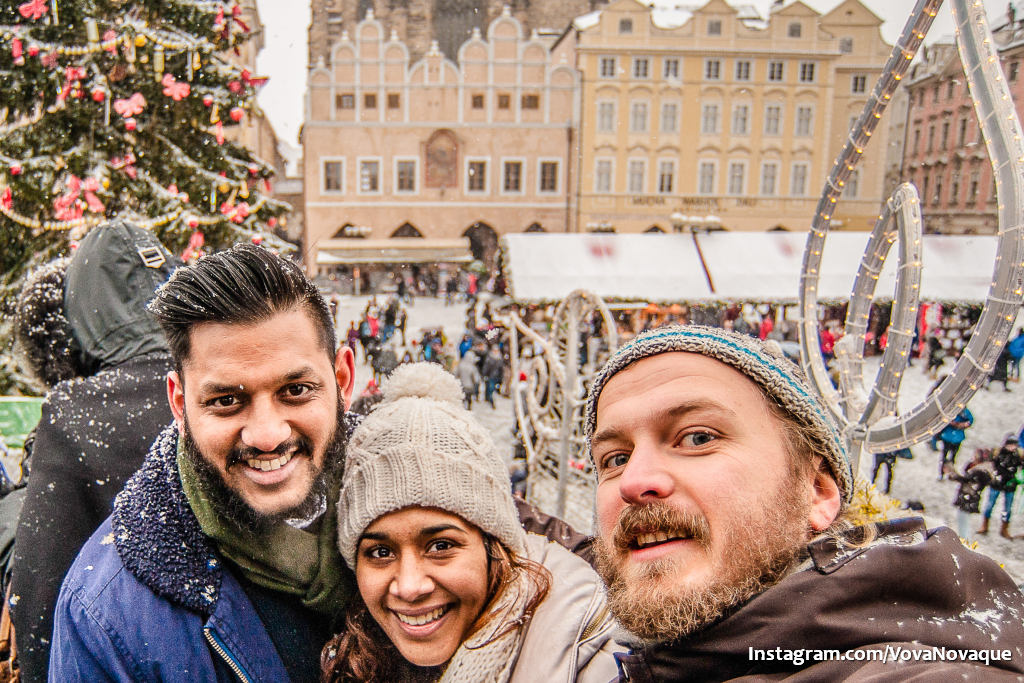 Although it is magic time traveling to Prague in winter holidays can be a very hard for late planning. All the bookings should be made in advance, in case you don't feel like paying double prices for hotels and services. For example, if we compare price for the same room in an average 3 star hotel in September it will about 50-70 Euros per night, when in the second half of December 100-150 the least.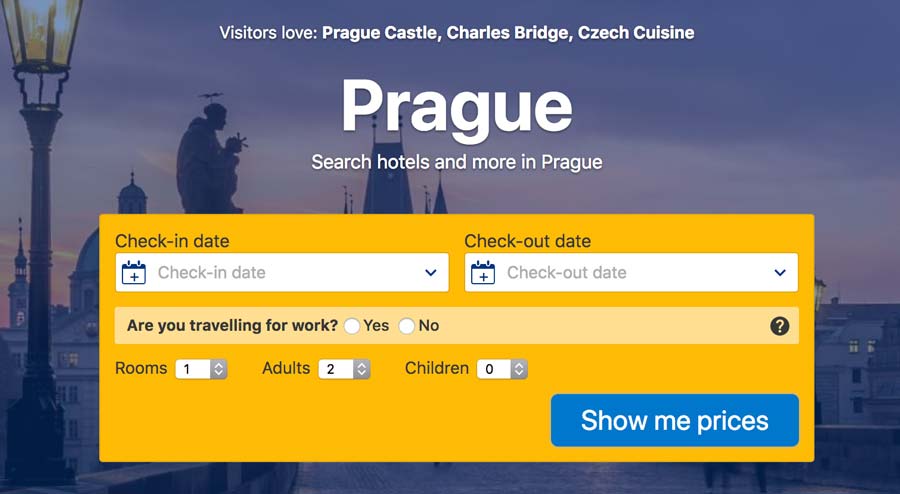 What concerns airplane or train tickets, they usually have fixed prices. But there is another problem. Lack of tickets for the dates you want to come to Prague may influence your travel plans. This happens, because not only tourists from other countries come to Czechia for New Year Eve.
A lot of locals leave the country for vacations either after the 24-25 of December or on the 1-2-3 of January. And most of them travel through Prague airport.
I strongly recommend starting to plan the trip to Prague in December of early January some 3-4 months in advance. In this case you can choose a good hotels, hostel or apartments, reserve comfortable flights and book best local guides in Prague for tours.
To get from the airport in a comfortable car with no stress and fuss, use the following form below:
Christmas Market 2018-2019
So you are fully booked and prepared to travel and to plunge into the atmosphere of a dream New Year. And for all tourists the first thing to do in the wish list is a visit to Prague Christmas markets, which are the symbols of the holidays.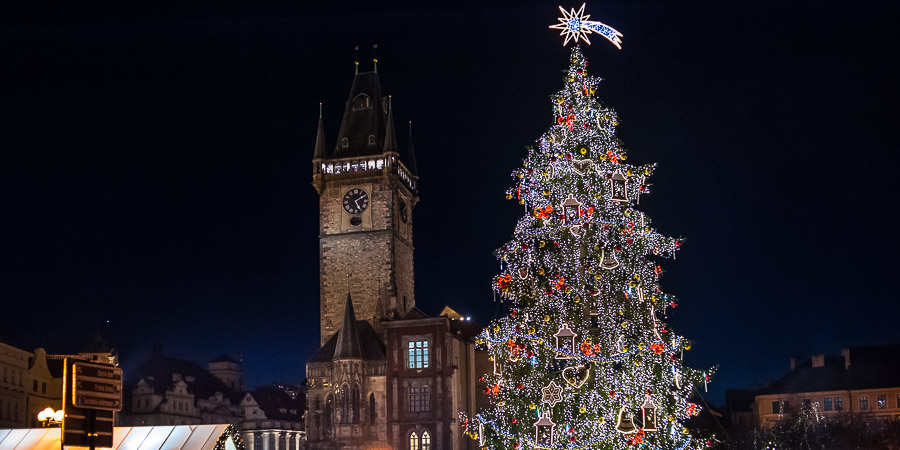 Christmas Market 2018 in Prague begins on the 2nd of December and finishes on the 6th of January 2019. It means, that during one month the down town of the Czech capital will be a big festival of food, music, beer, hot wine and happy people.
There are several markets at Xmas in Prague. The main take place at the Old Town Square, Wenceslas Square or Vaclavak (as locals call it), Republic Square. But in other neighborhoods of Prague one can also find markets, for example in:
Kampa square near Charles Bridge;
Prague Castle;
Peace square.
Christmas Markets are open day. They usually start at 10-11 a.m. and are open till 10-11 p.m. Thus tourists have a chance to visit all of them. For locals it is also comfortable, because central markets are usually full packed with a day. So there is always a chance to have a glass of hot wine with trdlo away from the crowds.
For kids at the Old Town Square and the markets are organized stable with animals. They are parts of Bethlehem theme.
What to buy?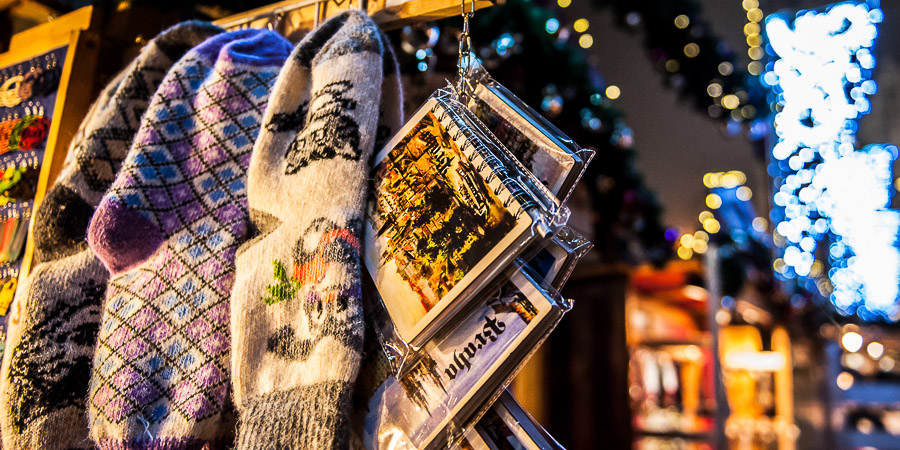 At New Year and Christmas markets 2018 2019 in Prague people usually buy presents and decorations. Here is a detailed article about what souvenirs from Prague tourists usually take home. I glad to notice, that with every year the choice of goods at markets becomes wider and more interesting. One can find a lot of hand made glass, jewelry, ceramics, New Year tree toys, candles, cosmetics, metalware, traditional clothes and of course a lot of food.
The prices at markets are quite reasonable, because merchants want to sell a lot. Moreover generally the prices in Prague are lower than in other European countries. It is better to have Czech crowns in cash, rather than Euros or with a card. Therefore you should be careful with currency exchange in Prague because some of the offices take commission.
What to eat at Christmas markets?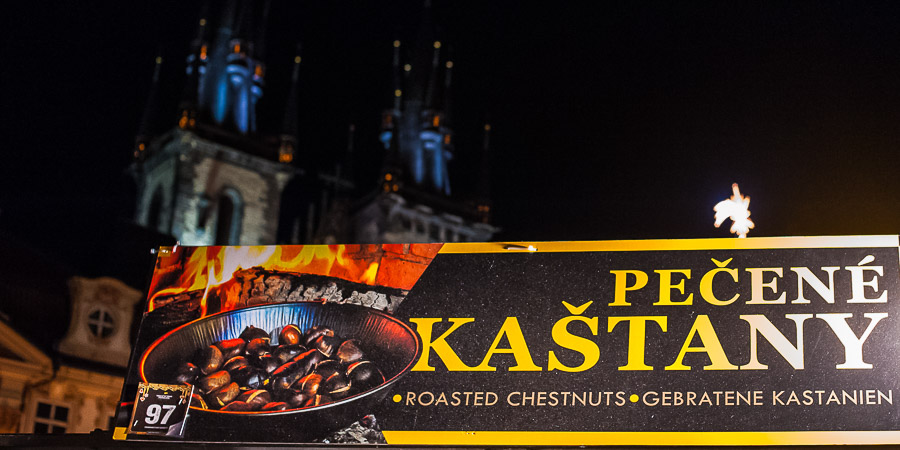 Food is an important part of Xmas Markets in Prague. In 2019-2020 there will be a big choice of things to taste and to eat. Usually the most popular local street food dishes are the following:
pork knee with cabbage or dumplings;
sausages;
BBQ vegetables;
smoked BBQ cheese with raspberry jam;
trdlo with chocolate or cream;
potatoes chips;
goulash soup;
hot wine;
medovina (hot honey);
almonds in sugar.
It is quite a hard task to taste all the street food in one day. Therefore I am sure you will visit Prague markets many times while your stay. Even locals come to the Old Town Square several times to eat, drink and feel real New Year atmosphere. For this period I provide my tourists with private food and marker tours, which are devoted to Christmas traditions in celebration and food. If you would like to book such a tour, please contact me in with email in advance. All the contact information is under this article.
What is open and when throughout December and January in Prague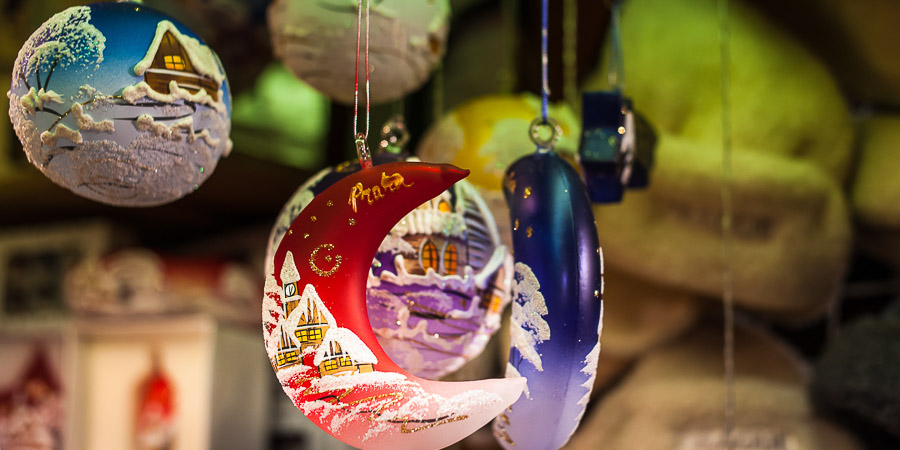 December is one of the busiest months in Prague. As locals involved into tourism joke: December feeds the year. And it is absolutely true. Because the number of tourists traveling to Czechia from all over the world within the 12th month of the year is over several millions. If you are going to be among of them, I suggest that you should take your phone and mark in the calendar the following days, when almost everything in the city of 100 spires is closed.
Street Xmas Markets in Prague start with on the second of December 2018 and last till the sixth of January 2019. During the day, they work from 10-11 a.m. till 10-11 p.m. Despite the fact that the 24th of December is the Public Holiday, markets are open.
All the rest ways of entertainment in Prague, such a operas, theaters, concerts, bars, cafes and restaurants, sightseeing tours and boat trips operate according to normal schedule and are open every day, but for the Christmas day.
Public transport in Prague in December operates according to basic schedule, but holidays, when metro goes till early hours.
24th of December 2018 in Prague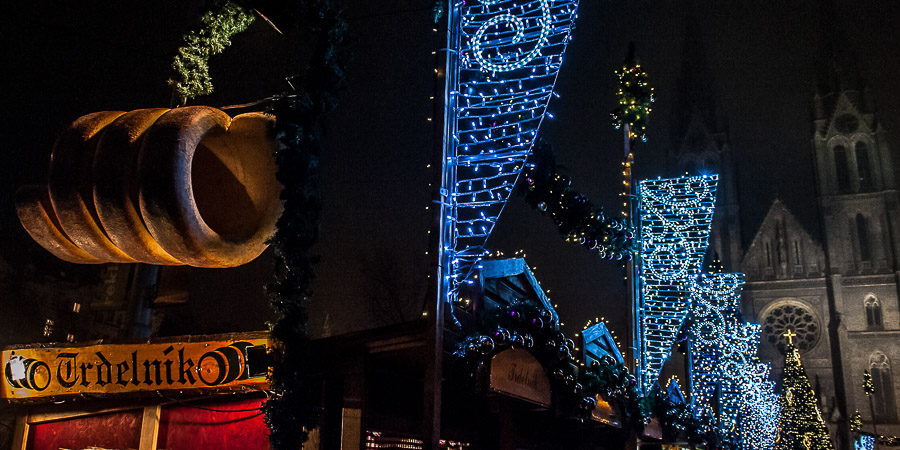 The 24 of December 2018 in Prague is a public holiday. That is why a lot of places are closed or work according to a shortened schedule. For example according to the law adopted in 2016, all the big shopping molls don't work on Christmas day.
Most of touristic attractions in Prague are closed as well on 24th of December
Few cafes and restaurants are open on the date. Therefore the old town is very quite and comfortable to stroll around. The Xmas morning in Prague city centre is really peaceful and calm, as it should be. But better plan something for this day. For example one of the day trips from Prague.
Public transport changes the intervals: metro goes with 6-8 minute gap during the day and 20 minute gaps in the evening. Night trams and buses follow the usual 30 minute pause.
31st of December 2018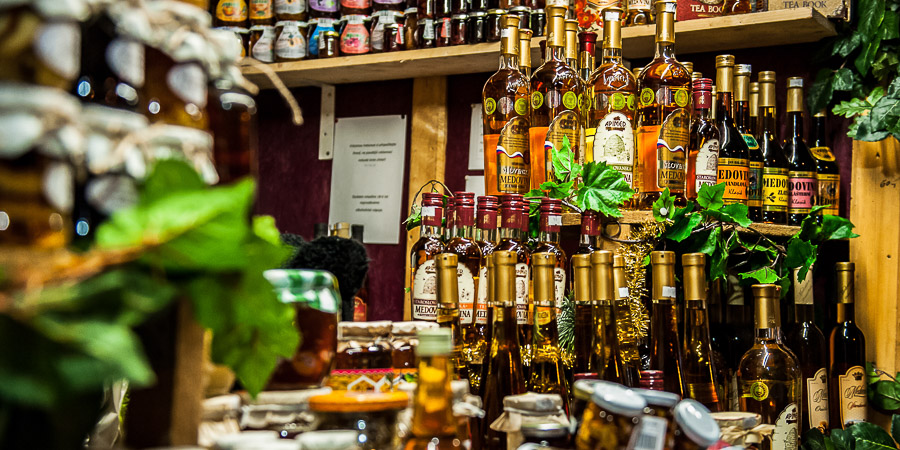 On the 31st of December 2018 in Prague markets are open till late evening. Locals don't celebrate New Year the same way as Christmas. Most of the events are for tourists and local youth, who come to the capital from other Czech cities. Though at the New Year night Prague is very crowded.
Bars, restaurants and cafes work almost all night long from the 31 of December till the 1st of January. Parties take places all over the Old Town of Prague.
Taxis in Prague charge 2 and sometimes 5 times the price. Carefully read the article about prices for taxies in Prague. Public transport works on a normal schedule. Only metro goes a bit longer than usually — thill 02:30 with last trains starting at 01:45. From 09:00 till22:00 one can use the Funicular Railway at Petrin
1st of January 2019 — New Year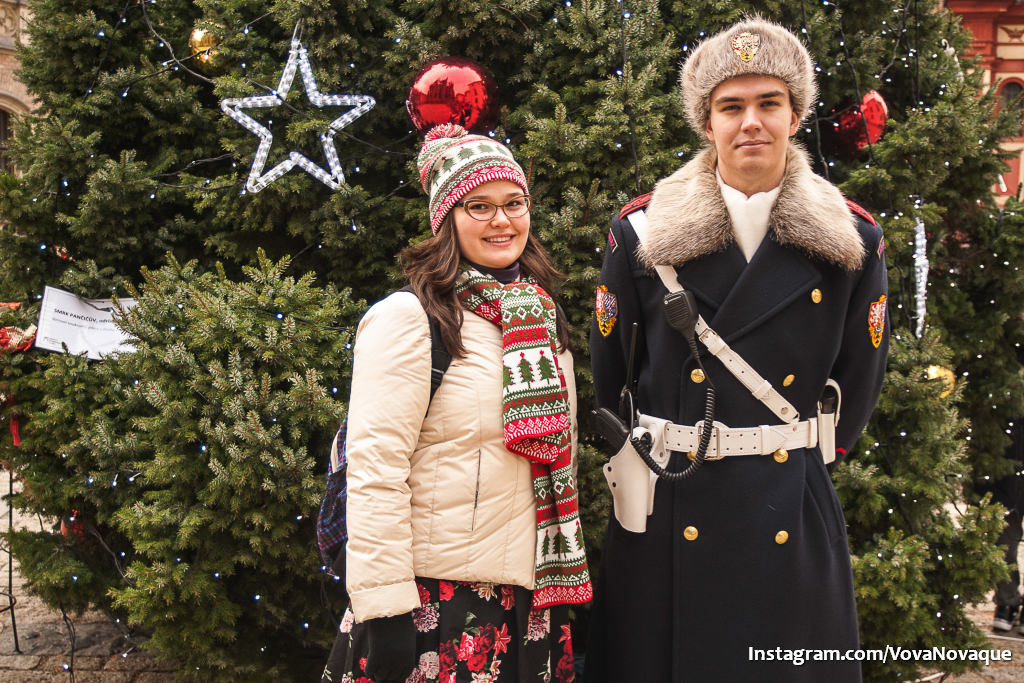 The 1st of January 2019 in Prague is the first day of New Year. It is also another public holiday. Therefore the biggest fireworks in Czechia take place on this day. Usually it begins at 6 p.m. at Letna Park. The best places to see New Year fireworks in Prague are:
riverside near Rudolfinum;
Petrin;
Manesuv Bridge;
Cechuv Bridge;
Stefankuv Bridge.
The fireworks usually last some 10-15 minutes. It is an amazing show absolutely worthy your time.
New Year Tree in Prague
Beginning from the end of November and till the first weekend of January walking through the streets of Prague's Old Town you will see a lot of New Year trees decorated with lights and toys. Though the main New Year tree of Prague and Czechia is located in the Old Town Square.
Every year one of the biggest, most even and beautiful trees in the forests is chosen among the others. There is a special procedure. People send pictures to the commission. The latter decide, which tree is the best.
After the procedure woodmen cut it and carefully transport into the square. Usually the main state New Year tree in Prague is installed at the beginning of December, when Christmas fairy tale in Czechia begins.
Weather in December
Another positive moment of choosing Prague as a destination for Christmas or New Year is the weather. Quite mild temperatures with a bit of frost let you feel the season, but it is not so much cold for you to get frozen. Usually it is +/-5 degrees Celsius.
There always extremes, therefore I suggest taking proper winter clothes: scarfs, gloves, hats. But the most essential thing to think over while planning a trip to Prague in winter are your shoes. It should be something warm, waterproof and very comfortable. In case you are the person who walks all day long, it is better to have two pairs of these comfortable shoes. Winter jacket is a must as well.
Things to do
A lot of my friends visit Czechia in December and ask me what to do in Prague on Christmas and New Year 2019. I made a special list of thing to do in this period:
visit markets;
buy presents for friends and relatives;
taste street food;
take a boat trip;
enjoy the night life of Prague;
see the fireworks on the 1st of January 2019.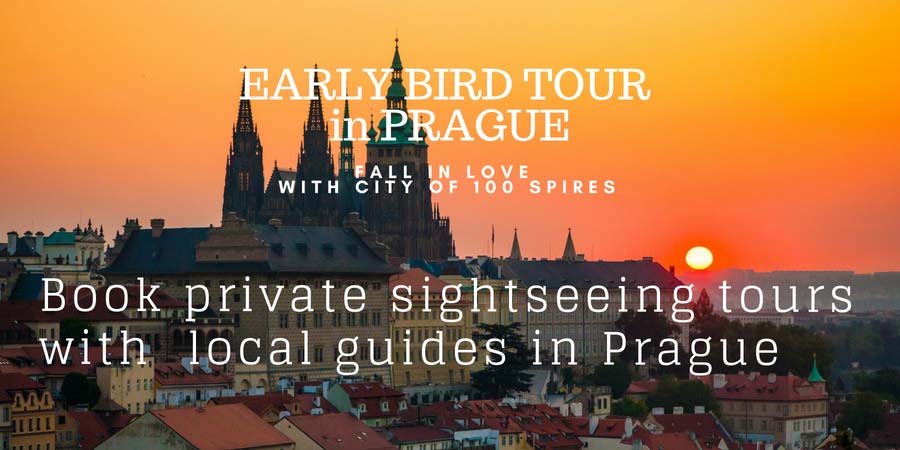 If you would like to get a tour plan with our sincere recommendations for Christmas and New Year in Prague, restaurants where to go to celebrate and have party, best choice of tours in and out of the city, feel free to drop the information of the dates, how many people and plans to mail@vovanovaque.com I will compile a travel plan for you and share my best knowledge and advice.